I'll be the first to admit that Slovenia wasn't high on my bucket list during my time in Europe. Sure, Lake Bled looked pretty on Instagram, but at this point, I was well aware that seeking out destinations based on Instagram left my travels feeling empty. So when a friend suggested that I meet her in Slovenia, I wasn't exactly super excited about it, and almost declined. However, after being on the road for 8 months I was in need of a familiar face. So I said yes and figured that I could add 5 days in Slovenia to my European itinerary.
Why Slovenia Should Be on Your European Bucket List
And let me just tell you, Slovenia is spectacular. Slovenia is a small country that offers so much to its visitors. You've got the charming capital city of Ljubljana, gorgeous lakes, the Julian Alps, and peaceful coastal cities. Plus various caves and castles. And the Slovenian people are just as charming and welcoming!
The five days I spent exploring Slovenia are one of the highlights of my 10 months of travel. The entire time I was there, I kept kicking myself for not getting there sooner and for only having 5 days!
How to Get to Slovenia
Depending on where you're coming from there are a variety of options for getting to Slovenia. I was coming from Croatia after having spent a week relaxing in a hostel on the Adriatic sea. On my way to Slovenia, I stayed for two nights near Plitvice Lakes National Park, where I spent one day in the park and the next morning river rafting. I took a bus from Plitvice to Zagreb, another underrated European destination, and then I connected from Zagreb to Ljubljana. This 5 day Slovenia itinerary will start in Ljubljana so I will focus on getting transportation there.
By Bus
There are a wide range of bus services to Slovenia depending on your whereabouts in Europe. The majority of bus routes stop in Ljubljana and from there you can make connections to other destinations in Slovenia. I recommend two websites to help you plan how to get from where you are to Ljubljana, Get By Bus and FlixBus.  
By Air
There are a number of airports in Slovenia, however, the airport you'll likely fly into is Ljubljana (LJU). Additionally, if you can find cheaper tickets to Zagreb, Croatia or Triest, Italy those are decent options as well. Then you could take a bus or even rent a car to get to Slovenia.
Currency
Slovenia's currency is the Euro. In all of the cities on this itinerary, there are accessible ATMs. Credit cards are accepted, however, it's best to have cash on hand, especially in smaller cities. Many bus tickets you'll have to pay cash, especially in Bled. In fact, if I remember correctly, there was only one window accepting credit cards at the bus station in Ljubljana. So prepare with cash accordingly, but know you can restock at ATMs as well.
Solo Female Travel Concerns
Slovenia is safe for solo female travelers. I arrived in Ljubljana well past midnight in the middle of a massive rain storm. Since the weather was so horrible, there was no one out on the streets, and I felt completely safe walking to the hostel. Also wandering around the cities mentioned here and even getting lost a few times, I never felt in danger.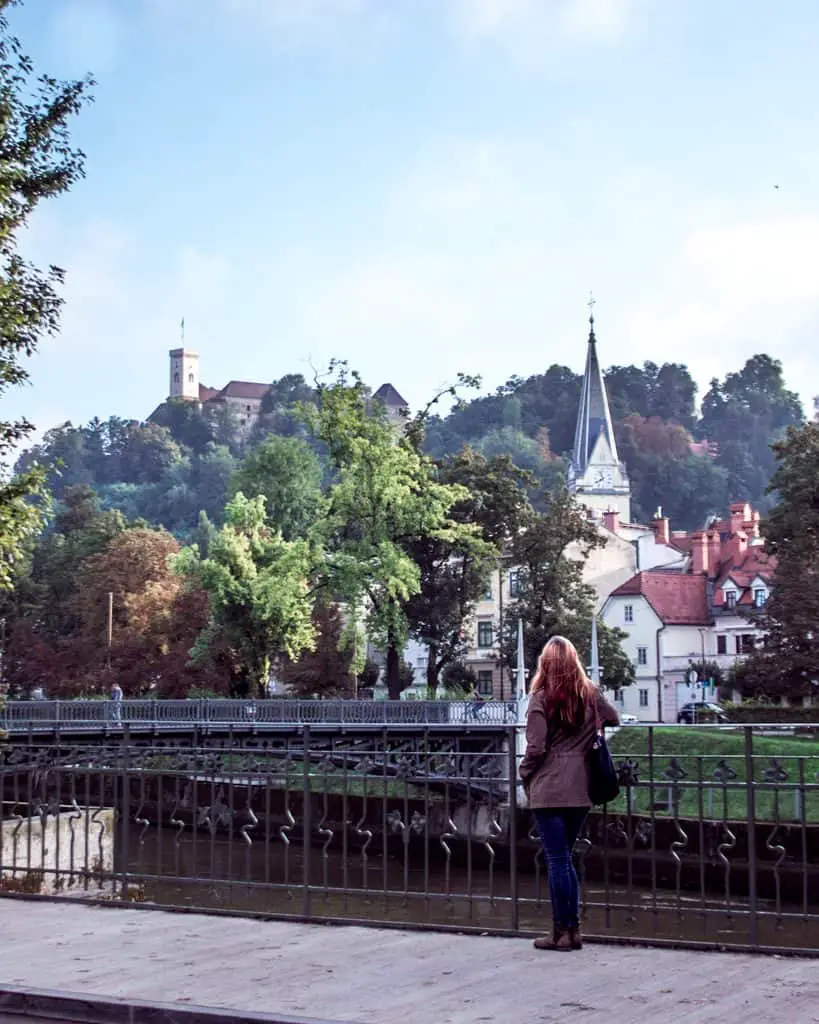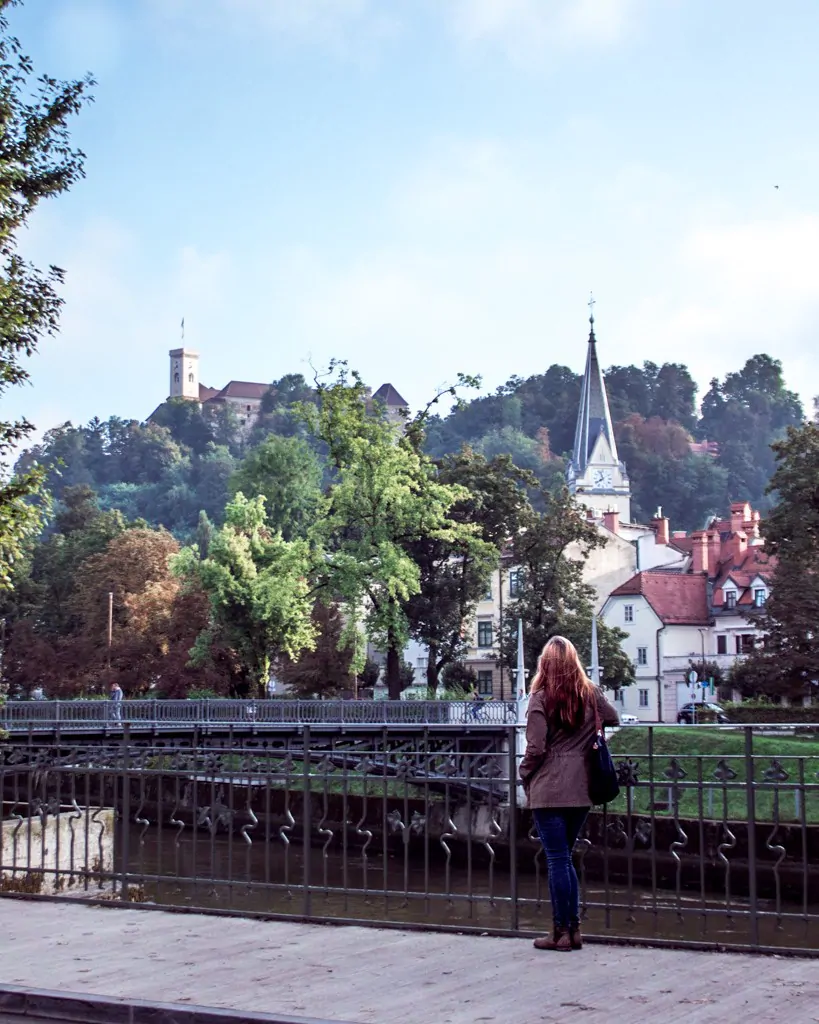 This post contains affiliate links, which means that, at no additional cost to you, I will earn a tiny bit of income if you decide to make a purchase or booking.
5 Days in Slovenia Itinerary
Alright, let's get to the good stuff.
Here's an overview of your 5 Day Slovenia Itinerary:
Day 1: Arrive in Ljubljana, explore the city. Overnight in Ljubljana
Day 2: Travel to Bled, explore Bled & Vintgar Gorge. Overnight in Bled
Day 3: Sunrise hike in Bled. Afternoon at Lake Bohinj. Overnight in Bled
Day 4: Travel to Piran, explore Piran's city walls. Overnight in Piran
Day 5: Relax in Piran. Head off to your next destination.
Day 1 in Slovenia: Ljubljana
Make sure you wear your walking shoes for your one day in Ljubljana! Ljubljana is a very pedestrian friendly city and it's the best way to see it! I'll provide you with a general overview of which direction to walk so you can see most of the highlights efficiently, however, definitely veer into the alleyways and random side streets.
Breakfast at Le Petite Cafe & Restaurant
Start your day off right with breakfast at Le Petite Cafe & Restaurant. They are open daily from 7:30 am-midnight, serving breakfast until 12:00 pm during the week and brunch until 5:00 pm. So even if you sleep in you'll have a chance to enjoy a Croque Madame and a smoothie.
Preseren Square
After breakfast walk towards old town, Preseren Square. You'll pass by Cobbler's bridge and a number of cafes that are worth stopping into for a treat. Preseren Square is where you'll find the pink church and the triple bridge. This area is said to be the meeting point of Ljubljana.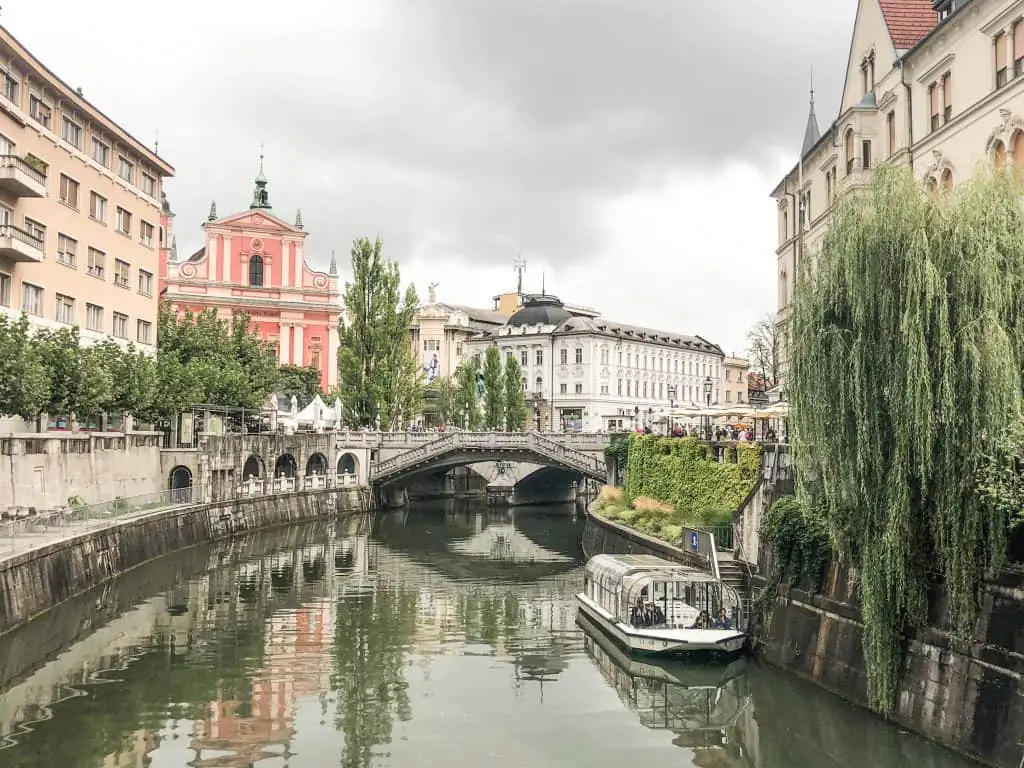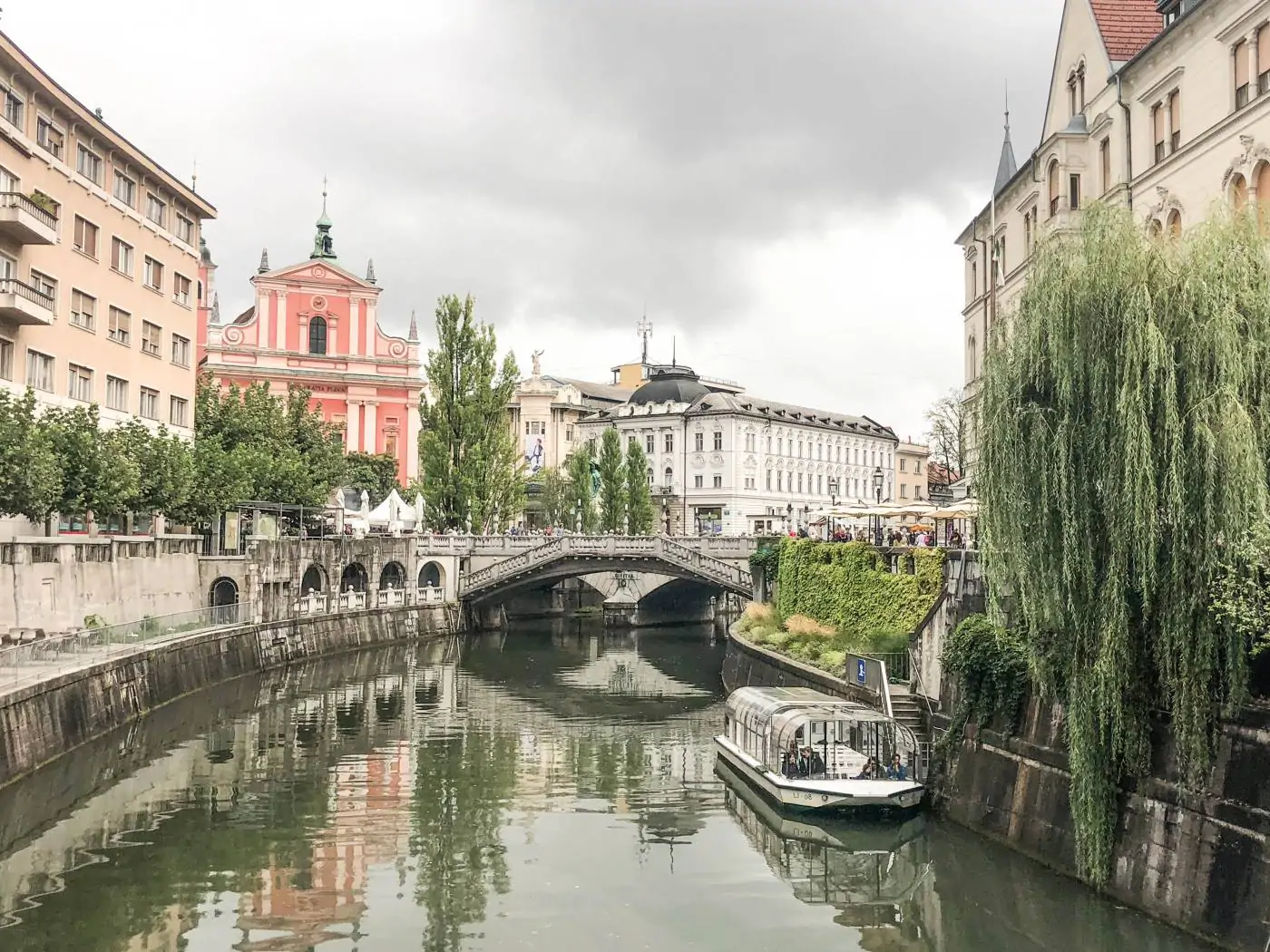 Ljubljana Cathedral
From the square, walk across the triple bridge to Ljubljana Cathedral. Its green domes are a part of Ljubljana's skyline and it's interior much more stunning than its exterior. It's free to enter too! Just beyond the cathedral, you'll find a large open market, Central Market. Here you can buy fresh produce, flowers, and even clothing!
Ljubljana Castle
Afterward, walk up to Ljubljana Castle. It provides excellent views of the city below and is a great place to watch the sunset. Plus, you can see the majority of the castle for free which is a lovely bonus! If you don't feel like walking up the hill, there is a funicular ride you can take, although I couldn't find it (admittedly I didn't try very hard).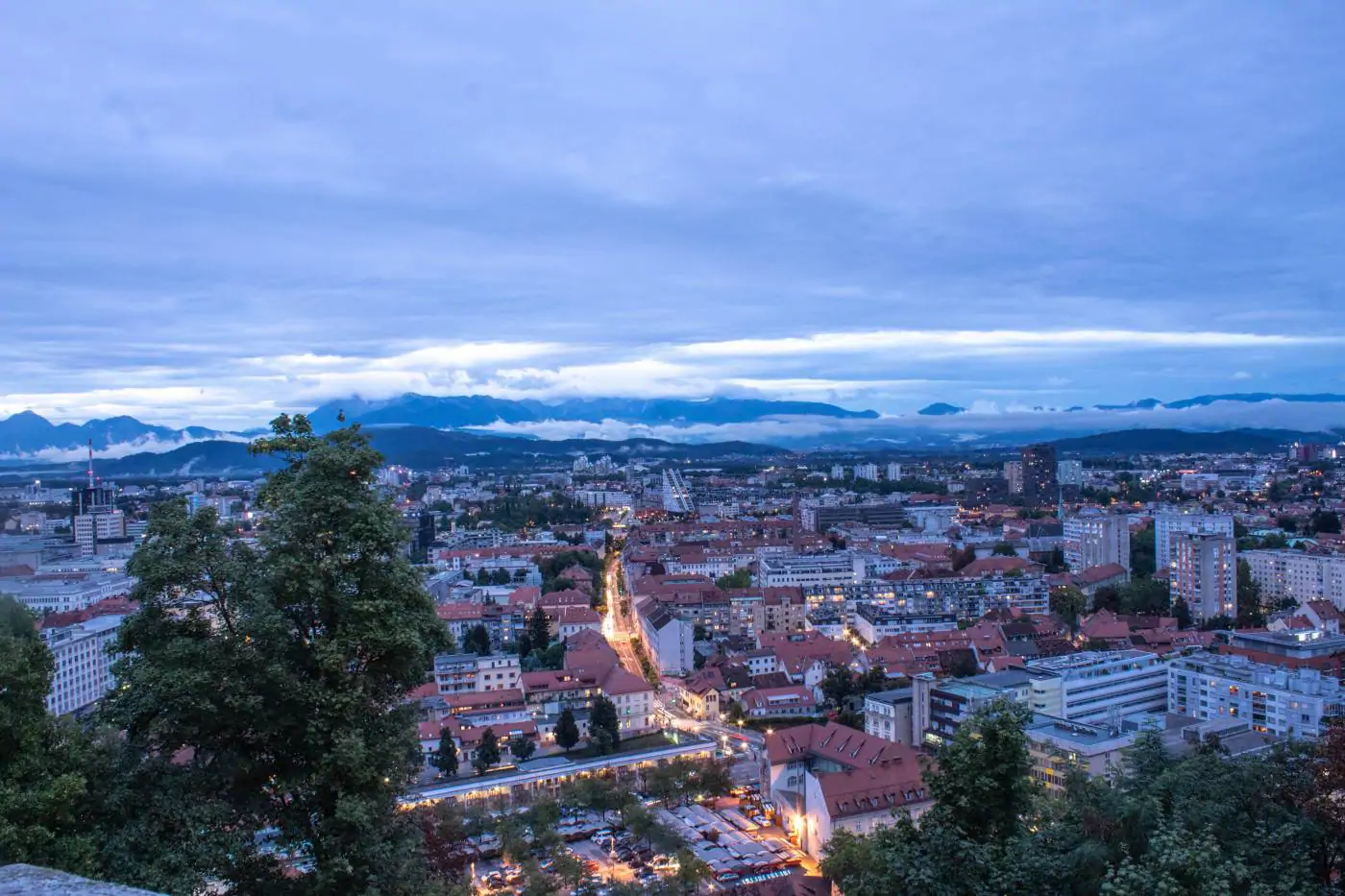 Dragon Bridge
When you're done with the castle walk down the hill to Dragon bridge. Dragons are the city's symbol of power, courage, and wisdom. You'll actually find them in a number of places throughout the city, so keep your eyes open. There are four of them guarding either side of the bridge. It's also a pretty spot for a photo opp with the Cathedral and Castle as a nice backdrop on a sunny day.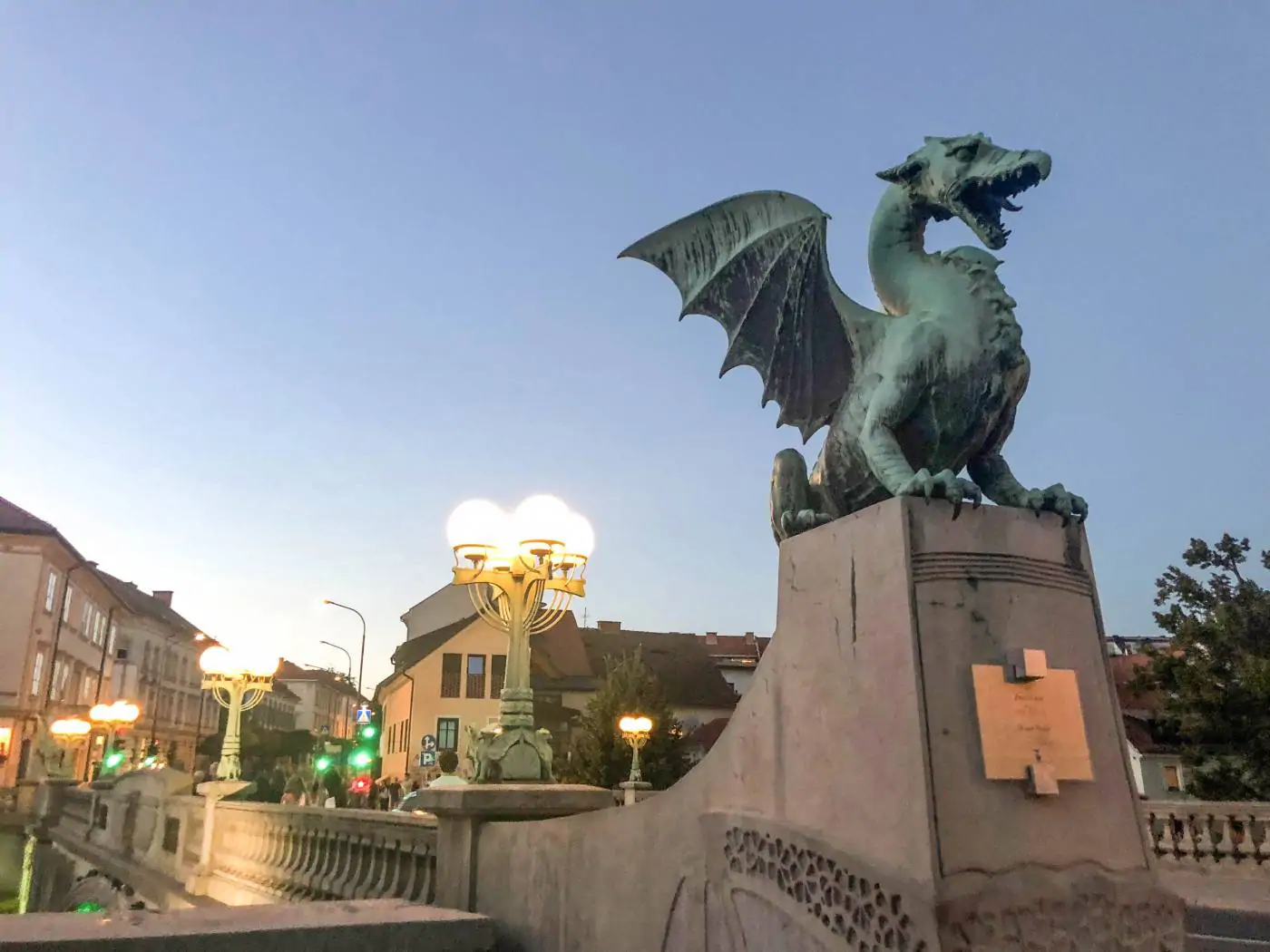 Ice Cream at Cacao
You've just done quite a bit of walking, so stop in for a treat at Cacao. The ice cream at Cacao is so freaking good on a hot summer's day.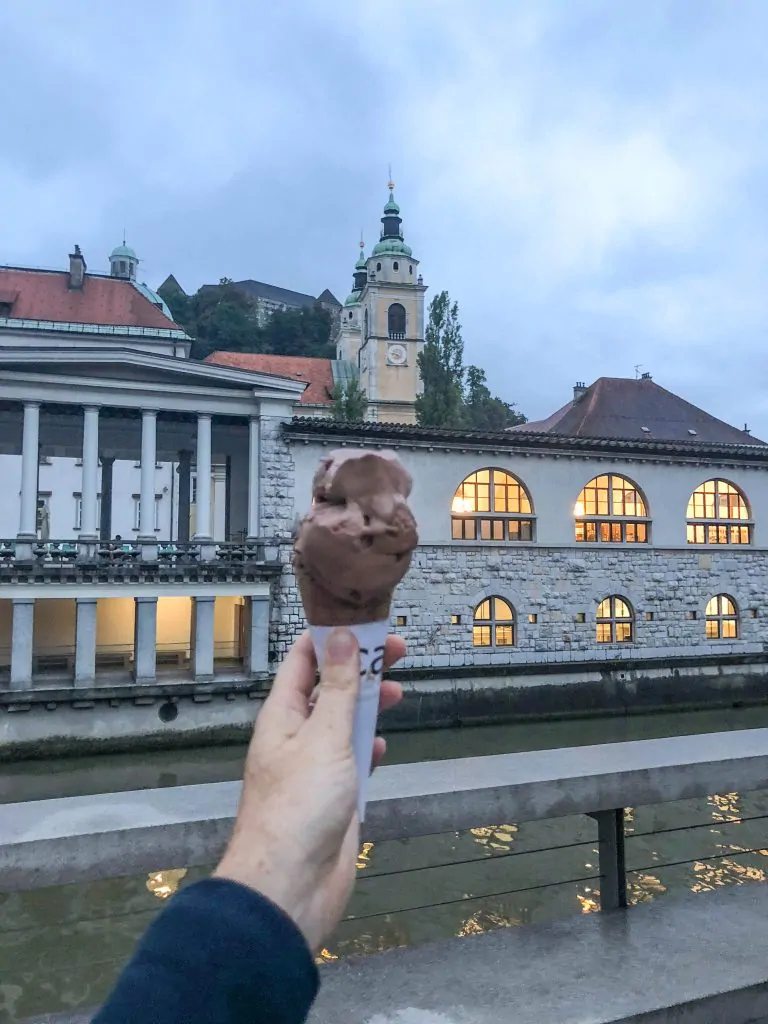 Trivoli Park
After the treat, head to Trivoli Park for a bit of respite from the city. Trivoli Park is a large green space just a few minutes walk outside of the city center. There are a number of wooded trails you can walk through, plenty of benches to relax in for a bit, an open-air art gallery, and even a sports complex. Even though Ljubljana is small and not as crowded compared to other capital cities in Europe, a breath of fresh air in a park is always welcome.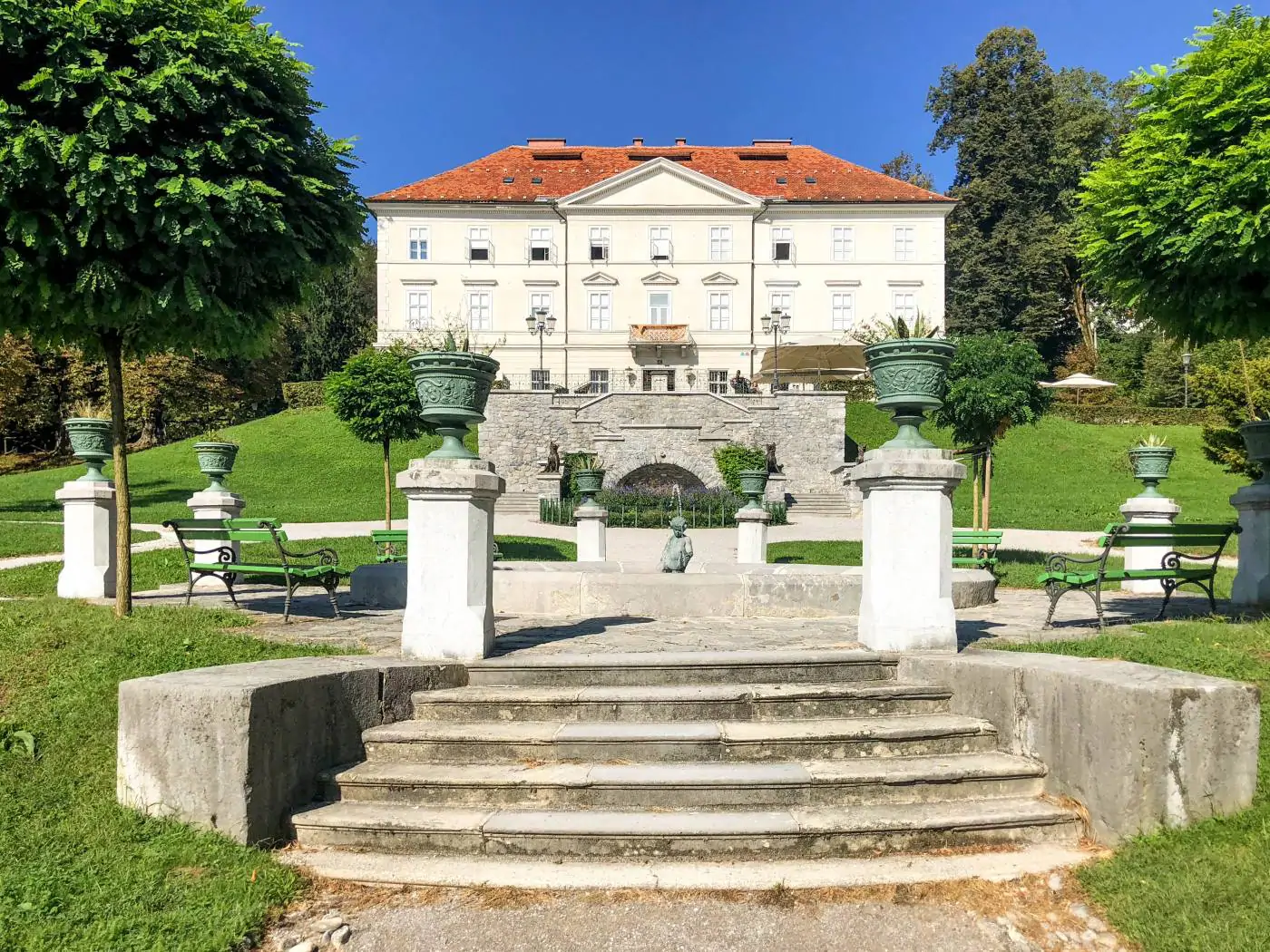 Dinner along the Riverfront
Then head back in to town for dinner and drinks along the riverfront. There are a number of options here and they all look delicious, so just pick one that suits you and enjoy the lively atmosphere of the riverfront.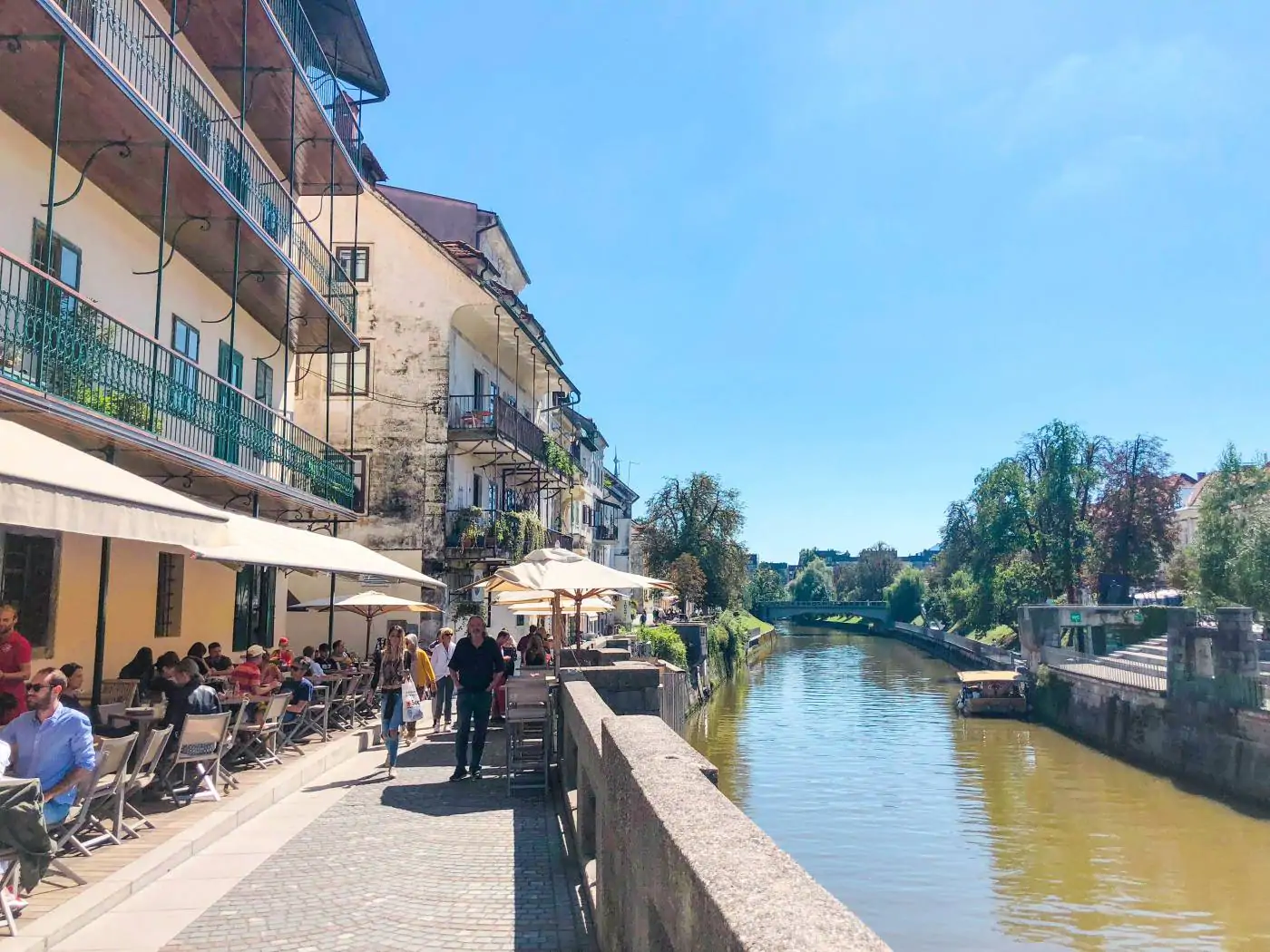 Where to Stay in Ljubljana
I stayed at Turn Hostel which is located above an English pub just minutes from Preseren Square. It was comfortable, clean, and had good WiFi. The only drawbacks are there was no kitchen or common area to meet people. On one of my walks, I passed by Hostel Vrba that was about 15 minutes outside of the city center, by foot. But it was on a beautiful tree-lined street that had lots of restaurants and bars on it as well.
Check out the Booking map below to find a place suitable for your budget and style of travel.
Day 2 in Slovenia: Lake Bled
After your day in Ljubljana head to the picturesque town of Bled for two nights. Bled is a small town, that gets crowded very quickly during the summer months. So it's best to visit in the shoulder season or towards the end of summer if you want to enjoy it without feeling overcrowded.
How to Get to Bled from Ljubljana
Buses leave frequently to Bled from the main bus station in Ljubljana. There isn't a need to purchase a ticket in advance. Head to the bus station and ask for a ticket for the next bus to Bled. It costs approximately €7 for a one-way ticket and takes about an hour to get there. The bus stop in Bled is conveniently located directly in the center of town.
Day 1 in Bled
Lake Bled
Well, the first thing to do in Bled is quite obvious, head to Lake Bled. There is a boardwalk path the entire circumference of the lake which makes for a beautiful walk upon arrival in Bled. It will help acquaint you with the lake as you see various places to swim, rent canoes or SUPs, or simply sunbathe.
You can rent a canoe, SUP, or pay for a Pletna boat to take you across the lake to Bled Island. I opted out of Bled Island due to reviews I read saying it's not really worth it. But, it's always nice to get out on the water even if you skip going on the island. Prices for rentals vary depending on the watercraft of your choosing.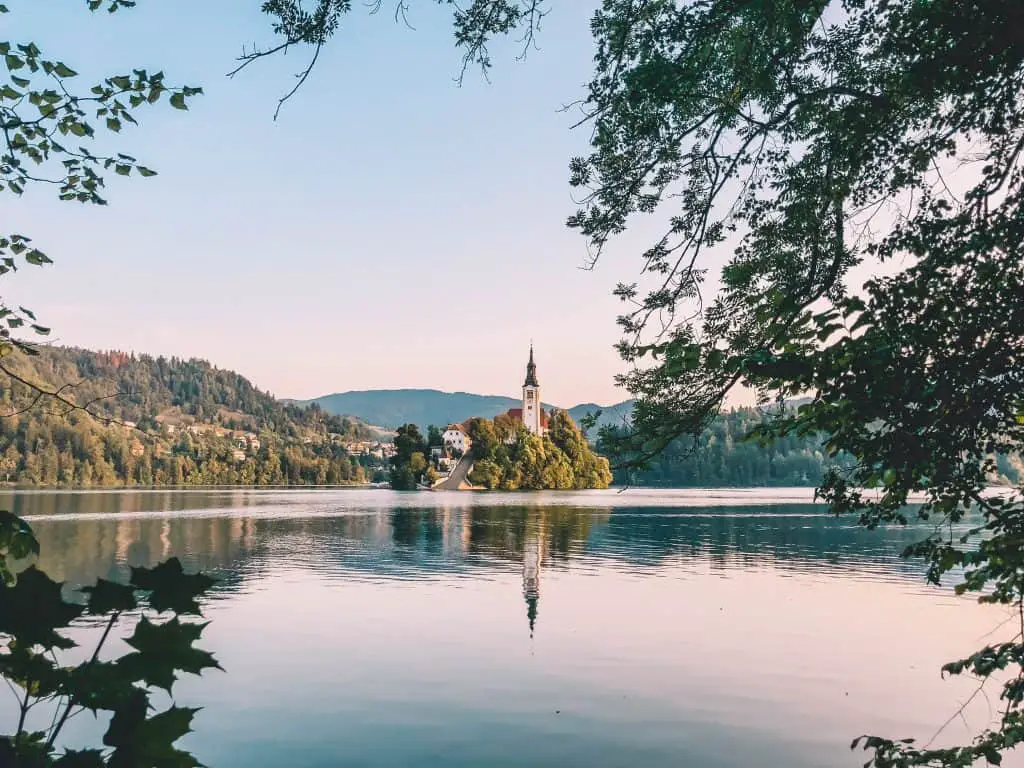 Vintgar Gorge
In the afternoon explore Vintgar Gorge. Vintgar Gorge is a 1.6km gorge in Triglav National Park. The river is lined with boardwalks that criss-cross the river and takes you past beautiful waterfalls. The landscape is stunning and the river water is so clear. This is definitely a highlight of my time in Bled.
Vintgar Gorge is about 5km from Bled, so my friend and I decided to walk to it. Which turned out to be an adventure in itself. Another option is to take the bus for €1 and in 10 minutes you'll be at the starting point for your walk through the Gorge. Be sure to give yourself a few hours here as you'll want to stop to take lots of photos!
Entrance fee prices have increased to  €10 for adults. For the most up to date information about hours and prices check it out here and use this link for the bus schedule.
Swim in Lake Bled
If you've got more time in your day, return to Lake Bled and simply relax. Find a spot to lay out your towel, swim in the water, maybe even take a lakeside nap. But go to bed early, because there's an early morning wake up call tomorrow morning.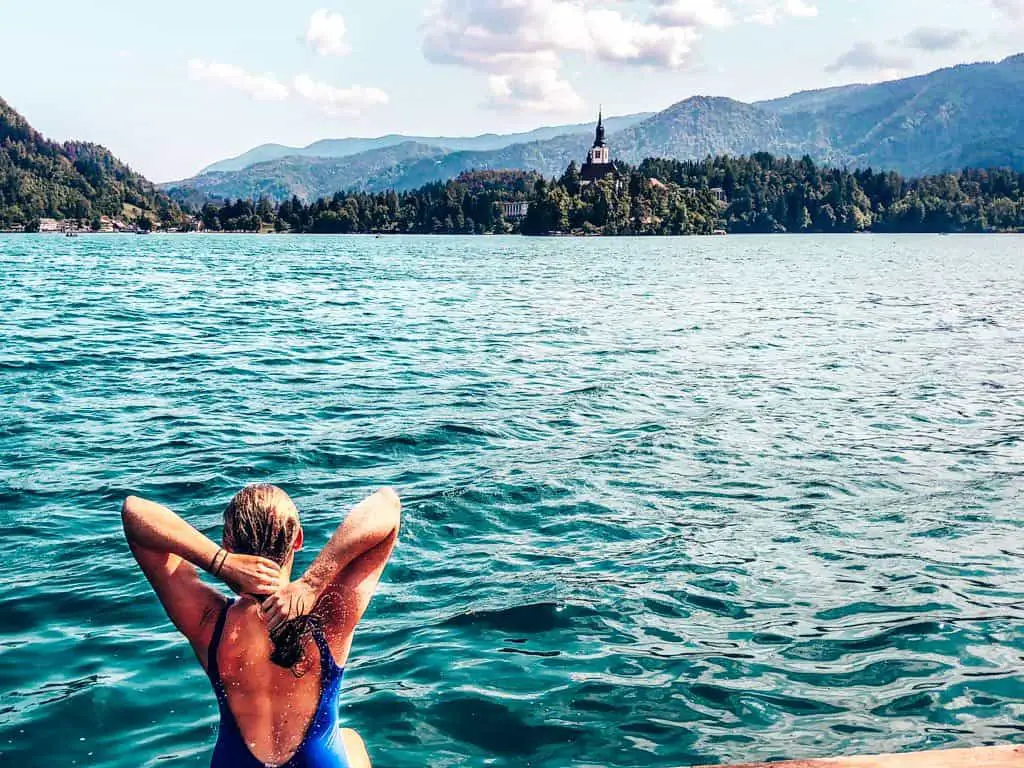 Day 3 in Slovenia: Bled & Bohinj
Sunrise Hike over Lake Bled
The hike up Ojstrica is a great short hike in Slovenia and a beautiful spot to take in sunrise over Lake Bled. The hike takes about one hour, so before you go to sleep, check the time for sunrise. Plan to begin your hike at least one hour before sunrise.
My friend and I started the hike at 4:30 am in total darkness, save for our iPhone flashlights. But we were the first people to reach the viewpoint and had it all to ourselves for a glorious 15 minutes. Afterward, lots of people started to show up to get their photo ops of the Insta-Famous Bled sunrise.
The hike begins just after the Camping Bled parking lot. There will be a small wooden sign that says Ojstrica and it's basically a straight incline until you reach the viewpoint. It's very important to wear sturdy shoes for this hike as it's very rocky. No flip flops!
There's also a second, higher, viewpoint called Mala Osojnica which if you have energy, you can do after this hike – especially if it gets crowded with people as I don't think many people keep going to Mala Osojnica.
I know we didn't.
After this hike and our walk to and from Vintgar Gorge the previous day, we headed back to our hostel for breakfast and a long nap!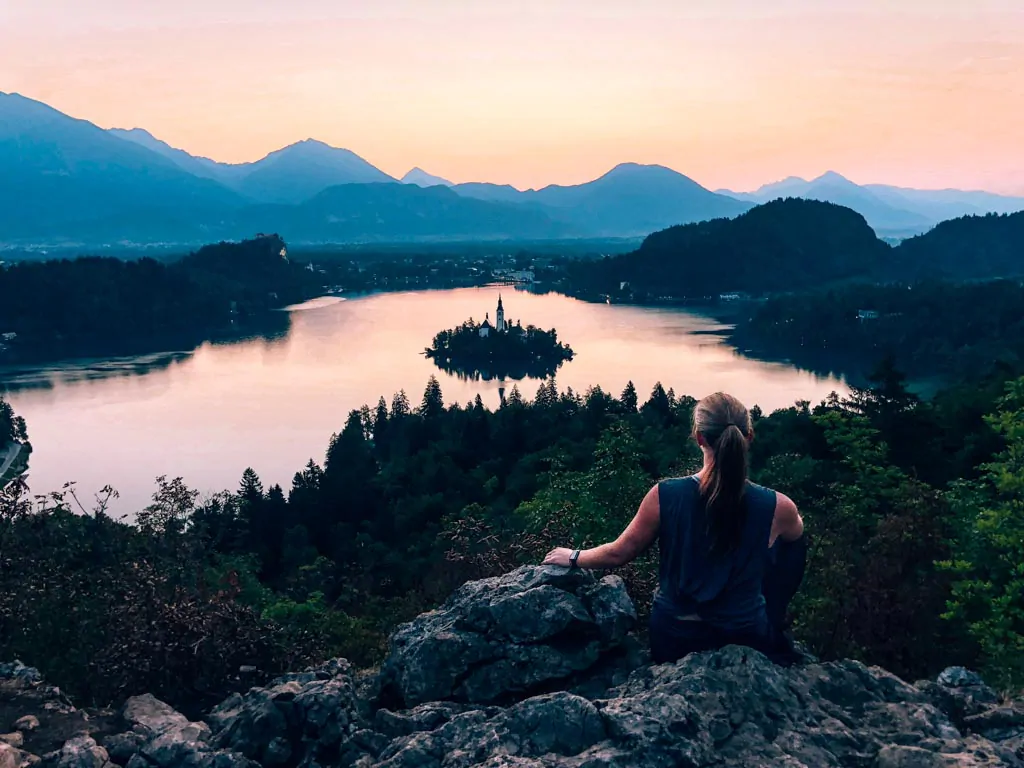 Swim in Lake Bohinj
Lake Bohinj is the largest lake in Slovenia and it's just a short bus trip away from Bled. From the center of town take the bus to Lake Bohinj, after a 30-minute ride you'll arrive in a small town. The town looks similar to Bled but is much less crowded. You can get off in town or keep riding the bus to get closer to the Lake. We got off at a campground called Camp Zlatorog.
Here there are restrooms, a place to rent paddleboards, canoes, and kayaks, and some food. Although, I recommend bringing a little bit of a picnic with you. It's very rocky, so find a place to get somewhat comfortable and chill. The water is incredibly refreshing on a hot summer's day. You could easily spend an entire afternoon here, and definitely think that you should.
Just be sure to know the bus schedule back to Bled. There are places to stay in Bohinj should you decide you want to explore this area a bit longer as there are a number of hiking trails in this area as well.
If you're visiting in the winter, there are a number of great ski resorts in Slovenia, including Vogel Ski Resort which is just a short drive from Lake Bohinj.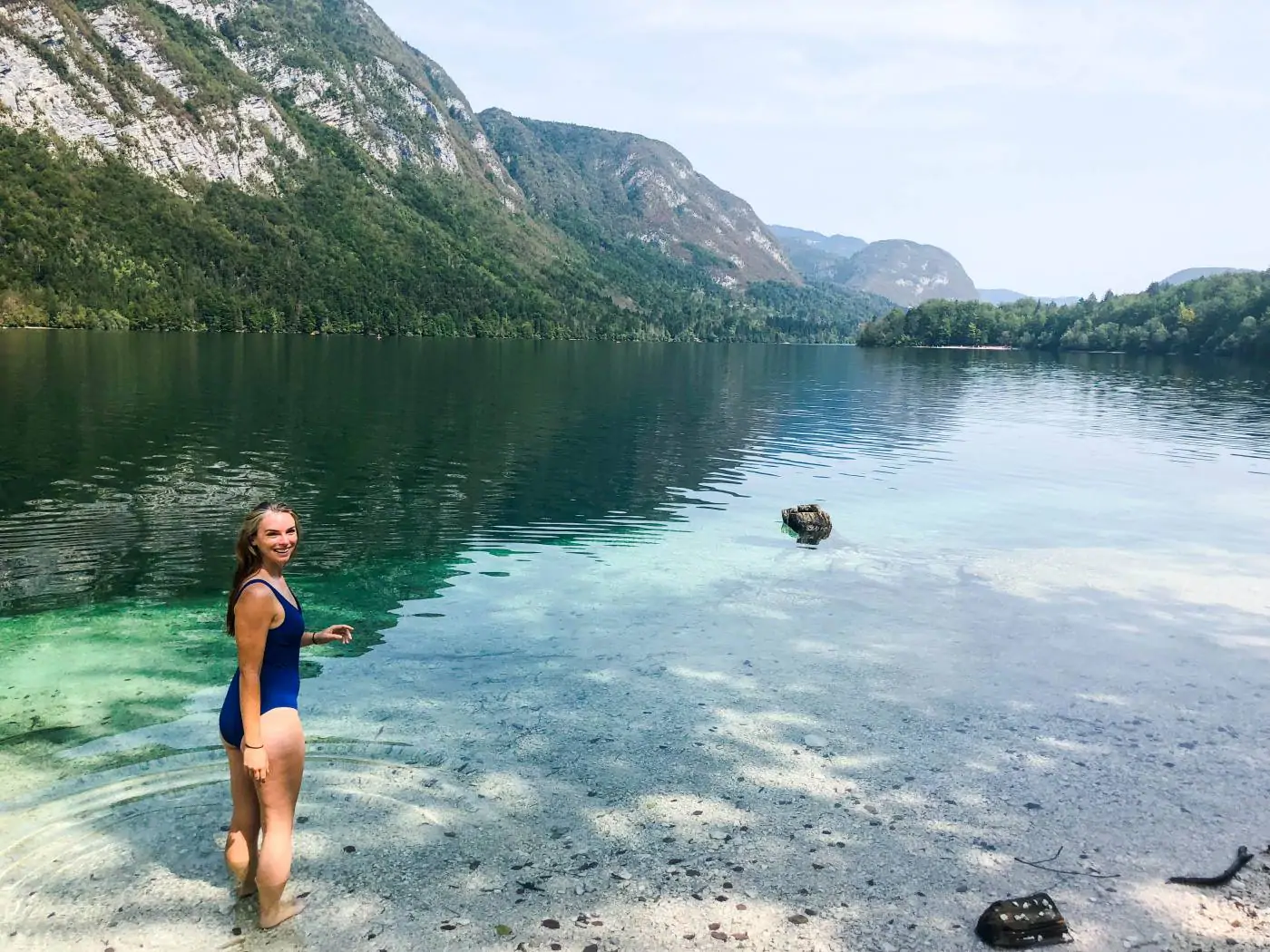 Where to Stay in Bled
There are plenty of options for places to stay in Bled. As mentioned a few times, be aware of the time of year you're visiting as Bled gets incredibly popular and crowded from June to August. So it's best to book in advance to ensure you have a place to stay. We stayed at a small hostel above a bar called Back Bar & Hostel that is run by a lovely woman and her family. There is a small kitchen and a balcony overlooking the Julian Alps.
There are plenty of B&Bs and hotels to stay in depending on your budget and style of travel. Check out the Booking map below to see what works for you.
Where to Eat in Bled
We didn't eat out at all while we were in Bled. There is a small grocery store where we picked up items for a hearty breakfast and dinner. We snacked in between. But there are a plethora of places to eat in Bled, and supposedly there's a famous cake to try. I don't like cake so I didn't go for it, but I did have some gelato lakeside which was fabulous.
Day 4 in Slovenia: Piran
Now you'll go from swimming in Lake Bled to swimming in the Adriatic sea in Piran. Piran is a charming medieval seaside town located in between Italy and Croatia. It's definitely a place you will get lost in the back alleys and find families cooking up a fresh seafood feast in the streets. And it's a great place to relax and enjoy a slower pace of life.
How to Get to Piran
Overall it's about a three-hour bus journey from Bled to Piran, with a connection in Ljubljana. When you arrive in Ljubljana you'll have to buy a second bus ticket for Piran.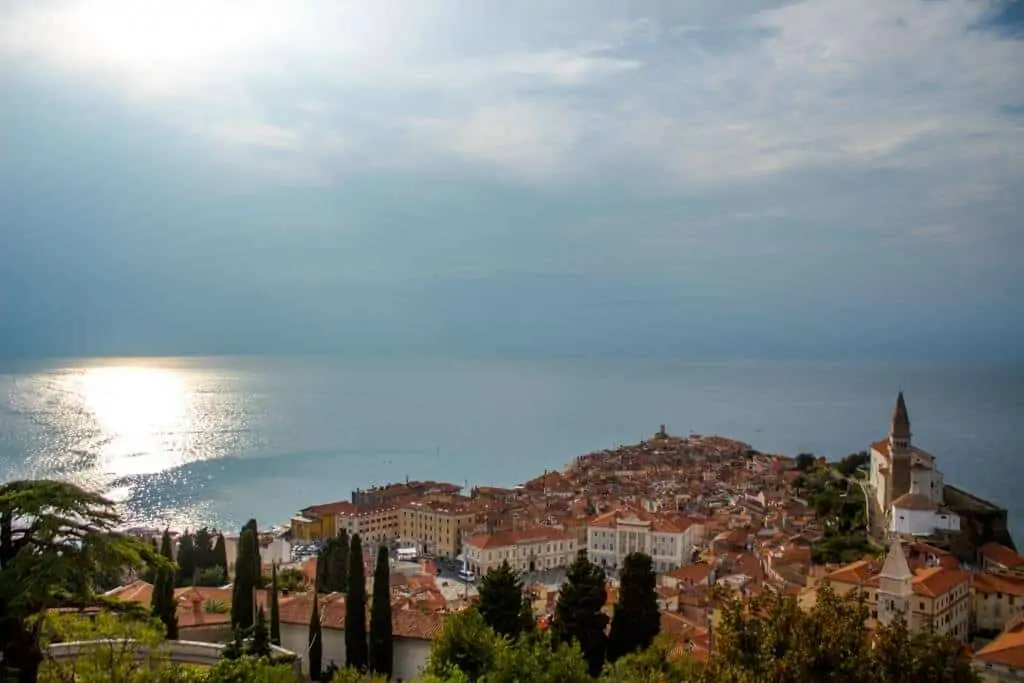 Start your first day in Piran at Tartini Square which is the center of Piran dedicated to the music composer, Tartini, who was born in this town. Here you can find a number of cafes and restaurants all worthy of a visit.
Tartini Square, St. George's Church, & Old City Walls
From Tartini Square walk up to St. George's church, a small church with excellent views of Piran and Trieste, Italy. You can pay a few Euro to walk up the bell tower of this church for a better vantage point if you wish.
After visiting St. George's church, continue on up the hill to the old city walls. It costs €2 to walk these old city walls, and since I'd never been on any, I happily paid the small fee.
From the walls, you can look across to Venice and south to Croatia! Or just admire Piran's terra-cotta rooftops, winding alleyways, and Tartini Square from above. This would also be an epic spot to catch the sunset!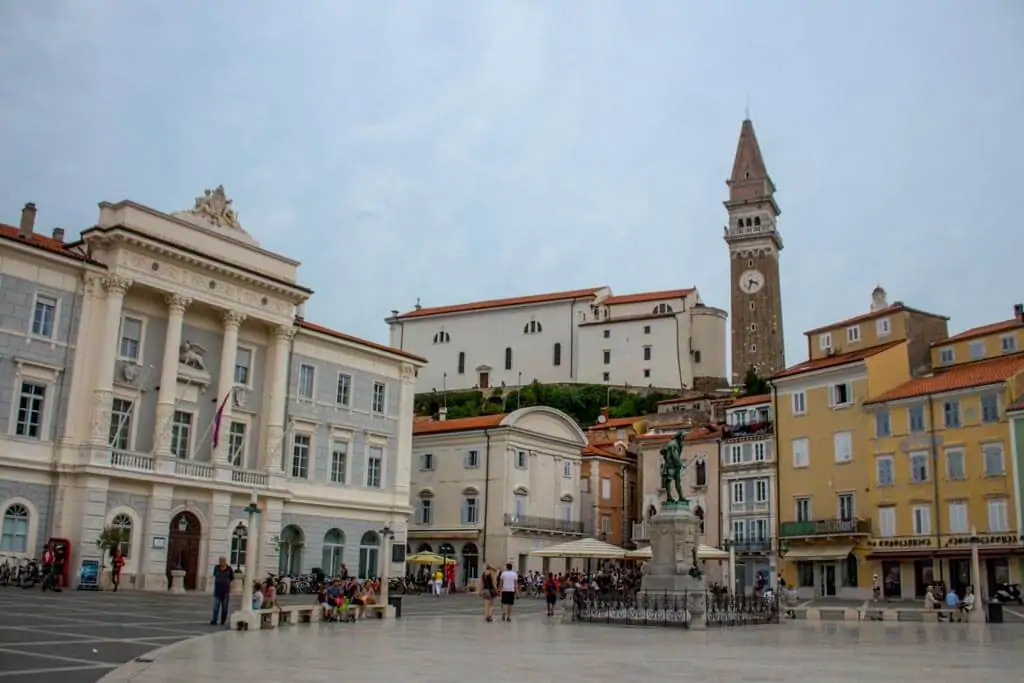 Enjoy a Seafood Dinner
End your first day with a freshly caught seafood dinner without breaking the bank. I highly recommend eating at Fritolin Pri Cantini. You order your food at the window and find a free table. If there isn't a free table, just ask to join one. A server from the neighboring bar will get your drink order and you'll be set for a reasonably priced and freakin' delicious meal.
Sunsets in Piran
Afterward, enjoy the sunset along the water and listen to live music at one of the spots in Tartini Square.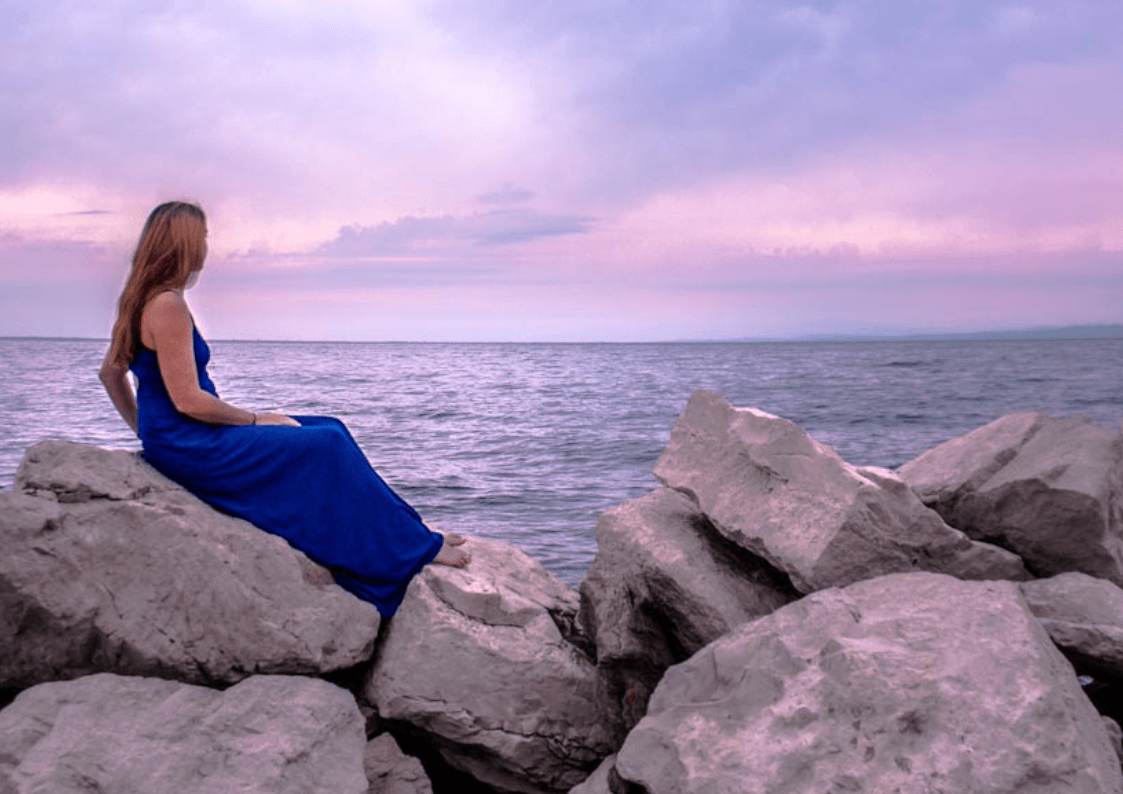 Day 5 in Slovenia: Piran
RELAX!
Today is all about relaxing! You can wander along the alleyways as you wish. Finding streets that intrigue you and take some photos. Always stop to chat with the locals.
I met a charming elderly gentleman on one of my strolls who started speaking to me in Slovene, when I said "sorry English" he, without hesitation, switched to speaking perfect English.
He and I chatted for quite a bit about world politics and news. I found it incredibly interesting getting the perspective of the US' political climate from an older Slovene – it was truly enlightening the impact the US has on the rest of the world.
But I digress.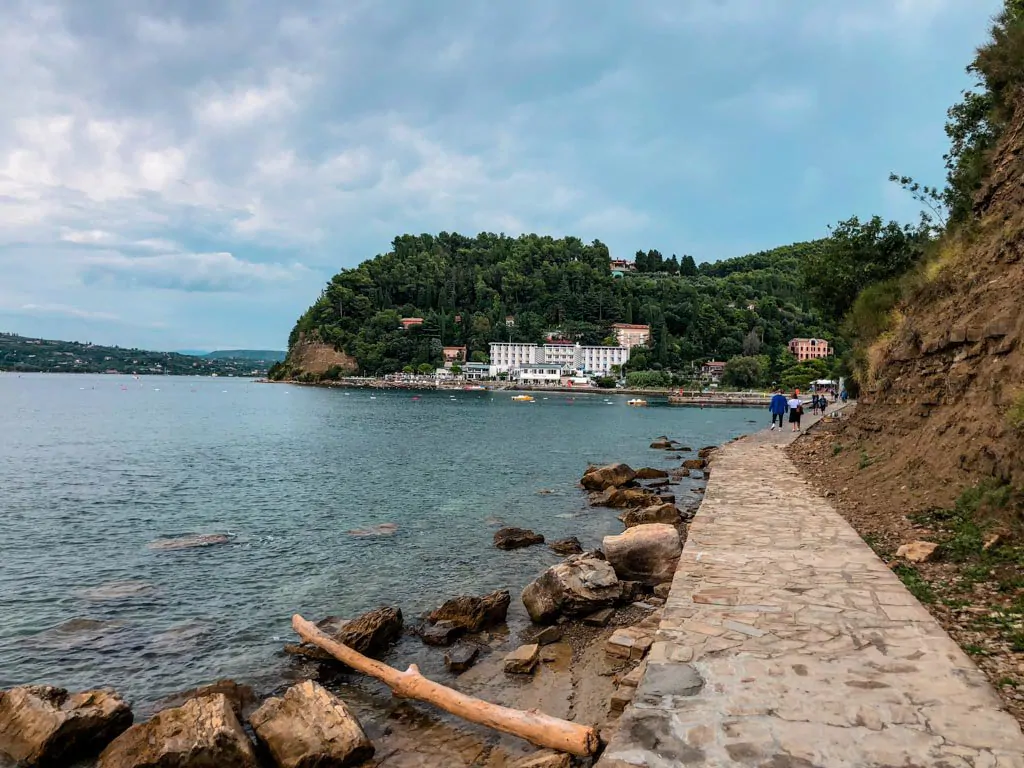 Once you're done wandering, find a spot to swim! There aren't really any beaches here, but there are concrete platforms with stairs leading into the warm and refreshing waters.
You could also walk towards Fiesa to find rocky beaches and fewer crowds for a quiet spot to swim and just relax the day away.
Use this final day in Piran to soak up the relaxed atmosphere of not just Piran, but all of Slovenia. Take these moments to reflect on your journey through Slovenia. The best of moments that are likely not the sweeping views, but those conversations you have with the people you meet along the way.
Have one more fresh seafood meal and gelato as the sun sets. When you're ready, head back to the bus stop and on to your next destination. Whether that is home or somewhere else in this part of the world. I hope you enjoy the journey.
Where to Stay in Piran
I stayed in a cute hostel called Hostel Adriatic Piran. There I could do my laundry for free and it had a well-stocked kitchen. The WiFi was so-so, but I barely spent any time at the hostel.
Piran offers lots of options for hotels, hostels, and B&Bs. Check out your choices below.
If You Have More Time in Slovenia
I didn't make it to these places due to budget and feeling a bit lazy, but I've heard from fellow travelers that the caves in Slovenia are ah-mazing. Postojna cave is the most popular, but I've heard equally good things about Skocjan caves. They would make an easy day trip from any of the locations listed on this Slovenia itinerary.
Also, for the adventurous side in you, you could spend a few days on the Soca River. Before I met up with my friend, she spent 5 days rafting, caving, zip lining, and hiking in the Soca River Valley. She said she had a pretty epic time, so if those activities are up your alley, then extend your Slovenia itinerary to include them!
Get More Help Planning Your Trip with These Books
Like this post? Pin it!