San Francisco's Chinatown neighborhood is one of the best places to visit during your trip to San Francisco. Chinese lanterns sway above Grant Avenue, ladies make fortune cookies in a small alleyway shop, and signs written in Chinese script beckon you in to see what lies behind the beautiful Chinese-inspired architecture. There is no shortage of things to do in Chinatown, San Francisco. I'll share all of them with you in this post. But first, a quick recap on how San Francisco's Chinatown came to be.
This post contains affiliate links, which means that, at no additional cost to you, I will earn a tiny bit of income if you decide to make a purchase or booking. For more, check out my disclosure. 
History of San Francisco's Chinatown
Chinatown in San Francisco is the largest community outside of Asia and the oldest Chinese community in the United States. Chinese immigrants started coming to the US at the height of the Gold Rush in the mid-1800s, many via Angel Island.
Due to discriminatory practices that limited where Chinese immigrants could live and work, they settled in the area around Portsmouth Square, which became the heart of Chinatown.
Opium dens, brothels, gambling, and prostitution were common during this era in Chinatown. Then, the 1906 earthquake burned much of Chinatown to the ground, and buildings were rebuilt to reflect Chinese architecture. As the years passed by and discriminatory practices were removed, Chinatown continued to hold on to its community. 
More recently, Chinatown endured another struggle. As it's one of the most popular places to visit in San Francisco, it suffered greatly during the pandemic. Grant Ave, the normally packed street lined with tourist-oriented gift shops, was a ghost town. Thankfully, many of the businesses we know and love did survive and Chinatown is returning to its normal self!
A great book about the Chinese experience immigrating to and living in California is Shanghai Girls by Lisa See. While it is a fiction book, it is based on the real difficulties and discrimination the Chinese experienced.
Where is Chinatown Located in San Francisco?
Chinatown is located in the heart of San Francisco. It's nestled in between the historically Italian neighborhood, North Beach, the bustling shopping district, Union Square, the business buildings of the Financial District, and the beautiful homes of Nob Hill.
The iconic Dragon Gate is located at the intersection of Bush Street and Grant Ave. On Grant Ave you'll find the shops, and one city block over on Stockton Street you'll find the traditional grocery stores. 
Other main streets to note in Chinatown are Jackson Street, where there are delicious eateries and Washington Street where you'll find Portsmouth Square.
Beyond these main city blocks of Chinatown, multiple alleyways are fun to explore!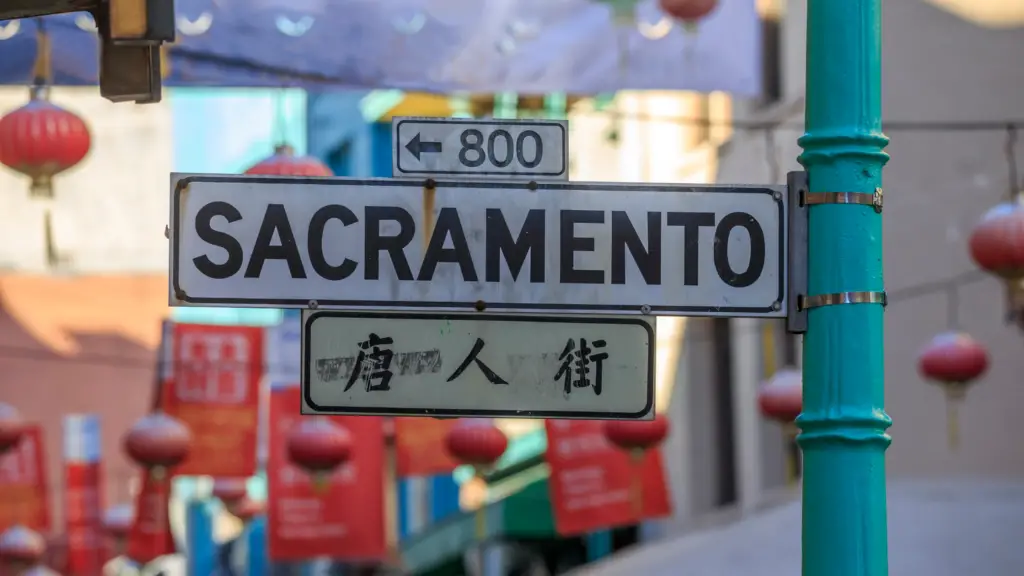 The Best Things to Do in Chinatown, San Francisco
Enter through the Dragon Gate
Most Chinatown adventures begin at the corner of Bush and Grant Ave at the ornate Dragon Gate. While it's a beautiful gateway to the rest of Chinatown, it's also important to note that its design adheres to the Chinese standards for gateways, using stone (instead of wood) columns and tiles shipped from China. 
The three portal structure, two entrances for pedestrians on either side of one larger entrance for vehicles, was erected in 1970 with tiles shipped from China. The gate is guarded by dragons above and two lions on either side.  
If you're traveling with someone, be patient and wait for the light to turn red so you can get a photo of the gate without any vehicle traffic. But be careful!!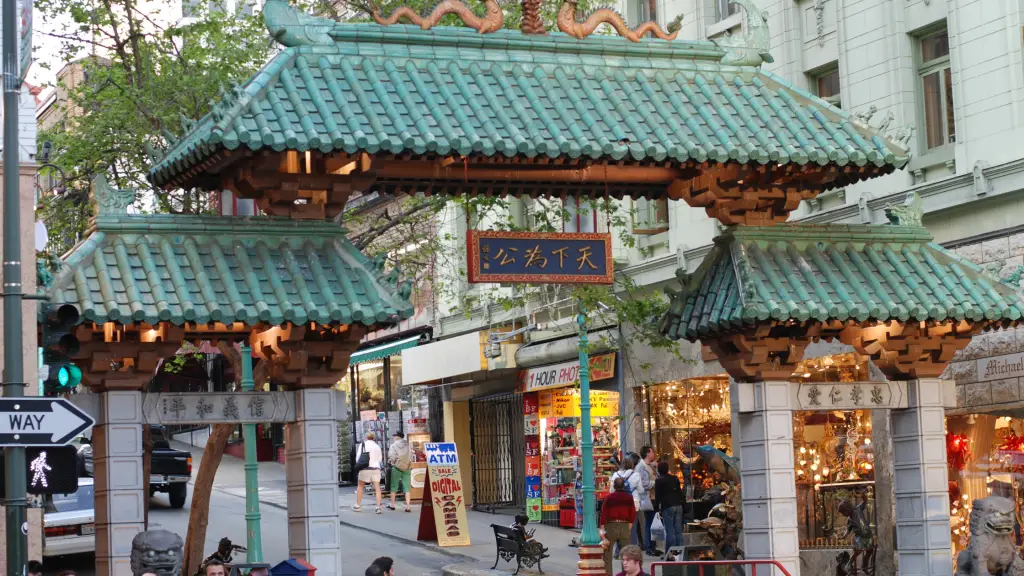 Visit Portsmouth Square
Portsmouth Square is a significant location in San Francisco. Known as the Heart of Chinatown, Portsmouth Square is also the first place where the American flag was raised and where the discovery of gold was first announced.
Today, it's a small park that offers a bit of fresh air in the busy downtown area. If you're there early enough in the morning you'll likely see Tai Chi being practiced.
There's also a parking garage underneath if you need a place to park while exploring Chinatown.
Stroll Waverly Place
While Grant Ave is a fun place to walk around, head a block west to explore Waverly Place, one of Chinatown's famous alleys located between Sacramento and Washington. 
Waverly Place is two blocks lined with beautiful Chinese buildings, family-run businesses, temples, and the Michelin Star restaurant, Mister Jiu's. 
Besides the beauty of the architecture along this alley, Waverly Place has been made famous when depicted in The Pursuit of Happiness and The Joy Luck Club by Amy Tan.
Admire the Street Art
On many streets in Chinatown, you'll find a variety of street art. Some depict Bruce Lee, others with dragons and Chinese architecture. They're all well done and worth checking out. A few of my favorites are found below:
Grant and Commercial
Grant and Washington
Grant and Sacramento
Jack Kerouac Alley (borders North Beach)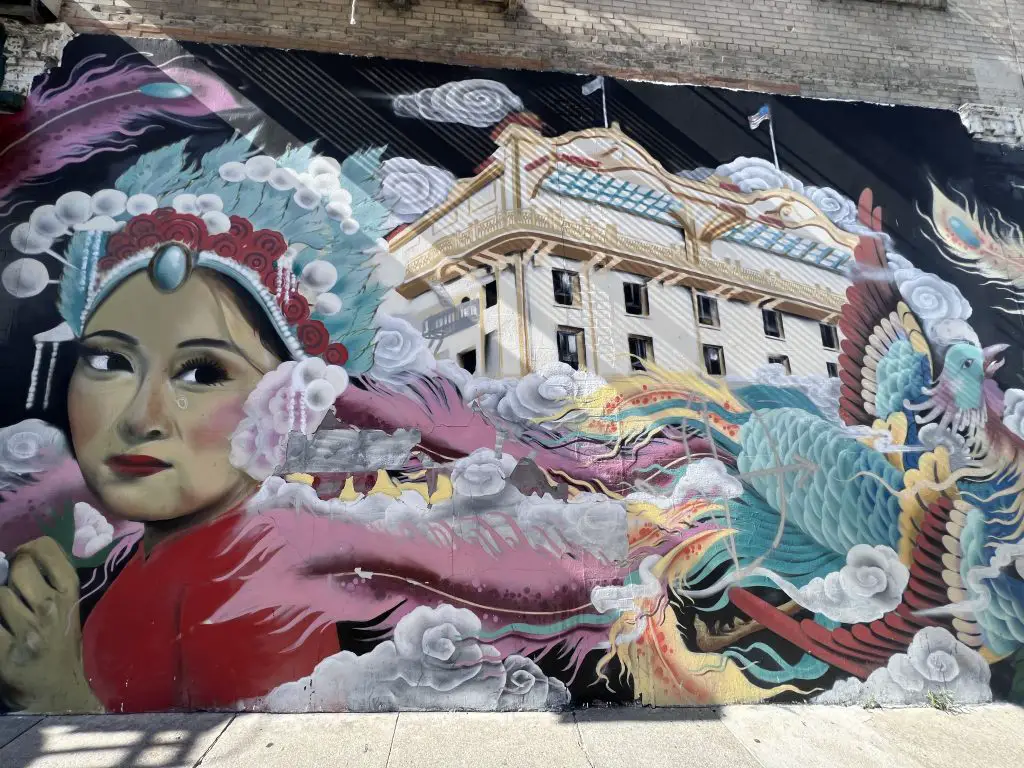 Visit the Chinese Historical Society of America
The Chinese Historical Society of America is a museum and society dedicated to the preservation and promotion of Chinese contributions to America. 
On the day I wandered in they had a Bruce Lee exhibit showcasing his life and impact in Hollywood and beyond.
I didn't know much about Bruce Lee, like the fact that he was born in San Francisco and after growing up in Hong Kong lived in Oakland. 
It was incredibly interesting to learn about his experience with the injustices he faced as a Chinese American. 
Entrance fee: $12 for adults, $10 for students and military, and $5 for children 18 and under.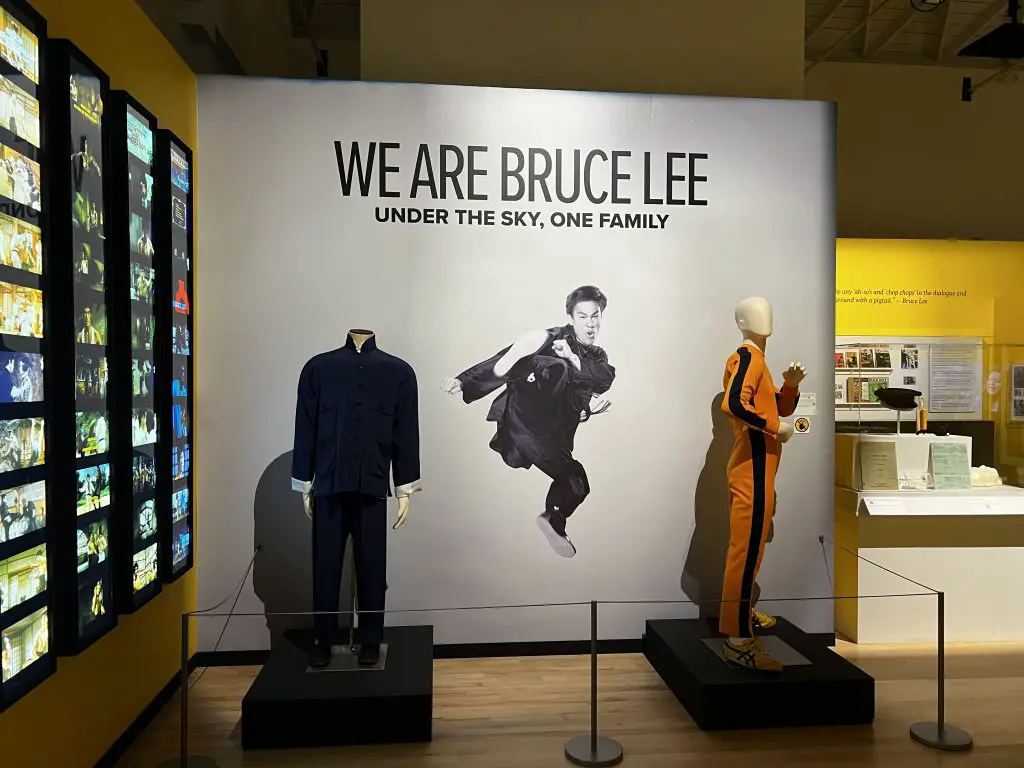 Check out the Chinese Architecture
One of my favorite things about Chinatown is its architecture. The balconies with hanging laundry. The lanterns strung across alleyways. Having never been to China, I imagine this is what Hong Kong looks like.
A few of my favorite places to see Chinese architecture are Waverly Place, Grant Ave, and the Sing Tong building.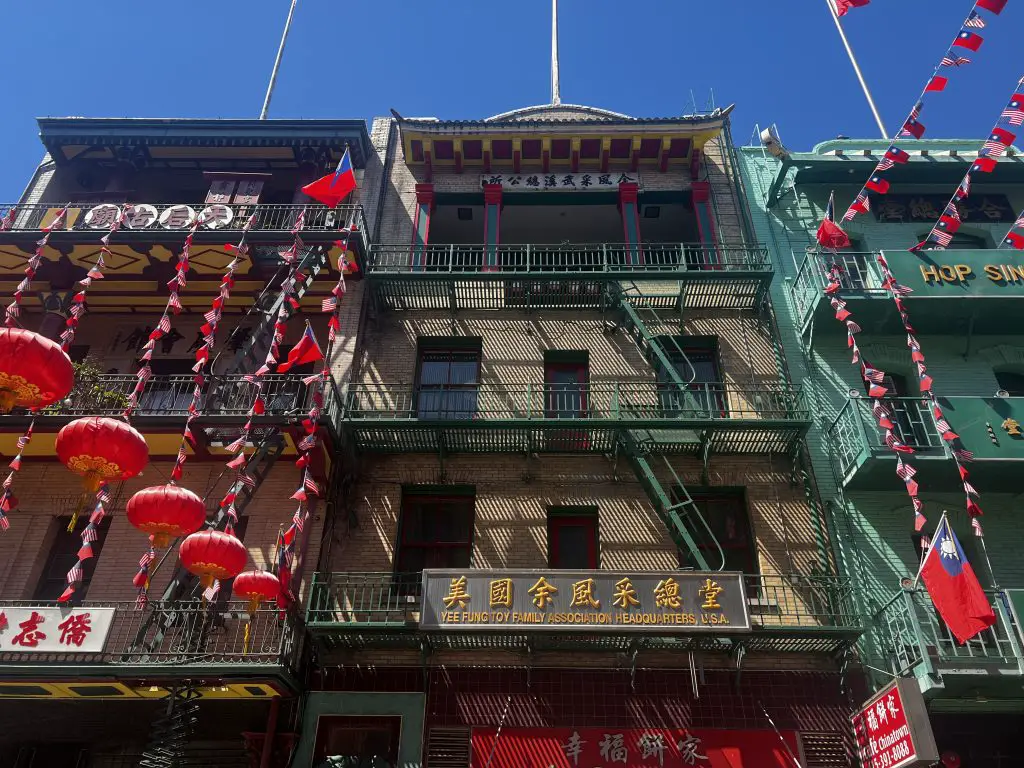 Visit Chinatown Temples
On a recent sunny Saturday morning, I headed over to Chinatown with one goal in mind, to see the temples!
While I could see the awesome Chinese architecture from the outside, all of them were closed to visitors. 
I believe if you are part of a Chinatown tour, you'll have a better chance of seeing the inside. 
Kong Chow
The Kong Chow Temple was founded by the Cantonese community in 1849 and renamed the Kong Chow Temple in 1854. The temple is dedicated to Guan Di, the Chinese God of War and Literature.
Like most buildings, it was destroyed by the 1906 earthquake, but the community quickly rebuilt it. Today, it stands in a different location than the original temple, but visitors are still able to enter. Remember, no photography is allowed inside the temple.
Note: Due to COVID, visitors are not allowed.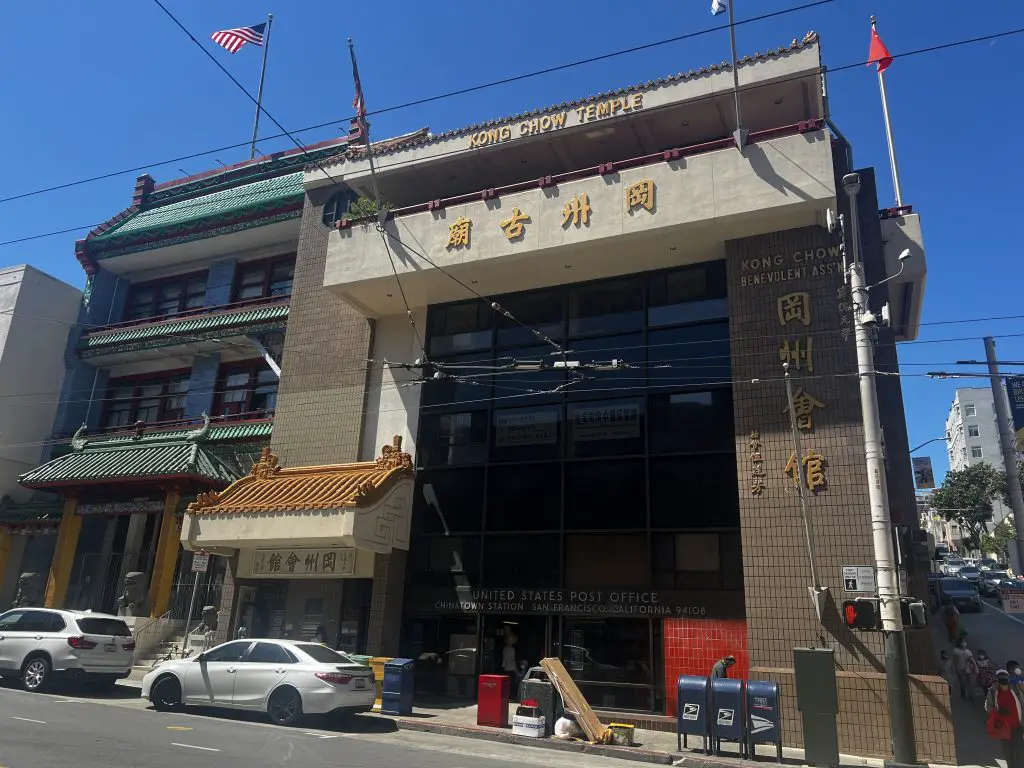 Tin How
The Tin How Temple is the oldest Taoist temple in San Francisco's Chinatown and the oldest Chinese temple in the United States. It is dedicated to Mazu, the Chinese sea goddess. 
The Temple was founded in 1852, but most of it was destroyed in the 1906 earthquake. It reopened in 1910 where you can visit it today on the top floor of a four-story building. 
It's open daily from 10:00 am – 3:00 pm and visitors are allowed for free per the attendant. No photos are allowed inside the temple. 
Note: Due to COVID, visitors are not allowed.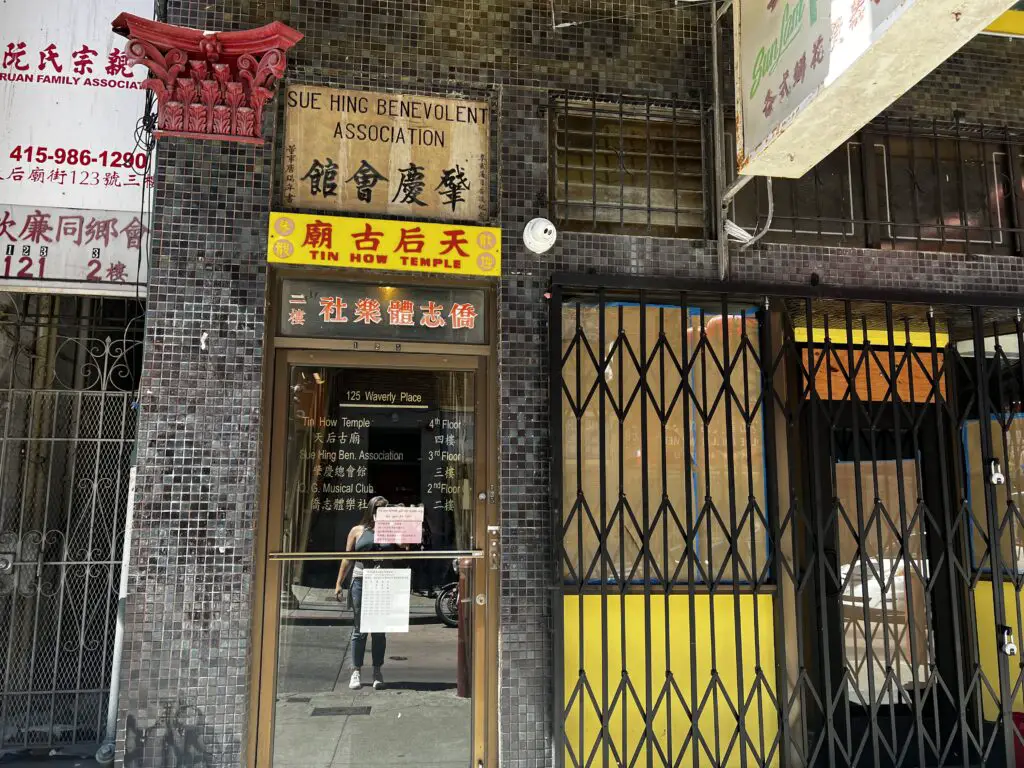 Ma Tsu
The Ma Tsu temple is a Taoist Temple also dedicated to the Chinese sea goddess, Mazu. Ma Tsu was founded in 1986. 
It's a simple building on the exterior with nothing to note it is a temple (that I saw anyway).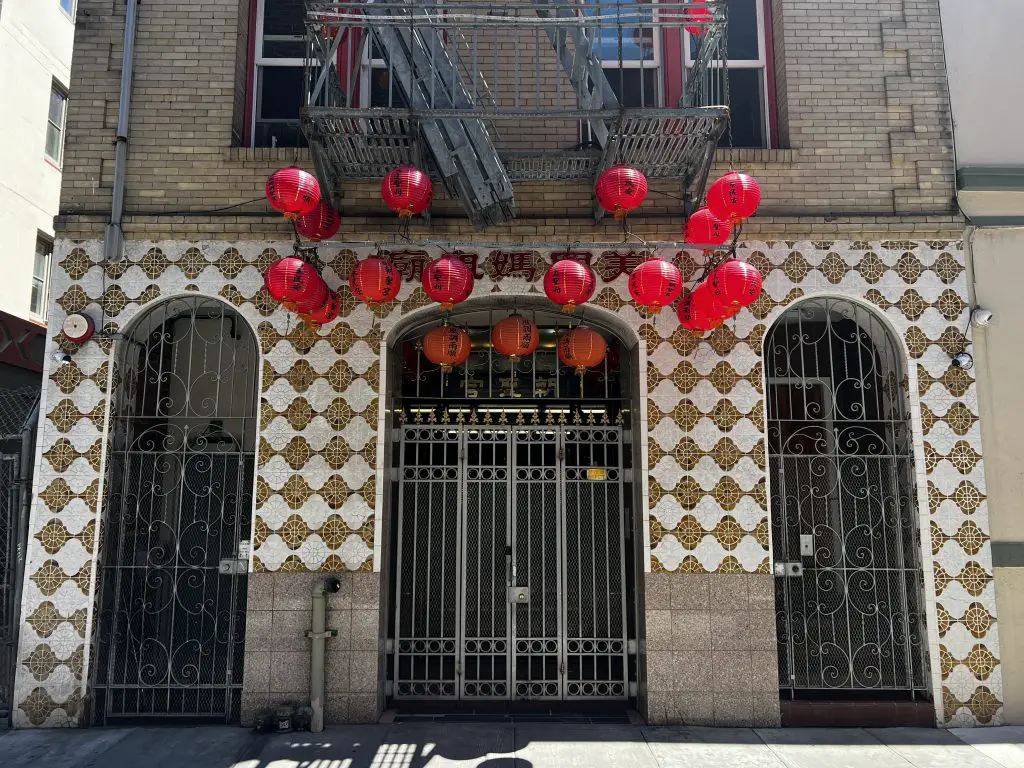 Have a Treat at the Golden Gate Fortune Cookie Factory
Did you know that fortune cookies were not actually made in China? They were invented in a little shop in Ross Alley in 1962. The Golden Gate Fortune Cookie Factory makes 10,000 fortune cookies from scratch…and by hand, daily!
When you enter, you'll be greeted with a sample of a flat fortune cookie while you peruse the other decadent treat on the counter. You can even create your own fortune to be placed inside the cookie, which would make a great gift!
Tours of the Golden Gate Fortune Cookie Factory are also available. 
Where to Eat in Chinatown?
Z&Y Restaurant
Z&Y Restaurant had been on my list of places to eat in Chinatown for ages as it's one of the most popular Chinese restaurants in the city. Chinese dignitaries and Barack Obama have dined at Z&Y Restaurant. If it's good for them, then I had to check it out!
Z&Y Restaurant is a Szechuan-style restaurant headed by the award-winning Chef Han. One of their most raved-about dishes is the tea-smoked Peking duck, which, unfortunately, I did not have the pleasure of tasting…not yet anyway.
I ordered the Moo Shoo pork with fried rice and both dishes were delicious. I'd never had Moo Shoo pork before and it will now be a staple in my Chinese food order.
If you don't have reservations, be sure to get there early. Otherwise, expect a bit of a wait.
If it's a nice day, snag a table outside in their parklet. Enjoy!
House of Nanking
The House of Nanking offers Cantonese cuisine in a fairly large restaurant with outdoor dining available. It's definitely a tourist spot as I sat between a French family and a family clearly not from the city who loudly complained about the honking horns. 
As I was dining solo, I opted to try their famous Sesame Chicken with a side of steamed rice. If I'm being honest, I kept thinking I would've rather eaten the Moo Shoo pork from Z&Y restaurant. It was good, sure. But I have a feeling that there are better spots in Chinatown.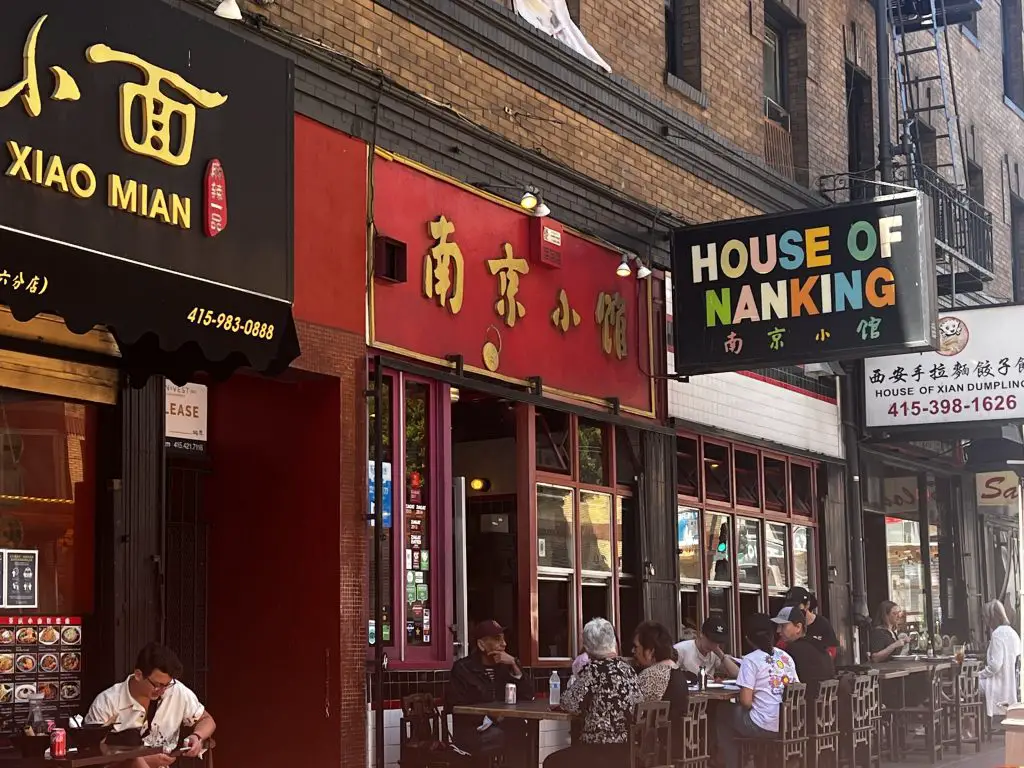 A few other places on my list to eat in Chinatown include:
Hang Ah Tea Room for Dim Sum
Hong Kong Clay Pot Restaurant
China Live
Mister Jiu's
Good Mong Kok Bakery
Have a Drink in Chinatown
Buddha Lounge
The Buddha Lounge is a small bar on the corner of Grant and Washington. I popped in after my failed attempt at seeing the inside of Chinatown's temples. 
It was mostly tourists inside, which I usually find lends to a lively atmosphere. The bartender was friendly as I settled in with a beer.
They're known for a solid mai tai, but I was saving my mai tai experience for Li Po Lounge.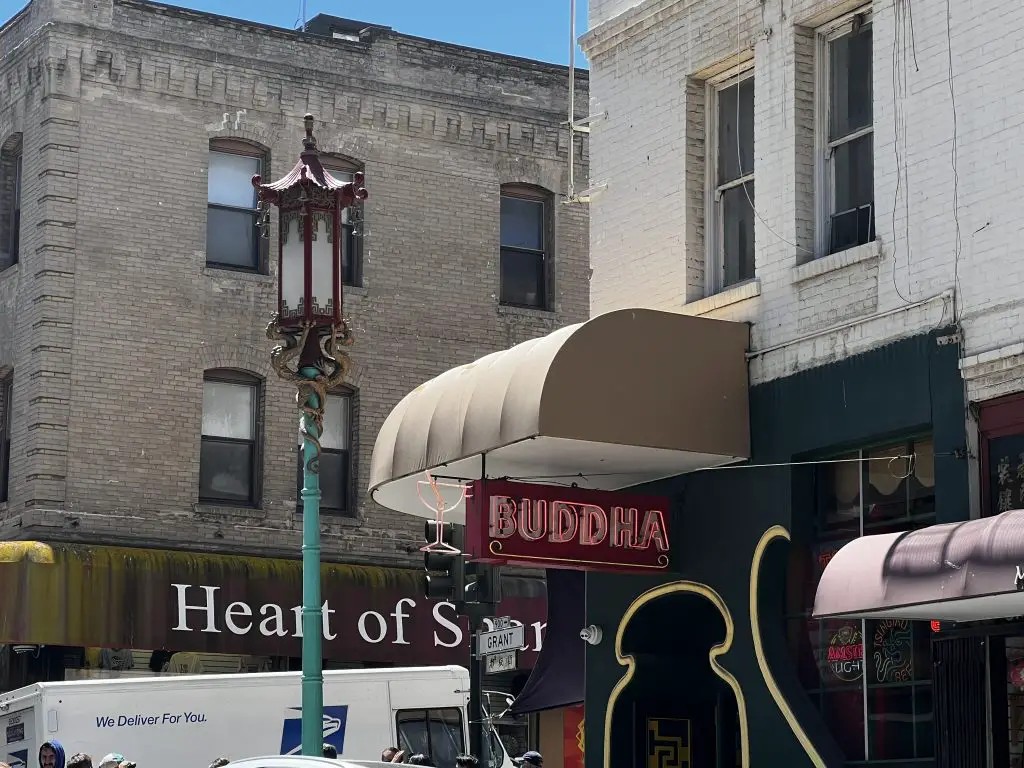 Li Po Cocktail Lounge
Li Po cocktail lounge entered the Chinatown nightclub scene in 1937 and has been operating ever since! The entrance looks like a cave underneath the original neon sign. 
The interior includes a wrap-around bar and some booths in the back, lit by Chinese lanterns. 
The major draw to Li Po Lounge, that's drawn the likes of Anthony Bourdain, is the killer mai tais that that incredibly friendly bartender blends up in batches. For $11, this killer mai tai is all you need to settle in for a good night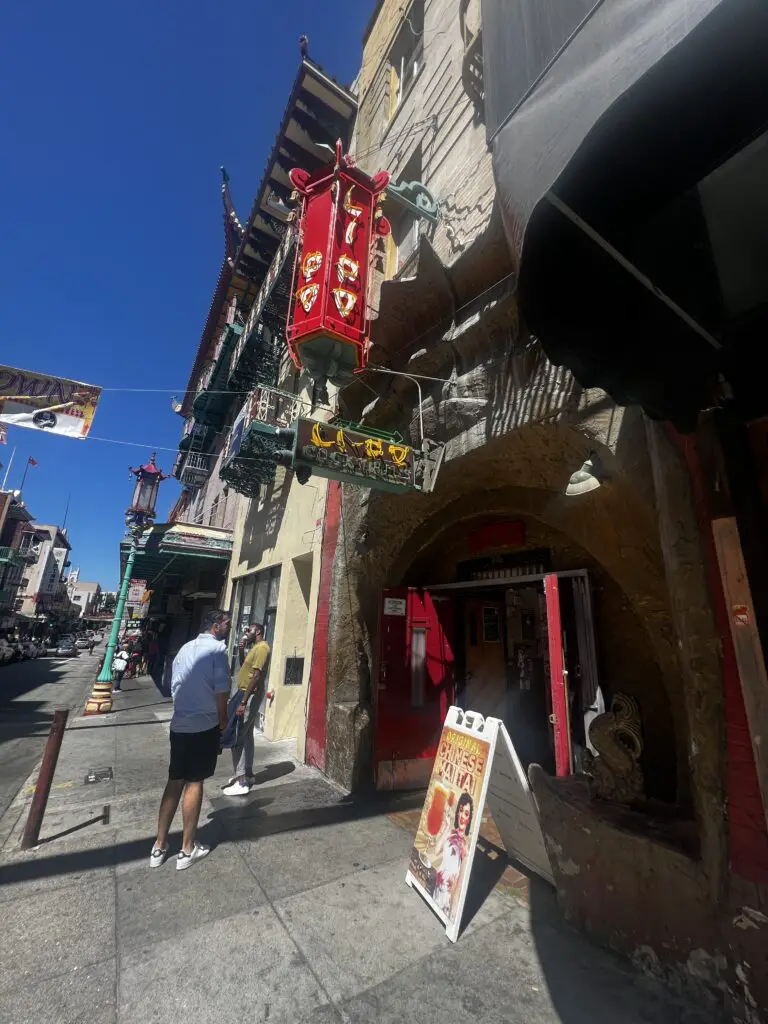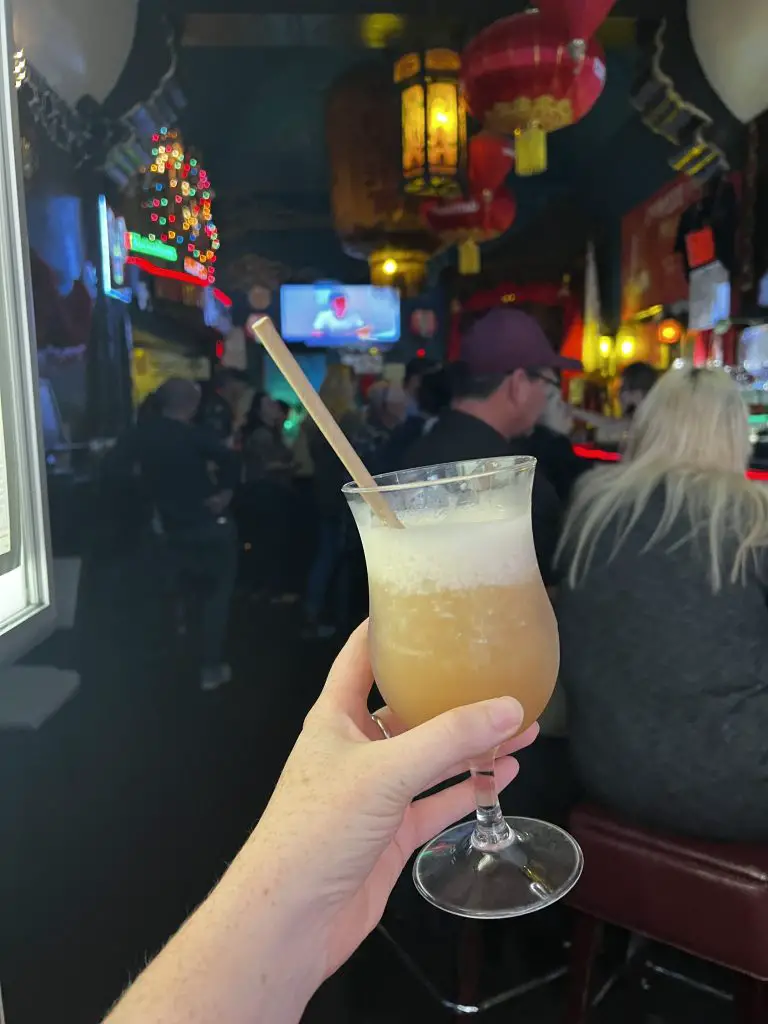 Matcha Maiko
Ok, while I'm aware that matcha is from Japan, there is still a Matcha Maiko in Chinatown and I stop there every time I'm in the neighborhood. Why? Because if you're new here, you should know that matcha is one of my favorite things. I tend to keep it simple with a matcha latte or a matcha frozen yogurt. But Matcha Maiko has a full menu of creative matcha concoctions to try.
Highly recommend stopping in to give it a taste!
Go Shopping in Chinatown
On Grant Avenue, you'll find many tourist-oriented gift shops. But if you head one street over, on Stockton, you'll find block after block of Chinese grocery stores. I recommend wandering down Stockton Street on a Saturday morning where you'll find neighborhood locals shopping the overflowing fruit stands, Chinese herb barrels, and small fish markets.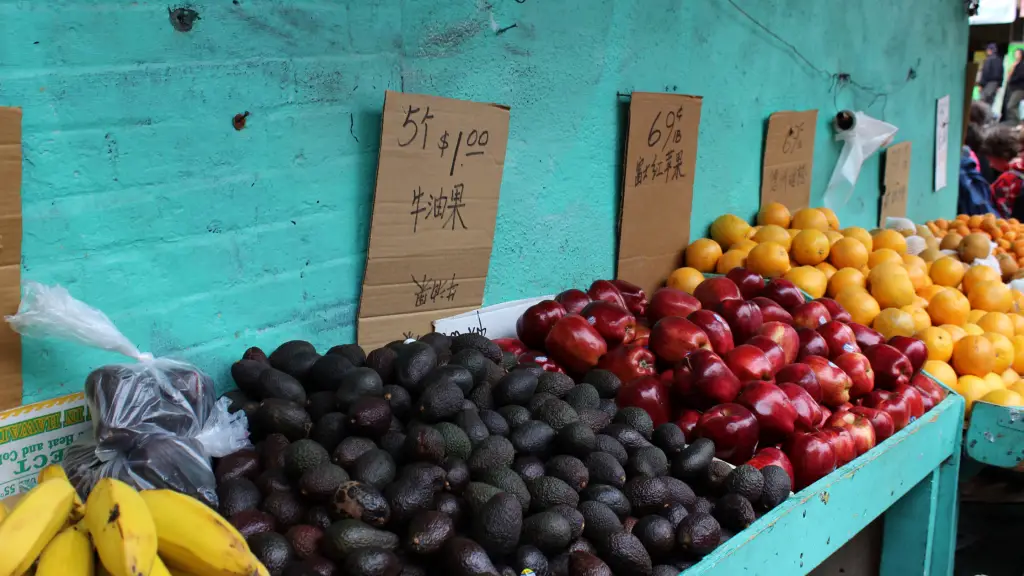 Events in Chinatown
There are several events in Chinatown throughout the year but two of the biggest are the Chinese New Year Parade and the Autumn Moon Festival. 
Chinese New Year Parade
The Chinese New Year celebrations begin weeks before the parade with the flower market fair and Miss Chinatown pageant. The Chinese New Year parade is one of the biggest parades in the world and the biggest Lunar New Year celebration outside of Asia. The parade occurs at night when Chinatown's signs are lit up as are the parade decorations. It's a must-see if you're in town!
Chinatown Autumn Moon Festival
The Chinatown Autumn Moon Festival is a two-day event in August with a parade, lion dancing, live music, and a variety of food and drinks. All events take place on Grant Avenue between California and Washington Street. The festival is based on the ancient Chinese Legend of Chang E that you can read about here. 
Chinatown Walking Tours
If you're interested in a guided tour of Chinatown to learn more about the history of this neighborhood and find local gems. Check out one of these Chinatown walking tours.
Chinatown Culinary Walking Tour
This tour allows you to sample different types of dim sum, takes you to the best markets, and allows access to one of the Buddhist Temples. This is a really well rounded tour of Chinatown. 
Check rates and availability here.
Free Chinatown Walking Tour
SF City Guides offers multiple free walking tours throughout the city, including one for Chinatown. They'll take you through Chinatown's alleys as you learn about the history and determination of Chinatown's residents.
Chinatown Ghost Tours
Interested in something a little different? Check out this after dark Chinatown Ghost Tour. Uncover Chinatown's alleyways while you learn about infamous crimes and historic hauntings.
Check rates and availability here.
How to Get to Chinatown
Due to its location in the center of the city and near other fun things to do in San Francisco, Chinatown is fairly easy to get to.
Walking
If you're staying in Nob Hill, North Beach, or Union Square the best way to get to Chinatown is to walk. Just be prepared for a few hills along the way.
Cable Cars
One of the other items likely on your San Francisco itinerary is to ride the cable cars, and each of the cable car lines runs through Chinatown. 
The California Cable Car Line runs from the Financial District to Van Ness. Get off at California and Grant for Chinatown.
The Powell-Mason and Powell-Hyde lines each run from Market Street near Union Square to North Beach and Fisherman's Wharf, respectively. For Chinatown, get off at Powell & California or Powell & Sacramento and walk down the hill.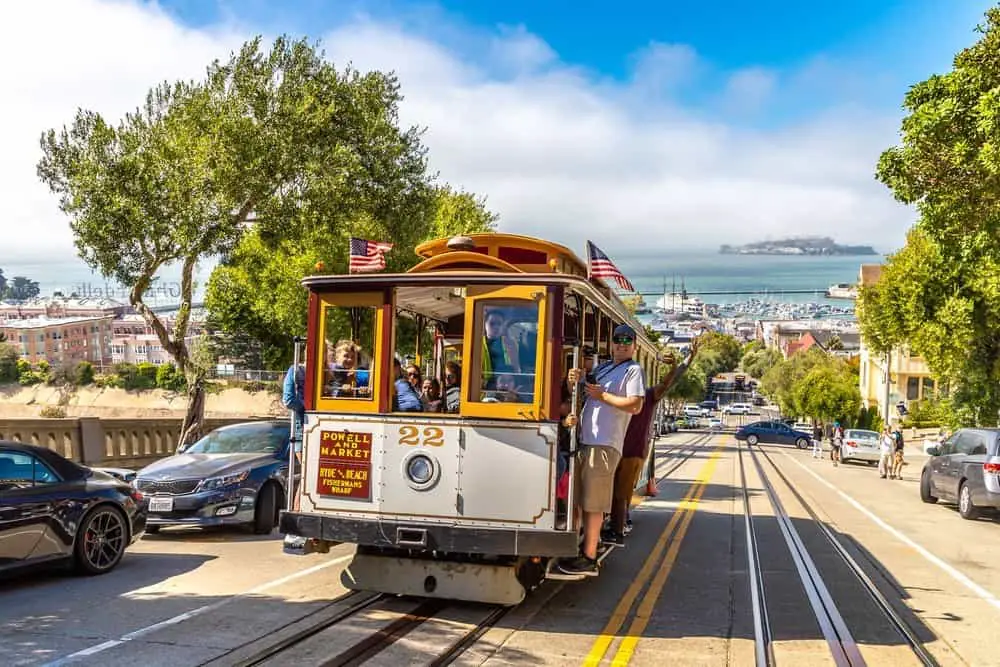 Bus
Several Muni routes serve Chinatown including the 1, 30, and 45.
Parking
If you're driving to Chinatown be aware of street parking signs for time limits and street cleaning. The meter maids are merciless and will for sure ticket you if you overstay your welcome or get in the way of a street sweeper!
There are multiple parking lot options, however, the two I recommend are Portsmouth Square and the North Beach Parking Lot. I usually park at the North Beach parking lot for the fun fortunes on each spot (and the great views at the top)!
Where to Stay Near Chinatown
Since Chinatown is located just a few blocks away from Union Square, the Financial District, and Nob Hill there are several accommodation options for any budget. Here are three of my top recommendations for hotels near Chinatown.
Orchard Hotel
This boutique hotel is located in between Union Square and Chinatown making it a great base for checking items off of your San Francisco bucket list. The hotel offers Free WiFi, a Smart TV in each of the rooms, and an on-site restaurant. There is no parking available on site.
Find current rates and availability for the Orchard Hotel here.
Grant Plaza Hotel
The Grant Plaza Hotel is located just three blocks from the Dragon Gate. There is free WiFi throughout the hotel and they offer discounted rates at a nearby parking garage.
Find current rates and availability for Grant Plaza Hotel here.
The Omni
If you want to treat-yo-self, check out the Omni. It's a 5-minute walk from Chinatown and offers elegant rooms to recharge after a day of exploring Chinatown. 
Find current rates and availability for the Omni here.
Like this post? Save for later!