Did you know you can get up close to a herd of bison in Golden Gate Park? Many long-time Bay Area residents don't know about this unique Golden Gate Park attraction. It's definitely a fun surprise to drive or take a bike ride through Golden Gate Park and stumble upon these beauties grazing in the grass. You just don't expect to see a herd of bison in an urban park!
The first bison herd was introduced to Golden Gate Park in 1892 when their species was near extinction due to aggressive hunting by European Americans. You've heard of Buffalo Bill, right? Well, he got that name due to his ability to hunt (4,000 ish) bison for food for railroad workers.
Eventually, the numbers of American bison dropped from millions to below 100.
The introduction of bison to Golden Gate Park that started with just one male and one female ultimately began the conservation effort to save the American bison. This was long before the San Francisco Zoo opened, in 1930. The zoo is currently responsible for caring for the herd.
The herd of Golden Gate Park bison has changed over the years. In 2011 a new herd of 5, Betsy, Bailey. Bellatrix, Buttercup and Bambi, were introduced. Don't ask me which one is which!
In March 2020, 5 female bison were donated to the park in honor of Golden Gate Park's 150th anniversary, growing the herd to the 10 females you'll find today. 
They used to keep males as well, however, mating season introduced quite a bit of chaos in the paddock. Supposedly one even escaped and took a stroll through the Sunset neighborhood. Can you imagine watching a bison wander past your window!
Honestly, saying hi to the bison is one of my favorite things to do in Golden Gate Park and I love taking visitors to see them. 
Where to find the Bison Paddock in Golden Gate Park
The bison paddock is located in the western portion of Golden Gate Park. You'll find the bison paddock on John F. Kennedy Drive in between Chain of Lakes Dr and 36th Ave. You can park along JFK Dr.
There is also a dog park that recently opened behind the paddock, so you can bring your own furry friend to play while you look at the bison grazing!
Just be sure to keep your dog on a leash if you're walking them by the paddock so as not to scare our bison herd.
Things to do Nearby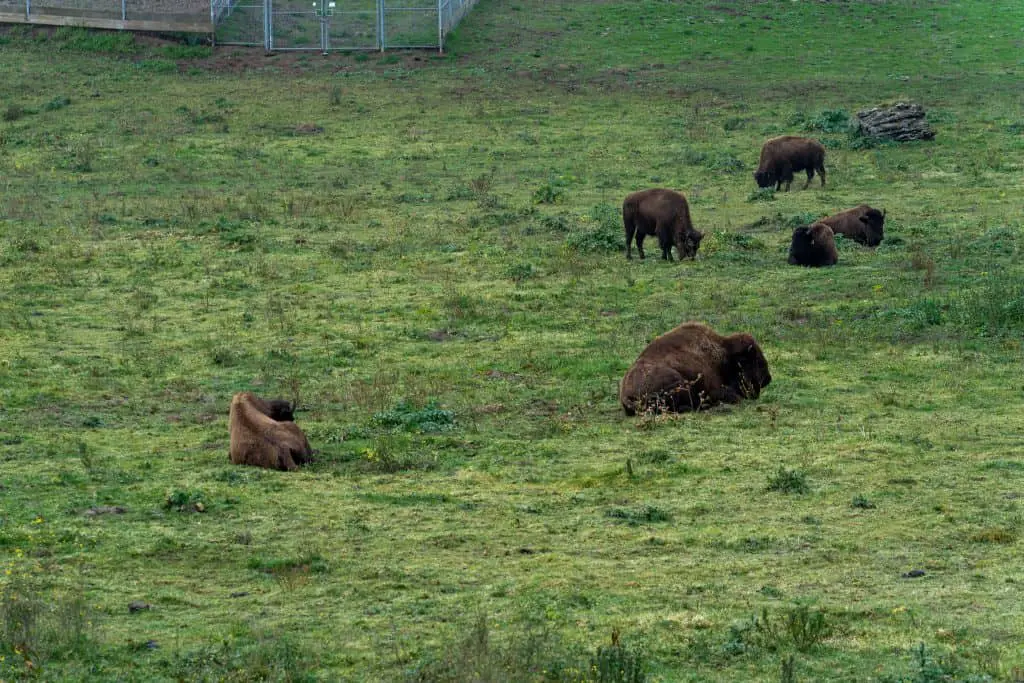 Golden Gate Park is filled with fun things to do and the Bison paddock is located near many of those attractions.
Across the street, you'll find Spreckels Lake, which is a great place to relax or race a small boat!
The Dutch Windmill is down JFK on the way to Ocean Beach. In the Spring beautiful Tulips bloom in the garden surrounding the windmill. It's quite beautiful!
Nearby is Ocean Beach, one of my favorite beaches in San Francisco!
You can also head to the east side of the park for the Japanese Tea Garden, Botanical Gardens, or to visit the museums.
When you're visiting Golden Gate Park, definitely make a stop to see the bison. The visit doesn't require much time but will create a unique and lasting memory of your time in San Francisco. And if you're a local who hasn't been to see them yet, what are you waiting for? Go say hi!
Like this post? Save & Share to Pinterest