Biking across the Golden Gate Bridge is a San Francisco bucket list activity for many visitors. And it's a popular bike route among local cyclists. I rode across the bridge in high school once but haven't done it since moving into the city.
This summer, when the weather forecast called for clear blue skies and warm weather (a rarity in San Francisco during the summer) I decided to dust off my bike and bike from San Francisco to Sausalito via the Golden Gate Bridge
(Un)fortunately, the weather forecast was wrong as I woke up to a blanket of fog. But, if there's one thing I've learned, you need to embrace the San Francisco weather, so I decided to go anyway. Plus, I figured riding in the fog would be better than having the sun beating down on me.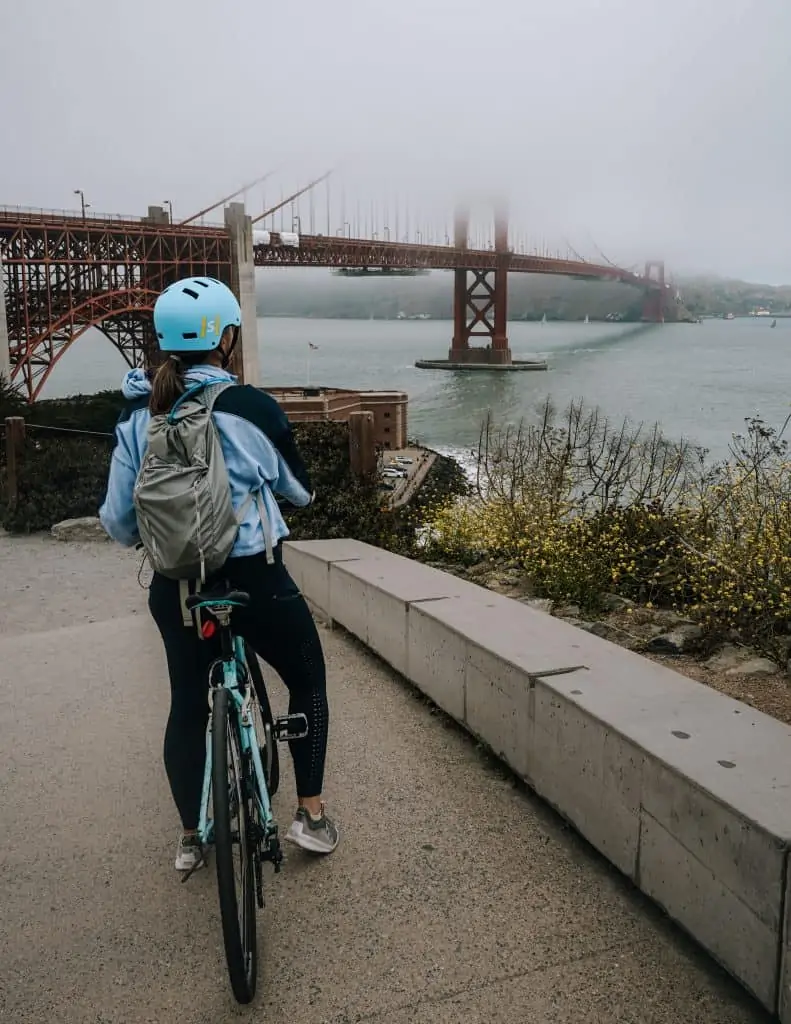 During this ride I realized valuable tips that a visitor may not know and would improve the experience. And what kind of blogger would I be if I didn't share them with you!
If "ride a bike across the Golden Gate Bridge" is on your San Francisco itinerary, read on for everything you know to make this happen!
This post contains affiliate links, which means that, at no additional cost to you, I will earn a tiny bit of income if you decide to make a purchase or booking. For more, check out my disclosure. 
San Francisco Travel Resources
12 Tips for Biking Across the Golden Gate Bridge to Sausalito
Rent a Bike from a Reputable Shop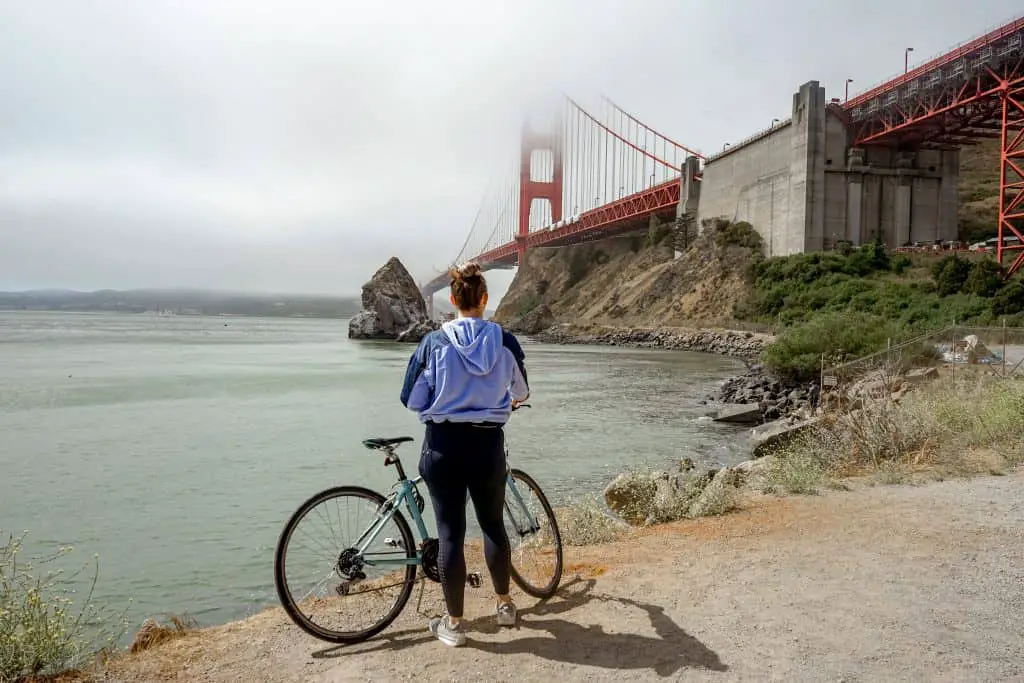 A positive experience biking across the Golden Gate Bridge begins with a solid bike rental. There are several bike rental companies throughout the city, but some are better than others. Do your own research (Yelp & Google reviews are a good starting point) but here are 3 of the bike rental companies in San Francisco I recommend. 
Before I get into the recommendations, know that the cost of a one-day hybrid bike rental is an average of $32. Also ensure that the rental includes a helmet, lock, and map. Don't forget to check Groupon for deals as well.
Sports Basement: I freaking love Sports Basement. It's like REI without the air of superiority. There are multiple locations in the Bay Area, but the one you want to rent your bike from is the Presidio location. I recommend Sports Basement if you have a car because you can easily drive there and park your car in the lot for the day. This will also save some biking time as you'll start the bike ride as close to the Golden Gate Bridge as possible. 
For certain bike rentals, Sports Basement also offers early pickup which means that you can pick up your bike the night before your bike ride at no extra charge. So if you're planning to start before they open at 9:00 am this is a solid option to inquire about. 
Hybrid bike: $32/day
E-Bike: $135 with $1500 refundable credit card deposit
Location: 610 Old Mason Street
Blazing Saddles: Blazing Saddles is a reputable bike rental company and is conveniently located near Fisherman's Wharf and many hotels. It's also located near Pier 41, so if you're taking the ferry back from Sausalito, it's a very short ride back to the shop to return your bike.
If you book in advance online there is (at the time of this writing) a 20% discount.
Hybrid bike: $32/day or $25 with discount! 
Electric bike: $78/day or $62/day with the discount! More affordable than the Sports Basement e-bike.
Blazing Saddles also offers guided tours if that's of interest to you.
Location: 721 Beach St
Bay City Bike Rentals: Bay City Bike is another solid option with excellent reviews for renting a bike in San Francisco. They have THREE locations near Fisherman's wharf and one near Golden Gate Park. However, at this time the only open location is the one on Taylor Street.
Right now, they're also offering 20% off for booking in advance online.
Hybrid: $32/day
Electric bike: $65/day
Bay City Bikes also offers group and private bike tours.
Location: 2661 Taylor St
Splurge on the Electric Bike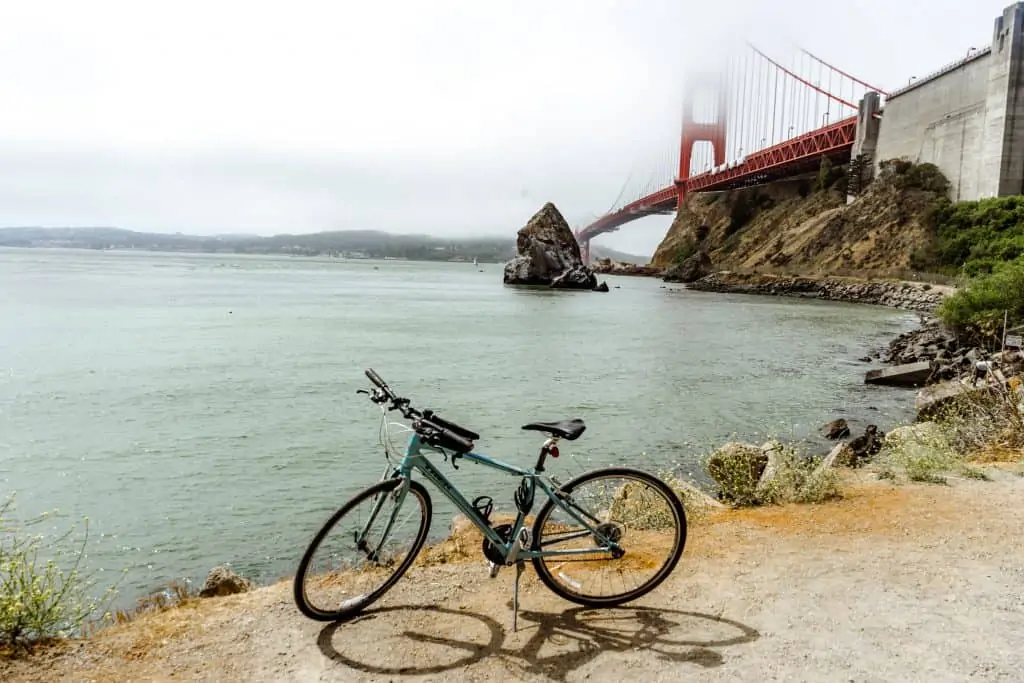 If you're not much of a cyclist in your regular life, consider splurging on an electric bike. There are a number of hills you'll have to contend with on your way over the bridge and an electric bike can help get you over that hump!
Sure, you could get off and walk it up, I certainly did. But why do that when you can just get the extra help from an e-bike?
The extra $30 might just make the experience that much more enjoyable!
Wear Your Helmet
I can not stress enough the importance of wearing your helmet. It should be included in your bike rental, so please use it!
When I was wandering around Sausalito, I heard "SCREECH, BOOOM, AGHHH" behind me. I turned around to see a cyclist on his back and a guy getting out of his car to check on him. The car had noticed a parking spot and I assume just started to pull into it without checking his blind spots.
He hit the cyclist who went flying and landed on his back, half on half off of the curb. Plenty of people came to help, including the driver, and he was transported via ambulance.
After this, as I crossed back over the Golden Gate Bridge, I noticed several people (mostly tourists) without helmets on.
Please wear it. The Athletic Trainer in me thanks you! And so does your brain!
Bike on the Correct Side of the Golden Gate Bridge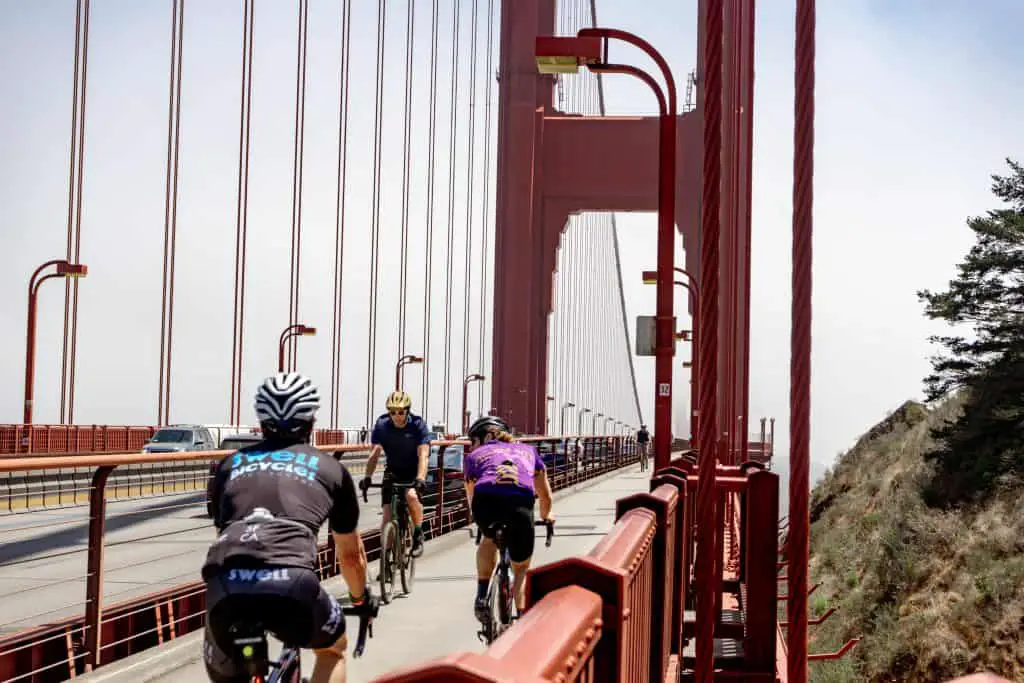 The Golden Gate Bridge bike lane may change depending on the day and time you bike across.
There are two "sidewalks" to the Golden Gate Bridge.
East Sidewalk is the Bay Side (nearest downtown)
West Sidewalk is the Pacific Ocean side (furthest from downtown)
Weekdays the East sidewalk is open from 5:00 am to 3:30 pm. The West sidewalk is open from 3:30 pm to 6:30 pm
Weekends you can only ride the West sidewalk from 5:00 am to 6:30 pm.
These sidewalks are open 24/7 but I assume after 6:30 pm you'll be enjoying a well-deserved dinner in the city.
For more details, you can find the side you should ride on here. 
Don't stress about this though. If you follow the crowds and instructions of any bicycle traffic controllers, you'll be set.
Dress Appropriately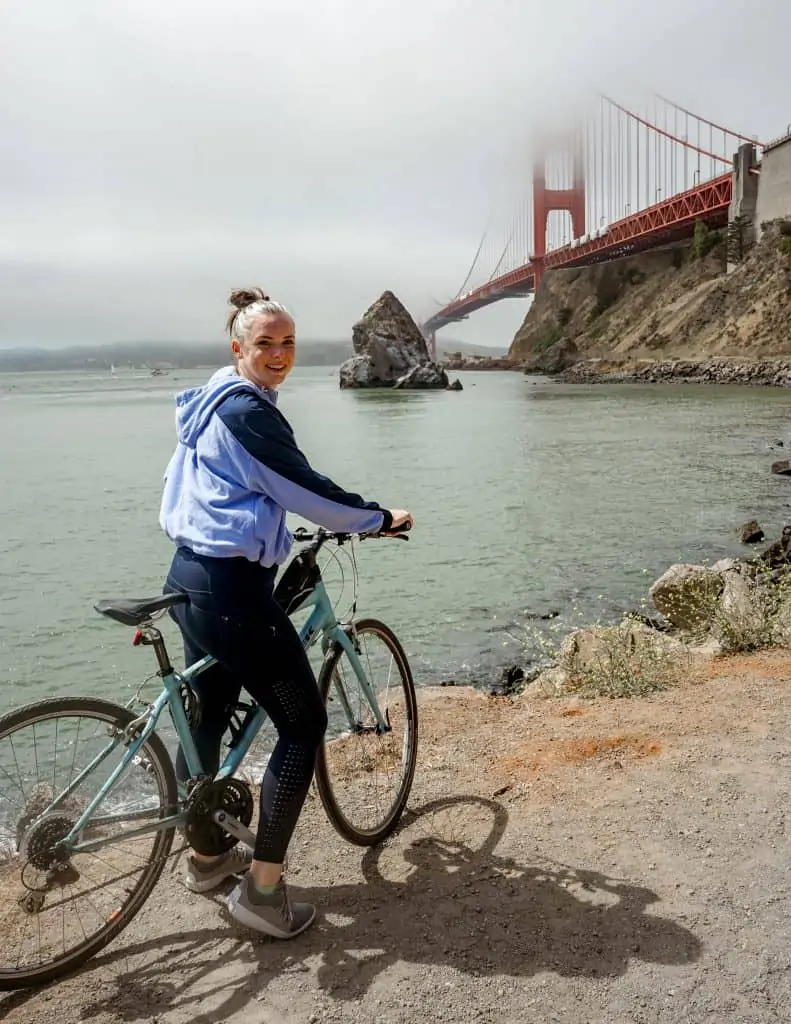 The weather knowing what to wear in San Francisco on any given day, and for any given activity, a challenge. I know it's only a few miles difference, but the weather can be drastically different from one side of the bridge to the other. This means layers are important for your bike ride across the Golden Gate Bridge. 
I started my bike ride barely being able to see the top of the Golden Gate Bridge from the San Francisco side. By the time I crossed the bridge, it was blue skies and sunshine and I was looking back at the fog.
The weather in Sausalito was a gorgeous blue sky and warm 70* day. 
When I returned to the city, the wind was whipping across the bridge. I'd taken my fleece off to only leave a tank top on while biking back from Sausalito and sincerely wished I'd put it back on before crossing the bridge again. 
I never knew wind could hurt! I didn't want to stop on the bridge to put my sweater back on so I powered to the other side of the bridge to layer up!
Here's what I suggest wearing:
Athletic shoes
Comfortable, leggings or biker shorts (if it's a sunny day in SF too)
A tank top/t-shirt
Light fleece or light long sleeve shirt
Windbreaker
Helmet
Don't forget to wear sunscreen and sunglasses as well!
Park in the Correct Location in Sausalito
When you get to Sausalito, you'll want to park your bike to explore this charming town. While in San Francisco, you can park your bike basically anywhere, that is not the case in Sausalito.
Follow the signs for the Ferry. You'll ride through downtown Sausalito for a block and then turn right to the ferry. To the left you'll see rows and rows of bike racks. Park and lock your bike here.
Tickets are given for locking your bike to a street sign or parking meter in Sausalito. 
There are also bike racks near Equator Coffee & Teas if you get there early enough. 
Know Basic Cycling Etiquette
San Francisco is a major cycling city. You'll encounter both local cyclists, totally geared out, and tourists on your bike ride. 
During your bike ride, adhere to basic traffic rules. Generally, this means stay to the right and pass on your left.
If you're going to pass someone, yell so that they can hear you, "on your left". And if you hear someone saying that to you, move a little bit more to the right to allow them to pass you.
If you're on the road, turning left put your hand out to the left to signal that you're going to turn. If there are cars around, do your best to make eye contact with the driver to ensure that they see you, check behind you, and turn left with caution. 
Check out this super short video about hand signals to use while biking. I think all you need to know for this bike ride is turning, slowing, and stopping. 
Book the Ferry in Advance
The majority of people biking to Sausalito from San Francisco take the ferry back to the city. 
The Blue and Gold Fleet currently has four departures starting at noon. Using this company, you'll arrive in San Francisco at Pier 41, close to the bike rental companies.
The second ferry option is the Golden Gate Ferry. This service will take you to the Ferry Building, a bit further from the bike rental companies. At the writing of this post, this service only departs twice daily during the week. However, there are 6 departures during the weekend starting at 11:20 am and the last departure at 6:45 pm.
In my opinion, your best option is to book with the Blue and Gold Fleet because its terminal in San Francisco is closer to where you'll need to drop off your bike. When you arrive in Sausalito and park your bike, stop by the ferry terminal to inquire about departures and purchase your ticket. 
An adult ticket on the Blue and Gold Fleet is $13 and on the Golden Gate Ferry it's $14, one way.
Start Your Ride Across the Golden Gate Bridge Early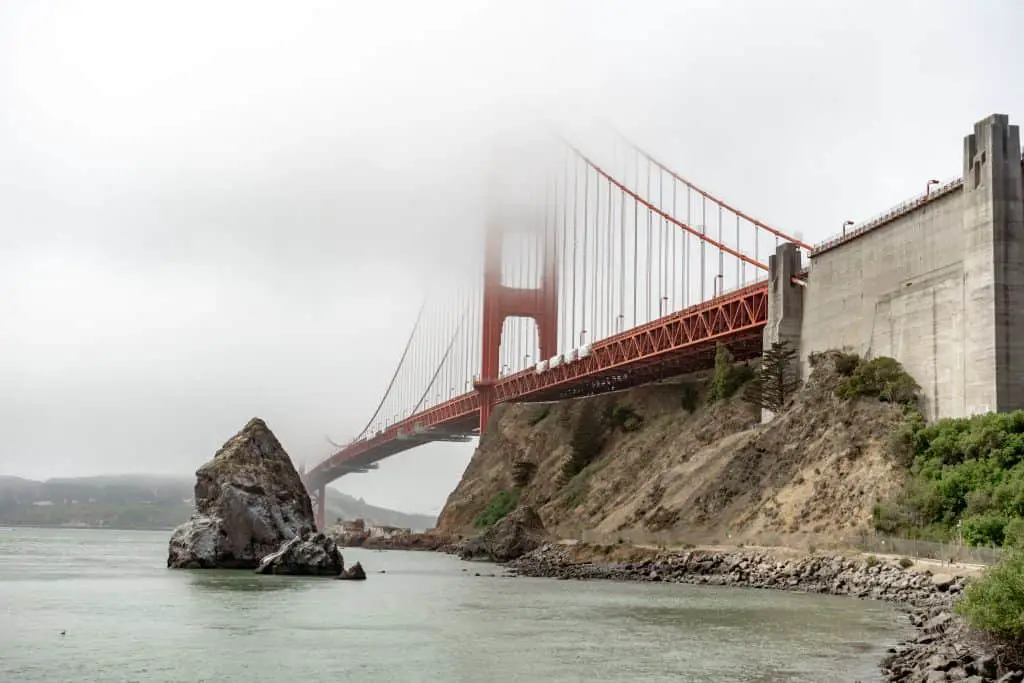 Start your bike ride early in the day. I recommend that you're pedaling by 9:00 am. 
It took me about an hour to get from the Sports Basement to the Ferry terminal in Sausalito. This includes a few stops for photo ops and getting lost once.
I'd add on at least 30 minutes if you're starting from Fisherman's Wharf.
You may be thinking, why go early if it only takes an hour.
Here's why: downtown Sausalito gets busy, especially on the weekends. It's a small downtown and around noon, it starts to get crazy busy. The number of cars looking for parking increases as does the number of pedestrians randomly crossing the street.
Getting to Sausalito early also means you can eat at one of the many waterfront restaurants without having to wait. This is a major perk after the ride from San Francisco.
Don't Rush the Ride
That being said, don't rush the ride. Make sure that this is the only activity you plan for the day. This will allow you to enjoy the ride, pulling over at any of the awesome viewpoints you find along the way.
Then you can take your time in downtown Sausalito. Enjoy a slow-paced brunch, a coffee, perhaps an ice cream, and a stroll through town.
If you need to get off and walk your bike up the hills – do it! Just stay to the right so others can pass you.
The Bike Route to Sausalito from San Francisco
Google Maps provides a very accurate bike route from San Francisco to Sausalito (and back). You should have service the entire way so if you ever get confused or turned around, just safely pull to the side and check your phone.
The route is also very clearly marked along the road. On the street you'll see painted bicycle men and you'll also see signs for Sausalito pointing the correct direction.
As you head into downtown Sausalito, there are also clear signs for the ferry. 
That being said here are some things to note on the route:
When you get to the Marin side of the bridge on the West sidewalk there are two options to get to Sausalito. 

To the left you'll see a steep, windy road leading under the bridge. This brings you through Fort Baker offering awesome views of the Golden Gate Bridge
Straight ahead you'll see a steep incline onto Alexander Ave which will take you directly into Sausalito.
Either way will get you to Sausalito, the second option will get you there slightly faster.
If you're riding back to San Francisco from Sausalito, do not turn off of Alexander Ave. Stay on it, avoiding going back down to Fort Baker. This is a much quicker route back to the Golden Gate Bridge. I walked much of it, and still made it back to the bridge in about 15 minutes!
Where to Eat in Sausalito
You might be wondering where you should eat once you make it to Sausalito.
Before I went, just about every article recommended Fred's Place for breakfast. Fred's Place is about a 20-minute walk from the ferry terminal. Is it worth it? In my opinion, no. To be fair, I ordered the eggs benedict which was not reviewed on Yelp. On Yelp, everyone raved about the bacon and the lemon ricotta pancakes. But I was craving eggs benedict so that's what I went with.
Was it good? Sure. Was it worth the walk? No, probably not. The mimosa was mostly champagne which was fine by me. The service was fast and friendly. So I'm not saying don't go but maybe get what the Yelp reviews recommend.
Alternatively, you could try the following places to eat in Sausalito
There you have it! Everything you need to know about riding a bike across the Golden Gate Bridge to Sausalito. I sincerely hope that you have a fun and safe bike ride! Remember to take your time, embrace the weather changes, enjoy the views, and create an awesome memory of your visit to San Francisco.
Find this post helpful? Share it with your Pinterest friends!