Picture this: fine white sand kissed by teal blue waters, the air hot but not too thick as you sit under the shade of a tree to escape even further into a book. There are only a few other people gracing the sand, but they're far enough away to make it feel as though you're on your own private beach. No high rise hotels. No jockeying for a beach chair. Just you, your book, and the sea. This can be your reality on the beaches in Paia Maui it was mine for a few short days!
Most people know Paia Maui as the final gas and lunch stop before the Road to Hana. It's a small hippie beach town with two main streets of shops and restaurants placed in buildings reminiscent of old Wild West towns.
If you're staying in Paia for more than a cruise through to Hana there are plenty of things to do, but this post is dedicated to the four gorgeous beaches within walking distance from town that you absolutely must check out. They all have parking if you rented a car and would rather be in air conditioning on your way to the beach – but the first swim in the ocean after a sweaty walk is part of the experience!
Plus – the beaches are free, meaning you can stick to your Maui budget while still experiencing the beauty of the island.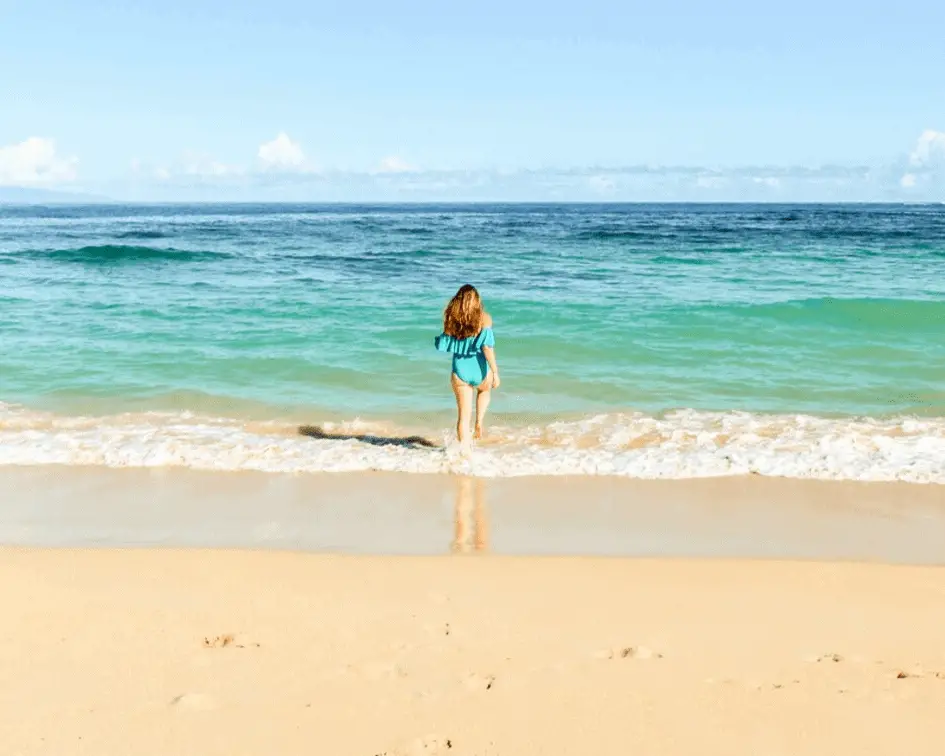 Paia Bay
Paia Bay is the best spot for your first Paia beach experience as it's the closest one to town. This white sandy beach is about a ten-minute walk along Hana Highway. On the way, I highly recommend stopping at Paia Bowls for a smoothie or iced matcha that you can bring with you to the beach!
If the waves are right you can surf or boogie board here. When the waves are calm it's a great place to swim and snorkel! I love this beach because instead of high rise hotel resorts as a backdrop, it's trees that provide a bit of respite from the strong sun rays. Always wear (reef safe) sunscreen though, I definitely got burned relying on the shade.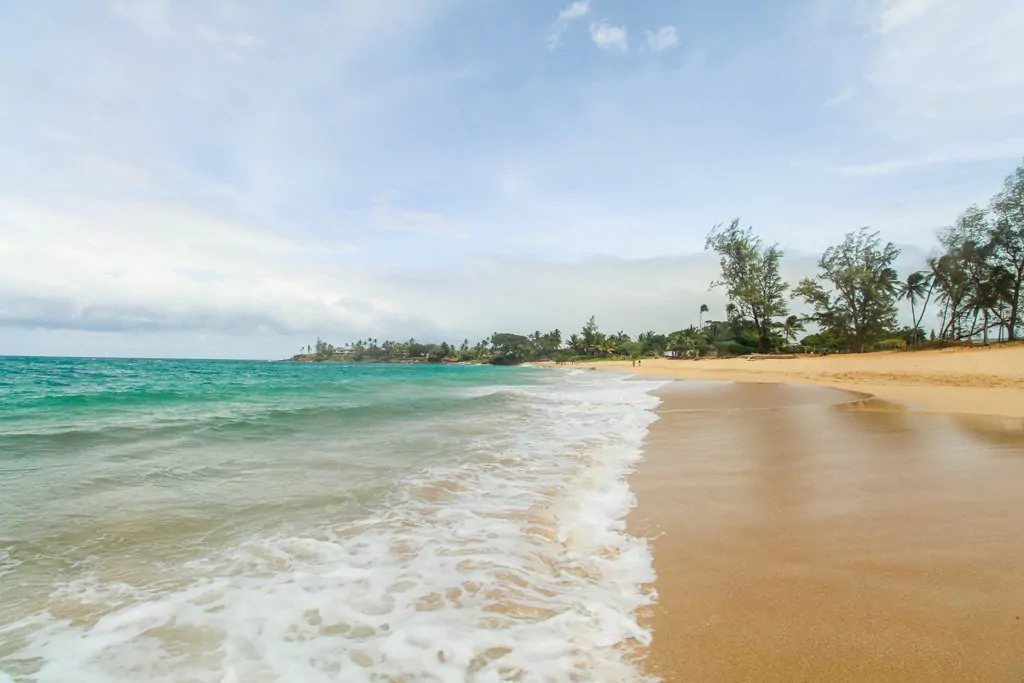 Secret Beach
Secret Beach is known for one thing, nudity. Secret Beach is a nude beach. A fact I was unaware of as I wandered from Paia Bay and discovered a stretch of sand with no one else around. As I read my book, the figure of a fully nude man moved into my peripheral vision. I kind of shrugged and didn't think much about it. He didn't bother me. I later asked about it at the hostel and they confirmed that this beach is, in fact, a nude beach.
Secret Beach is located in between Paia Bay and Baldwin Beach. From the street, you wouldn't know it was there which I guess makes it the perfect spot to let it all hang out. To get here, just walk along the dirt path behind Paia Bay. The path will lead you to this secluded stretch of sand.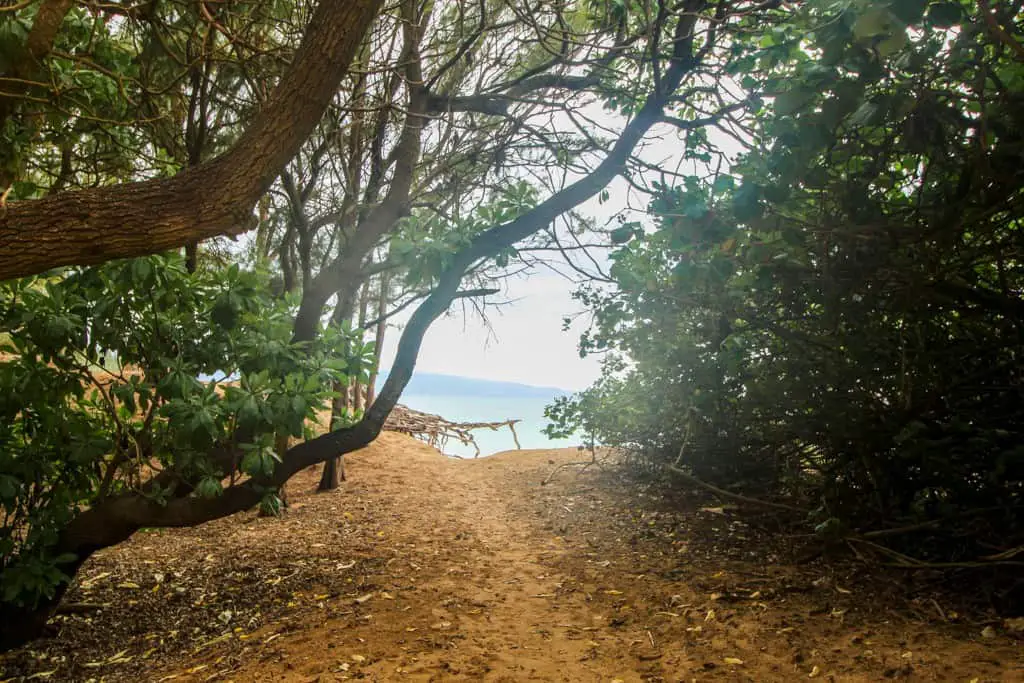 You don't have to be nude to enjoy this beach. Which is the great thing about nude beaches. It's all come as you are, but if you're not going to participate don't go just to gawk. However, if you've never experienced the freeing sensation of swimming in the ocean without any barrier between your skin and the salty sea (in broad daylight) you might want to give it a chance.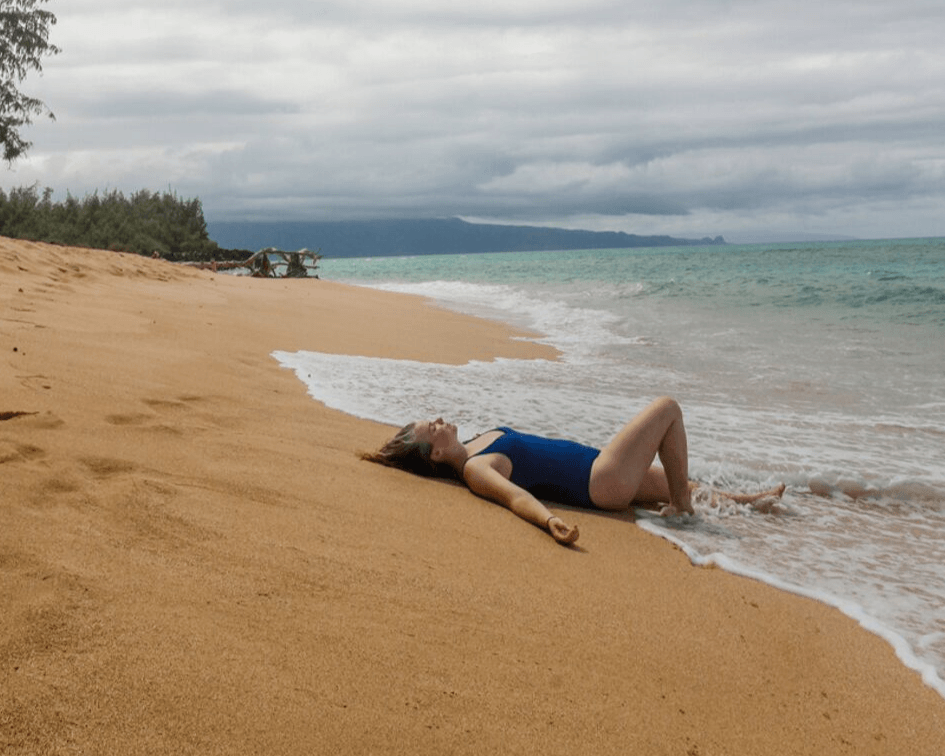 Baldwin Beach
Keep walking along the dirt path to Baldwin Beach Park. This 2 mile stretch of fine white sand is a hot spot for windsurfers when the conditions are right. Baldwin Beach is more popular but it is large enough that you won't feel crowded by the other people there. This beach is also nice because it has restrooms, covered picnic tables, and a lifeguard on duty.
The one thing that Baldwin Beach doesn't offer is much shade. It's fairly wide open and exposed to the sun. So be prepared with plenty of water, sunscreen, and even a rash guard or top with UV protection.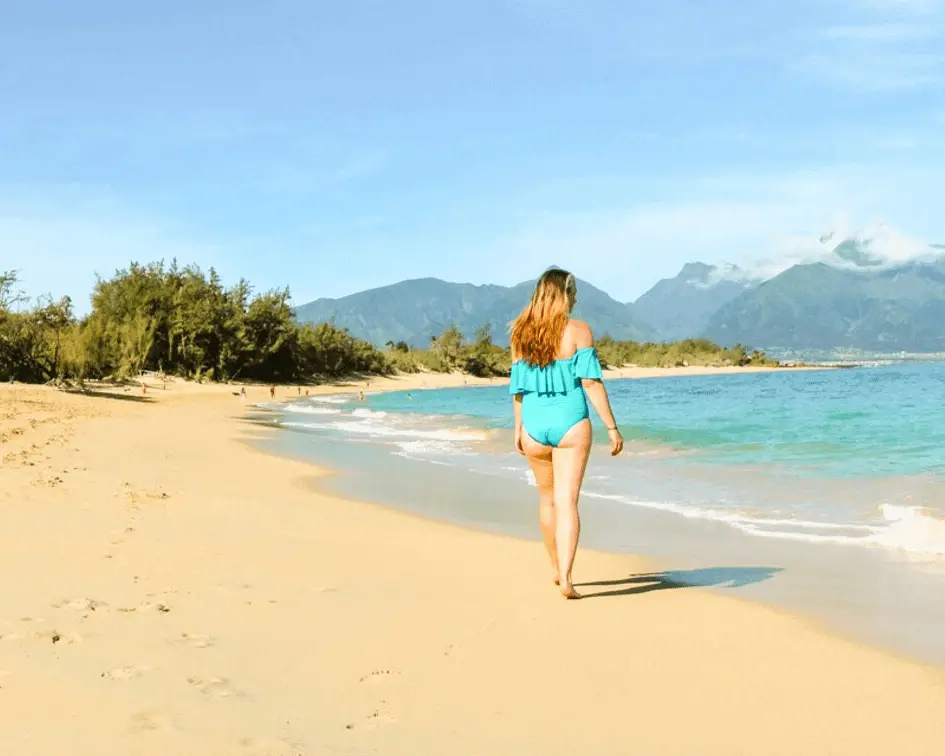 Kaulahao Beach
My Irish roomie in the hostel told me about this beach on the morning of my departure from Paia. She told me if I wanted to see sea turtles I'd have luck here. Since I still had a few hours before my flight back home and, I mean, if you've seen one sea turtle, you want to see them all!
So, off I went to find this small beach located in the opposite direction than the ones mentioned above. It's about a ten-minute walk from the intersection in Paia, but I got a tad nervous when the sidewalk ended and I was walking along the shoulder of Hana Highway. However, just over a hill I saw the sign for Kaulahao Beach and turned in.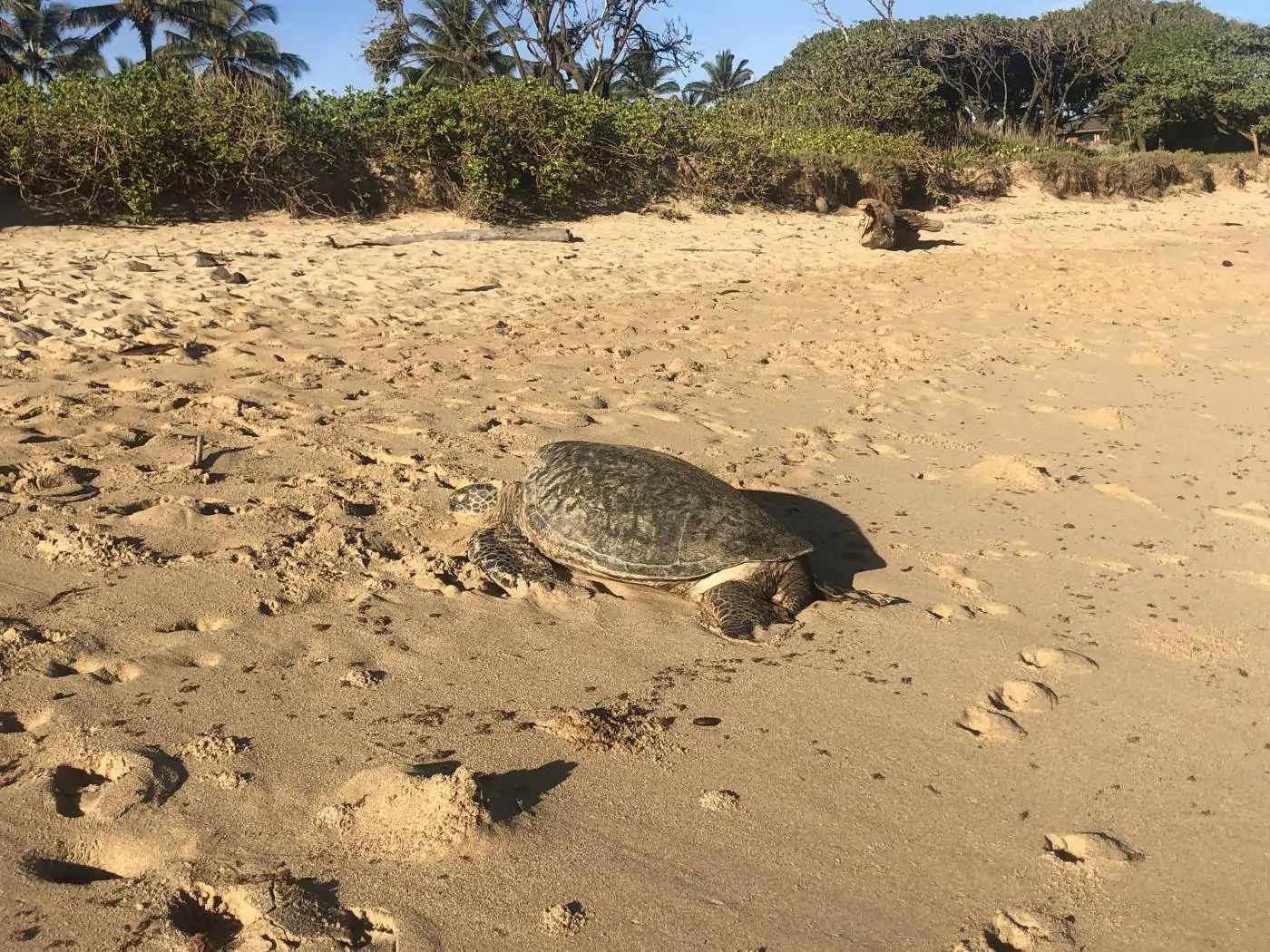 There is a small parking lot if you have a car, and when I arrived around 7:00 am there were a few people parked, but they quickly left – likely wanting to get a jump on the Road to Hana. When they left it was just me, a local fisherman, and four sea turtles sprawled out on the sand, mostly napping from whatever adventures they had under the sea (please read that last part in Sebastian's voice.)
If there's one thing I learned from my trip to the Galapagos it's to give animals their space. So I didn't get too close to them, although the fisherman had no qualms about walking right by their heads! If you plan to visit this beach in hopes of seeing a sea turtle, please give them plenty of space. This is their safe place to rest their heads for a bit. Let them be.
I wouldn't recommend swimming here – there are large rocks in the water that could be dangerous if you aren't aware or a big wave comes and knocks you into one.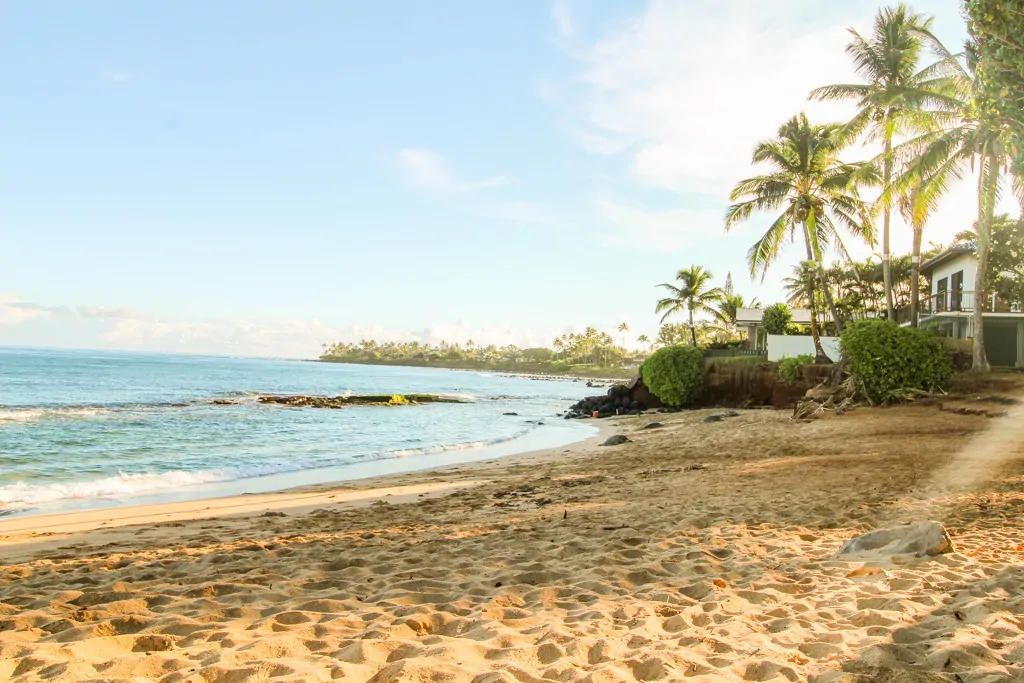 Now, I know – there are many stunning beaches in Maui. Red sand, white sand, black sand, yellow sand – all of the sands! Plus the lush green backdrops and beautifully warm water to swim in – you really can't go wrong with any of them. But if you're looking for a town with a chilled out vibe, excellent food, no resorts, and beautiful beaches for you to finally read that book then the Paia beaches are a must visit on your trip to Maui.
Like this post? Pin for later!