I stood in line at Paia Bay Coffee & Bar, patiently waiting to order my avocado toast and matcha latte listening in on the conversation between two guys behind me: "I'm proud of myself for skipping happy hour last night and going to yoga instead, I really needed to open my root chakra". That entire micro experience is exactly why Paia Maui should be on your Hawaii bucket list, along with these hikes in Oahu. Paia is a small hippie beach town well known for being the last place to fuel up before the Road to Hana, but there are plenty of things to do in Paia town. 
Paia offers two main streets with amazing restaurants, boutique shops, stunning beaches, and no high rise resort in sight. The people of Paia are an interesting mix as well. Some people are locals, some are tourists like me, and others look like they planned to backpack here for a few days and just never left. 
If a hippie, chilled out, small beach town vibe is something you're after, then Paia, Maui may just be the spot for you.
solo female Travel Resources
Where is Paia, Maui?
Paia is located on Maui's North Shore, about a 20 minute drive from Kahului airport, 45 minutes from the busy Kaanapali and Lahaina, and 20 minutes from Kihei. Expect a bit of traffic as you get closer to town as it's only a two lane road to and from the center of Paia.
The majority of things to do in Paia are centered around the Baldwin Ave and the Hana Highway. Put Paia Fish Market or Mana Foods into your GPS and it will take you directly to the heart of Paia, Maui. You'll know you've made it when you see the slightly western looking buildings.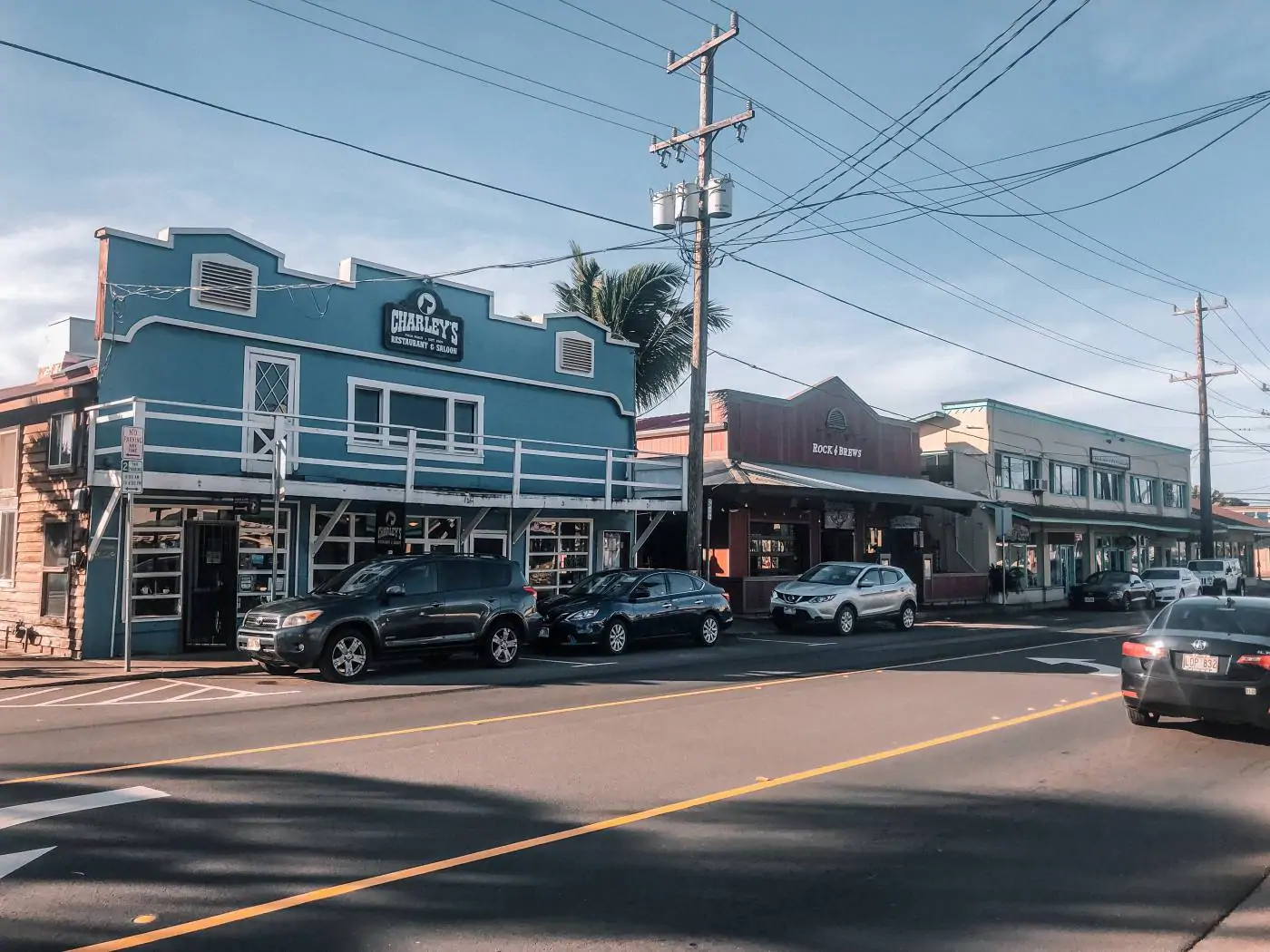 What's the Weather Like in Paia, Maui?
Much like the rest of Hawaii, temperatures range from 65o to 87o throughout the year with November to April being the rainy season. You'll definitely experience more humidity from May to December, so have your swimsuit ready to cool off in the ocean.
How Much Time to Spend in Paia?
I highly recommend staying in Paia if you can, especially if you really want a relaxed vacation. While it is a small town, there are plenty of beaches, restaurants, and shops to check out. Plus, staying in Paia allows you to do it all without feeling rushed.
If you don't want to spend all of your time in a hippie beach town, consider staying one night. You can spend the first full day exploring everything there is to do in Paia, then get up early the following day and have a jump start on the Road to Hana with a car full of yummy snacks from Mana Foods.
Otherwise, plan for a full day here to soak in the chilled vibes, relax on the beach, and eat yummy food.
Where to Stay in Paia?
While you'll find more accommodation options in Kaanapali and Lahaina there are a few great hotel options in Paia. I won't be recommending any Airbnbs as many are not owned by locals and I want to honor local businesses.
Budget Friendly: Aloha Surf Hostel
You'll likely recognize Aloha Surf Hostel from the Instagrammable surf board wall leading to the entrance. Aloha Surf Hostel is a short 5 minute walk down Baldwin Ave to the center of town. So, even if you don't stay there, take the short walk to snap your surf board wall photo.
I stayed in Aloha Surf Hostel for two nights and highly recommend it. It's incredibly clean, friendly, and quiet. I had a room right off of reception and I didn't hear anyone outside. Plus, they offer free tours daily to beautiful spots around Maui, including the Road to Hana!
Dorm rooms start at $49.95+tax and privates start at $129+tax.
You can check reviews and book on Hostelworld.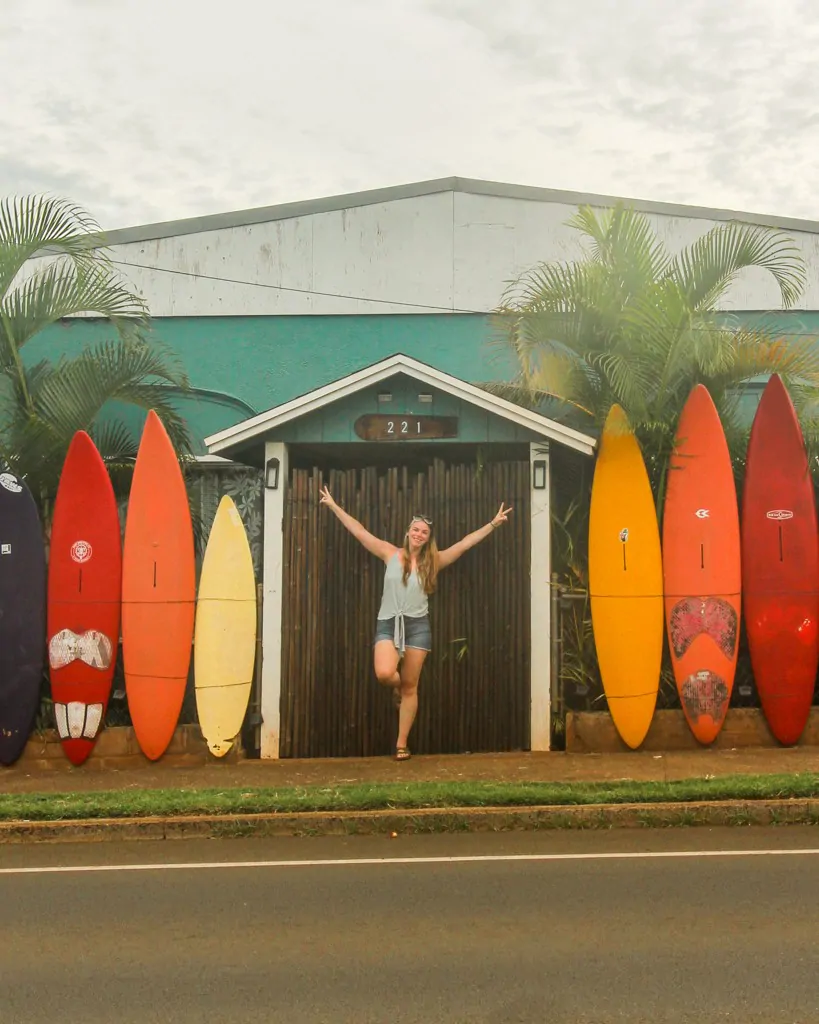 Not So Budget Friendly Option: Paia Inn
If you've got a little bit more wiggle room in your budget or are looking to treat yourself, Paia Inn would be my top choice. This boutique hotel is excellently located in town just steps from Paia Bay and across the street from Paia Fish Market.
Plus, the rooms look beautiful, some offering Ocean Views.
Rates vary so check here for availability, price, and booking.
The Best Things to do in Paia Maui
Boutique Shopping
It surprised me that the first thing I did upon arriving in Paia was go shopping. See, I'm not much of a shopper, I prefer to spend my money on trips and matcha lattes. But, I was wearing a maxi dress with too thick of fabric for the 10:00 am heat and humidity. Plus since I don't shop much, I figured I could do a bit of window shopping – what could it hurt?
Mahina
The first shop I stopped into is called Mahina and I knew my wallet was in trouble. The clothing was the perfect beachy chic style. Clothing that would keep me cool and cute. Plus it was reasonably priced. I walked out with a new pair of jean shorts, a cute tank top, and a bralette all for under $90. Which I thought was pretty good! 
That shop ended up being the only place I bought anything. The other clothing shops were much more expensive and I couldn't justify spending money on clothing I might only wear in Paia.
Aside from clothing shops, there are a number of bikini boutiques, home goods stores, and art galleries located on Baldwin Ave and Hana Highway.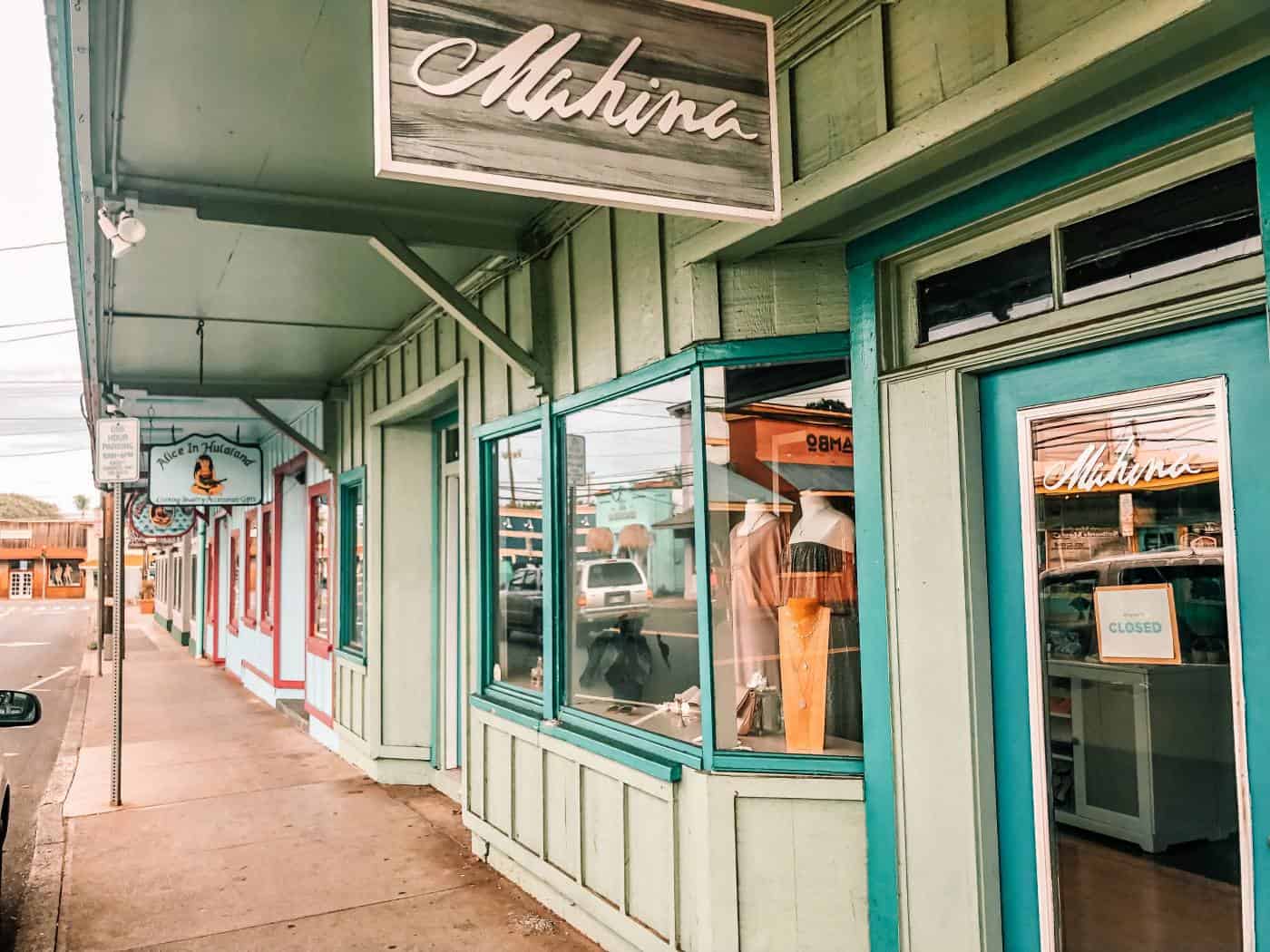 Relax on Paia's Beaches
This would not be a complete post about the things to do in Paia without sharing the beautiful beaches in Paia. There are four beaches within walking distance to Paia town along Hana Highway. 
Paia Bay Beach
Paia Bay Beach is the closed beach to town, within a 10 minute walk from Paia Bowls.
This beach is a great spot for boogie boarding and swimming with a few trees for shade.
Secret Beach
Just beyond Paia Bay is Secret Beach, which is, in fact, a nude beach. And if you've never had a swim in the warm waters of the Pacific Ocean with no barrier between your skin and the salty sea (in broad daylight). I highly recommend it. 
You can only access Secret Beach by walking from Paia Bay or Baldwin Beach.
Baldwin Beach Park
Baldwin Beach Park is a hot spot for windsurfers when the conditions are right. Baldwin Beach offers two miles of expansive white sand and is excellent for swimming. A lifeguard is on duty at this beach and there are covered picnic tables, restrooms, and showers. What there isn't, is too much shade. So be prepared with reef safe sunscreen and a UV protecting shirt.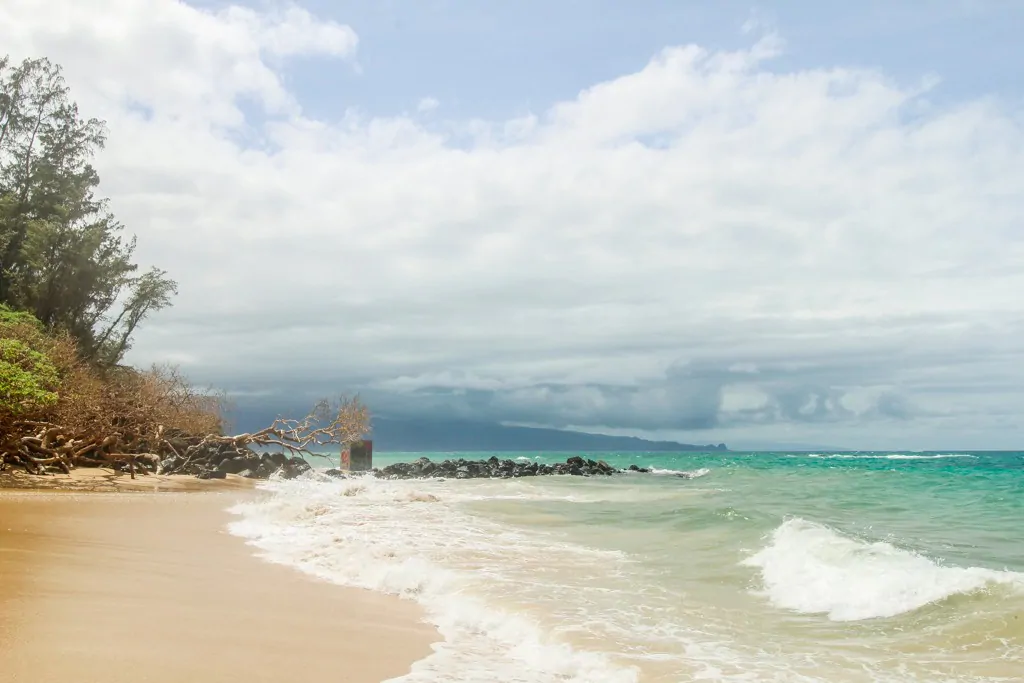 Kaulahao Beach
Heading in the opposite direction from the beaches and on the Road to Hana above is a Kaulahao, a small beach where you can find sea turtles relaxing from their under the sea adventures. I wouldn't recommend swimming here as there are large lava rocks close to shore. But definitely come and relax with the sea turtles!
Please: Give Sea Turtles their space…at least 6 feet. A measurement we should all be very familiar with these days.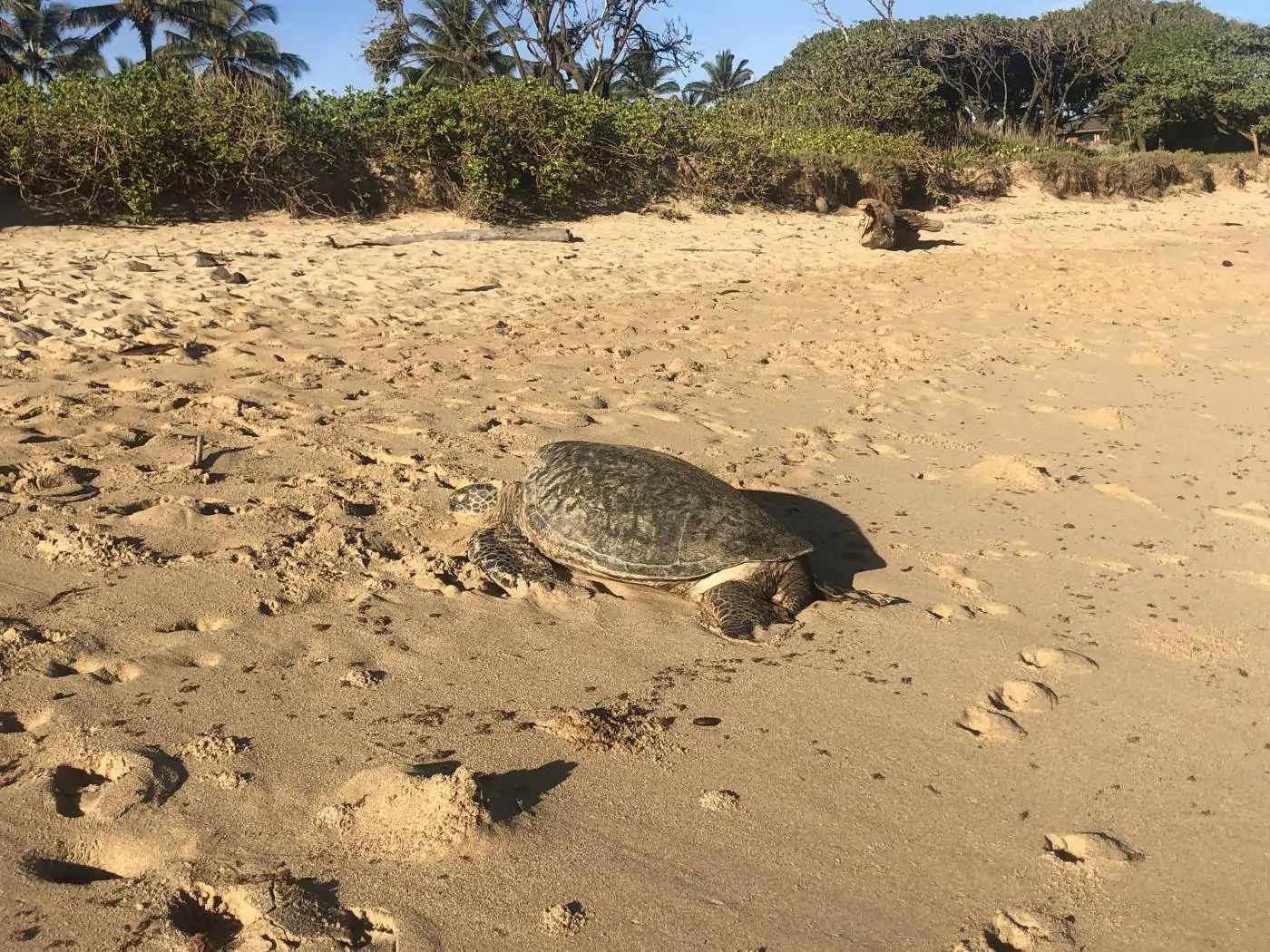 Grocery Shop at Mana Foods
I found it strange that everything I read about Paia recommended going to Mana Foods, until I went for myself. Mana Foods is everything I want in a grocery store and rivals anything I've seen in San Francisco. There is a small coffee bar when you first walk in that offers up one of the best matcha lattes I've had, and I've had a lot.
As you continue in, to the left you'll find a homeopathic alcove, filled with various protein powders, essential oils, vitamins, minerals, and other supplements to support your vitality. Further down is a hot and cold food section with one of the best kale salads. Everything is the same price by weight. You fill up a cardboard container and pay at the counter. 
At the back of the store is a bulk food section that again is more all-encompassing, and cheaper, than what I've seen at Whole Foods. And what I just described is only the left side of the store. I haven't even gotten to the aisles yet, where I discovered the exact coconut butter popcorn I've been searching for for months, a freezer section full of Talenti flavors I've never heard of, and all the way to the right is a fresh produce section.
The other entertaining thing about Mana Foods is the variety of people you'll find. This is where you'll discover the backpacker who never left, the local doing his weekly grocery run, and the tourist like me eyes wide open at all of the goodies lining the shelves.
Stop here to grab snacks before the Road to Hana.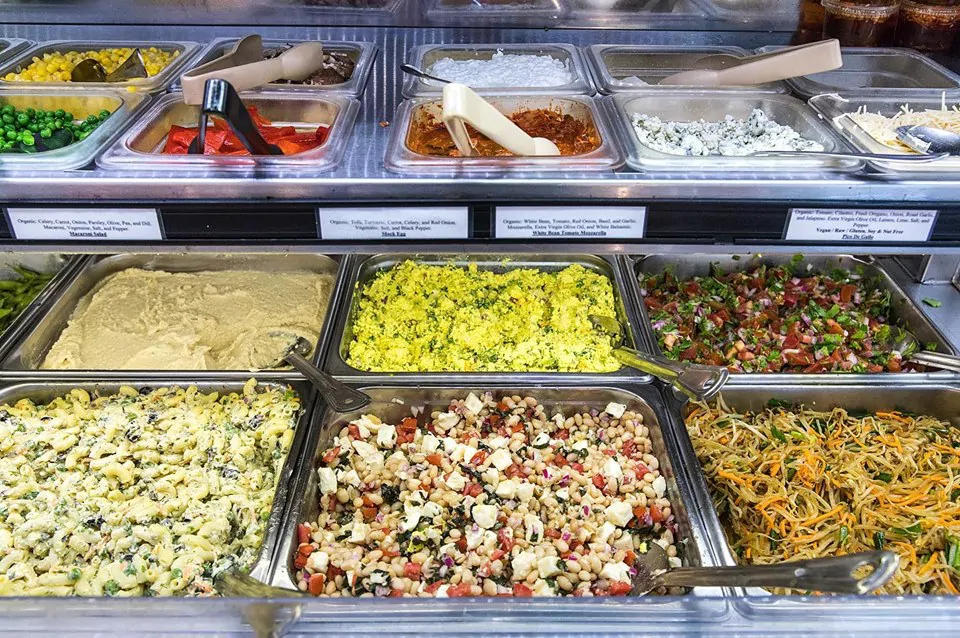 Take a Yoga Class
As I mentioned, Paia is a bit of a hippie town, which means there are holistic undertones to everything here from the Acai Bowls to the nude beaches. And there are also a few locations to take yoga. Unfortunately, I did not have time during my two days in Paia to participate I did think that Maha Yoga looked appealing. But hey, got to leave something for next time right?
Where to Eat in Paia, Maui
There are a number of fantastic restaurants and cafes in this small beach town to suit any taste bud and budget. Fancy a crepe? Head to Cafe de Amis. Craving Mexican food? Check out Milagros. Just need a pizza night? Go to the Flatbread Company. 
Paia Fish Market
But, the place that should be top of the list is Paia Fish Market. Paia Fish Market has since expanded to other locations in Hawaii, but the one in Paia is the original. You order at the counter, then find a spot at one of the few tables inside. You'll likely have to share a table with strangers – so be prepared to make some new friends. 
It was recommended that I order the Mahi Mahi burger, so I did, with a side of fries. The Mahi Mahi burger was simple, fresh Mahi Mahi coleslaw, tomato, and cheese. But OMG. The crunch and flavoring of the coleslaw mixed with the freshness of the fish were amazing. Highly recommend it!
Mama's Fish House
If you want to eat at Mama's Fish House, book a reservation right now! I just checked their website for updates and they're booked out 3-6 months! That'll tell you how good this place it!
Unfortunately, I did not eat there during my visit and I highly regret it.
The menu changes daily based off of what fishermen catch that day.
Paia Bowls
Paia Bowls is owned by two local surfers and offers up a number of healthy options. You can get the traditional Acai Bowl, one of their creative and delicious smoothies, avocado toast, and other healthy tonics. Enjoy it on their outdoor patio surrounded by lush greenery.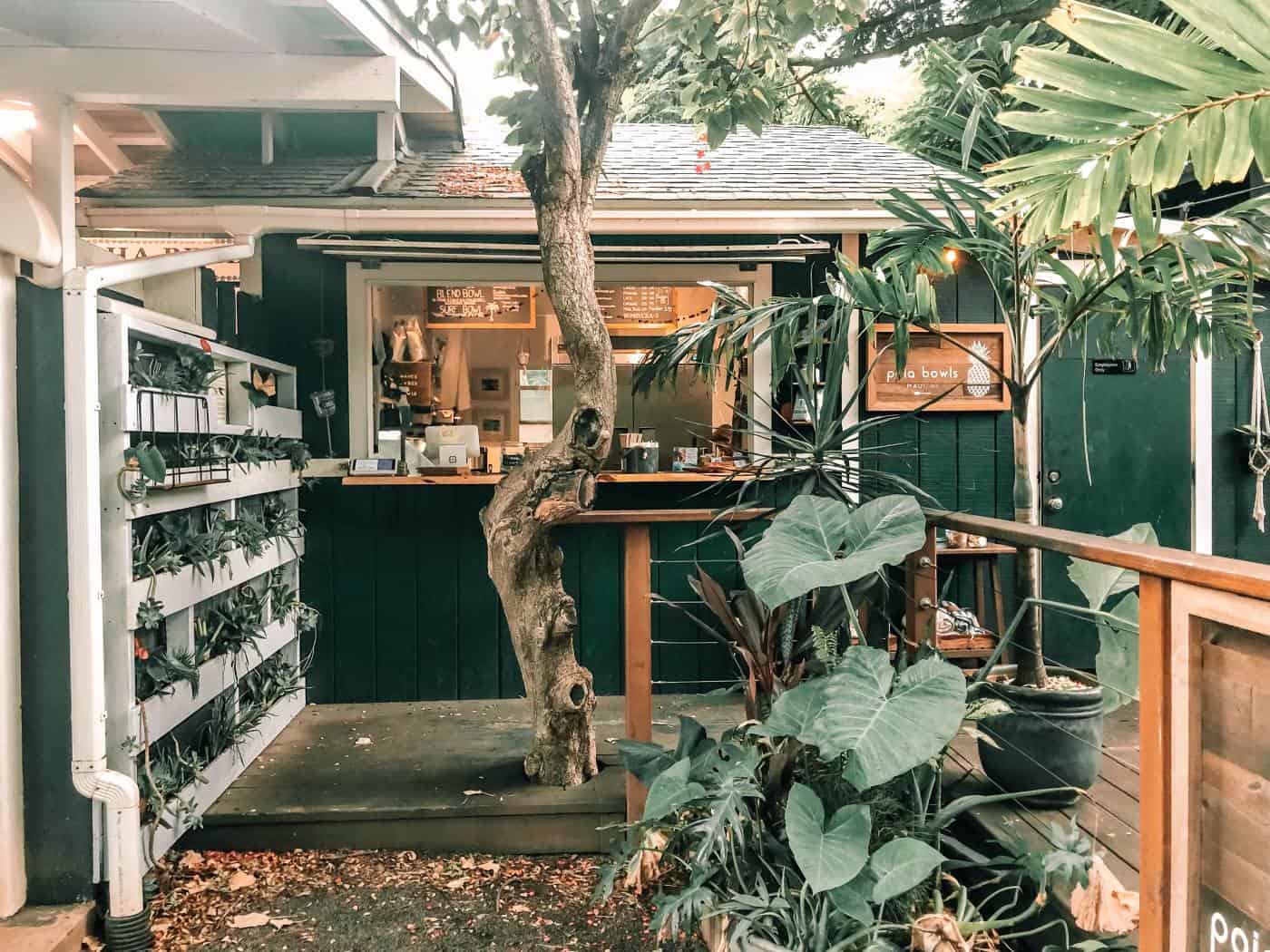 Paia Bay Coffee & Bar
On the morning of my departure, I went for a walk through town before heading to the airport. I saw a group of people walking into a side door of a seemingly random alley and followed.
I was pleasantly surprised by this adorable cafe and bar. Paia Bay Coffee & Bar open just about all day, serving breakfast, lunch, dinner, and happy hour.
I enjoyed avocado toast and a solid matcha latte in their open air seating area that feels as if you've stepped into a tropical garden, complete with twinkle lights.
Paia Gelato
As someone who traveled around Europe with a quota of one gelato per day, I'd have to say that the gelato from Paia Gelato is top three.
They offer up tropical flavors that combine well with traditional gelato. I got the POG and dark chocolate which was heavenly. The POG flavor is a heavenly concoction of Passionfruit, Orange, and Guava. That with the dark chocolate is a match made in heaven, which I'm starting to believe could be Paia.
Paia is beautiful. It feels off the beaten path while still providing all of the amenities we want from being on the well-trodden path. So, if you're craving a place where you can come as you are while enjoying the beauty that Maui is well known for without being overcrowded, then Paia Maui is just the spot for you.
Check out these other tips for visiting Maui
The Best Beaches in Paia, Maui
Like this post? Pin for later!