The road to Hana is an iconic road trip along the eastern coastline of Maui. Hana Highway is a winding road that takes you from the hippie town of Paia to the peaceful town of Hana and beyond. This bucket list road trip is a must-do on your Maui itinerary. I've had the privilege of driving the windy roads to Hana three times now! I figured it was time to sit down and share with you my favorite spots, what to skip lessons learned, and what I still need to see on the fourth road trip! 
This post contains affiliate links, which means that, at no additional cost to you, I will earn a tiny bit of income if you decide to make a purchase or booking. For more, check out my disclosure. 
solo female Travel Resources
Best Time to Visit Maui + to Drive the Road to Hana
There are two high tourist seasons for Maui. The first peak season of the year is from mid-January to mid-April. The winter months are popular in Maui as the temperatures are moderate, ranging from 65-80 degrees, compared to the rest of the mainland US which is typically experiencing its coldest temperatures. While Maui is a tropical rainforest climate meaning it rains throughout the year, the winter will bring the highest probability of rain storms.
If you're planning a winter visit, check the weather before driving the road to Hana. If a storm is passing through the road may experience flash floods and it's just not fun to do in the pouring rain. The very first time I did the road to Hana was with my family. It rained the entire time which meant all of the food places were closed and we barely stopped because we didn't want to get out of the car in the rain. It was miserable. All that to say, be flexible with the day you plan this trip.
The second peak season is during the summer from mid-June to mid-August. The temperatures will be slightly warmer than in the winter months and the humidity increases! Rain showers and storms are less likely this time of year.
If you're planning a summer visit, the weather on the road to Hana will be less prohibitive. However, the crowds will likely be increased so get an early start so you have plenty of time to enjoy the trip!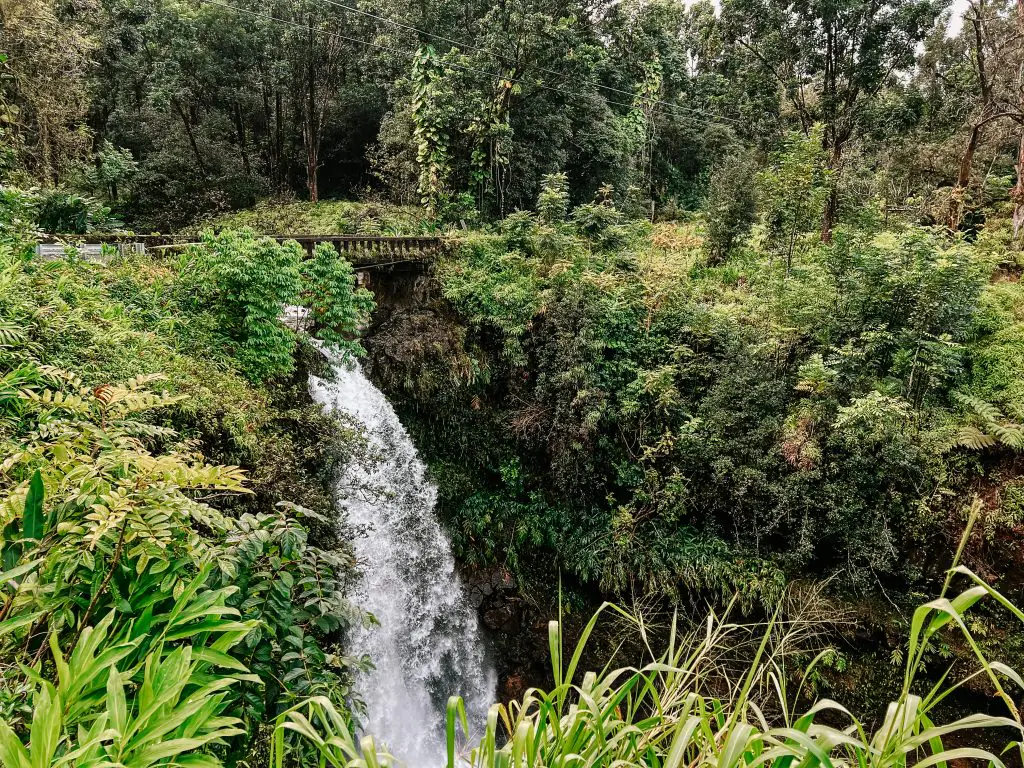 What to Know Before You Hit the Road
The one thing you need to know about the road to Hana is that this is an experience where the phrase "It's the journey, not the destination" rings true. Don't rush it!
Get an Early Start
The earlier you can hit the road, the better. On my most recent trip (in February) my travel buddy and I were on the road by 7:15. We were able to get coffee and a bagel in Paia from Better Things Cafe for breakfast before hitting the road. This meant we beat almost all of the traffic coming from the resorts in west Maui. 7:00 am might be pushing it on your beach vacation, but be on the Hana Highway by 8:00 am.
I recommend an overnight stay in Paia to start your trip early enough to beat the crowds. Plus there are plenty of things to do in Paia that you'll enjoy spending time there anyway!
Have a Full Tank of Gas
There is only one gas station on the road to Hana, located in Hana town. Before you leave Paia, fill up your tank! The gas station in Paia is competitively priced to others you'll find around the island and significantly cheaper than the one in Hana
Book Your Black Sand Beach Permit
The bucket list black sand beach located in Wai'ānapanapa State Park now requires an advanced reservation. This is a new rule as of 2021 to protect the rural community and the natural beauty of this beach. It is a $10 parking reservation and a $5 entry ticket per person in the vehicle.
You can book your reservation here.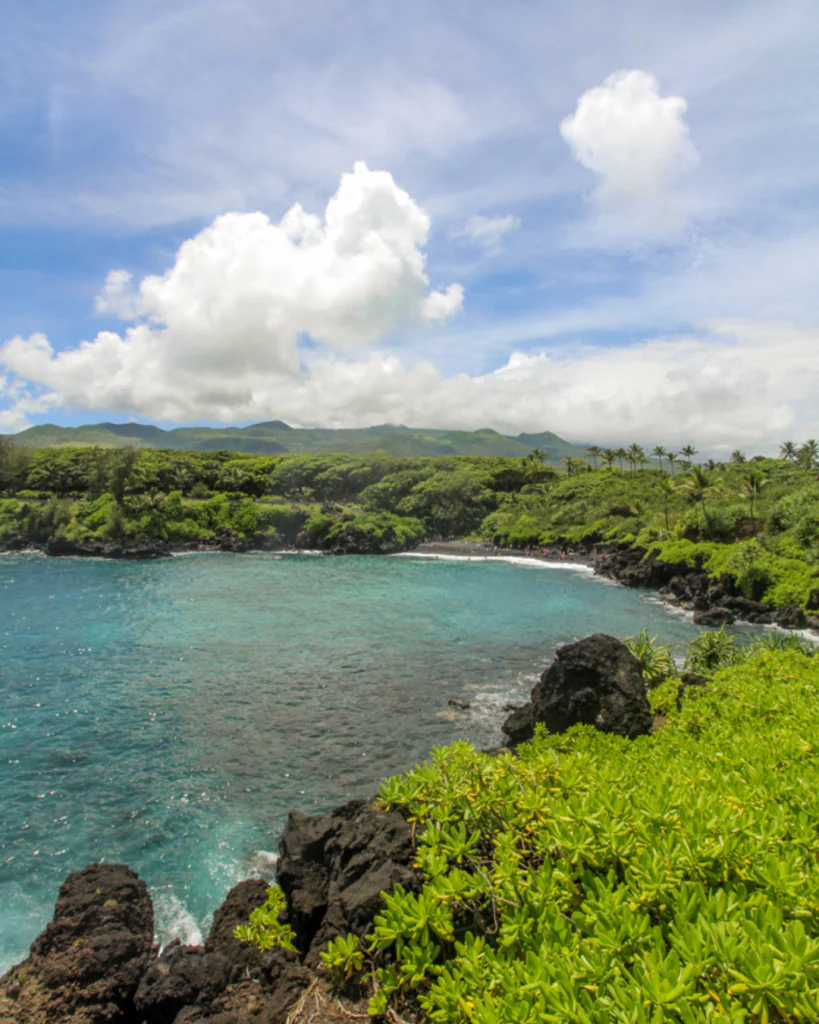 Bring your National Park Pass for Haleakala National Park
If you're the owner of the annual National Park Pass make sure you bring it with you if you want to see the Seven Sacred Pools or hike the Pipwai trail. I was really looking forward to seeing the Seven Sacred Pools, but I didn't realize they were actually in the National Park. Upon arrival, I didn't want to pay $30 when my park pass was sitting safely in my car at home. Just another reason for a fourth road to Hana adventure!
Rental Car Restrictions
The traditional way to drive the road to Hana is as an out-and-back journey. However, there is a loop. The caveat? A portion of the road on the loop is unpaved and car rental companies will not cover you if you decide to take the road less traveled. The unpaved portion starts after the Haleakala National Park entrance so make sure you turn around here!
Book your rental car for the road to Hana here!
What to Bring with You on the Road to Hana
You'll need a few items from your Maui packing list for a safe and comfortable journey. 
Sunscreen: My preferred sunscreen brand is Sun Bum as it's reef safe and smells delicious! Make sure you apply liberally and frequently!
Beach Towel: I purchased a Sand Cloud towel for this trip and found it was worth the price tag. It's lightweight, dries quickly, and leaves the sand at the beach!
Cell Phone Charger: Your phone will be your GPS, camera, and perhaps wallet throughout the journey. Make sure you've got a portable charger or cord to plug it into your car!
Snacks: Bring your favorite road trip snacks. Yes, there are places to eat along the road (including amazing Banana Bread), but you'll want to have snacks in the car to avoid anyone getting hangry.
Swimsuit + Change of Clothes: Wear your swimsuit underneath your clothes and bring a change of clothes for when you're done swimming so you're dry for the drive back.
Sturdy Hiking Sandals or Boots: The hikes to and from the waterfalls are slippery. Make sure you have hiking sandals that can handle slippery and rocky terrain. Or opt for hiking boots and bring a pair of sandals to change into.
Maps Downloaded Offline: Download the area map offline while you have WiFi. 
Cash: Many places on the road are cash only.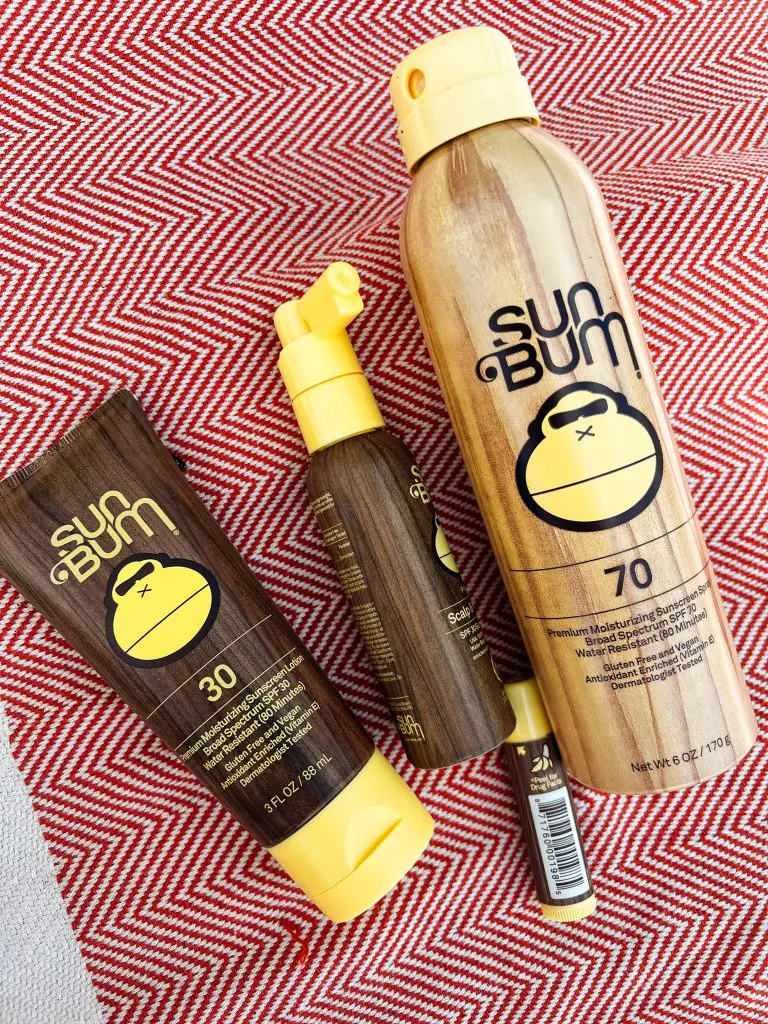 Options for Driving the Road to Hana
There are a few ways to drive the road to Hana that and I've done them all! Let's discuss the pros and cons of each of them and find out which route I suggest you take.
Plan a Self-Guided Tour
If you've got a rental car and time to do lots of research into all of the stops on the road to Hana, you can create your own road to Hana itinerary. Honestly, if it's not your first time driving the road, this may be perfect for you. You know what stops you missed last time so you can make sure you hit those now! 
This is how I first saw the road to Hana and it was miserable because we didn't know where to stop (very little research was done). If it's your first time and you're not into researching, read on!
Here is a great resource for planning your road to Hana itinerary.
Join a Tour Group
Joining a tour group is a great way to see the road to Hana if you're traveling solo and not renting a car. Group tours are a great way to meet people when traveling solo and you won't have to worry about navigating narrow roads and one-lane bridges. Aloha Surf Hostel offers a tour with a local guide once per week for free for their guests. 
If you're not staying at the hostel, check out these awesome road to Hana guided tours.
Use an Audio Guided Tour
I think the best way to drive the road to Hana if you're renting a car is with an audio guide. On my most recent drive, we downloaded the Classic Road to Hana audio guide from Shaka Guides. It was like listening to a podcast the entire time with interludes of Hawaiian music to add to the experience.
The audio guide recommends stops, informs you if there is a cost at different locations, tells you about places to eat along the way, and keeps track of the time you have. It was such a great experience and only cost $20!
Make sure you get it set up before you're on the road though! You'll need to download the Shaka Guide to your phone.
Get the Shaka Road to Hana Guide here.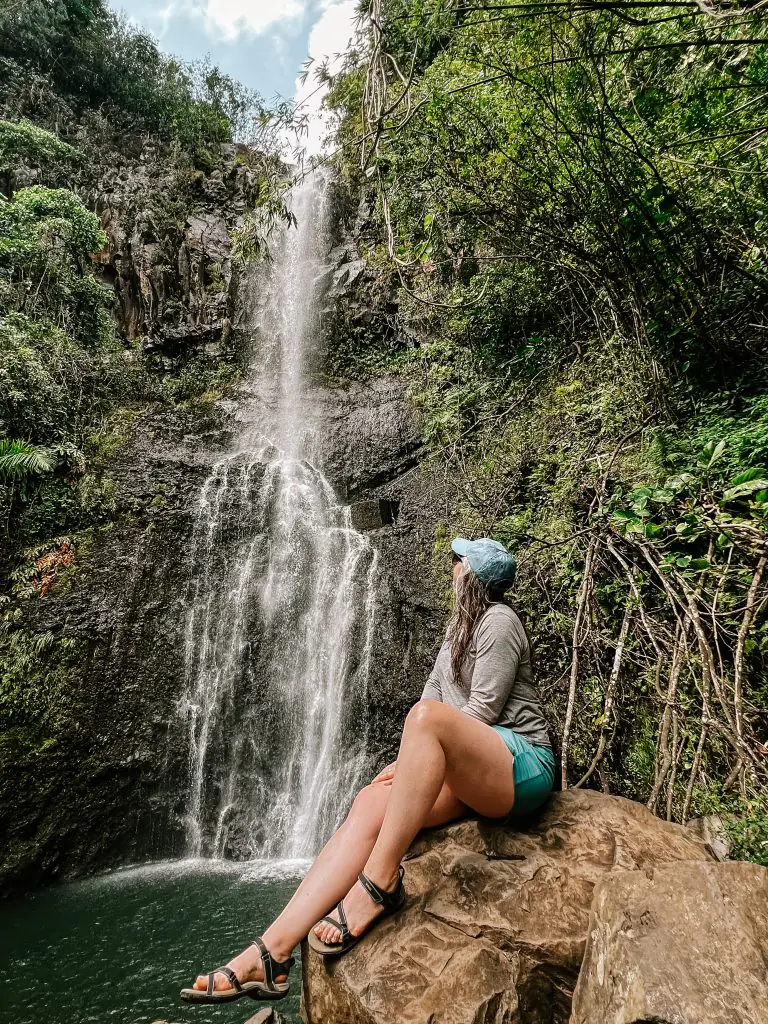 My Favorite Stops on the Road to Hana
Let's get into some of my favorite stops on the road to Hana, starting from Paia.
Twin Falls
Twin Falls is the first waterfall stop on the road to Hana. It's where you'll find three waterfalls. It costs $10 to park. At times, the third waterfall where you can swim is closed due to flash floods. If you're unable to go to the third waterfall, I recommend skipping this stop. 
Allocate 20 minutes here. More if you can access the third waterfall. But keep time in mind – there are lots to see today!
Ke'anea Arboretum
I was surprised at how many arboretums are on the road to Hana. The popular Maui Garden of Eden Arboretum has an entrance fee, but just a few miles down the road, you'll be able to stop at the Ke'anea Arboretum.
Here you'll be able to get up close to the rainbow eucalyptus trees.
Allocate about 20 minutes to enjoy the walking trail here.
Ke'anea Point 
The Ke'anea Peninsula was a highlight of the road to Hana. It's a short detour off of Hana Highway where you can see huge waves crashing through lava rock. You can pull over here for a picnic while you watch the waves crash. This is also a great spot for a bathroom break.
Allocate about 30 minutes here.
Aunty Sandy's Banana Bread
On your way along the peninsula to Ke'anea Point, you'll pass Aunty Sandy's Banana Bread. Stop for some piping hot banana bread! They're open until they sell out. Ask if they have any coconut candy while you're there. 
Lava Tube
Along the side of the road is the entrance to a lava tube! There is space to pull over to the left of the highway. Take care crossing the road! It's very dark inside, so turn your phone flashlight on. 
After having to duck quite a bit to enter, you'll be able to stand up straight (well most people will). A short walk through the tunnel leads to a tree clearing and brings you back to the road.
This is a unique stop that will only take about 15 minutes. 
Black Sand Beach – Wai'anapanapa State Park
The famous black sand beach on the road to Hana is of course one of the most popular stops on the trip! Aside from the unique black sand (from lava flow), you'll find a blowhole that shoots water into the air, a short hiking trail, and a sea arch formed from erosion.
Remember, you have to get parking and entrance permits well in advance. If you have your permit, this will be one of the best places on the road so allocate plenty of time to enjoy it. You'll want to have time to explore the small beach, and sea caves, and simply enjoy your time in this unique place.
Allocate at least 1 hour here.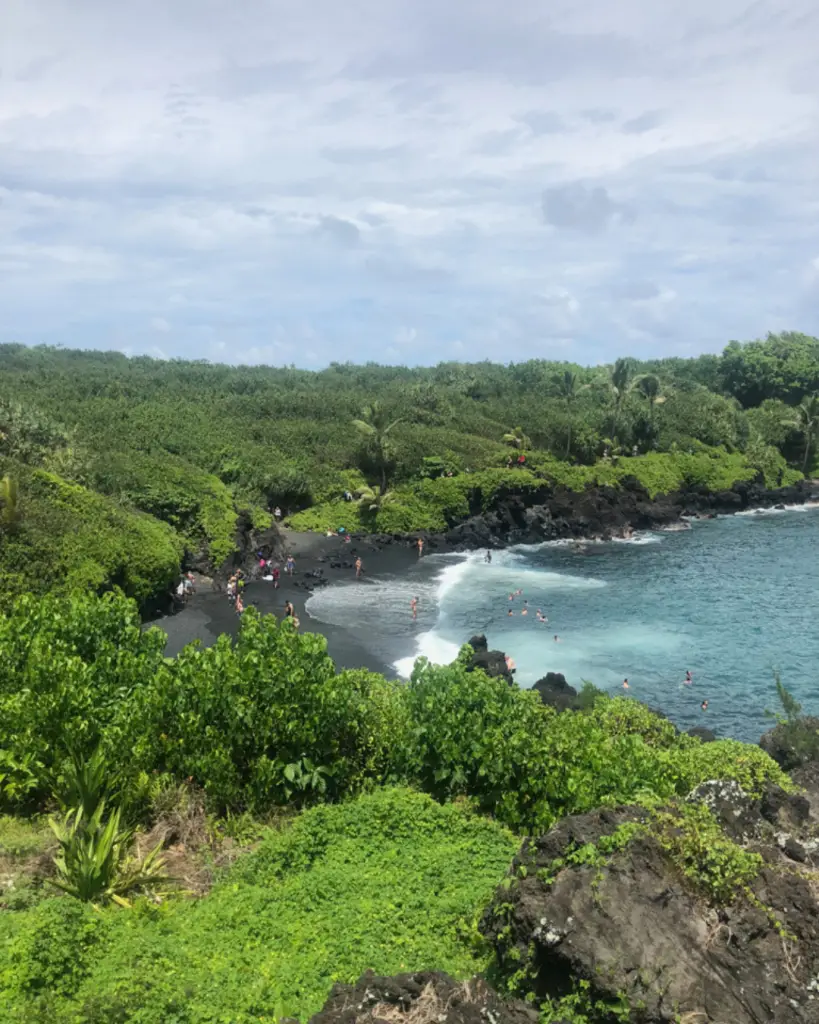 Hana Town
You've made it to Hana town! This is a relaxed, rural town with gorgeous beaches and a few places to eat. Stop in at the food trucks for lunch! I love the Poke food truck and the acai food truck for some fresh POG juice to take to the beach.
There is also a general store here which is a good place to get some more snacks or water.
Allocate 30 minutes here to eat and walk around the small town or check out the beaches in town.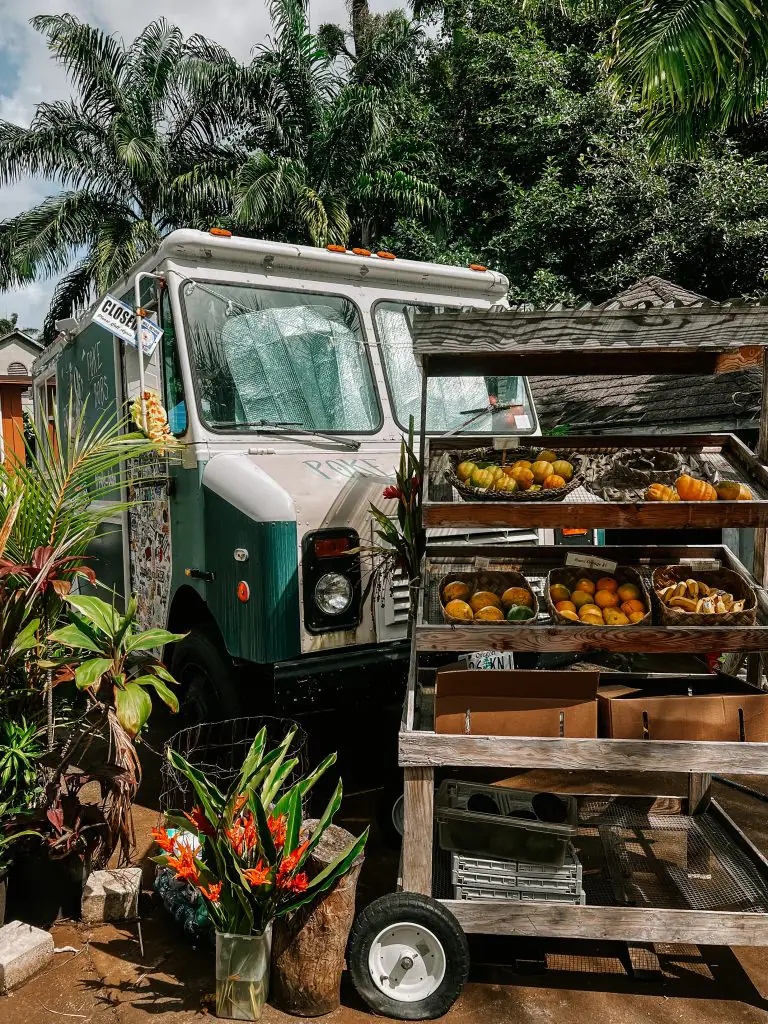 Hamoa Beach
I've been to Hamoa Beach twice and it's hands down one of my favorite beaches, ever. It's regularly voted as one of Maui's best beaches. You'll soon see why. Located down a tiny one-lane road off of the Hana Highway. Parking is first come first serve on the side of the road leading to the beach.
Some stairs lead you down to the crescent-shaped cove.
The sand here is so silky and soft, the waves are fun for swimming, and there are bathrooms and showers! 
Allocate 30 minutes to an hour to enjoy swimming and resting here.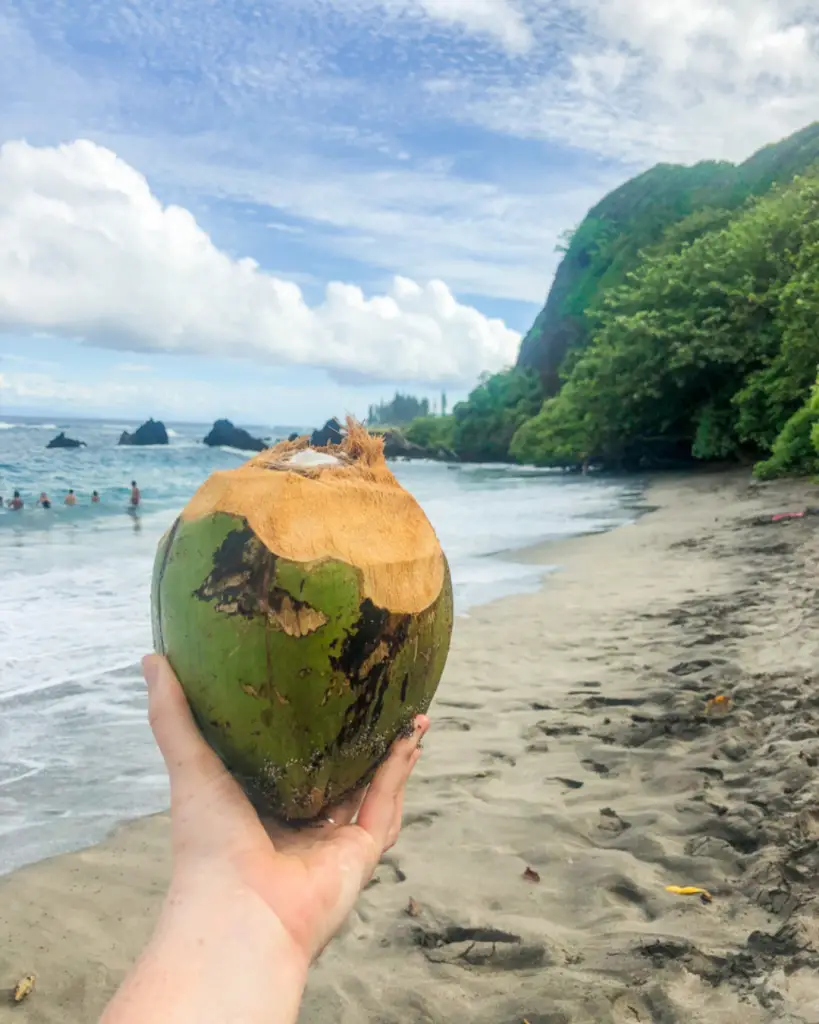 Wailua Falls
While you will see gorgeous waterfalls all along the road to Hana, Wailua Falls is the tallest at 80 ft! A short trail leads you to rocks overlooking the falls. There is a small pool at the bottom of the falls that you can take a swim in. It's very cold but very refreshing! Take care to stay away from the base of the falls as rocks may fall.
Allocate at least 15 minutes here.
If you're not going to go to Haleakala National Park, turn back here. There's one more stop on the way back!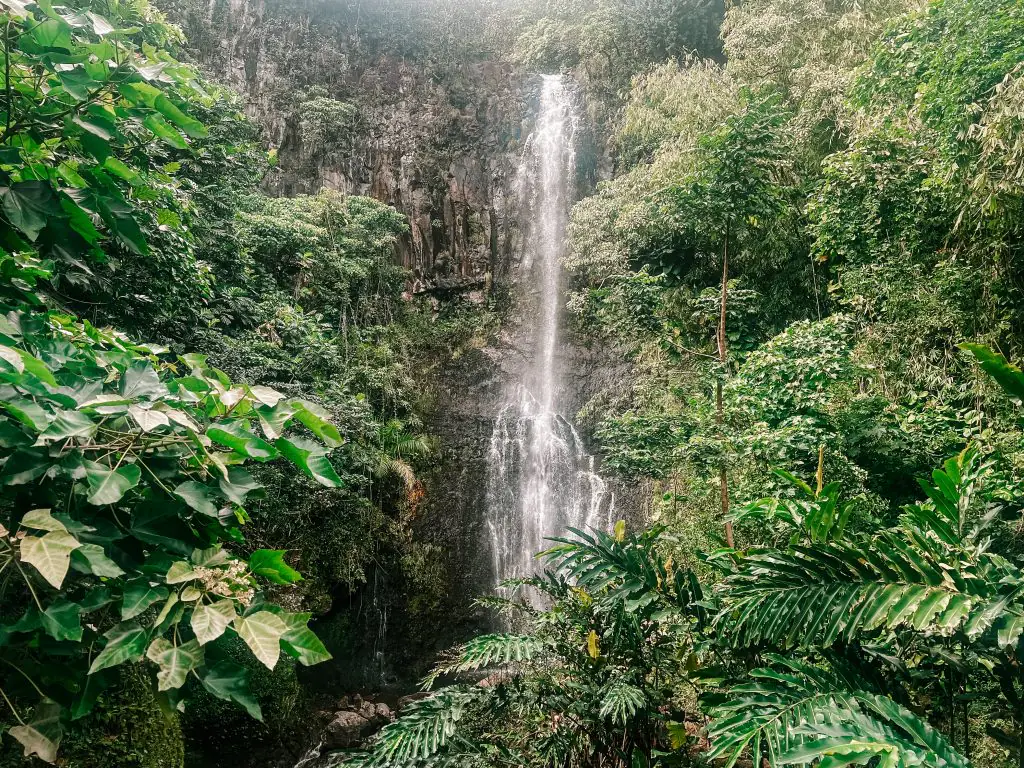 Venus Pools – Waioka Pond
If you don't want to pay $30 for the Seven Sacred Pools, head to the Venus pools. You passed it on the way to Wailua Falls, so it's on your return trip to Paia. In my opinion, it's the perfect place to end this portion of the road to Hana.
You'll see cars parked on the side of the road, make sure to park fully off of the road and follow any no-parking signs. 
You'll see a small trail next to a bridge, follow that. Then you'll climb over some metal bars and continue following the path. You'll walk through a field and turn right at an old stove. This is technically private property, but the owners allow people to pass through to access the Venus Pools.
This is a freshwater pool with a rocky beach protecting it from crashing waves. Cliff jumping is incredibly popular here. If you're feeling adventurous, go for it!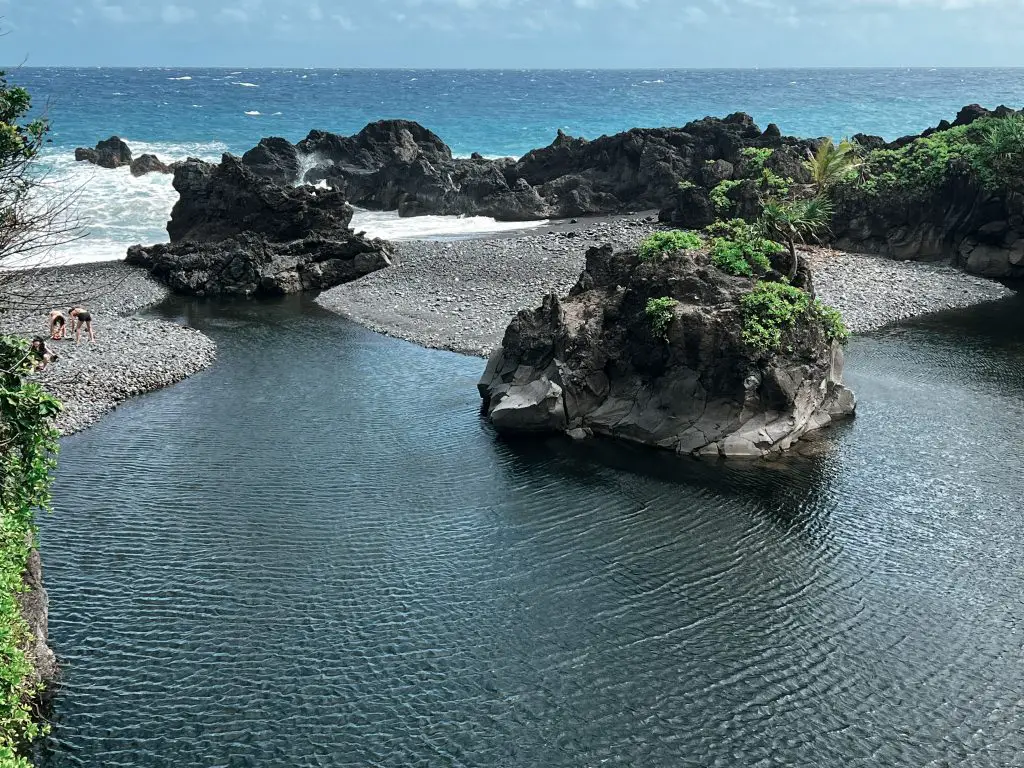 Places I'll Visit on the Fourth Trip
One thing about the road to Hana is that it's really hard to see everything in one day. Hell, I've done it three times and still haven't seen everything I want to. Here is what is the top priority on my list for the next trip.
Jaws: I want to marvel at the gigantic waves that crash off the coast of Maui at the famous Jaws. From a safe distance of course!
O'heo Gulch (Seven Sacred Pools): This is a series of waterfalls that lead to pristine pools. Swimming is no longer permitted in the pools. 
Pipiwai Trail: This 4-mile hike leads you through a bamboo forest to two waterfalls, Makahiku Falls and Waimoku Falls. While relatively short in distance, reviews rank this hike as challenging due to steep inclines. 
Where to Eat on the Road to Hana
I've already mentioned a few places to eat on the road to Hana, here are a few more.
Coconut Glens
If you want a delicious sweet treat, stop at this brightly colored hippie van for some vegan ice cream. Coconut Glens makes its ice cream from coconut milk with about six flavors and a daily special. We stopped here twice on the trip, on both the way out and the way back. I spent $16 on ice cream that day and it was 100% worth it. It was so good, I didn't get a photo of it either time!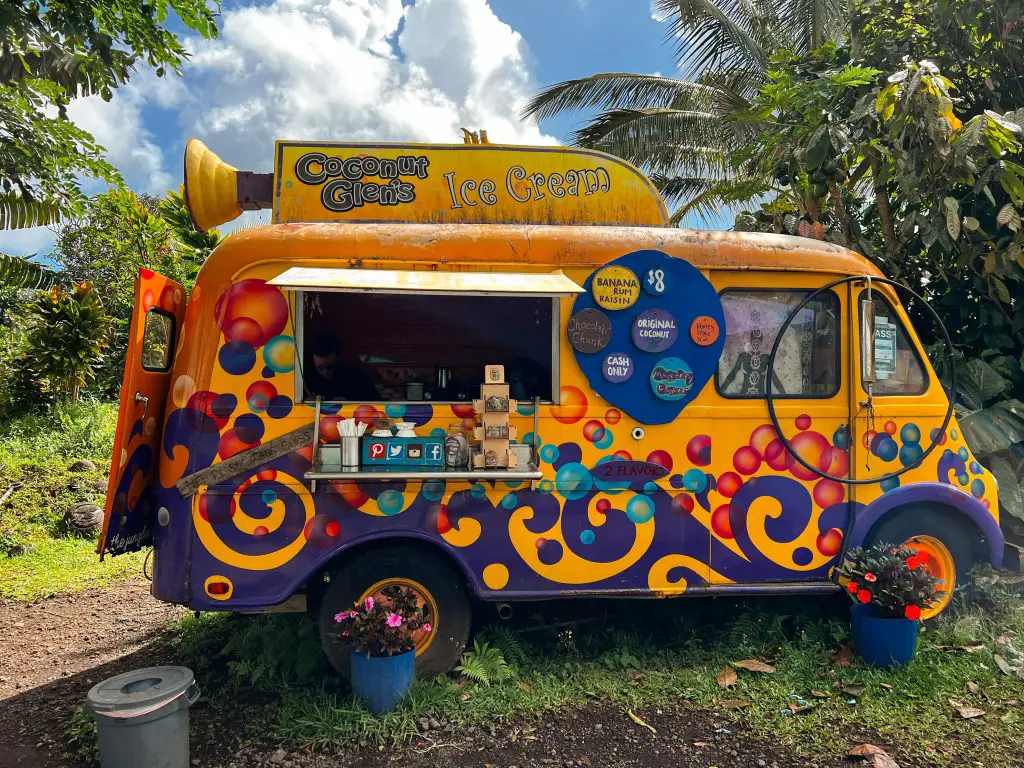 Nahiku Marketplace
This roadside marketplace offers a variety of food stands. You can get fish tacos, Thai food, and ice cream. On my recent road trip, only the coffee shop was open. Don't stress though. This is just before Hana where you'll find more places to eat.
Hana Town Food Trucks
I recommend holding off until you reach the Hana food trucks if you can! There are a variety of trucks including poke, Thai, smoothies, and more. You can take your pick from one or try something from each. There are picnic tables to eat at here or take your food to the beach. Just make sure you clean up after yourself!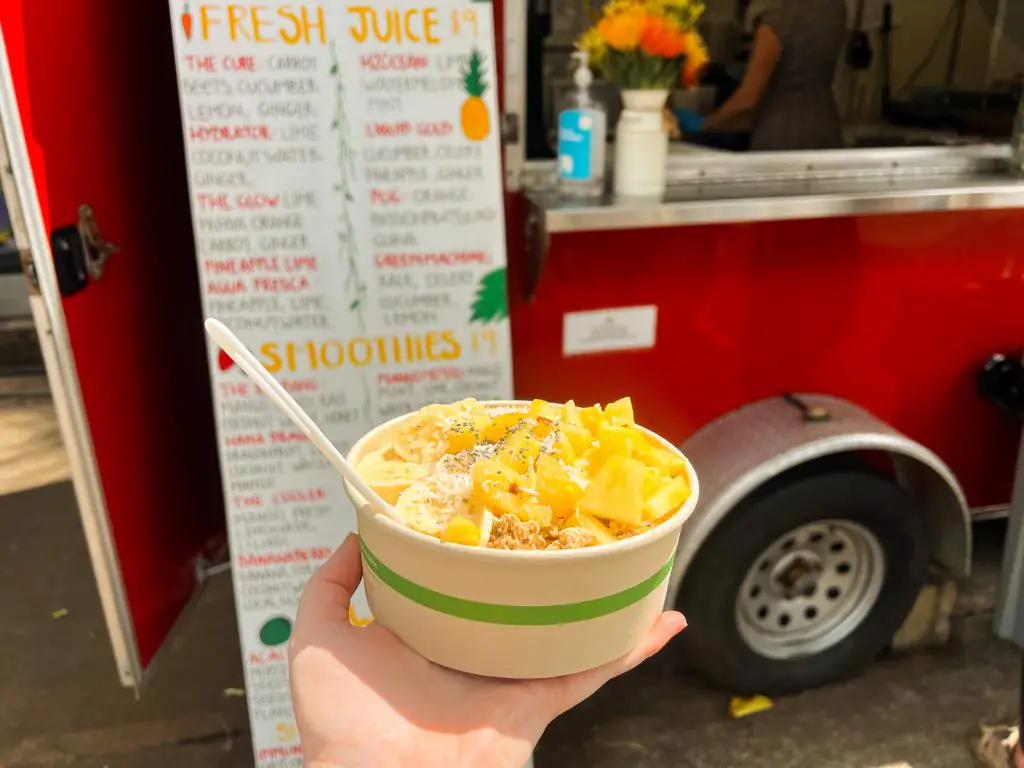 Where to Stay Nearby
Stay in Hana Town
I would love to stay in Hana town one day. An overnight stay here will allow you to see more of the stops without as much of a time crunch. Plus you can ease into the slower pace of life in Hana town. There are a few guesthouses and a beautiful hotel (splurge) to choose from.
Hana Maui Resort
This gorgeous hotel is a bucket list place to stay. The Hana Maui Resort offers a beautiful pool surrounded by lush greenery, stunning bungalows for extra privacy, and stunning views.
Check prices and availability here.
Kailani Suite at Hana Kai Resort
This oceanfront condo is within walking distance of Red Sand Beach and the food trucks in Hana! If you want to prepare your own meals, there is a small kitchen in the Kailani Suite.
Check prices and availability here.
Stay in Paia
Paia is a great place to stay to get a jump start on the road to Hana
Aloha Surf Hostel
If you want to get an early start on the road to Hana, stay in Paia at the Aloha Surf Hostel. It's a great place to stay on a budget that will allow you to get a jump start on the road!
Check prices and availability here.
Paia Inn
Paia Inn is a gorgeous hotel located in the heart of Paia town with ocean views is an excellent place to base yourself for your Maui vacation in general! It has a boutique hotel vibe with private access to Paia's gorgeous beaches.
Check prices and availability here.
I hope this road to Hana guide was helpful and provided you with unique insight to help you plan your bucket list road trip. One last reminder to take your time, soak in the beauty, and don't worry about skipping stops. It's about the journey today, not the destination.