Ireland might be a small country, but it packs a lot of punch with its emerald green hills, lively city centers, islands, and beaches. This 7 day Ireland itinerary provides you with a taste of everything this beautiful country has to offer. And if you like any of the things mentioned above, along with a side of whiskey, then keep reading for an awesome trip to Ireland. With 7 days in Ireland, you'll visit Ireland's major cities as well as a few hidden gems along the way.
I know that Irish road trips are all the rage but this one week Ireland itinerary is all done without a car.
After 5 trips to Ireland, I've been able to see many beautiful places relying on public transit. Yes, even including destinations on the Ring of Kerry and the Wild Atlantic Way. 
Without a car, I didn't have to worry about finding accommodation with parking, paying for gas, or navigating. Or you know, driving on the opposite side of the car AND road. 
Traveling by bus lets me sit back, relax, enjoy the beautiful scenery, get a nap in, and wake up in a new beautiful Irish town. Without sweating those narrow roads!
A few years ago this may have not been possible. But public transportation has been improving throughout Ireland. I've been able to visit a small town called Ennis and get to the Dingle peninsula all via bus. 
It just requires a bit of flexibility and planning to make sure you get to do and see all that you want in Ireland.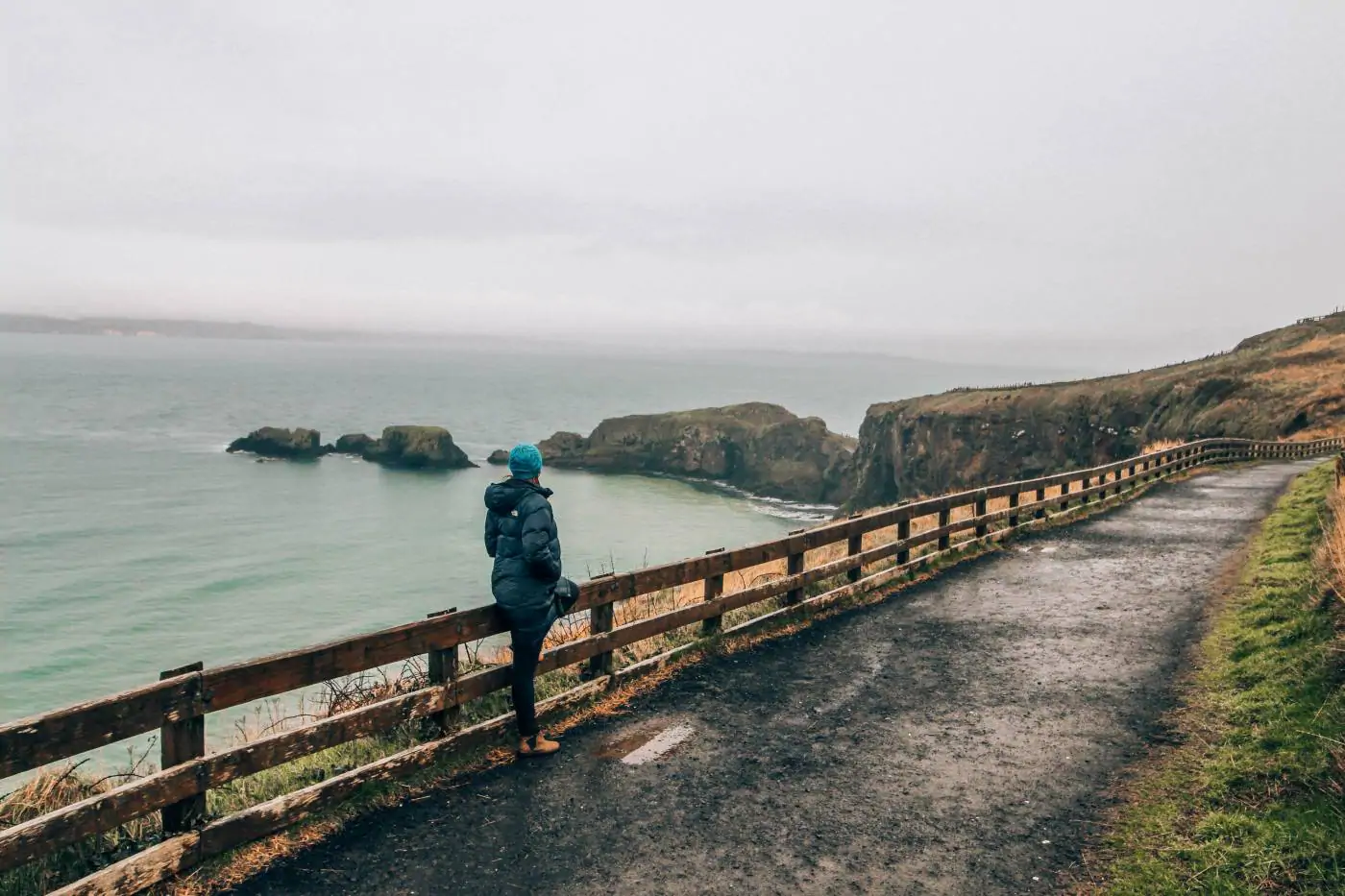 This post contains affiliate links, which means that, at no additional cost to you, I will earn a tiny bit of income if you decide to make a purchase or booking.
This is the first post in the Ireland Travel Series. Here is the complete 6 part series:
Ireland Travel Series
Travel Tips: What Not To Do In Ireland: Avoid These Tourists Mistakes in Ireland
Packing Tips: The Only Ireland Packing List You Need for Any Season
Dublin: The Ultimate Guide to 2 Days in Dublin
Cliff Walks: A Day Trip from Dublin: The Bray to Greystones Walk
The Wild Atlantic Way: Top 3 Day Trips from Galway Ireland

How to Travel in Ireland without a Car?
Here's just for a quick overview of your transportation options in Ireland when you're car-free. 
Ireland by Bus
Bus services in Ireland are starting to expand routing options, which is exciting. Plus, the buses in Ireland are comfortable, clean, and have decent WiFi. 
There are many direct coach services daily to and from Ireland's major cities such as Dublin/Cork/Galway/Belfast. To get to smaller towns you may have to take a combination of coach service and city buses.
The best way to find out how to get where you want to go is to ask at the bus station or hostel.  I also found Google Maps to be fairly accurate for bus times and routes. 
A few bus companies to consider booking with are:
Citylink

– has multiple daily services between Dublin/Galway, Dublin/Limerick, Limerick/Cork, and Galway/Clifden.

Bus Eireeann – has more offerings for getting to smaller towns in Ireland. The

tourist travel pass

which includes three days of travel within 6 days for €60 would work well for this 7 day itinerary.

Dublin Express

– has routes between Dublin/Belfast as well as Killarney, Clare, and Waterford.
Train Travel in Ireland
There is long distance train travel in Ireland as well. On my most recent trip I took the train from Westport to Dublin Heuston and found it a very convenient and reliable way to travel.
Irish Rail has routes between Dublin/Galway/Cork as well as Tralee, Sligo, Westport, and more. Riding the train is a more expensive option compared to the buses, but it really makes much of Ireland very accessible without needing a car. 
Additionally, Dublin's DART train provides excellent service within the city and to towns outside of Dublin such as Howth and Bray. 
Uber in Ireland
Uber does not work in Ireland, however, there is an app called FreeNow which is basically the same thing. It works just like Uber, except it connects you to local taxis. You can use this service in major cities if you only have a short distance to go.
Ireland Day tours
Gasp. 
Did she really just recommend a day tour?!
I know, I know day tours are dreaded amongst travelers (not tourists… eye roll). But honestly – as a solo traveler they can be a great way to meet people while seeing the sights. My first trip to Ireland was jam-packed with day tours and while I don't recommend that approach, I definitely recommend maybe delegating one day to a pre-planned tour for a must-do item on your personal Ireland itinerary.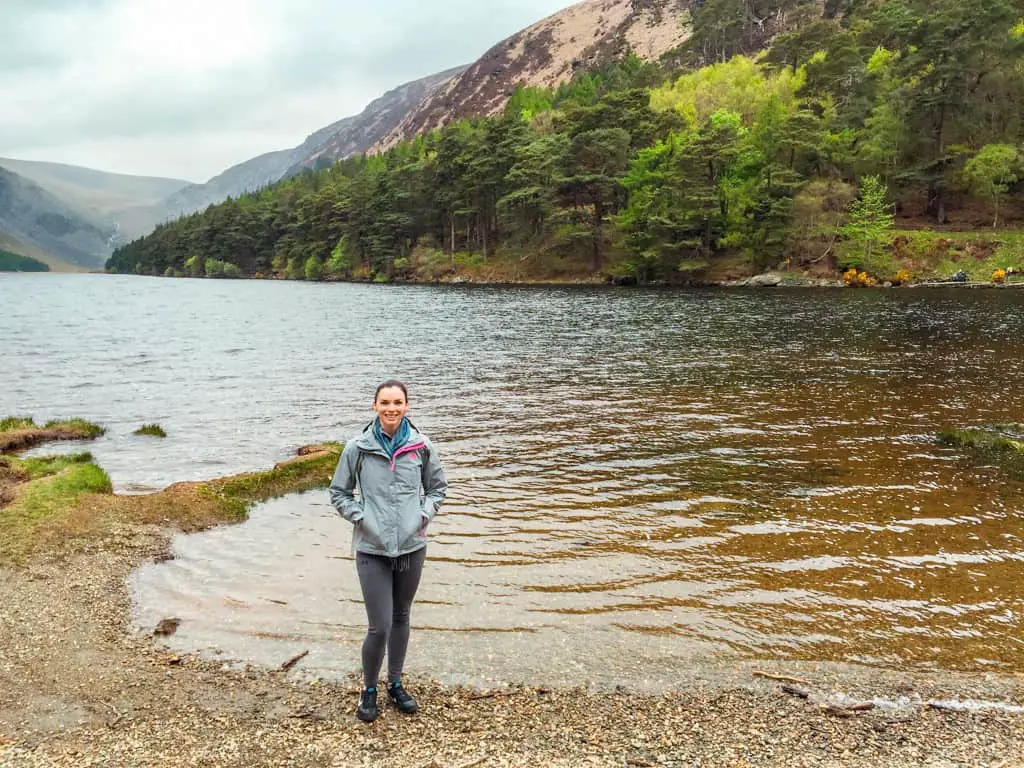 How to Spend 7 Days in Ireland without a Rental Car
Speaking of your personal Ireland itinerary, consider the type of experiences you want to have during your 7 days in Ireland. 
Do you want to hike in Ireland's national parks?

Do you want to taste all of the whiskey?

Perhaps you're a literary history buff and want to learn more about Ireland's famed literary culture?

Want to soak up the music and pub scene?

Or maybe attend one of the many festivals that take place throughout the year?
Whatever tickles your fancy, make sure to pursue those activities. There's no point in spending your trip doing things you don't like. And if by chance this itinerary takes you to a place that you just don't mesh with, adjust it.
For instance, on my first trip to Ireland, I arrived in Cork and immediately did not like it. I've been to Ireland five times and not once have I kissed the Blarney Stone.
Just in case this happens for you, I've included plenty of alternatives.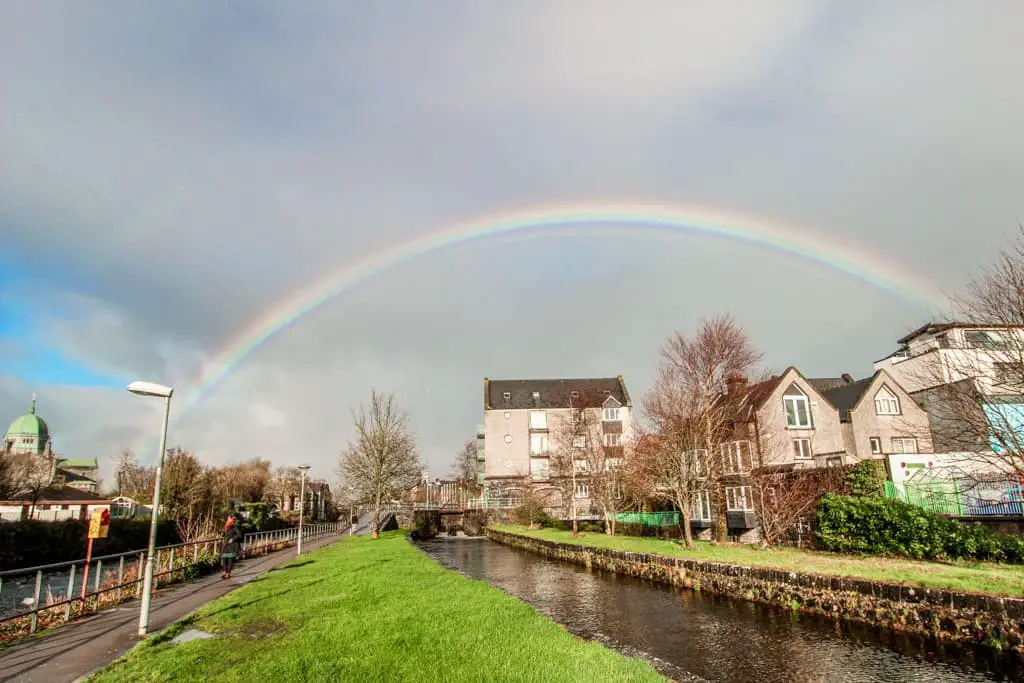 Best Time to Visit Ireland
I've visited Ireland at three different times throughout the year – but all in off or shoulder season for tourism. High tourist season is in the summer months of June, July, and August. So if you want lower prices and fewer crowds, try planning your visit for shoulder months like September and October. If you want to go in the offseason it is possible that attractions are closed for the season. For a detailed breakdown on what you could expect each month in Ireland, this is a very informative post.
Weather in Ireland
In terms of weather in Ireland, it's best to expect rain daily. I have visited in March, May, October, and January and each day there was a bit of rain, sometimes all day, sometimes just in the morning, But, I'd have to say that the best weather was in October. May was still quite cold and obviously, January was incredibly cold. But October had quite a few sunny days that I was able to enjoy! Also seeing the Fall colors in the countryside of Ireland is spectacular.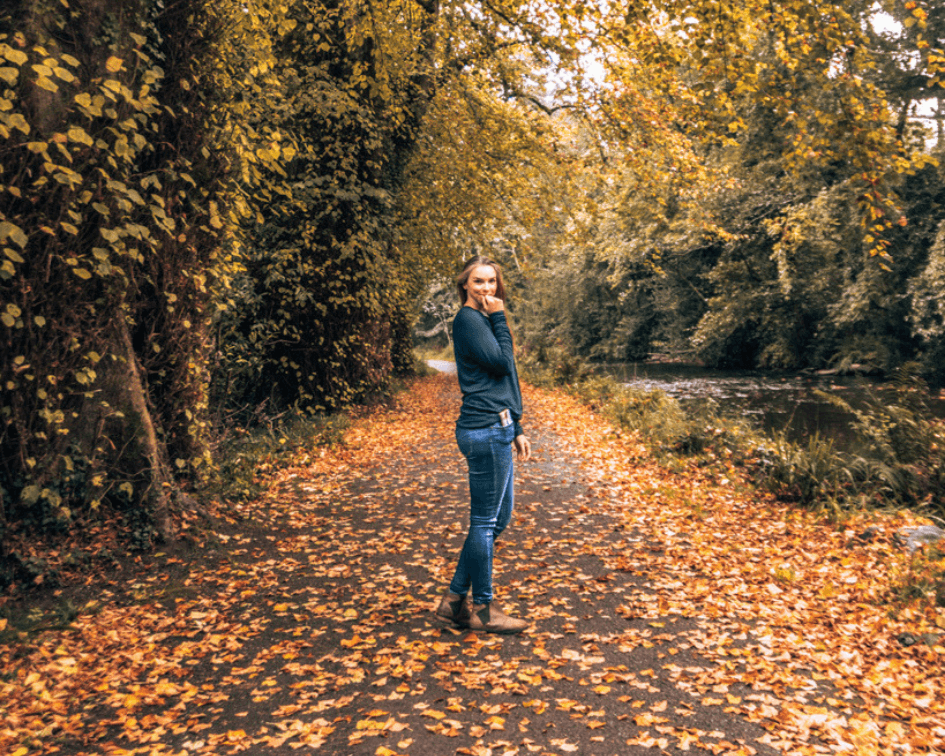 Solo Female Travel Safety in Ireland
In general, I feel incredibly safe in Ireland. As with any country we venture to solo, it's best to keep your wits about you, and in Ireland, that may mean taking it easy on the pints. I did find that I fielded many questions from men about why I was traveling alone. I started to answer that my boyfriend was with me but taking a nap at the hotel, which brought forward more questions about why I would leave him alone. Just remember you don't owe anyone an explanation and if the conversation is getting uncomfortable for you, just leave it.
Remember to not tell anyone where you're staying and to always ensure that the accommodation you book does not allow access to non-guests. In Ennis, I met a gentleman who continuously offered to walk me home and the only way I could get him to leave was to point out the hostel and say it's right there – I'm fine. The next morning the front desk handed me a note he'd left for me. 
Those two instances occurred during my first solo trip ever and since then I've found it easier to navigate those conversations and have a better handle on keeping myself safe when traveling solo. In my more recent trips, I haven't had any issues with these types of situations.
In cities like Dublin and Cork pickpocketing can occur. Be sure to keep important documents and other items safely on you. I really liked traveling with Lululemon's simple fanny pack. It's stylish and a good way to keep everything I need for a day out on me.
Determining Your Budget for 7 Days in Ireland
Ireland is certainly an expensive country for travelers, especially in Dublin. The best way to determine your budget is to decide which experiences are on your personal Irish Bucket List and allocate money towards those. Then find other areas to save.
For instance, you might really want to eat at a certain restaurant, so you splurge one night and cook the rest. Or there might be an Airbnb that looks amazing so you stay there for a night or two and spend the rest of your time in hostel dorm rooms. 
Here is an average breakdown of what it would cost per day in Ireland:
Hostel dorm bed: €40

Airbnb: €50-100

Hotel:

€

150

Food: €40

Alcohol: €15

Transportation: €20

Activities: €50
Obviously, you won't need to spend on transportation every day or eat out for every meal, and activities could very well cost less or be free. So I'd say €100 per day is a decent budget that allows you to splurge or save when you want.
Your 7 Day Ireland Itinerary
Just a little disclaimer about this itinerary before we get into it. This itinerary is for seven full days in Ireland. Which assumes that your travel days occur on day 0 and on day 8. So overall, you'd need nine days to complete this itinerary. 
This is also assuming that you fly into and out of the Dublin airport. If you fly into Shannon airport or Cork airport then just start where you land and make adjustments as you go!
How to Get to Dublin City Center from the Airport
To get to Dublin city center from the airport take the 747 Airlink bus. The ride costs €7 (cash only to purchase on the bus) takes about 30 minutes and there are many stops within Dublin that will bring you close to your accommodation. 
Alright, you ready?
Let's do this!
Ireland Day 1: Explore Dublin City
Put on your walking shoes and wear comfortable clothes because today you'll be doing quite a bit of walking!
Breakfast at RoCo Cafe
Start your morning off right with a delicious breakfast at RoCo Cafe. Located near Christ Church Cathedral and Dublin Castle RoCo Cafe is an excellent starting point for your day. RoCo Cafe delivers not just on their matcha latte, but on their food as well. They offer a variety of gluten-free, vegan, and regular options. The decor is also very cozy, especially the upstairs which has a nice wrap around bench with plenty of tables. Or you could enjoy your matcha and breakfast sandwich people watching at the counter downstairs.
Once you've eaten your fill you're going to head toward Trinity College.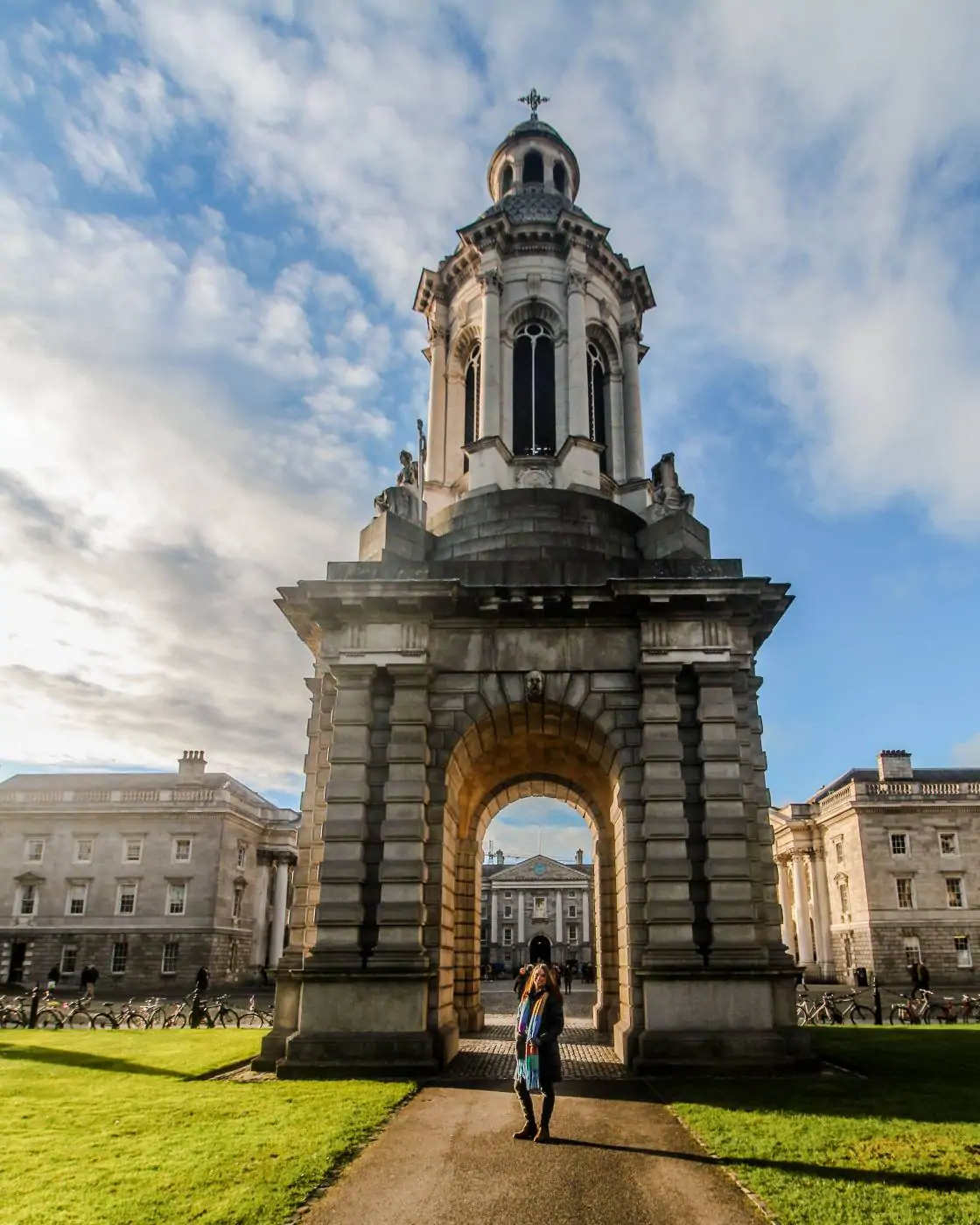 Trinity College, The Long Room, and the Book of Kells
I've visited Trinity College and the Book of Kells twice. The first time I had a terrible experience. It was May and the line outside was incredibly long. Since I bought the ticket online, I was at least able to bypass it. However, it was so crowded inside that I didn't even enjoy the exhibit or the Book.
I didn't want to go the second time, but the friend I was traveling with had never been and wanted to see it. This time it was January and there was no line outside. We bought our tickets on the spot and we were able to take our time with the exhibit and with the Book of Kells. 
So if you're going to go, definitely go in the offseason or off times during the high season – aka first thing in the morning!
The exhibit does an excellent job at describing the production of the Book of Kells and its significance to Irish history. Then you'll be able to see the beautiful and intricate artwork for yourself.
After the Book of Kells, you'll enter the famous Old Library Long Room. This two-story room in the Old Library houses hundreds of thousands of books that line the shelves on both floors. In addition to ancient books, you can find Ireland's oldest Harp.
Two interesting facts, students can still check out books from this section of the library and this library receives a free copy of every book published in the Republic of Ireland. It's awe-inspiring to imagine all of the knowledge this single room holds, as you wander down the room, peering into the bookshelves, trying to read the titles and authors.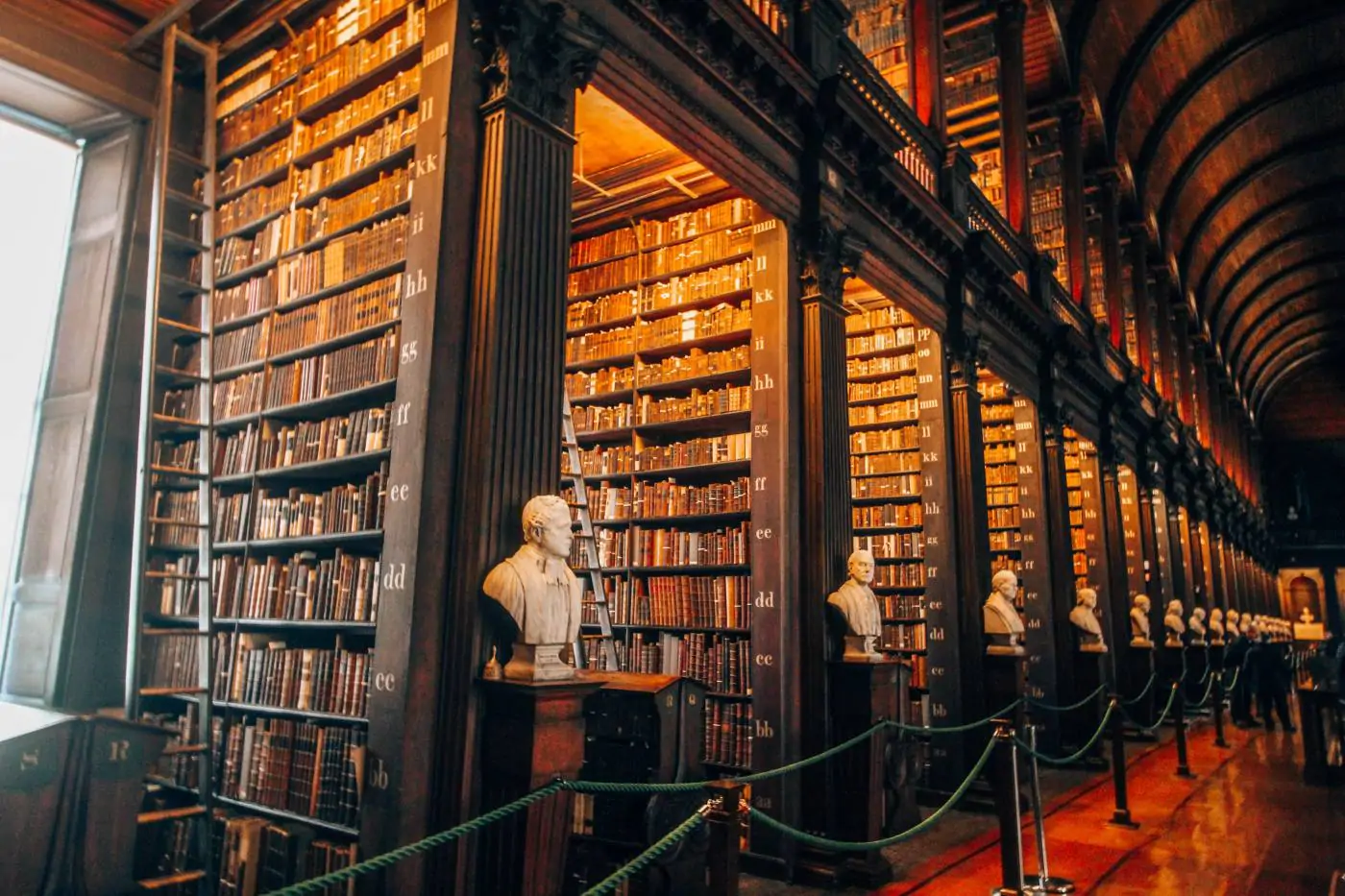 Cost for Book of Kells & The Long Room: €11-€14 depending on the time of your visit
Opening Hours: 8:30 am-5:00 pm
If you're planning to go in high season, definitely consider purchasing tickets in advance to save yourself some time!
Window Shop on Grafton Street
After you've finished at the Long Room, make your way along Grafton Street towards St. Stephen's Green. 
If you're hungry along the way are two good options for food and coffee, Cornucopia and Kaph. Cornucopia is a long-standing, family-run, buffet-style vegetarian restaurant. Their matcha and fresh bread are top notch as well.
If you just want a small bite then head to Kaph, a minimally designed coffee shop that will likely have a line out the door. They have small bakery treats to accompany another great matcha. Seriously, Dublin does matcha lattes well.
Return to Grafton street which is Dublin's main shopping street. Most of the shops here you can find in many places around the world. But it's a nice, pedestrian-friendly stroll for some window shopping.
At the end of Grafton Street, you'll reach St. Stephen's Green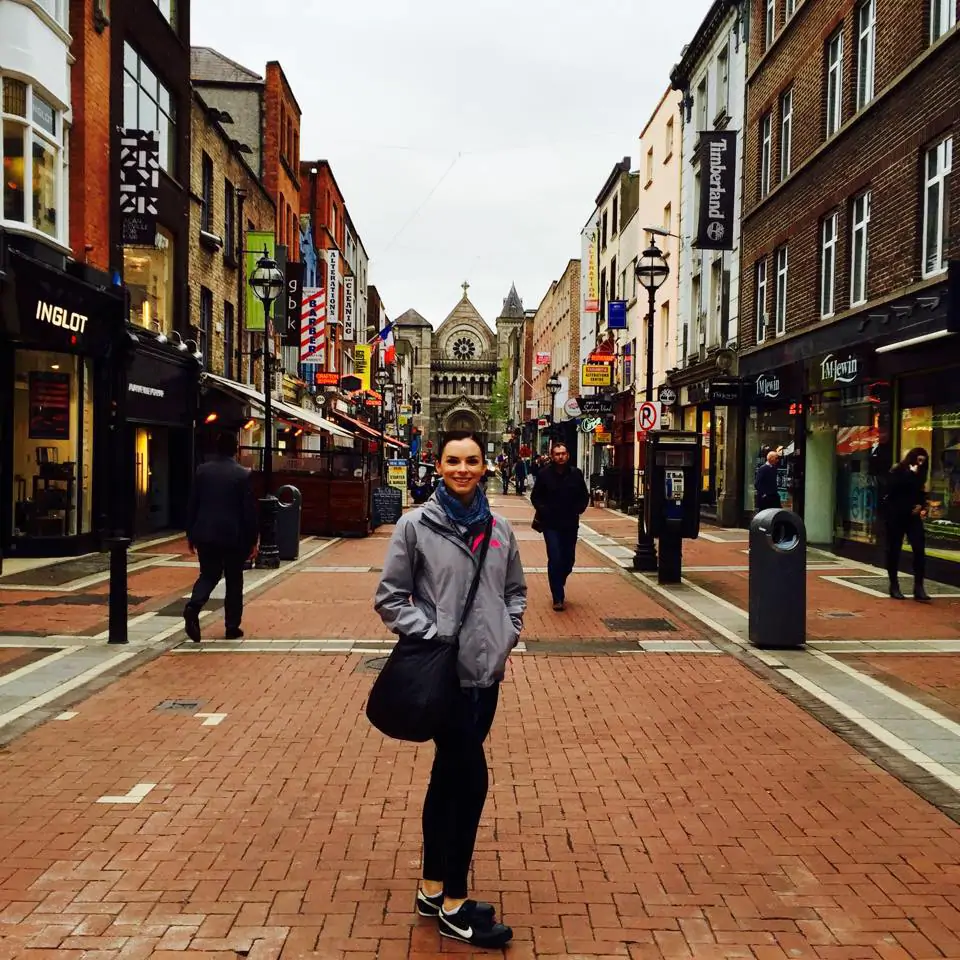 Escape the City in St. Stephen's Green
St. Stephen's Green is a beautiful park with a small lake that is perfect for escaping the city into your first glimpse of Ireland's lush greenery. You could easily spend a few hours here meandering through the paths, reading a book on a bench, or just people watching. That is, of course, if you happen to catch a sunny day. 
Exit St. Stephen's Green at York Street as you'll now head to Brazen Head for a well-deserved dinner with a stop at St. Patrick's Cathedral.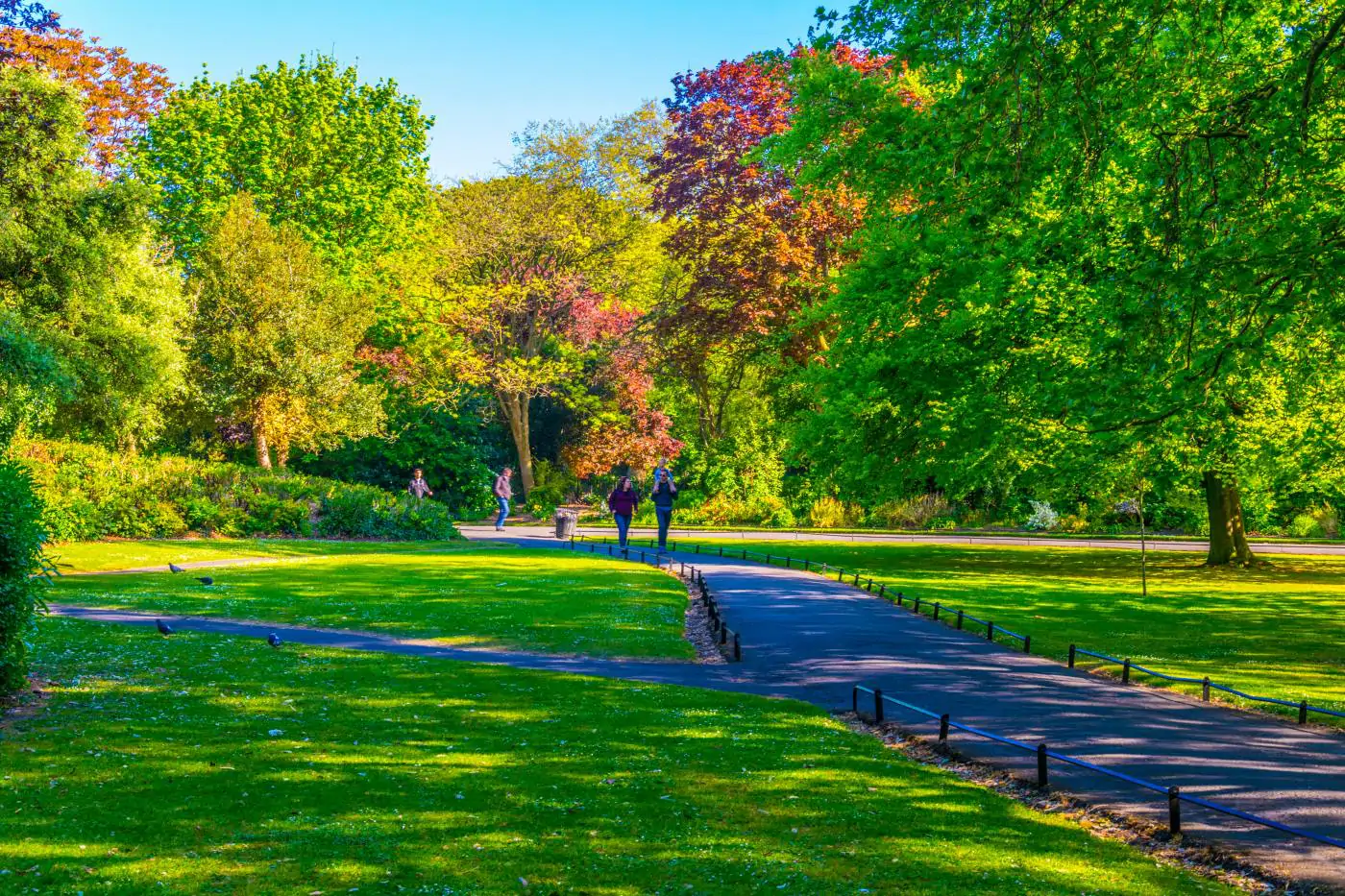 St. Patrick's Cathedral
On the way towards Brazen Head, you'll pass by St. Patrick's Cathedral, which has absolutely stunning grounds. I do recommend entering the church as well for a religious history lesson as this Cathedral, in particular, has played a significant role in Ireland's past. 
Entry fee: €8 with an included tour if you're inclined. Or just wander about by yourself.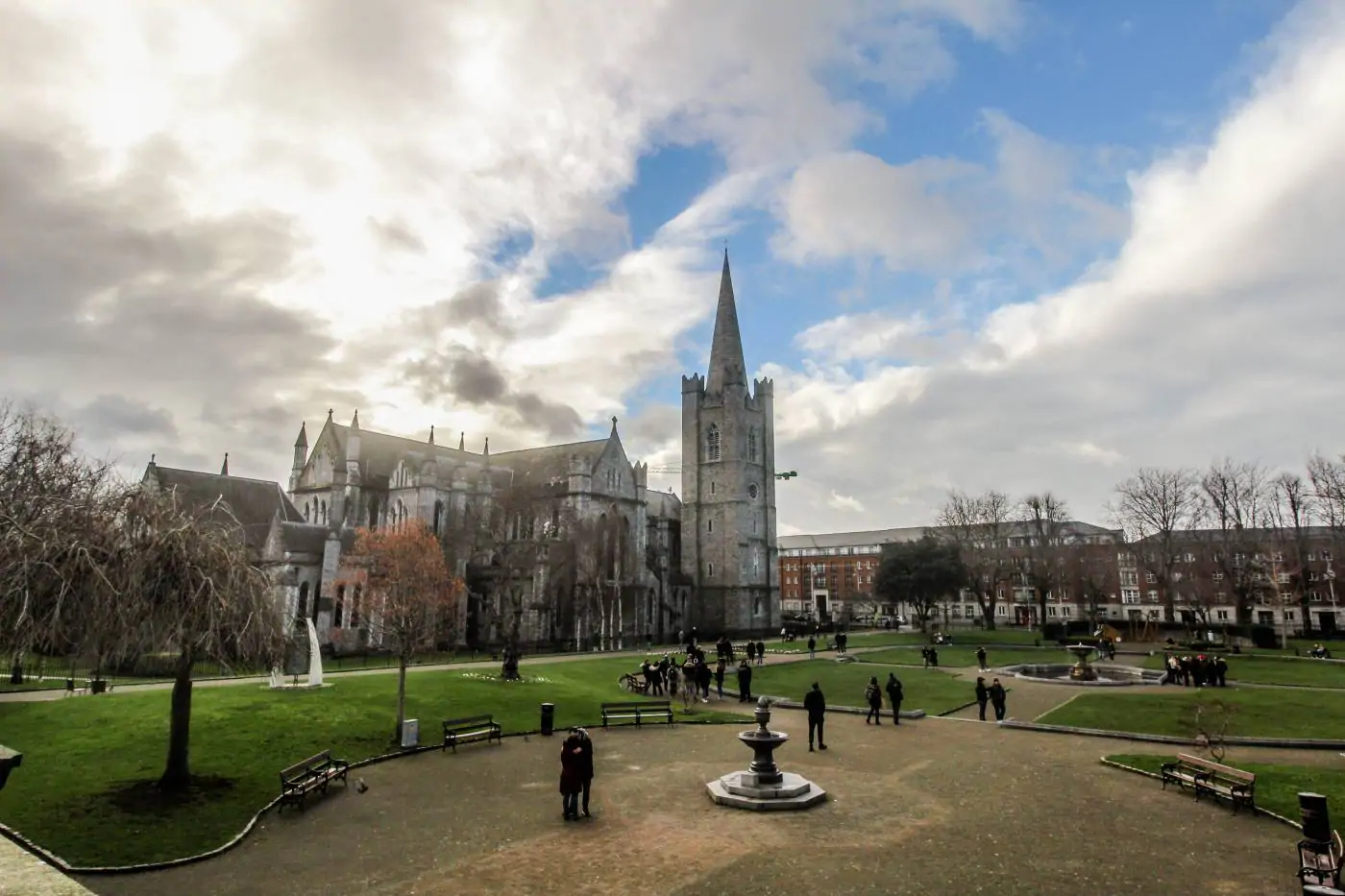 Dinner at Brazen Head
Brazen Head is the oldest pub in Ireland, making it the perfect spot for your first Irish pub experience. They offer traditional Irish pub fare for dinner as well as more contemporary dishes. But I recommend the Guinness and Beef stew. Every night of the week there is also live music, you may get trad (traditional Irish music) or you may get more well known Irish ballads to sing along with. Either way, you're in for a good first night in Dublin!
Pro tip: If you want a pub that feels a bit more local, cross over the river to The Cobblestone. They don't serve food but it is a good atmosphere and will also likely have live music!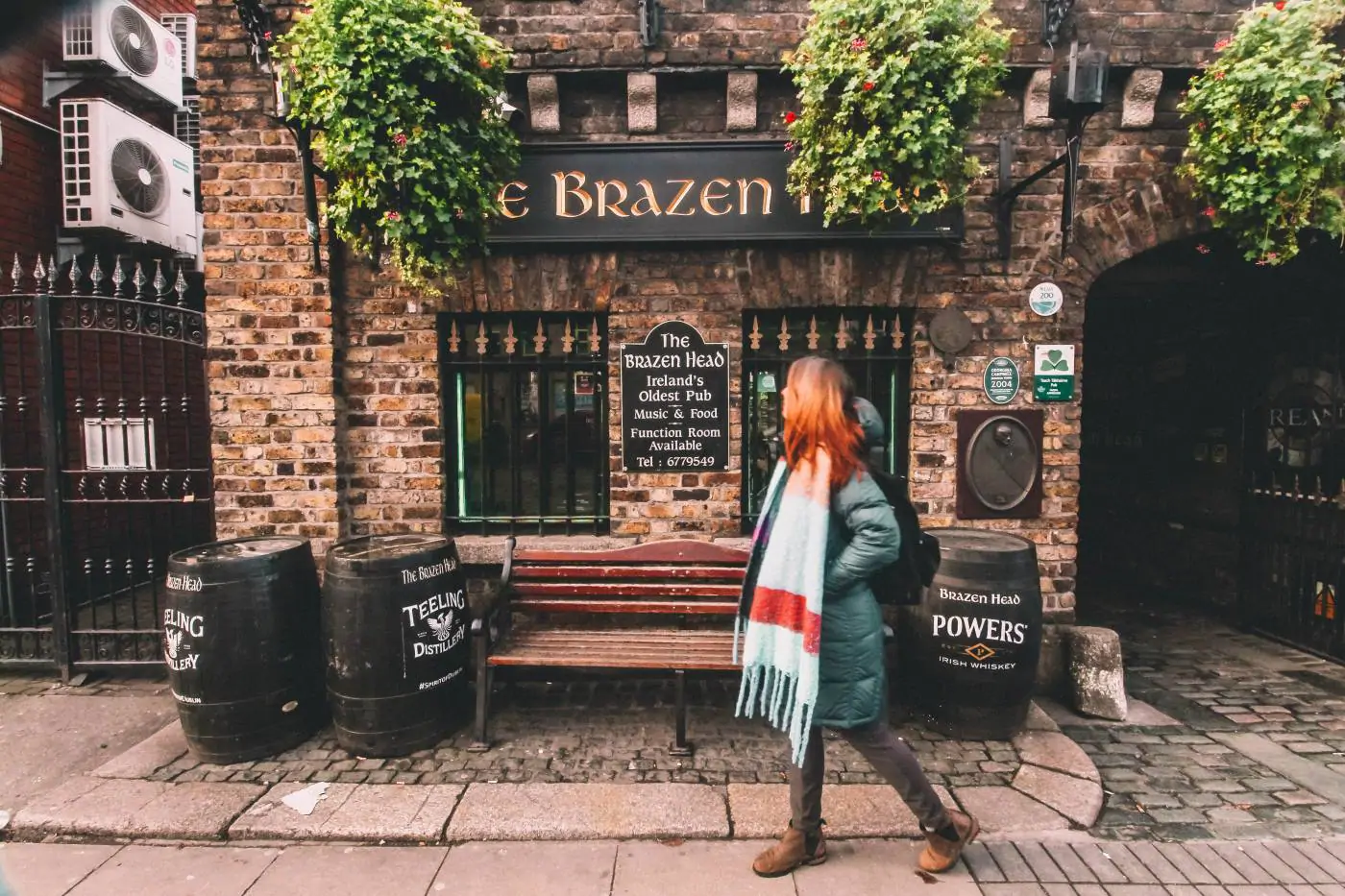 Other Options for One Day in Dublin
This first day in Dublin I hope you have good weather because it is a lot of walking and outdoor activities. If by chance it is raining and crappy outside, here are some other options on how to spend your first day in Dublin.
Where to Stay in Dublin
I've stayed in three different hostels in Dublin – only one of which I'll recommend; Garden Lane Backpacker's Hostel (too far from the sites), Avalon House (a bit old), and Times Hostel – College Street (clean, warm, good location). So out of those three I recommend staying at Times hostel. They have a well-stocked kitchen, free breakfast, and bathroom inside the rooms.
There are plenty of Airbnb and hotel options in Dublin as well.
If you're looking for a few more options use the map below!
Ireland Day 2: Howth Cliff Walk Day Trip then to Galway
While Dublin is a fun city, I don't recommend spending too much time there. Dublin has become a very European city, with people from all over the world living there. Which is great for diversity, but it doesn't have the same Irish charm as smaller cities and towns.
That Irish charm you will discover today on your coastal walk in Howth.
Then when you're finished in Howth, you'll return to Dublin to take a bus to Galway. 
When you check out of your accommodation this morning, ask them to store your bags. You can pick them up when you're done in Howth before you make your way to Galway.
Breakfast at Shoe Lane coffee
There's no need to rush up to Howth as it only takes 30 minutes to get there, so before you leave stop for breakfast and tea at Shoe Lane Coffee Shop. This is such a cute coffee shop with two floors of seating and outdoor space. They also serve excellent matcha and have paleo and vegan pastries for a healthy-ish breakfast. I recommend enjoying it at a stool at the front window so you can watch Dubliners start their day.
This coffee shop is located just a block away from the Tara St. DART station. So once you finish up, head over to the DART station and purchase your ticket for the next train to Howth. A round trip ticket should cost around €6.
Day Trip to Howth
Howth is a small fishing village located about 30 minutes north of Dublin. It is famous for its stunning cliff walk which on a clear day provides views of Dublin Bay and Ireland's Eye. It's incredibly easy to get to via the Dart train system, making it an excellent day trip. 
To get to Howth take the DART north to Howth, it will be the last stop. Don't get on the train for Malahide, it's a different place, but does have a beautiful castle. So if you do happen to get on the wrong train it's really not that big of a deal.
The first thing to do when you step out of the train station in Howth is to turn back and look at it. It might be the cutest train station entry I've seen with green ivy covering the facade and a small white sign saying Howth. 
Welcome to Irish charm.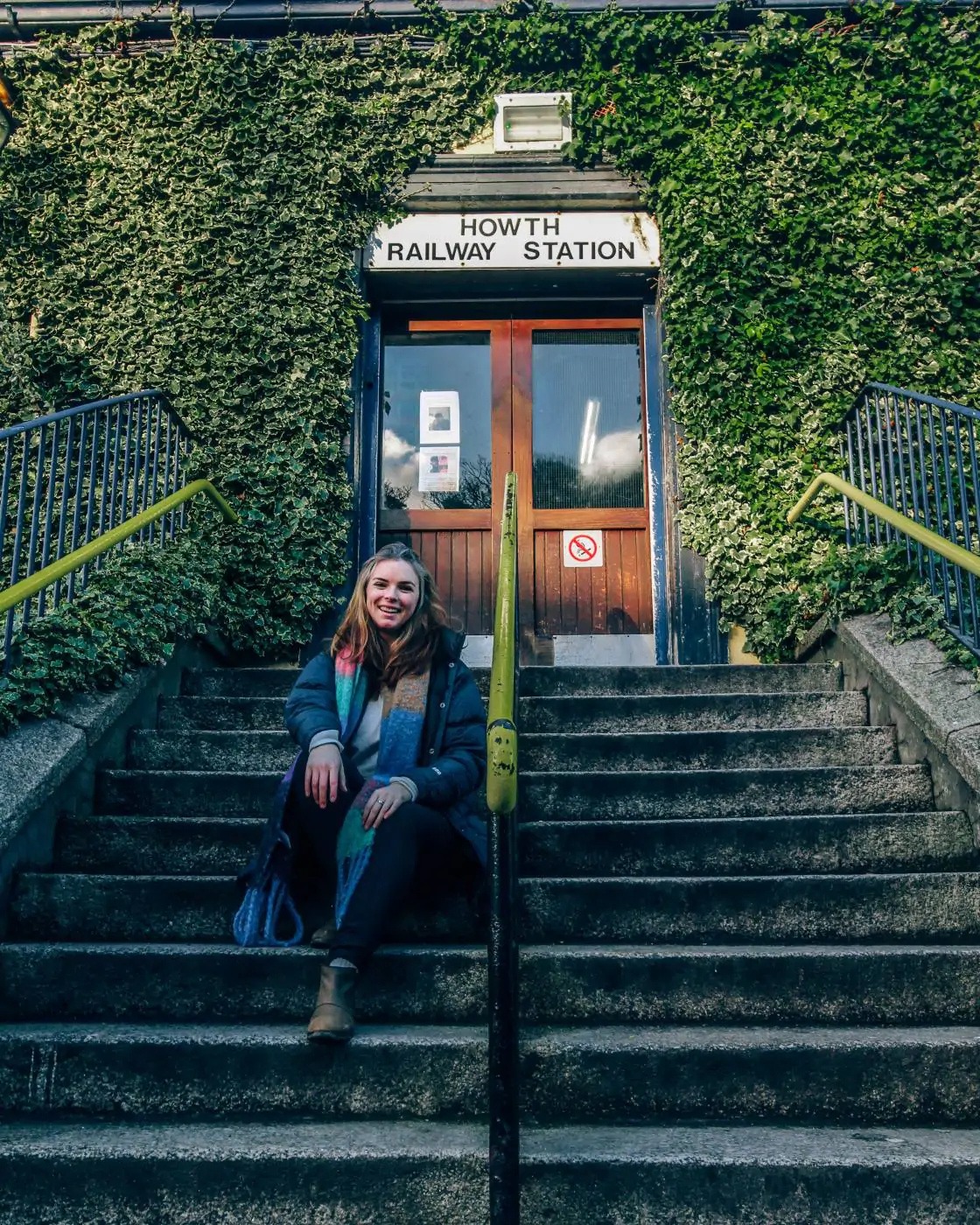 Like I mentioned before, the main attraction in Howth is the cliff walk, which technically starts at the train station. But you won't reach the cliffs until you walk through town and a residential area for about 20 minutes.
The town, by the way, is adorable. The pier is lined with seafood restaurants, all of which you can't really go wrong with trying. There is also a marketplace with various craft and food vendors. It was closed when I visited (January), but if you're there when it's open definitely take a stroll through it. 
As you walk towards what I consider the real start of the cliff walk, you'll notice boards with various routes to take. Snap a photo of this or if the tourist kiosk is open (again it wasn't for me because I was there in January) then pick up a paper map. 
The walks are actually loops that first take you along the cliffs, but then loops back through residential neighborhoods. My biggest suggestion is to turn this into an out and back. Once you reach the view of the lighthouse, instead of turning uphill to go through the neighborhoods, just turn back around. The walk through town is really nothing to write home about and you're better off taking in more of the sweeping coastal views.
Take extreme caution on this walk. There are no railings or fences and at some points, it's incredibly narrow. If it has recently rained, expect it to be muddy and slippery in some places, so wear hiking boots or stable sneakers. Leave your sandals at home!
The walk should take about 3-4 hours depending on how many photo ops you stop for and snack breaks you need.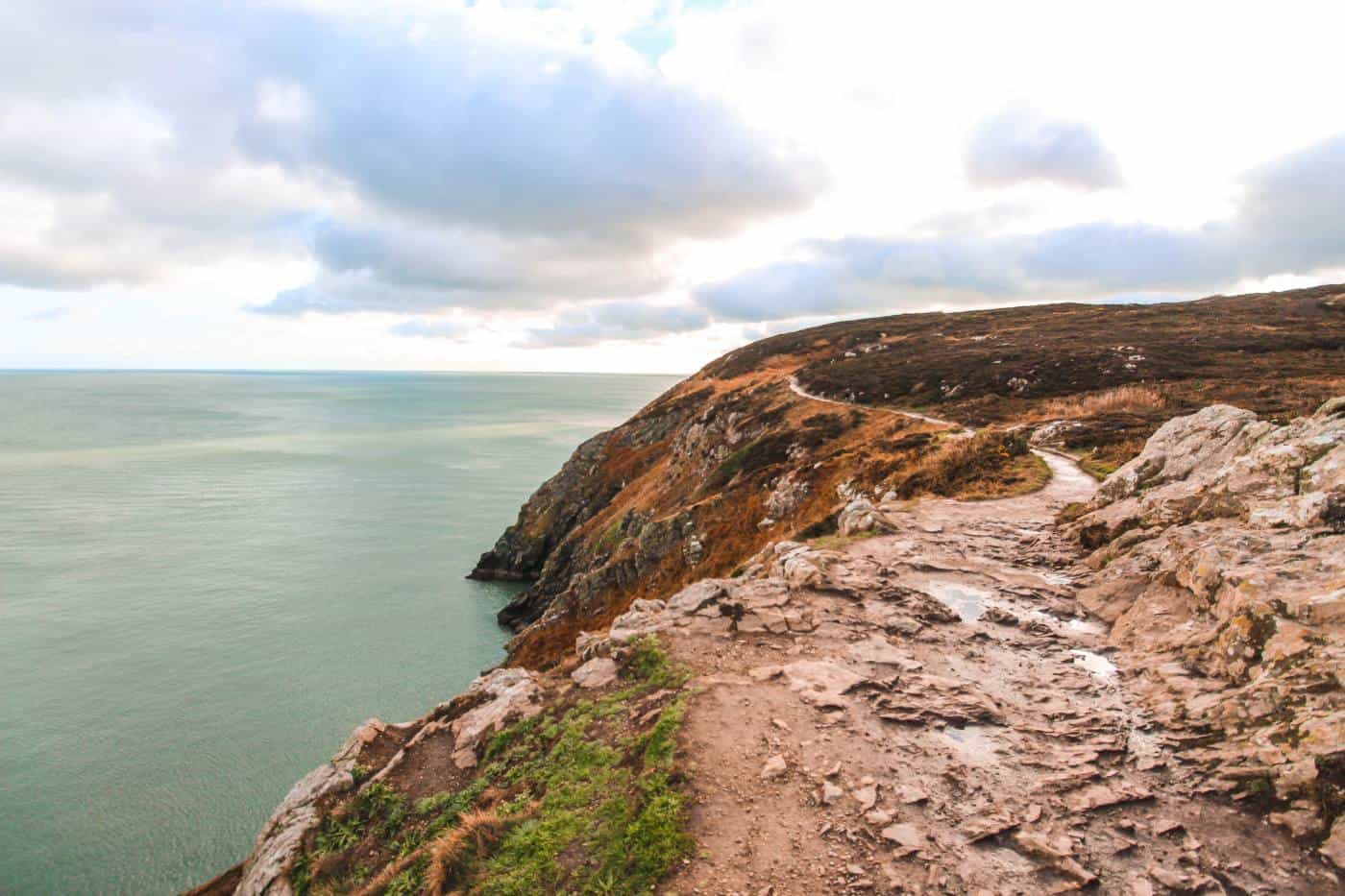 Leaving Howth
Once you've finished the walk and your time in Howth, return to the train station to take a train headed for Dublin. There is very limited overnight accommodation in Howth. 
How to Get from Dublin to Galway
Return to your accommodation in Dublin to retrieve your luggage and take the Citylink bus from Dublin to Galway. Double-check the bus schedule and purchase your tickets online in advance once you know what time you'll be able to make it. The bus ride takes 2.5 hours to reach the Galway bus station. So make sure to plan this accordingly with your accommodation in Galway. If this all seems like too much for one day, stay one more night in Dublin and take the bus to Galway the next morning!
Other options for Day 2 in Dublin
Bray to Greystones Cliff Walk this is another great cliff walk about 30 minutes south from Dublin, on the DART as well. I did this walk during my first visit to Ireland and absolutely loved it. Start in Bray and walk along the beach to the start of the cliff walk. About two hours later you'll reach Greystones where you can catch the DART back to Dublin. Bray is a cute town with lots of food options as well. In Greystones at the end of the walk there is an ice cream shop – which when I visited in May was fantastic after a "hot" day of walking in Ireland.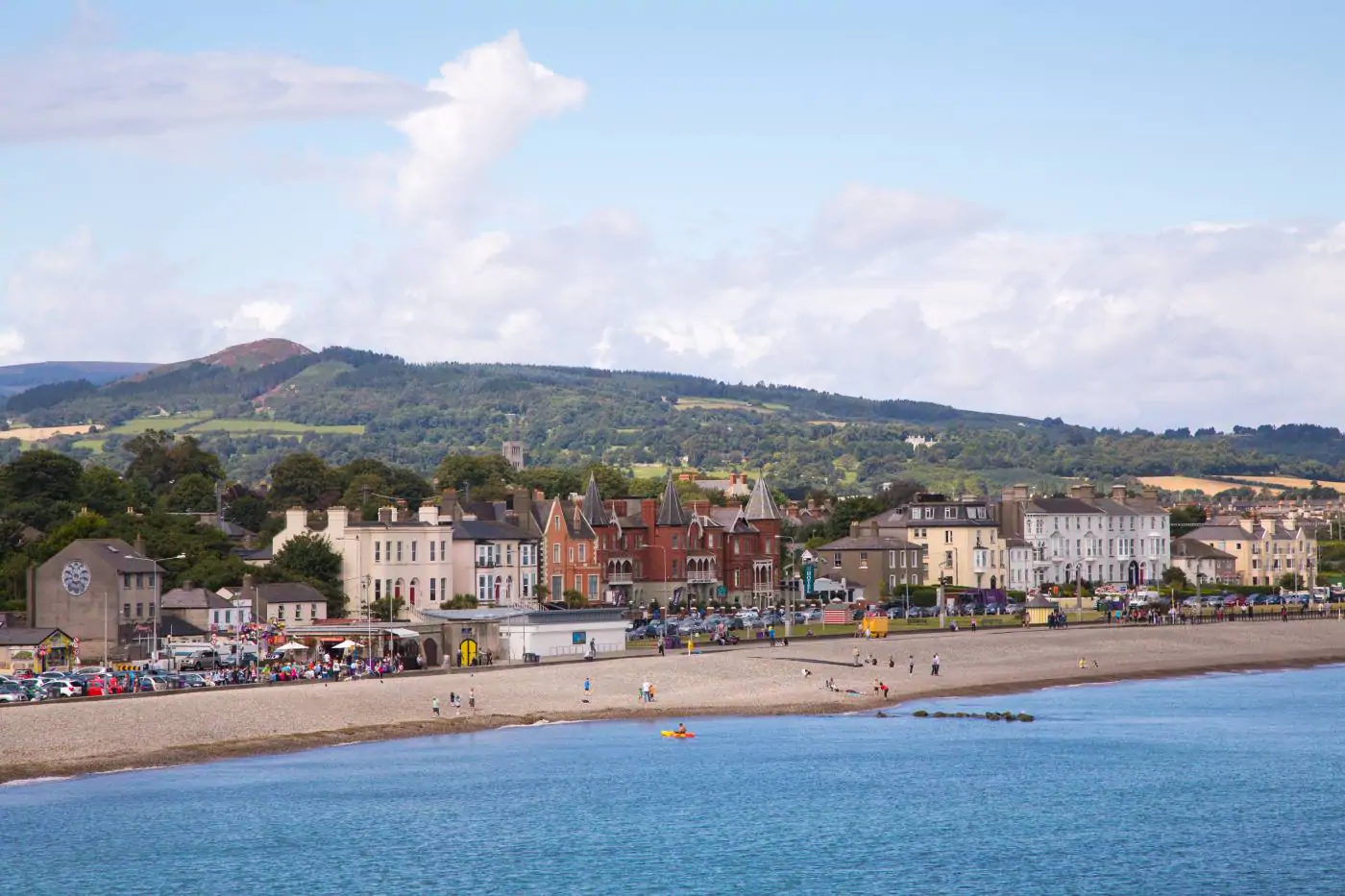 You could also take a day tour from Dublin to Northern Ireland if you want to see the Giants Causeway and the Carrick – a – Rede rope bridge. However, it is quite a lot of bus time in one day, so I recommend staying the night in Belfast so you can explore the city on day one and then take a Giants Causeway tour the second day. Then return to Dublin.
Ireland Day 3: Exploring Galway City Center
Galway holds a very special place in my heart and I sincerely hope it steals a place in yours. I fell in love with Galway's vibrant city center filled with music spilling out from the pubs at all hours of the day and mixing in with the buskers playing their own music in the streets. Add in the waterfront walk along Salthill prom at sunset and I am perfectly content here. 
Galway's location on the west coast makes it a perfect location to serve as a home base for three nights. The first day you'll spend exploring all of my favorite things to do in Galway. The next two days you'll take day trips to the Aran Islands and the Cliffs of Moher, returning to Galway at night. 
If by chance, you don't fall in love with Galway, I'll only cry a little bit. But I will offer alternative cities or towns you can base yourself in to take those day trips. 
Breakfast at Ard Bia at Nimmos
Nimmos is located in a charming little building on the Long Walk, just under the Spanish Arch (one remaining medieval wall). So you cross two things off of your Galway bucket list on your walk to breakfast. This is a Michelin rated restaurant which an excellent brunch menu at an even better price.
The menu is seasonal so I can't recommend what I had, except to say it was the perfect way to start my day in Galway. Along with a pot of tea.
This place does get busy fast, so if you don't want to wait, get there early!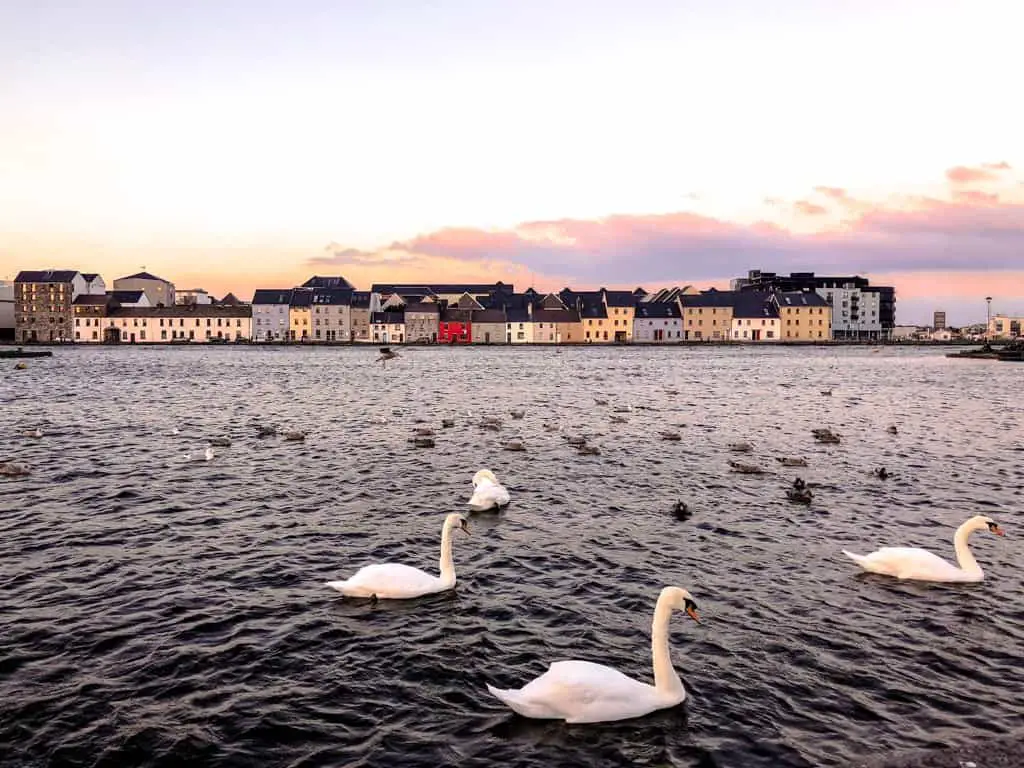 Shop in Galway City Center
After your breakfast head into Galway City Center. Shop Street is filled with unique shops that include souvenir shops, health food, second-hand stores, bookshops, and music stores – to name a few.
While you're shopping, make time go to the Aran Islands Ferries office located near the bus station to purchase your ferry tickets for the Aran Islands day trip tomorrow.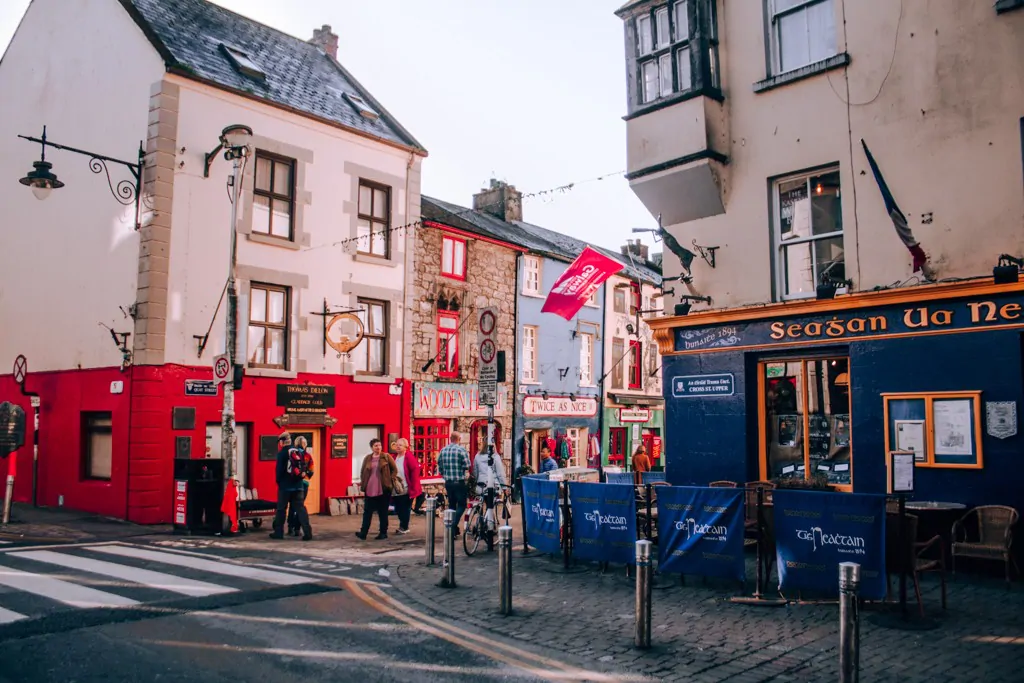 Thomas Dillon's Claddagh Jewelers
Galway is home to the world-famous Claddagh ring and the original Claddagh maker is Thomas J Dillon. His red front shop still stands on the corner Shop Street and I highly recommend stepping inside for a chat with the friendly people working there, having a peek at the smallest Claddagh ring ever made, and learning the history behind this ring. Perhaps even pick one up for yourself. 
Charlie Byrne Bookshop
Charlie Byrne Bookshop is a must-see. It's filled with at least 5 rooms of new and used books. Everything from Irish history to the hottest new fiction, to meditation, can be found within the shelves of Charlie Byrne's. This is a great place to spend a few hours on a rainy day in Galway.
Galway Cathedral
After you're done shopping, walk along the River Corrib towards Galway Cathedral. Galway Cathedral is free to enter, although a donation is suggested. Don't plan to sightsee during a mass, unless of course, you want to actually attend the mass. The first time I ever entered a wedding was taking place – slightly awkward!
The attractions in this church are the large mosaics found behind the pulpit and along the corridors. There is also a mosaic of JFK in honor of his visit to the Cathedral (they love JFK here). An interesting fact about Galway Cathedral is that it was built from the stones of the prison that once stood where the Cathedral now stands.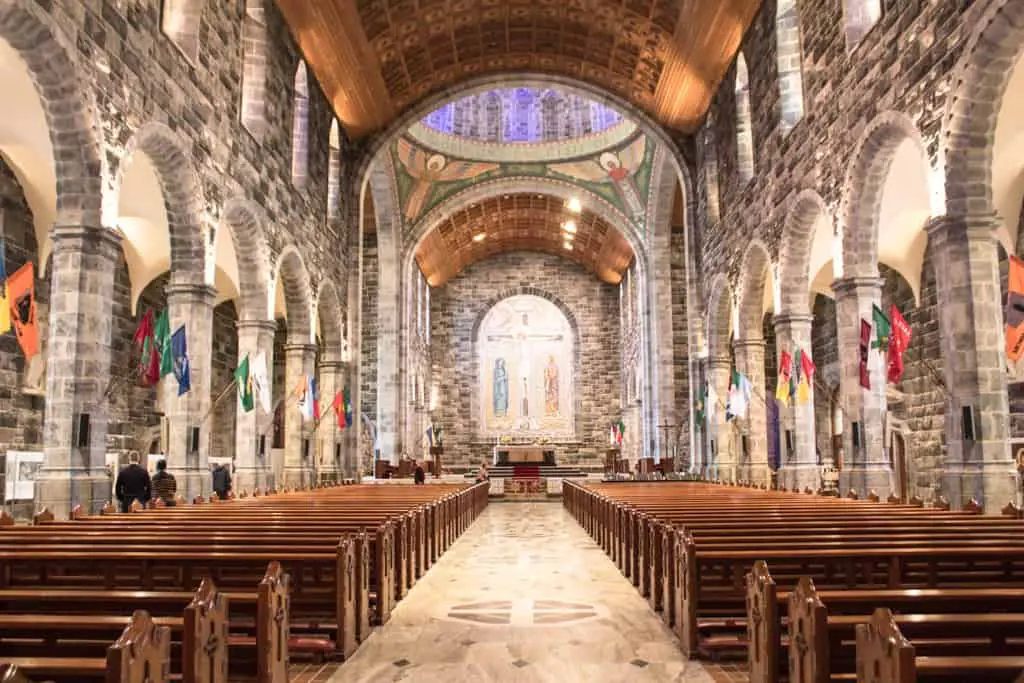 Pub Lunch at Tigh Neachtain
Hungry? Return to the city center for a warming pub lunch at Tigh Neachtain. Tigh Neachtain is one of the best pubs in Galway. It's blue and yellow front beckons you into the warm welcoming interior with the charming nooks and crannies of a traditional Irish pub. Tigh Neachtain has been welcoming guests since 1894!
If it's a sunny day, take your lunch outside for a bit of people watching while you eat. If it's raining enjoy it inside with a pint of Guinness and a book. 
Take a Stroll Along Salthill Prom
On a sunny afternoon, Salthill Prom is a beautiful walk. Even in light rain, this is a pleasant walk if you're dressed appropriately. You'll pass by large green fields on your right used for soccer and rugby and on your left is Galway Bay. Depending on the tide, you can actually walk quite far out into the bay. You'll also see plenty of fishermen out there trying for their daily catch. 
I recommend walking all the way into Salthill until you get to the Blackrock Diving Pier. When the tide is high enough (and the weather warm enough) people actually jump into the bay from the top of the pier. Each time I've done this walk there have been people swimming in the frigid water…no matter the time of year!
This walk is even better at sunset, so if you need a nap between lunch and your walk, take one and plan your walk for sunset.
Dinner at McDonagh's
Disclaimer – I am not a big fan of fish and chips. I've tried them multiple times in multiple places around the world and they just don't do it for me. Still, everyone I met in Galway told me to go to McDonagh's for the fish and chips. I thought they were good – it helped me stay on budget for a meal. But they didn't turn me into a fish and chips fan. If you love this dish, then try McDonagh's.
A Night Out in Galway's Pubs
Galway has excellent nightlife with a variety of pubs and clubs, you're bound to find your scene. If you're looking for traditional Irish music and friendly vibes, head to Tigh Choili or The Crane. If you want some Irish pub rock and dancing then Taaffes or O'Connor's (Salthill) is where it's at. Or, if you want a little bit of everything try them all. But don't get too crazy because tomorrow, you're taking a boat to the Aran Islands.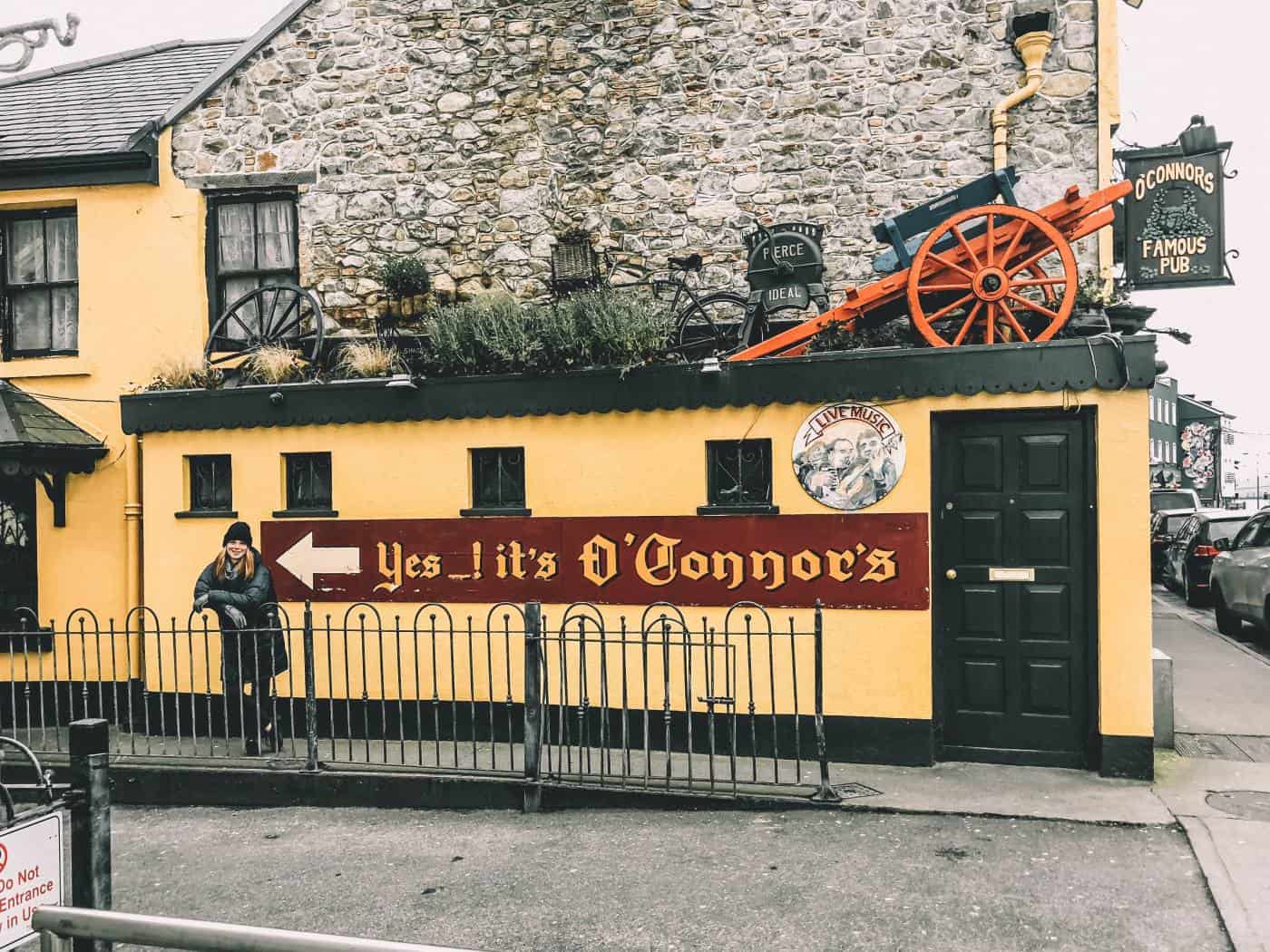 Other Options for Day 1 in Galway
Galway Museum. This free museum is a great way to spend a few rainy hours in Galway. Three floors of this museum take you through Galway's history, its involvement in the revolution, its successful soccer teams, and how its proximity to the ocean played a role in the city's development.
Sit on the street and listen to the buskers. All day long there are buskers lining Shop Street playing their tunes. If you find a sound you enjoy, pull up a window sill or pop a squat on the cobblestones and listen for a while. Make sure to give them a few Euros for their talent.
Eyre Square. Eyre Square, also known as JFK Memorial Park, is the main square in town. On a sunny afternoon, you'll find locals soaking up the sun on the grass, riding skateboards, or just passing through on their way to and from work
Explore Galway's West End. The West End of Galway gets a bit less tourist traffic and has a more artsy, local vibe. In the West End, you can find delicious little restaurants like Kai Cafe for farm to table and BoTown for burgers. One of my favorite cafes in Galway

, The Secret Garden, is located here and it's open late as an alternative to a pub. This neighborhood is worthy of a wander.
Where to Stay in Galway
Galway has a number of hostels, Airbnbs, B&Bs and hotels to choose from.
For hostels, I highly recommend The Nest a boutique hostel located in the Salthill neighborhood. There is a bus stop directly in front of the hostel to take you to and from the city center or it's only a 20-minute walk along the Galway Bay. They have an excellent breakfast spread of bakery fresh pastries and super cozy rooms. Use this link to book your stay at The Nest.
For Airbnb, I highly recommend trying to book with the ZenDen. It has an excellent location just off of Shop Street – so if you want to be in the heart of the action – this is the place for you. The hosts are also incredibly kind and generous people.
For more accommodation options search the map below.
Day 4: Day Trip to the Aran Islands
Today take a day trip to the Aran Islands. The Aran Islands are composed of three islands, Inishmore, Inisheer, and Inishmaan (mentioned in order from most popular amongst tourists to least). These islands are accessible via daily ferries from Rossaveel port located 30-45 minutes outside of Galway city center.
Don't stress about how to get there without a car. Aran Islands Ferries includes round trip transportation to the port from Galway city center. 
The ferry journey on your way out to the islands takes roughly one hour to complete. On the way out the water is very choppy so if you are prone to motion sickness, or nursing a hangover, be prepared to feel every wave. The ride back is much smoother. 
Now that we've got the logistics out of the way, why should you visit the Aran Islands? These islands are part of the Wild Atlantic Way (✓) and one of the most beautiful places in Ireland. Here, you'll still find those green hills, lined by stone walls except they seemingly sweep right into frigid blue waters. There are also white sandy beaches, that would be considered tropical if these islands were anywhere else.
Since the islands are removed from bigger cities, it's almost like stepping back in time. On the Aran Islands, you'll hear the Irish language spoken frequently. In fact, there are Irish language immersion programs on the islands. Farming is still a big part of everyday life and the sometimes harsh conditions make the islanders are a hearty group of people. But that Irish welcome is ever-present.
Now that I've convinced you of why you should take that rocky ferry to the islands. Which one should you visit?
With limited time, it's not feasible to visit more than one island. I recommend visiting either Inishmore or Inisheer. No matter which island you choose, the best way to see them is by renting a bike for €10 and cycling around to all of the attractions. 
Inishmore
Most people visit Inishmore as it is the biggest of the three and has more tourist sites which include the famous Dun Aonghasa; a ringed fort that is perched on the edge of a 300 ft high cliff. You can also learn the history of the Aran sweater, see a sea lion colony, and of course, have a pint while listening to live music at Joe Watty's.
The bike shop is accessible as soon as you exit the ferry and they'll provide you with a map of all of the sites to visit. I happened to visit on a very windy day so what should've taken me 30 minutes took an hour which meant I had to skip a few stops. But not before saying hello to beautiful horses, a few puffins, and of course exploring the ringed fort. And while I didn't make it to the wormhole, I definitely enjoyed a steaming bowl of mussels and a Guinness while "eavesdropping" on a conversation in Irish at Joe Watty's.
Due to the high tourism on Inishmore, there are a number of accommodation options should you decide you want to overnight here.
Inisheer
Inisheer is the smallest of the three Aran Islands but still is filled with historic castles, churches, and a shipwreck. Yep, a massive shipwreck is still located on the island. And you can walk right next to it, although be careful because it is seriously rusted out. The best thing about the Plassey shipwreck is that everyone survived thanks to the quick action of the islanders.
It only takes about an hour via bicycle to see all of the sites on this island, unless you're like me and stop every two seconds to take photos of the amazing views and rainbows. Once you're done with your bike ride grab a pint and sandwich from Tigh Ned. On a nice day, enjoy their beer garden overlooking the ocean.
Although Inisheer doesn't have the same amount of tourism as Inishmore, there are still B&Bs and a hostel, but be sure to call in advance if you're visiting in the offseason as they might be closed.
Cost of Ferry Ticket to the Aran Islands: €30
Cost of Bike Rental: €10
Alternative Options
The Aran Islands are also accessible via ferry from Doolin (known for its fantastic music scene). So if you didn't vibe with Galway, you could make your way to Doolin and take the ferry from there. Although, I've noticed the ferries from Doolin cancel more frequently due to weather than the ferries from Galway.
Day 5: Cliffs of Moher & Burren Day Tour
If you've Googled anything about what to do in Ireland, then you most definitely came across the Cliffs of Moher. Yes, they are so deserving of the hype. 
The Cliffs are located in County Clare but make for an easy day trip from Galway. You can DIY this or take a day tour. I would honestly recommend taking this day tour that includes a drive through the Burren. The Burren is famous for its unique rocky limestone landscape. 
The Cliffs…well the Cliffs of Moher are famous for their height which reaches 700 feet at its max – the highest in Europe! On a clear day you can actually see the Aran Islands from the Cliffs!
But that's the tricky thing with visiting the Cliffs – the weather can be unpredictable. I've heard stories of people going to the Cliffs only to have the views completely obscured by fog! I got lucky and had a perfectly clear, yet very windy day.
A few tips for visiting the Cliffs – don't spend that much time in the visitors center. Get out and walk along the path to enjoy the various viewpoints. Also, make sure to stay on the marked path as getting close to the edge is very dangerous. It also gets cold at that height, so bring a hat and jacket! 
How to Get to the Cliffs of Moher from Galway 
If you want to DIY this trip from Galway, you'll take the 350 Bus Eireean from Galway bus station to the Cliffs of Moher coach park. The journey takes approximately two hours and will cost €25 for a return ticket. The entry ticket to the Cliffs costs €4. You'll want to allow at least two hours for the Cliffs so make sure to time your trip with the bus schedule back to Galway. 
Alternative Options
You can stay in Doolin and walk to the Cliffs from there for the ultimate cliff walk experience. One direction will take about 2.5 hours so be sure to walk prepared with good hiking shoes, appropriate clothing, and snacks. And of course, make sure it's good weather conditions as this area is not patrolled.

You could also stay in Ennis which is a super cute town located in County Clare that is home to an annual world-renowned Irish music festival Fleadh Nua (some of the most beautiful music I've ever heard). From Ennis, you could take a day tour or take Bus Eireann one hour to the Cliffs of Moher coach park.

A third option for the Cliffs is to

take a boat tour from Doolin

 and witness their grandeur from below.
After your day at the Cliffs, I recommend overnighting in Galway (or Doolin or Ennis if you've decided to move on).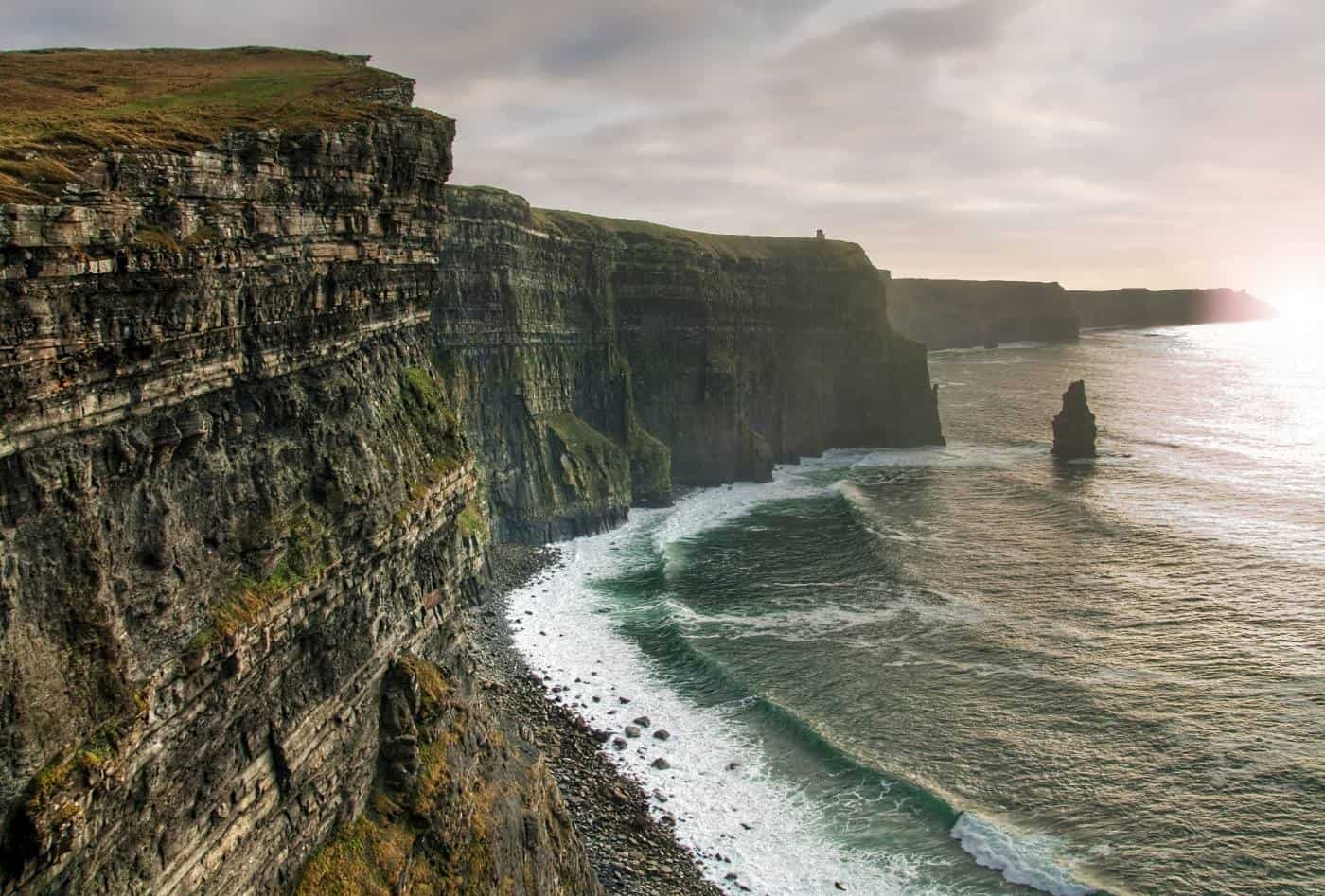 Day 6: Killarney & Killarney National Park
Today you'll make your way to Killarney, Ireland – a small town in County Kerry that makes a perfect base for exploring a portion of the Ring of Kerry. 
How to Get to Killarney from Galway
There is no direct bus from Galway to Killarney. To start, you'll take the 51 Bus Eireean from Galway to Limerick. In Limerick, you'll change to the 14 bus which will take you to Killarney. You only need to purchase one ticket to Killarney though. The overall journey will take 3-4 hours depending on the time of day you choose.
What To Do in Killarney
When you arrive in Killarney make your way to the nearest bike rental location to rent a bike to cycle through Killarney National Park. I actually borrowed a bike from someone I met at Black Sheep Hostel where I was staying.
He was cycling the Ring of Kerry, but didn't need it for the day so he let me use it!
Cycling in Killarney National Park is incredibly popular so there are plenty of bike rental shops located in town.
Lunch at Curious Cat Cafe
Before you head off though, fuel yourself at the Curious Cat Cafe. It's a small little cafe/restaurant tucked away on New Market Ln. You can get half of a sandwich and a bowl of soup for €10! They have a good selection of teas too!
Cycling in Killarney National Park
Spending an afternoon cycling in Killarney National Park is a great way to see Killarney's famous upper and lower lakes while checking a portion of the Ring of Kerry off of your Ireland bucket list. 
You'll cycle the Muckross Dinis Loop which is incredibly well marked. The biggest points of interest along this loop are
Ross Castle – start your cycle by heading to Ross Castle. An ancient lakefront property. You can pay for a tour inside, but I don't think it's worth the time or money. The views are well worth a stop though.
Muckross Abbey – from Ross Castle return to the main road (N71) in Killarney and head toward Muckross Abbey. This is a Franciscan friary that is free to explore at your leisure. Inside you'll find a cemetery, rooms for living and worship, as well as an ancient Yew tree in the middle courtyard!
Muckross House & Gardens – after exploring the abbey head toward Muckross House & Gardens. Really, it should be called a mansion because this place is huge! I opted not to pay the €9 to enter. Instead, I wandered around the beautiful gardens before continuing on my cycle journey.
Dinis Cottage & the Meeting of the Waters – when you're done at Muckross House, follow the signs toward Dinis Cottage & the Meeting of the Waters. Along the way you'll pass beautiful views of the lakes and places you can stop to walk along the rocky shores. Dinis cottage has a tea shop and treats if you need a snack break. Just behind Dinis Cottage is the meeting of the waters and the view of Old Weir Bridge. This is where the upper and lower lakes of Killarney meet. It's a quiet spot to take a break.
Torc waterfall – A gorgeous and easily accessible waterfall. Lock your bike on a fence in the parking lot and walk about 10 minutes to the waterfall. Beyond this waterfall are more walking paths if you're up for it. It starts with a steep climb called cardiac steps though just as a heads up – it's intense!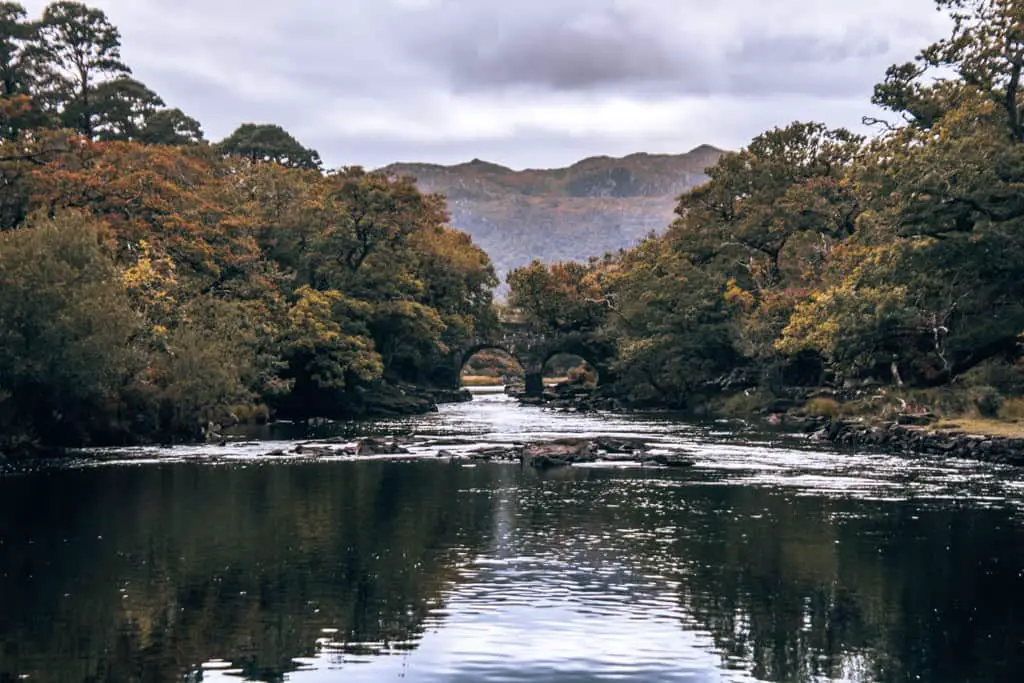 This whole route is 11 miles and it took me about 6 hours to complete (I stopped frequently for photos). It is paved and mostly flat so it's not too strenuous. Although towards the end you join a two lane road with very little space for a bike for about 15 minutes. But the cars move for you!
An alternative option to biking this is to take a jaunting cab. They'll take you to all of the highlights with much less exertion on your part.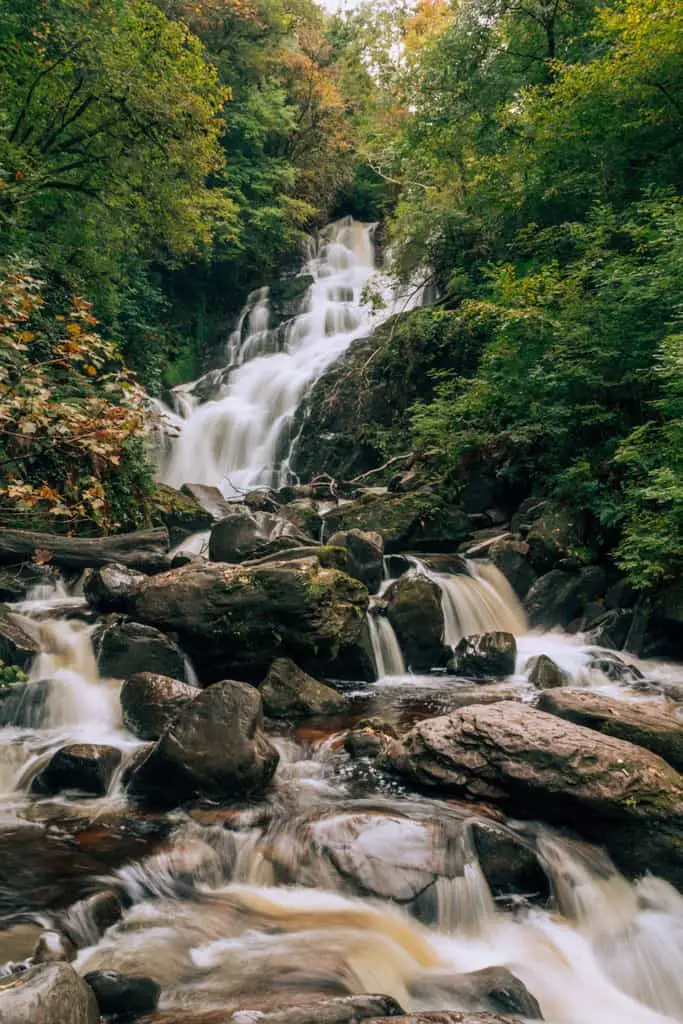 Murphy's Ice Cream
After that bike ride you've earned an ice cream from Murphy's. Murphy's Ice Cream originated in Dingle and is freakin' delicious. You can try any and all of their seasonal flavors. My favorite was the Dingle sea salt (a staple) mixed with chocolate (cause I'm basic like that). 
Visit John M. Reidy's Pub
There are a number of good pubs to visit in Killarney – but Reidy's was my favorite. This spot was recommended to me by the woman working at Murphy's and it did not disappoint. It has all those charming nooks and crannies of a traditional Irish pub but also a fantastic beer garden. It's a great mix of locals and tourists.
Where to Stay in Killarney
I stayed at the Black Sheep Hostel, located near the entrance of Killarney National Park and just a few blocks from Killarney's city center. They have a great kitchen, comfortable beds, and also can set up other day tours around Killarney for you like to the Gap of Dunloe.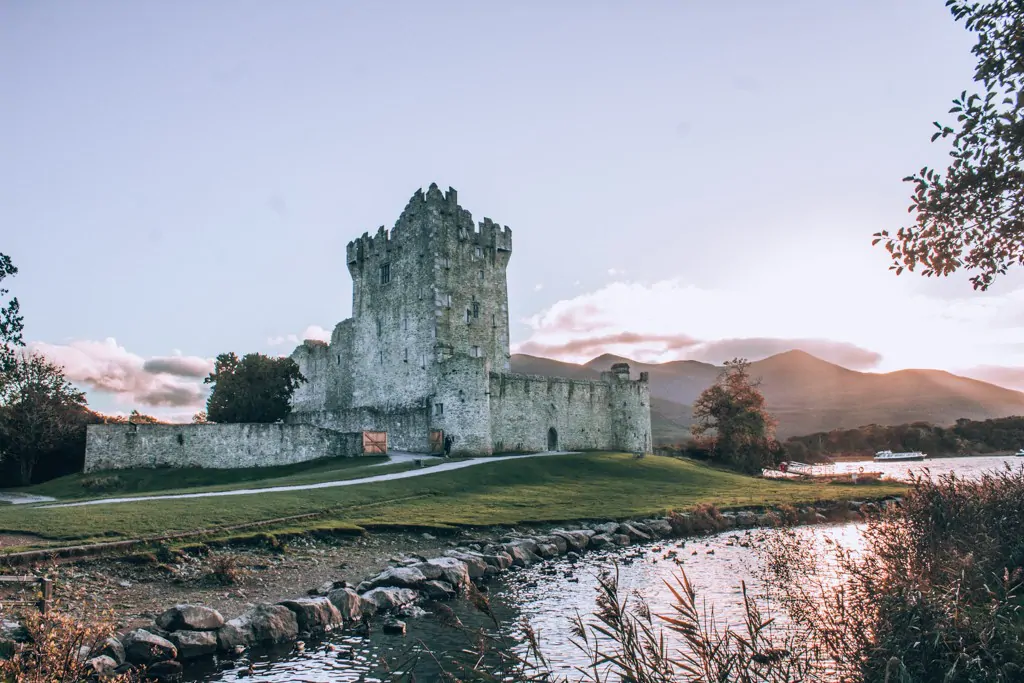 If hostels aren't your thing, there are a variety of accommodation options in Killarney which you can search below!
Day 7: Return to Dublin
On your last day in Ireland, you'll be returning to Dubin for a little bit more sightseeing before you return home. The journey to Dublin from Killarney via bus is quite long, about 7 hours, with a change in Cork. But it only costs €25. For a quicker journey back to Dublin, take the train. It requires a change in Mallow, but only takes about 3.5 hours. However, it will cost approximately €42 for a last-minute ticket. 
On your last afternoon in Dublin, you can do anything you didn't have time for at the beginning of your trip. But let me recommend two additional items.
Winding Stair Bookshop
Check out the Winding Stair Bookshop, located across the River Liffey via the Ha'Penny bridge. This is one of Dublin's oldest independent bookshops. The front part of this charming bookshop has newer novels and towards the back you'll find second-hand books. On the second floor, there is a highly rated restaurant if you're in the mood to treat yourself to a nice dinner.
Merrion Square
Wander over to Merrion Square and say hi to a statue of Oscar Wilde. There's a nice park inside the square, but the draw here is really the beautiful Georgian buildings and the doors! Most of these are embassies or businesses, in fact, Notre Dame University has an alumnae house here. I just enjoyed marveling at the variety of bright doors and their knockers. It's a nice walk to slow down and reflect on your last 7 days in Ireland!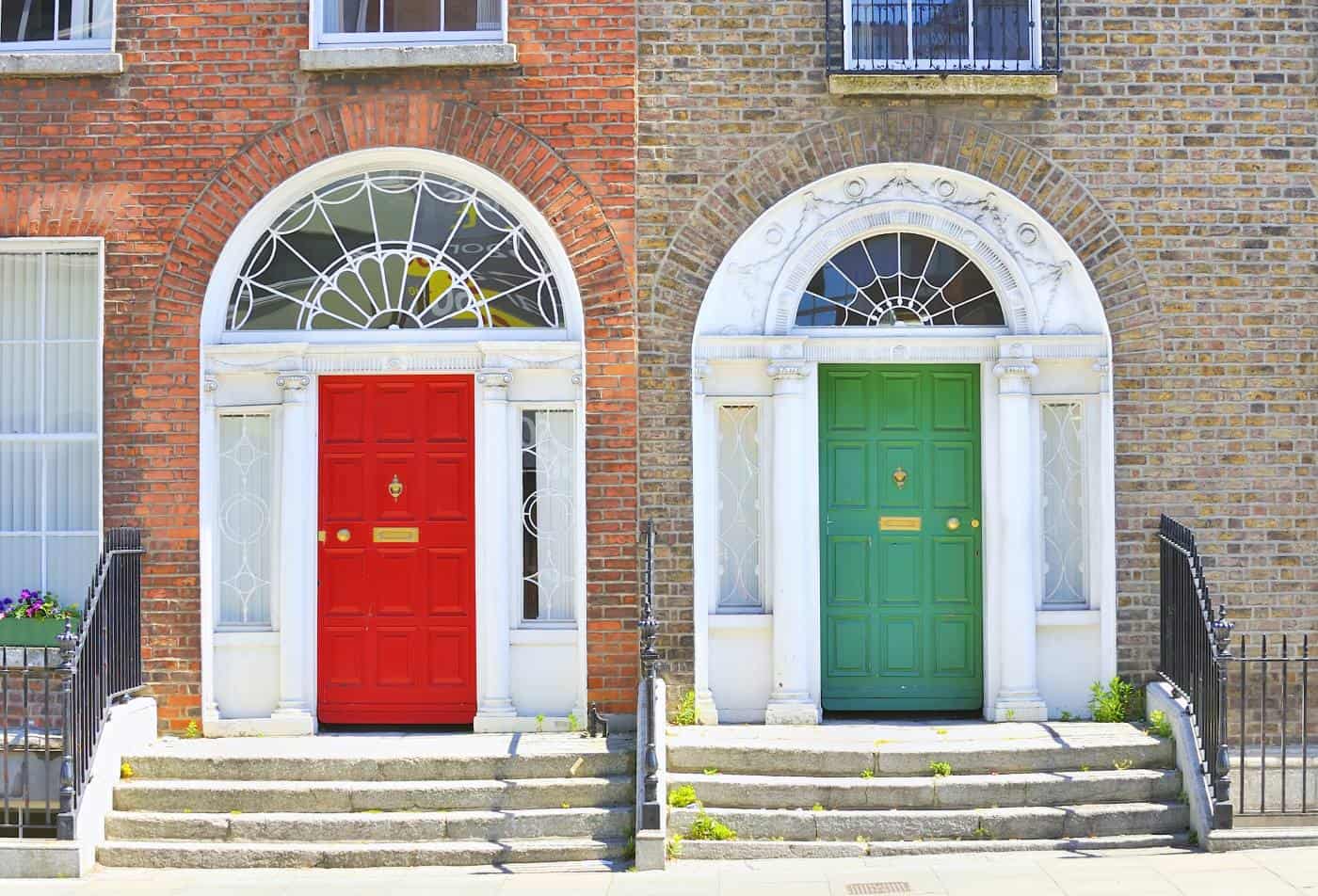 Until Next Time Ireland
Each time I visit Ireland I always make time for Galway, while adding on at least one new little town, which is how I've gotten to also visit Dingle, Doolin, Kinsale, Cobh, Kilkenny, Ennis, Killarney, Clifden, Westport, and Belfast.
I'm grateful that I've been able to experience so much of Ireland without ever needing a rental car!
This 7 day Ireland Itinerary includes my favorite places in Ireland that I truly hope you enjoy as much as I do. One week is not a very long time and I've found that moving around frequently while traveling gets tiresome and doesn't let you connect too deeply to any specific place. This is why I like basing in Galway, but again if you don't vibe with any of the places then try an alternative I mentioned. And of course, if you fall in love with a town then stay there for longer.
Seek out the experiences you want to have in Ireland and go do them! Don't forget to tell me what you loved the most about your experience in Ireland!
Like this post? Pin for later!