Traveling solo in Budapest was a great way to spend a week before teaching English to local teenagers in the Hungarian countryside. As a solo female traveler, I felt very safe exploring the city during the day and at night. Budapest offers an excellent public transportation system that takes you everywhere you'll want to visit during your 4 days in Budapest, even for day trips to neighboring cities like Eger. I loved the number of activities (gawking at architecture, eating, soaking in thermal spas) to occupy my time so I put together this epic 4 day Budapest itinerary to ensure you have a great solo trip in Budapest.
When I visited Budapest, it was August in the middle of a European heat wave. I spent my time there sweating through my clothes as I criss crossed the Danube trying to see all of the sites. I hand picked my favorite activities and combined them in a way so that you won't have to criss cross the Danube as many times as I did! I also created a Google Map with all of Budapest's hot spots, which you can download by dropping your email at the bottom of this post.
Also, there are a few affiliate links in this post, which means if you decide to click through and make a purchase, I will receive a small commission, at no additional cost to you.
Now, let's get on with your 4 day Budapest Itinerary!
Budapest – Day 1
Your first day in Budapest will be filled with food, but don't worry you'll also get your steps in and finish the day relaxing in one of the city's many thermal spas. So wear loose pants and comfortable walking shoes as you get ready to explore Budapest's diverse and delicious food scene.
Great Market Hall
Start off by visiting the Great Market Hall. Here, you will find three levels and numerous stands filled with fresh produce, meats, local delicacies, and so much more. Pick up some fruits and nuts for your breakfast or even sample the local treat Langos on the second floor. But, don't fill up too much, there's a full day of eating ahead of you!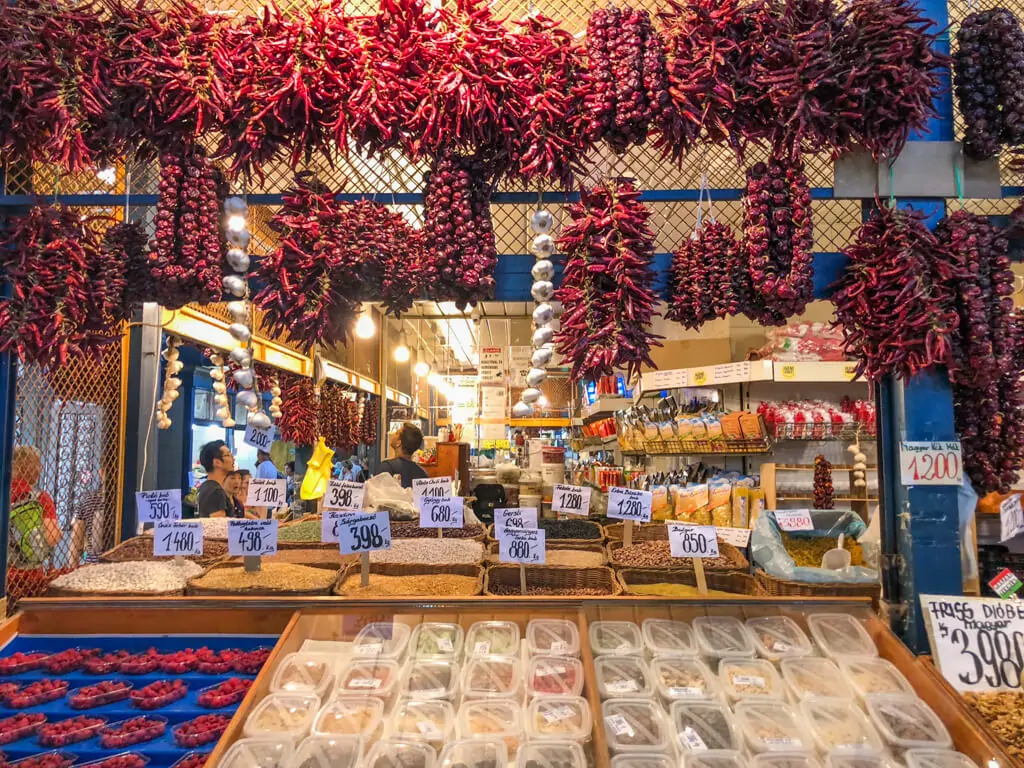 Getting to the Great Market Hall:
Via Metro: M3 or M4 Stop at Kalvin Ter
Via Tram: Tram  2 47 or 49 Fővám tér
Great Market Hall Opening Hours:
Sundays: Closed
Mondays – 6:00 am: 5:00 pm
Tuesdays – Fridays: 6:00 am – 6:00 pm
Saturdays: 6:00 am – 3:00 pm
Self-Guided Food Tour
Spend the next few hours following the self-guided bitemojo food tour through the Jewish Quarter. It will guide you to 6 different food stops each with a tasty bite, and some stops also include a drink! In addition to being shown local restaurants, the tour will also take you by notable locations such as the Kazinczy Street Synagogue, the former Jewish Ghetto Wall, and a unique antique museum!
To book your own bitemojo food tour use the code Sunsets2018 for a discount!
Relax at Rudas Baths
One of the most popular things to do in Budapest is to visit one of the many thermal spas the city offers. You'll likely hear about Szechenyi and Gellert baths which are excellent and highly visited baths, I suggest going to one that doesn't always make the guidebooks. Rudas Baths located on the Buda side is smaller than the others, maintains single gender bathing hours, and has a traditional Turkish bath.  Plus, if you go around sunset you'll have epic views of the Danube and Pest while you soak in its rooftop pool.
If you want more of a party scene, then check out the Sparty series offered by Szechenyi during the summer months for an epic pool party.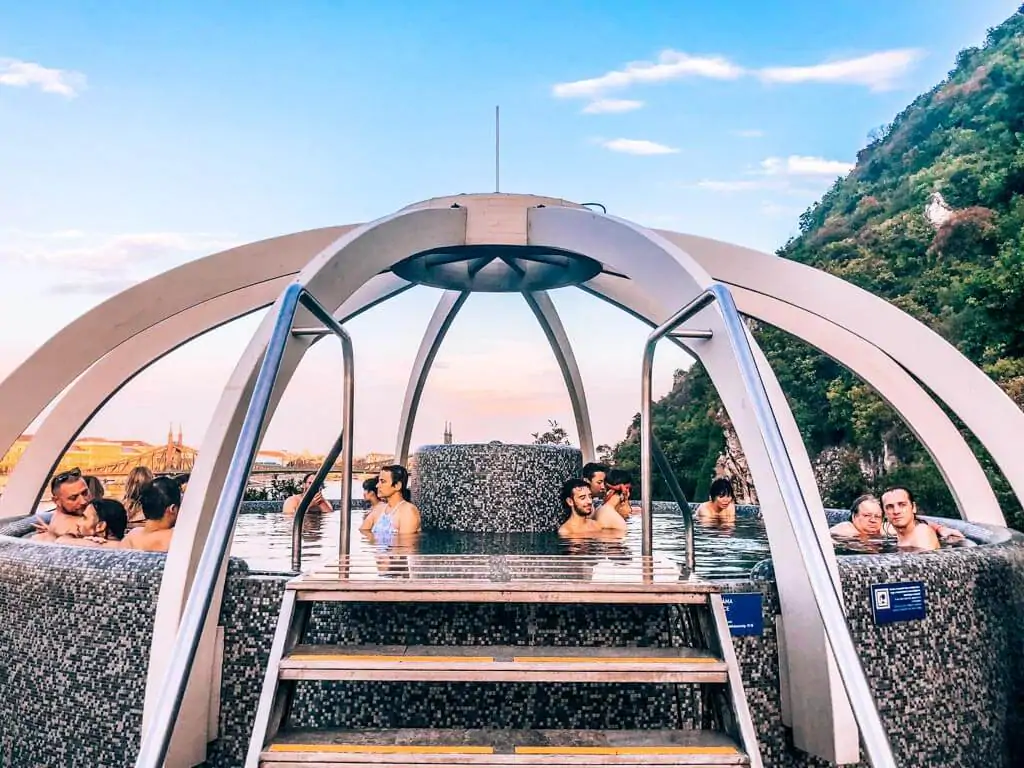 Getting to Rudas Baths
Getting to Rudas Baths:
Via Metro: M4 stop at Gellert Ter and walk
Via Tram: 17, 19, 41, and 56 stop at Rudas Baths
Rudas Baths Opening Hours:
Sunday – Thursday: 6:00 am – 10:00 pm
Friday & Saturday: 6:00 am – 4:00 am
Tuesdays: women only for the Turkish spa
Make sure to get the google map with all of these locations already saved for you!
Budapest – Day 2
Ok, so today is going to be a fairly heavy day of sightseeing. Each of the buildings I suggest also has tour options. I just ogled the buildings from the outside as my budget was running low at this point in my travels. So, if you decide to take a tour make sure to factor that in for your timing!
Hungary's Parliament Building
Start your day at Hungary's Parliament building. This is the third largest Parliament building in the world! I loved walking all the way around this expansive piece of architecture. Catching it from all angles.  You can take a tour inside to view Hungary's Crown Jewels and royal scepter. I suggest booking tickets in advance online as the line at the visitors center looked quite long while I was there! Later you'll cross the Danube to find epic views of the Parliament from Fisherman's Bastion.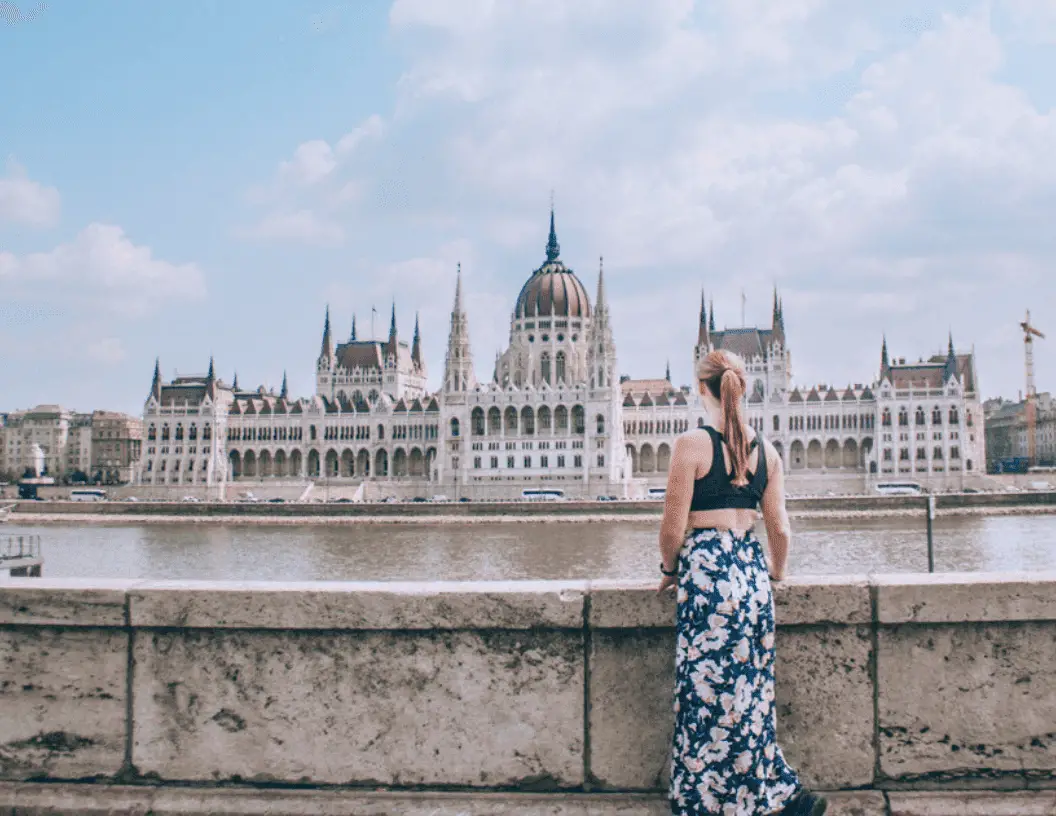 Tour Cost: Check here for up to date info and to book your ticket
Non-EU: 5800 Huf
EU: 2200 Huf
Getting to Hungary's Parliament Building:
Via Metro: M2 @ Kossuth Lajos tér
Via Tram: Tram 2 stop @ Kossuth Lajos tér
Hungary's Parliament Building Opening Hours:
Sunday – Saturday: 8:00 am – 6:00 pm
Shoes on the Danube
Once you've finished ogling the Parliament building, walk along the banks of the Danube toward the Chain Bridge. This walk will take you past the Shoes on the Danube Bank memorial. This memorial pays remembrance to the 3500 victims who were shot into the Danube during the Holocaust from 1944-1945.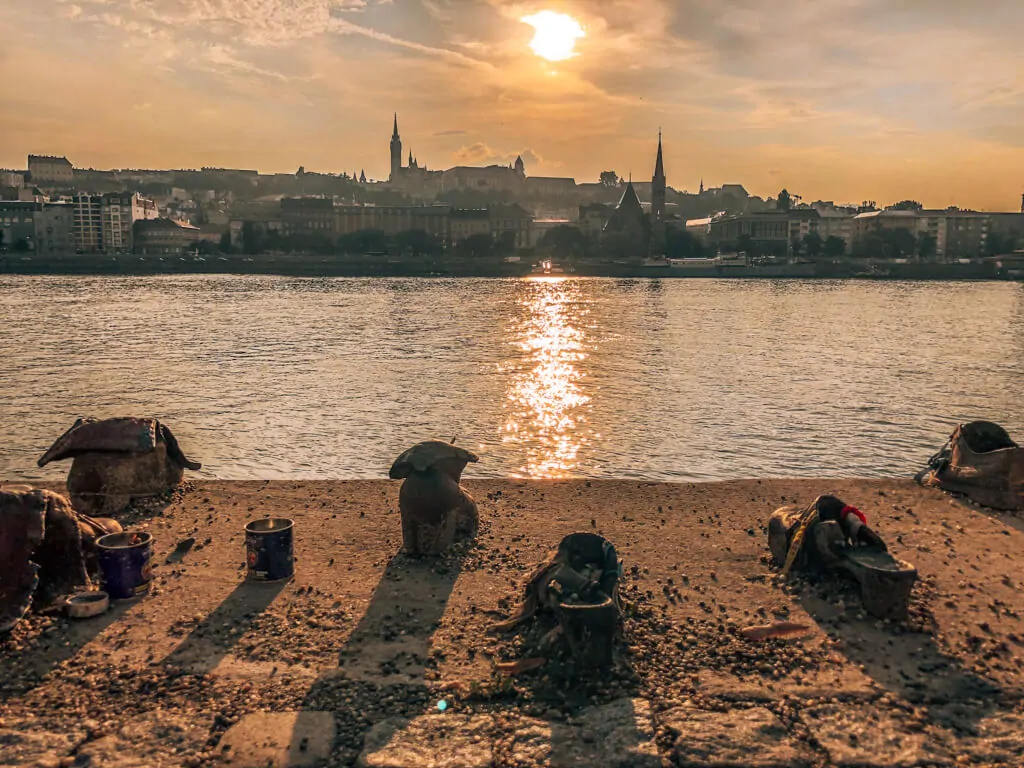 Why shoes?
The victims were asked to remove their shoes before being shot and their bodies washed away down the river. Just a word of advice – be respectful here. I saw so many people taking photos that were for Instagram, placing themselves in between the shoes. It's one of my biggest pet peeves, especially after visiting Auschwitz and witnessing people do the same thing there. Remember people were executed here simply for their religious beliefs. Ok, I'm off of my soapbox now. Once you've paid your respects, walk across the beautiful Széchenyi chain bridge guarded by lions to Buda.
Up next, you'll be heading up to the Buda Castle Complex. But, it's been a fairly intensive day already, so you may want to stop for a bit of tea.
This is a lovely tea shop where you could easily spend a few hours. Casually pouring yourself cup of tea after cup of tea as you leisurely turn the pages of your book. Zhao Zhou does have WiFi so if you prefer to catch up on your Insta feed or emails you can do that as well. The ladies who work here are incredibly knowledgeable about tea and will provide you with the leaves and hot water and leave you be. And they keep the teas traditional, when I asked for a matcha latte they kindly replied they have matcha but prepare it in the ceremonial way. I found that to be a unique feature compared to other tea shops I've visited. Although I was craving some matcha… latte style.
Castle District
Budapest's Castle District encompasses a few notable buildings: Buda Castle, Matthias Church, and Fisherman's Bastion. This area could easily take an entire day to explore, especially if you want to view the museums. Let's break these down one by one. I highly suggest taking a walking tour of this complex as they can fill you in on all of the details. The one I took was set up by Angloville, the English teaching program I volunteered for, however, I found a great company that offers free walking tours here!
Buda Castle
Buda Castle is an expansive building overlooking the Danube. During WWII, the Castle was occupied by the Nazi Regime and it was all but destroyed due to heavy battle. Reconstruction began after the war to bring us Buda Castle as we see it today. (Shoutout to the walking tour guide for this info!)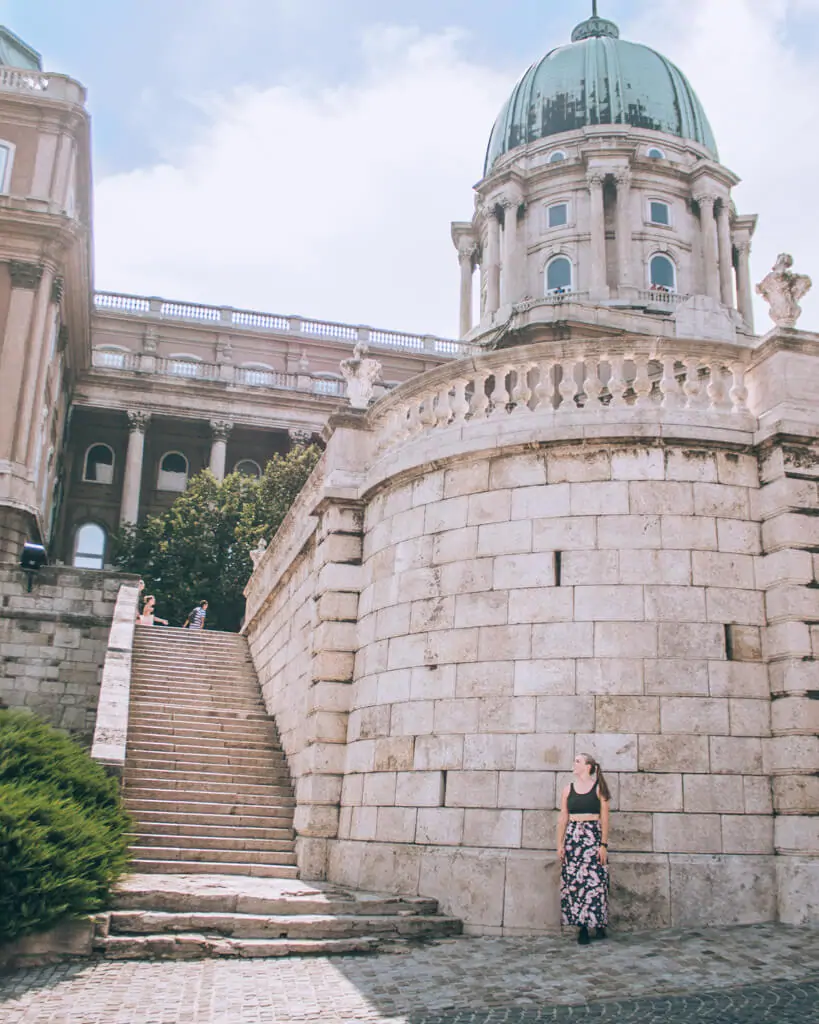 Buda Castle is now home to the National Gallery (1,800 Huf entrance fee), the Budapest History Museum (2,400 Huf entrance fee), and the National Szechenyi Library (1,200 entrance fee). I was too enthralled by the changing of the guards, which included a proposal, and taking photos on the grounds to enter the museums! As I said, there's a lot to see here!
A tip about the changing of the guards: it happens every hour on the hour from 8:30 am – 5:00 pm. However, on the last Saturday of the month (which is when I visited), it is accompanied by music, which added something to the somewhat boring marching. So if you can, see it with music! I can't promise a proposal though!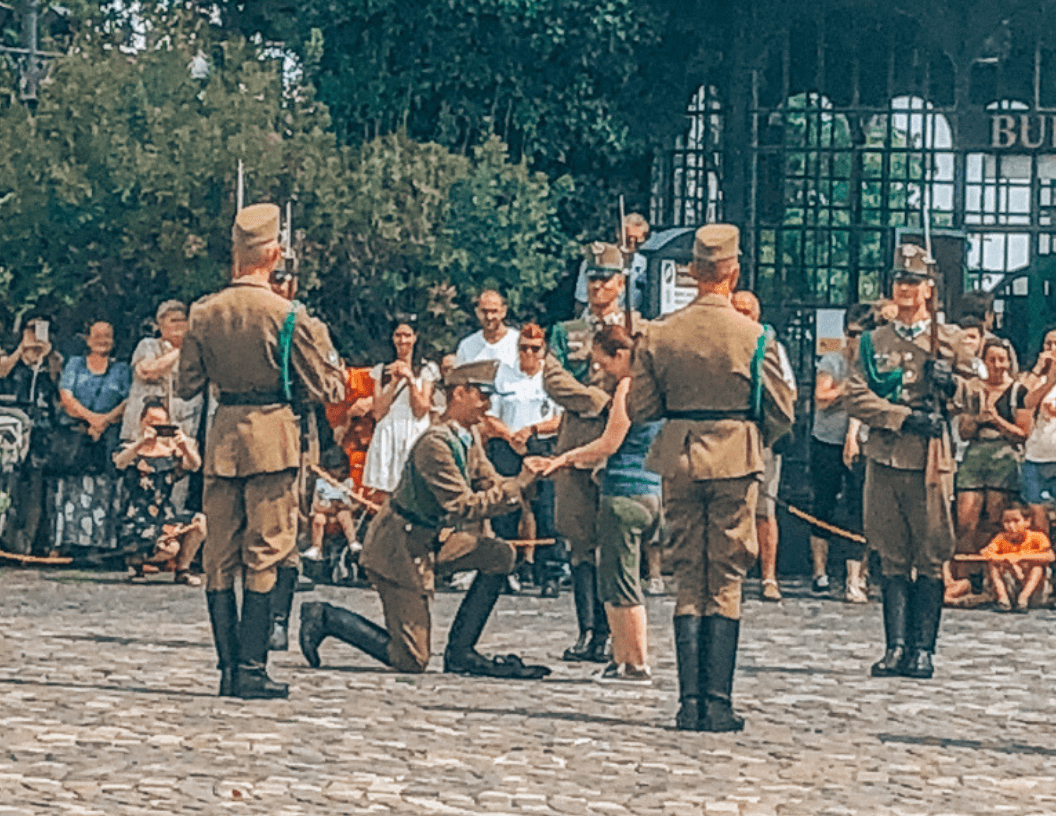 Getting to Buda Castle Hill:
Via Funicular: From the bottom of the Chain Bridge you can take the Funicular to Castle Hill. It stops in between the Royal Palace and Sandor Palace.
Via Your Own Two Feet: You can walk up the hill!
Via Bus: Buses 16, 16A, and 116 serve castle hill.
Opening Hours of the National Gallery & History Museum:
Monday: Closed
Tuesday – Sunday: 10:00 am – 6:00 pm
Opening Hours of Széchényi National Library:
Sunday & Monday: Closed
Tuesday – Saturday: 9:00 am – 8:00 pm
Matthias Church & Fisherman's Bastion
Once you've had your fill of Buda Castle, it's about a 10-minute walk through the complex to Matthias Church and Fisherman's Bastion. Or you could take bus 116! There are plenty of restaurants along the way if you need a bit of a pick me up at this point in the day! I highly recommend Walzer Cafe for good prices and good tea!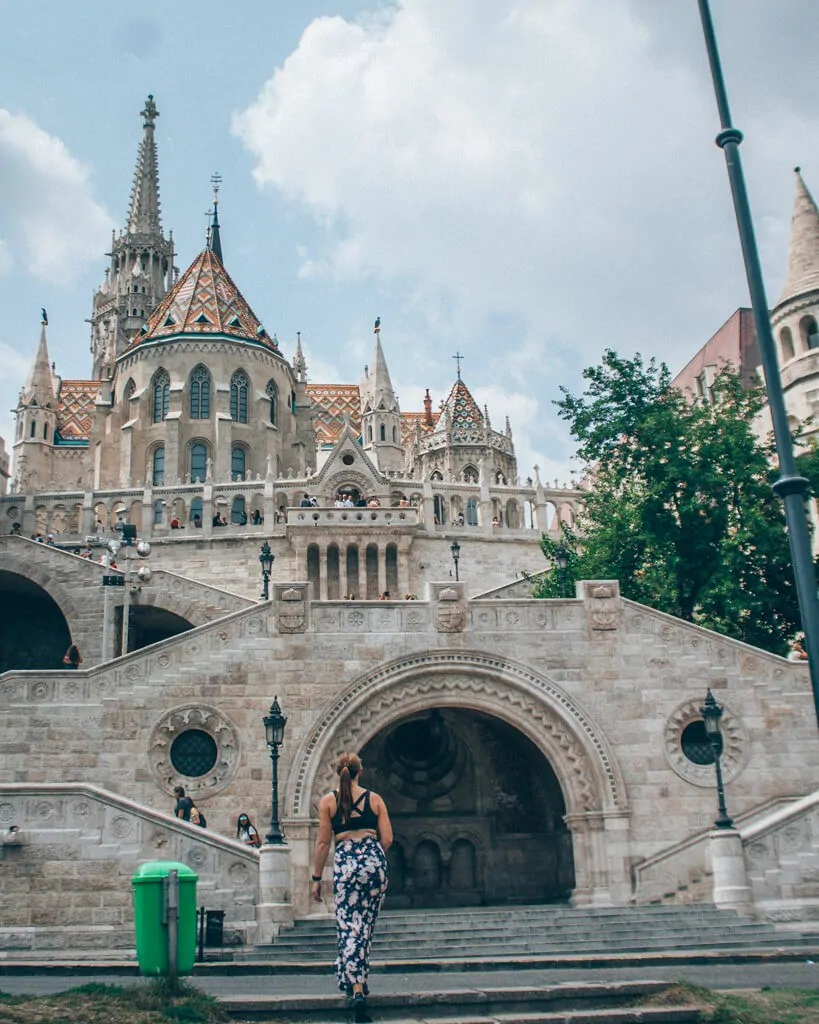 Matthias Church
My jaw dropped as I turned the corner and saw the orange and blue-tiled roof of Matthias Church. Matthias Church held a number of coronations as well as two weddings of King Matthias (for whom the church is named).  As I sat there snapping photos of this stunner, I witnessed two brides entering, presumably to get married, but likely not to any king. It costs 1,500 Huf to enter.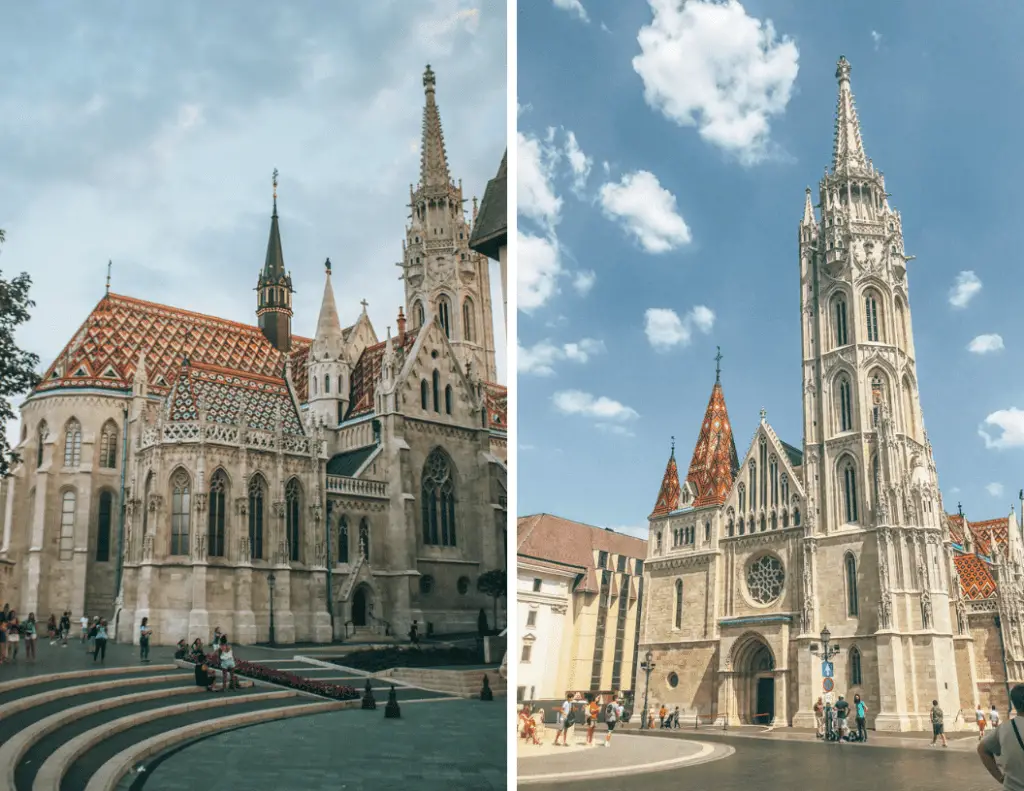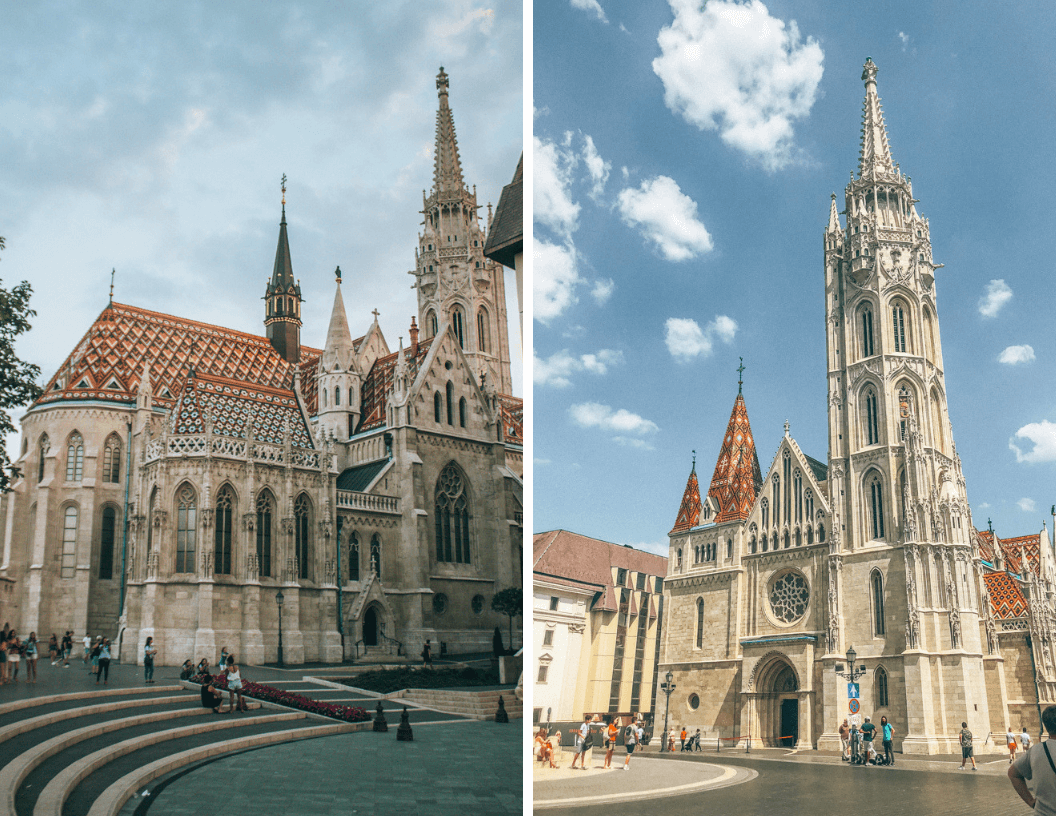 Matthias Church Opening Hours:
Liturgies take precedence
Monday – Friday: 9:00 am – 5:00 pm
Saturday: 9:00 am – 1:00 pm
Sunday: 1:00 pm – 5:00 pm
Fisherman's Bastion
Once you're done marveling at Matthias Church, it's time to marvel at the seven towers (and the view) from Fisherman's Bastion. Fisherman's Bastion was built between 1895 and 1902 to serve as additional ornamentation for Buda Castle. It overlooks a neighborhood of Buda that was once home to fishermen, hence its name. Additionally, the seven towers represent the original magyar tribes. Today, it's still a place where we go to find epic views and photo ops of the Danube and Pest. This is a great place to end your day, taking in the sunset on the steps of Fisherman's Bastion.
There is a cafe onsite, one of the towers has a bar, and you can pay to enter the upper towers for 1,400 Huf if you'd like. But honestly, you get to see most of it for free!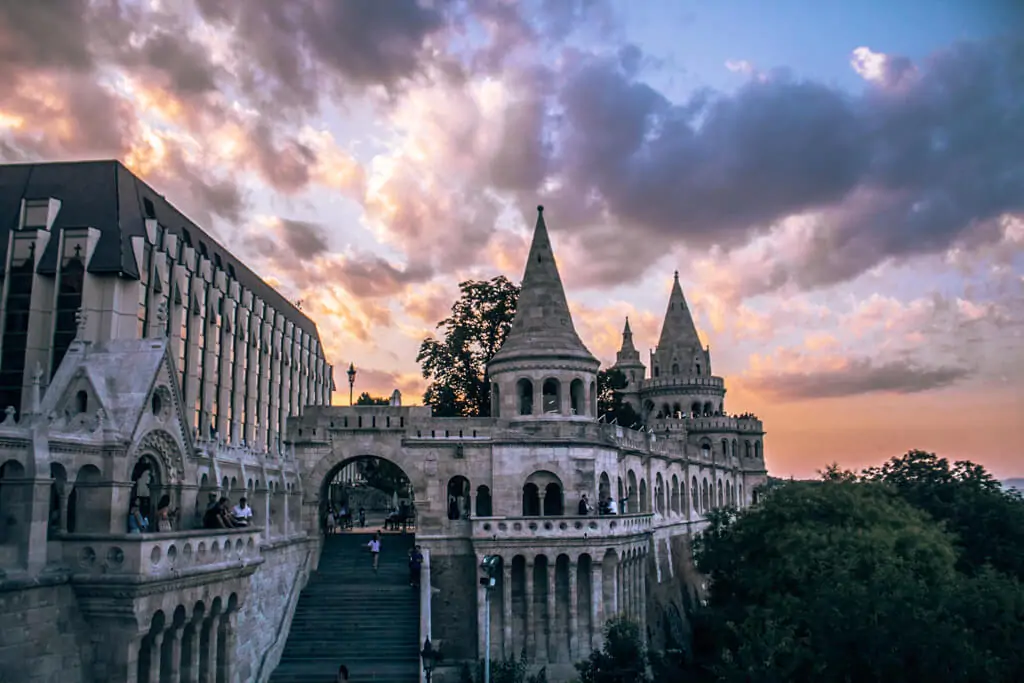 Getting to Matthias Church & Fisherman's Bastion:
Via Funicular: From the bottom of the Chain Bridge you can take the Funicular to Castle Hill. It stops in between the Royal Palace and Sandor Palace.
Via Your Own Two Feet: You can walk up the hill!
Via Bus: Buses 16, 16A, and 116 serve castle hill.
Wander Budapest at Night
After sunset, when the lights come on, Budapest takes on a magical atmosphere. Watch Parliament light up from Fishermans Bastion and then take your time walking back to your hostel to soak in how the lights change the architecture of the buildings. I had no issues wandering solo at night!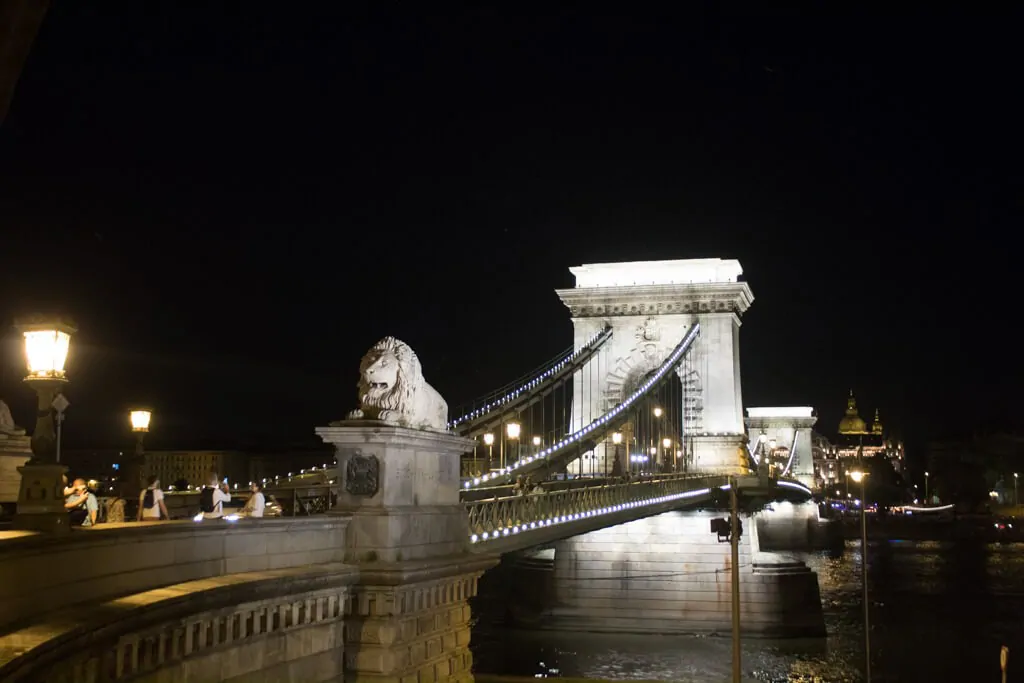 Budapest – Day 3
Day two was quite jam-packed with sightseeing. I wouldn't be surprised if you want to go back to explore the Castle a bit more, but for day three in Budapest we are staying on the Pest side…and taking it a bit slower.
Dohaney Street Synagogue
After a healthy breakfast at Juicy + Budapest Bagel, head to the Dohany Street Synagogue. This is the largest Synagogue in Europe and the third-largest in the world, I believe. During WWII, this Synagogue was part of the Jewish Ghetto and many Jews sought refuge here. Ultimately, many perished, and they created a cemetery on the Synagogue's grounds to bury the fallen.  The Tree of Life Holocaust memorial is also on the grounds of the Synagogue. The entrance fee is 4,000 Huf.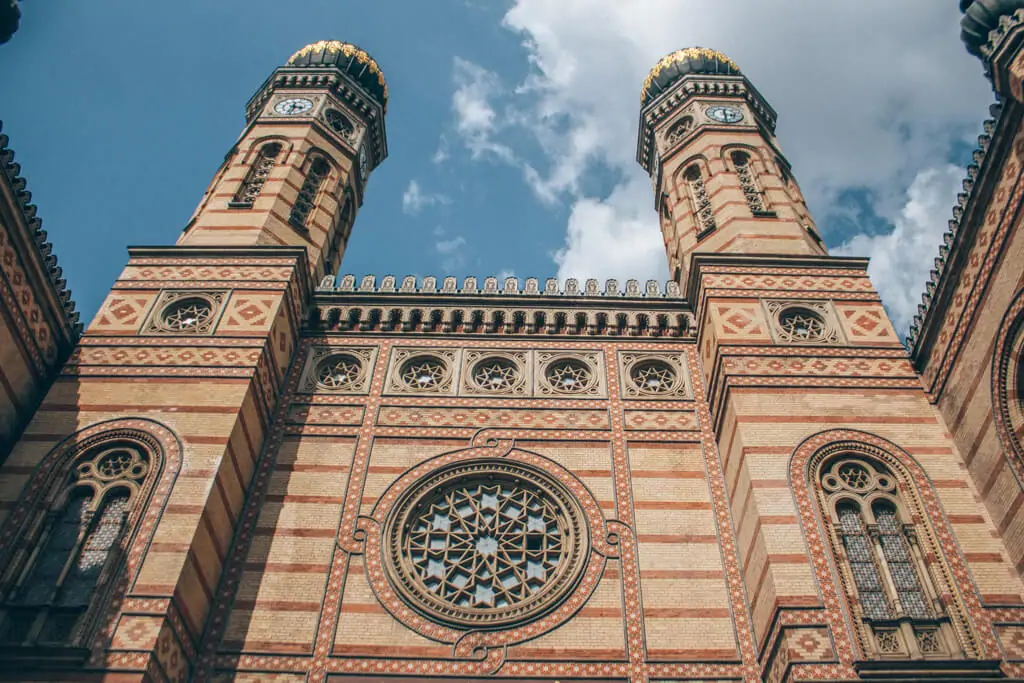 Getting to Dohaney Street Synagogue:
Via Metro: M1, M3 to Deak Ter or M2 to Astoria
Via Tram: 47 or 49 to Astoria
Via Bus: 7 or 78 to Astoria
Dohaney Street Opening Hours:
Times vary depending on the season. Check here for all of the info!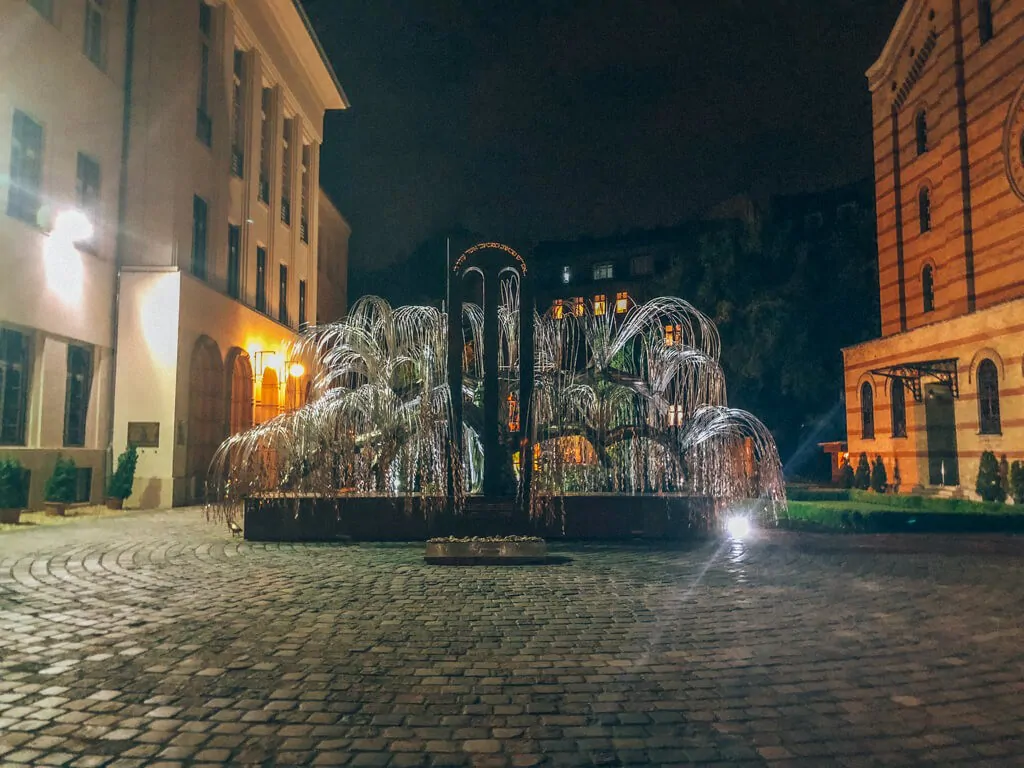 St. Stephen's Basilica
After the Great Synagogue, head to St. Stephen's Basilica, the second tallest building in Budapest, with the Parliament building coming in first. It's free to enter the church and you can pay 500 huf to climb 364 stairs for panoramic views of Budapest. When I visited, it was about 90 degrees before 10:00 am, so I opted out of this. Just another reason to go back!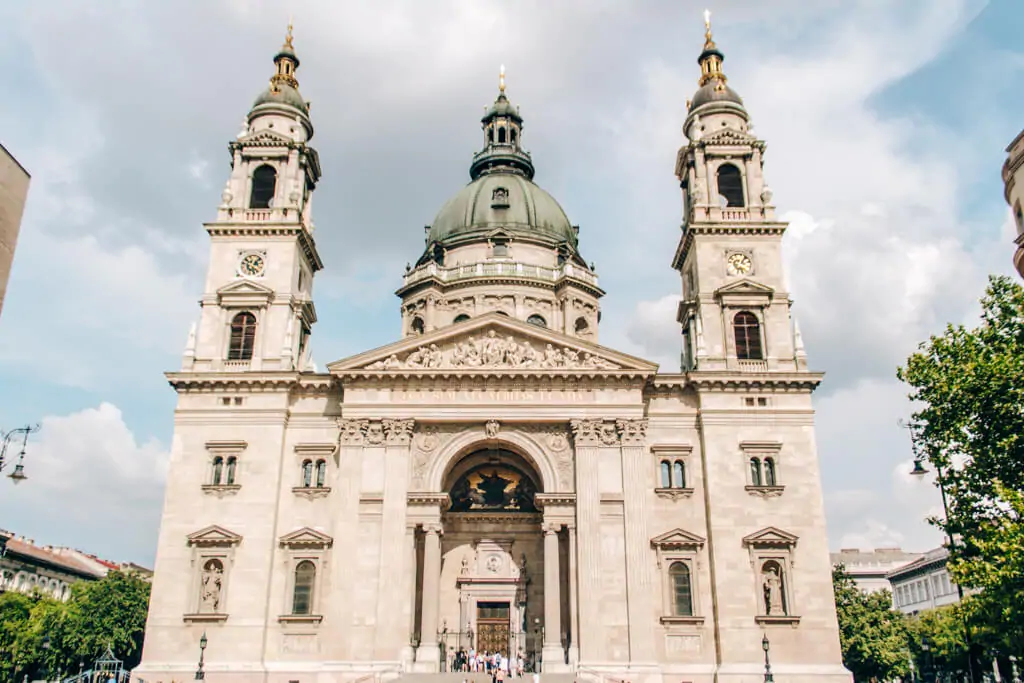 Getting to St. Stephen's Basilica:
Via Metro: M3 to Arany János or M1 to Bajcsy-Zsilinszky út
St.Stephen's Basilica Opening Hours:
Monday – Friday: 9:00 am – 5:00 pm
Saturday: 9:00 am – 1:00 pm
Sunday: 1:00 pm – 5:00 pm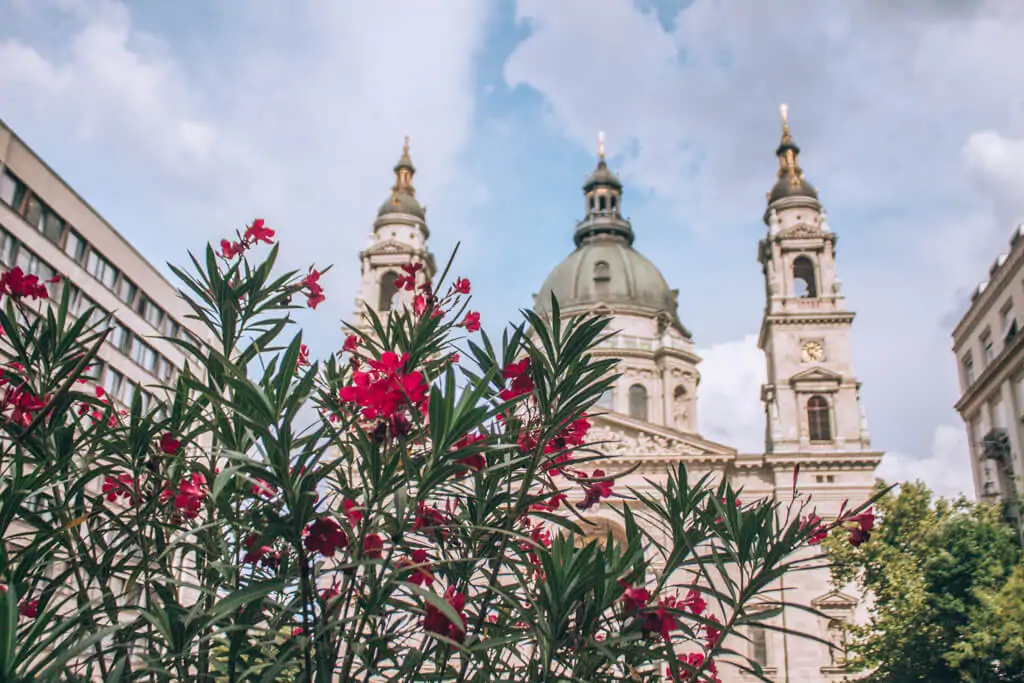 Walk Andrassy Avenue to Heroe's Square
You're now in a prime location to walk Andrassy Avenue to Heroe's Square. It's about a mile walk or you could take the M1 (Millenium) underground train. These are both good options as walking you'll be able to see more of Budapest's architecture, the Opera House, do a bit of window shopping and even pop into a cafe for lunch. Did you know Budapest is known for its coffee?! I mean, I wouldn't 'cause I don't drink it, but they are and the city has plenty of cafes to prove it. The tea is great too!
And if walking isn't for you, the M1 is still a "must ride" as it is not just the oldest in Hungary, but in Europe! The M1 was the first underground metro line in continental Europe. So you have two good options for transport and either way you'll end up at Heroe's Square.
Heroe's Square
Heroe's Square lies at the end of Andrassy Avenue and the entrance to City Park. In the center of Heroe's Square you'll see a large column erected to celebrate the 1,000 year-old history of the Magyars. At the bottom of the column are statues of the 7 chieftains of the Magyar tribes. In the semi-circle around the monument are statues of various Kings and historical figures important to the history of Hungary.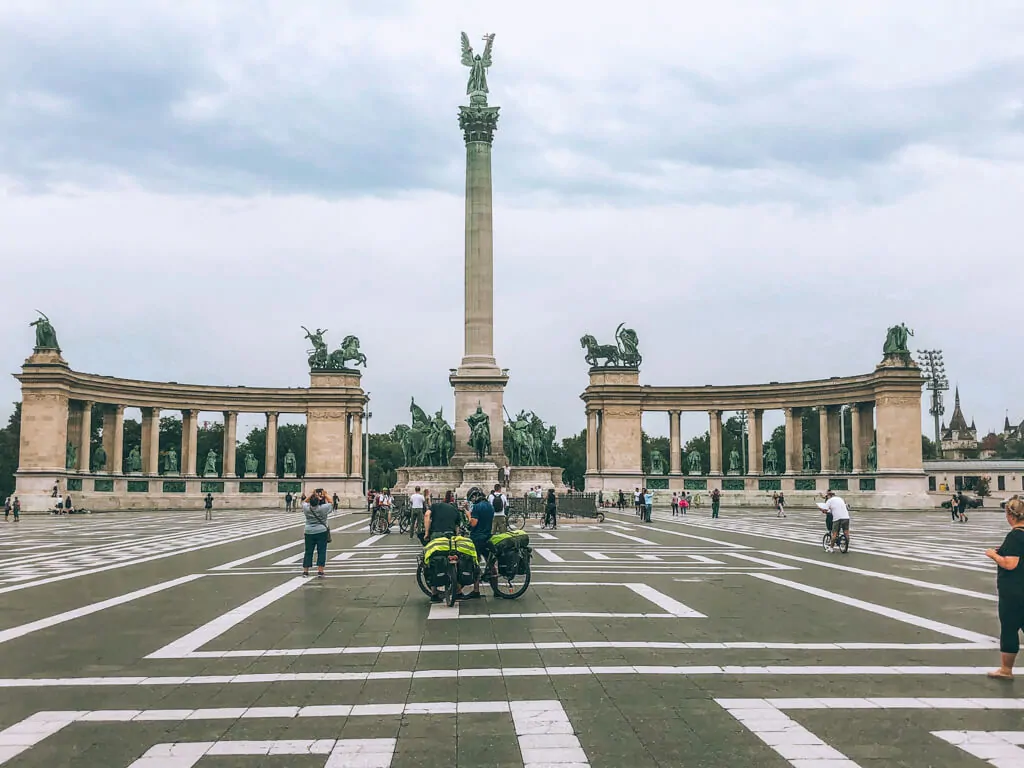 Getting to Heroe's Square:
Via Your Own Two Feet: Walk Andrassy Avenue
Via Metro: M1 to Hősök tere
Heroe's Opening Hours:
Dawn to Dusk
City Park
Passing behind Heroe's square will bring you into City Park. Crossing the bridge, turn right to view a stunning castle, albeit much smaller than Buda Castle. City Park is also home to Budapest Zoo and the famous Széchényi Baths. There are a few restaurants in the park as well! You could easily spend a few hours wandering in this park or relax in the baths for the evening!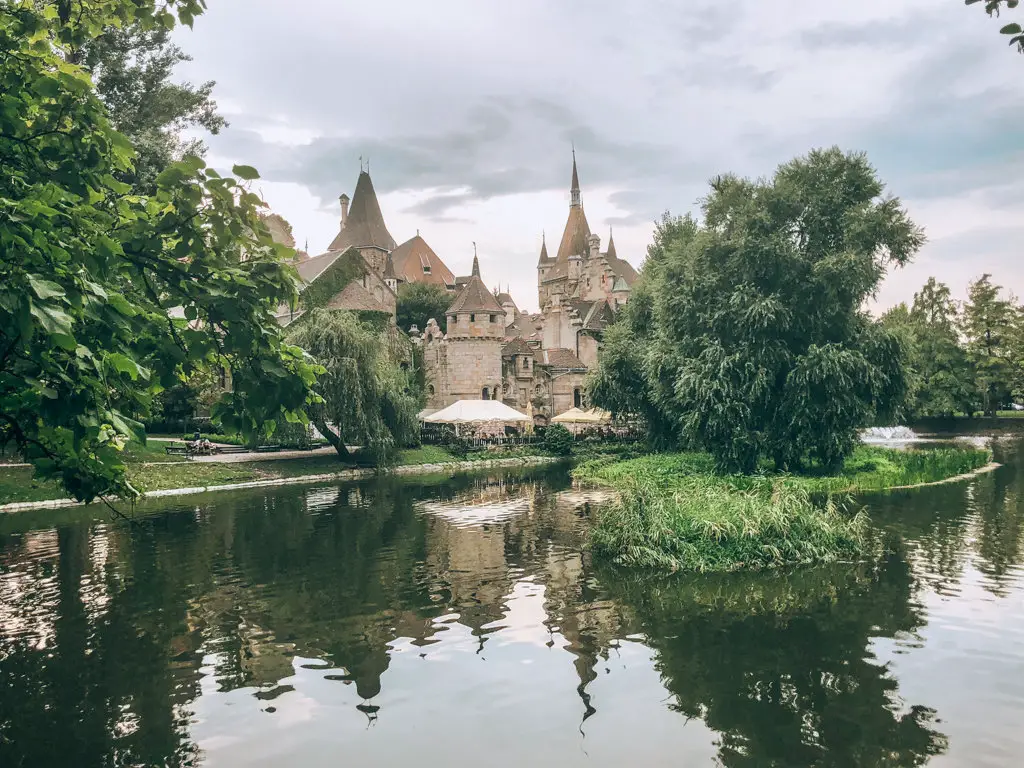 This effectively ends day 3, but if you'd like to go out with a bang, head back to the Jewish Quarter for the Ruin Bars.
Drink Palinka at the Ruin Bars
When someone told me to visit the ruin bars when I went to Budapest I'm pretty sure I looked at them like they had 5 heads. I didn't get it. But basically, these are bars that are housed in ruined and abandoned buildings. I visited the most popular one, Szempla Kert, and found a number of rooms, two dance floors, and plenty of bars to sample the traditional drink, Palinka. I also found a spot where someone was getting tattoed behind a curtain. Strange and questionable sanitation!
This ruin bar is definitely very touristy and I admittedly didn't last too long. There are other ruin bars and I suggest asking your hostel about them, my Couchsurfing host didn't know of any others. Thankfully, Nomadic Matt JUST put out this blog post about the Ruin Bars in Budapest.
Budapest – Day 4
The final day in Budapest. Sad times. There are a few things that are popular "to do" in Budapest and quite honestly, you've ticked most of them off of the list already. Your final day in Budapest is for relaxing and perhaps recovering from a ruin bar pub crawl.
Margaret Island
Gather a picnic and head to Margaret Island. Spend the day relaxing away from the hustle and bustle of Budapest. Find a shady tree and read a book. I know, crazy right? If that's not enough stimulation for you, there is a large track and field area, an open air theatre, rose gardens, and musical fountains. I didn't get to see any of that as I opted to visit by going for a run there, in the rain. Don't do what I did. Go when it's sunny so you can enjoy it!
Getting to Margaret Island:
Via Tram: 4 or 6 to Margit-sziget
Margaret Island Opening Hours:
Dawn to Dusk
Danube River Cruise
I went back and forth for about an hour before finally deciding not to do a night time river cruise. Why did I decide not to? Three reasons: I was at the end of my budget, I saw lots of couples signing up for it (which as a solo traveler didn't seem appealing) and my hostel was having a free dinner. So, I didn't go. But my friends who have gone tell me it's awesome. Go to the Danube on the Pest side right near the Parliament building and you'll find plenty of kiosks selling tickets to river cruises. Hostels also tend to get groups together to go.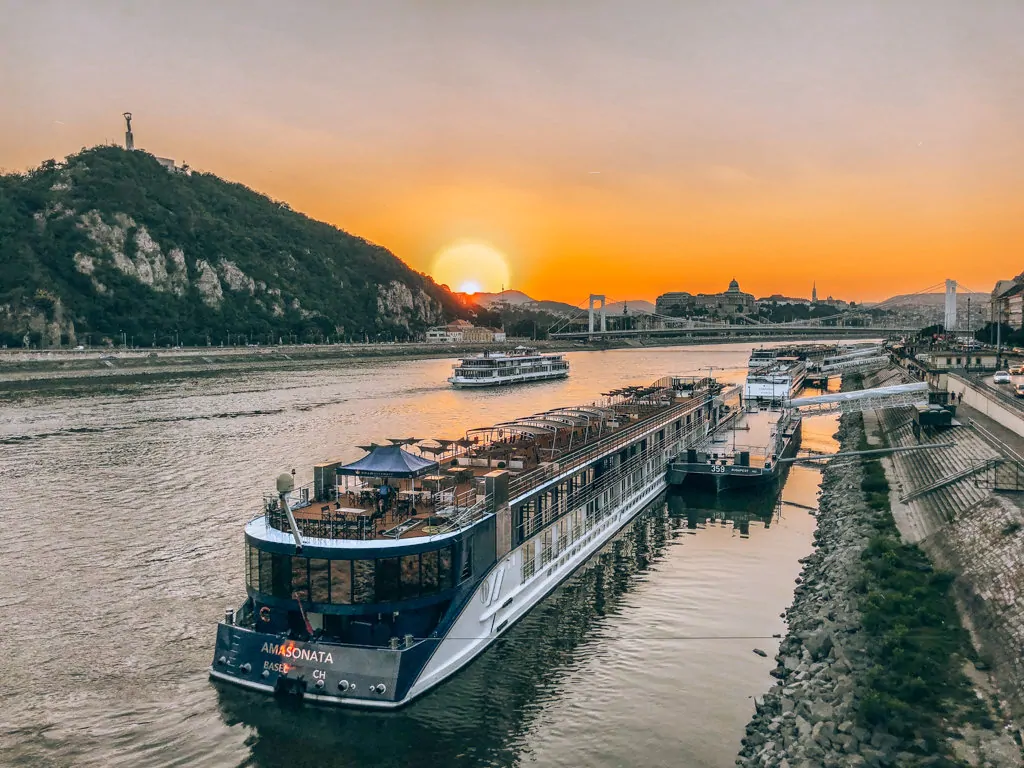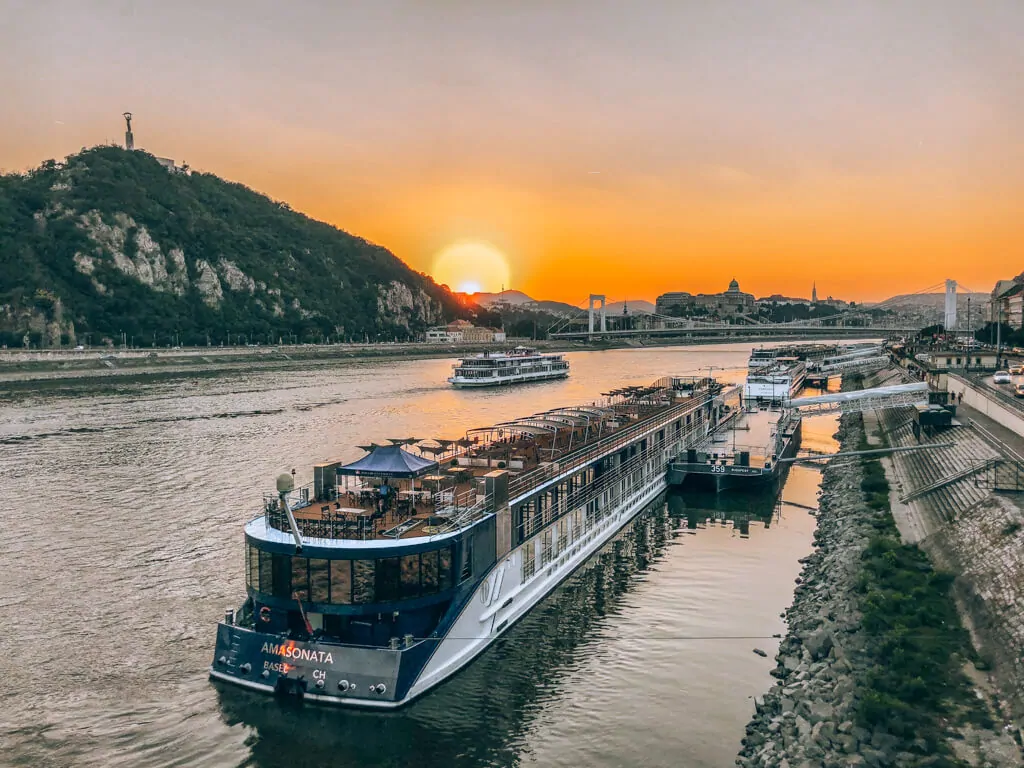 Watch the Sunset on the Green Bridge
Instead, I watched the sunset from the Green Bridge. One Saturday evening as I was crossing the Green bridge from Pest to Buda, I noticed that it was closed off to cars, but people were everywhere! They'd tied up hammocks or climbed on top of the bridge or just sat in the middle of the bridge! It was a lively atmosphere as people shared beers and food with friends as the sun set. Bands were playing in the center of the bridge and it was a lively fun atmosphere. It turns out that the bridge is closed to cars on Saturdays and Sundays from mid-July to the first weekend in August.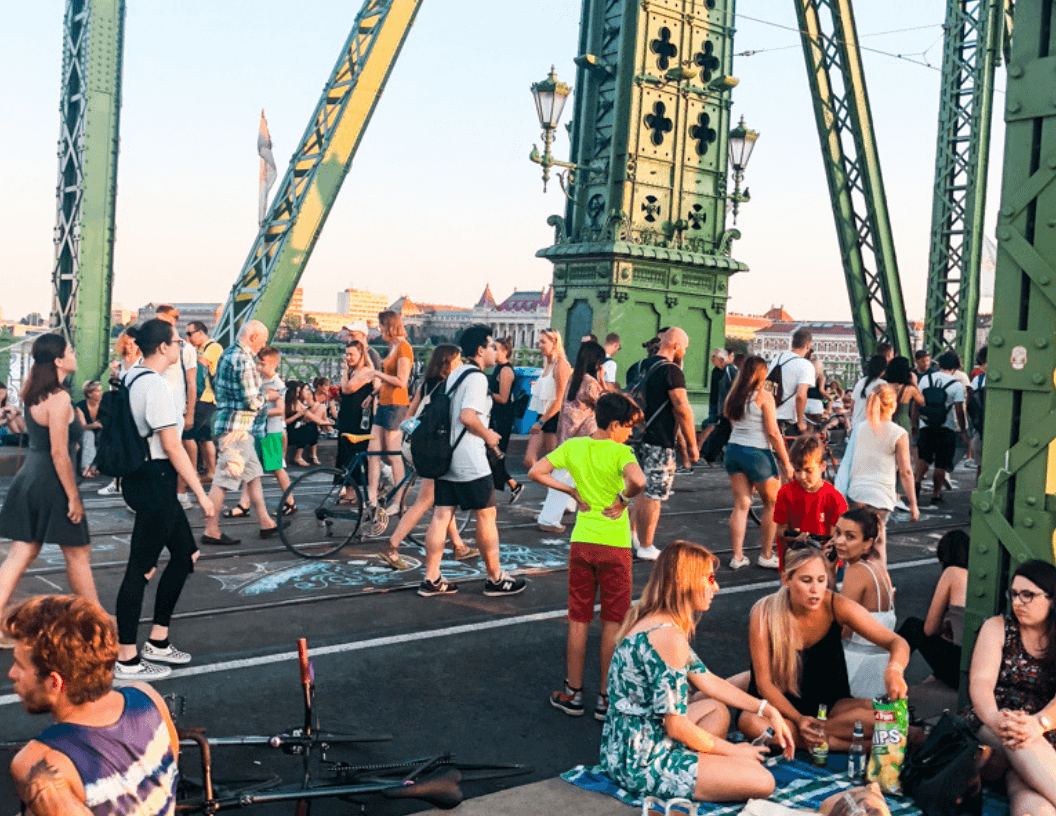 Gellert Hill
Another option to end your 4 days in Budapest is to walk up Gellert Hill to the Citadella. At the base of Gellert Hill is a cave church that is supposedly still functional! The entrance to the trail is just behind Gellert Baths and as you ascend panoramas of Budapest will come into view. At the top is the Liberty Statue and if you keep walking behind this statue you'll find a small park and excellent views of the Danube and both sides of Budapest.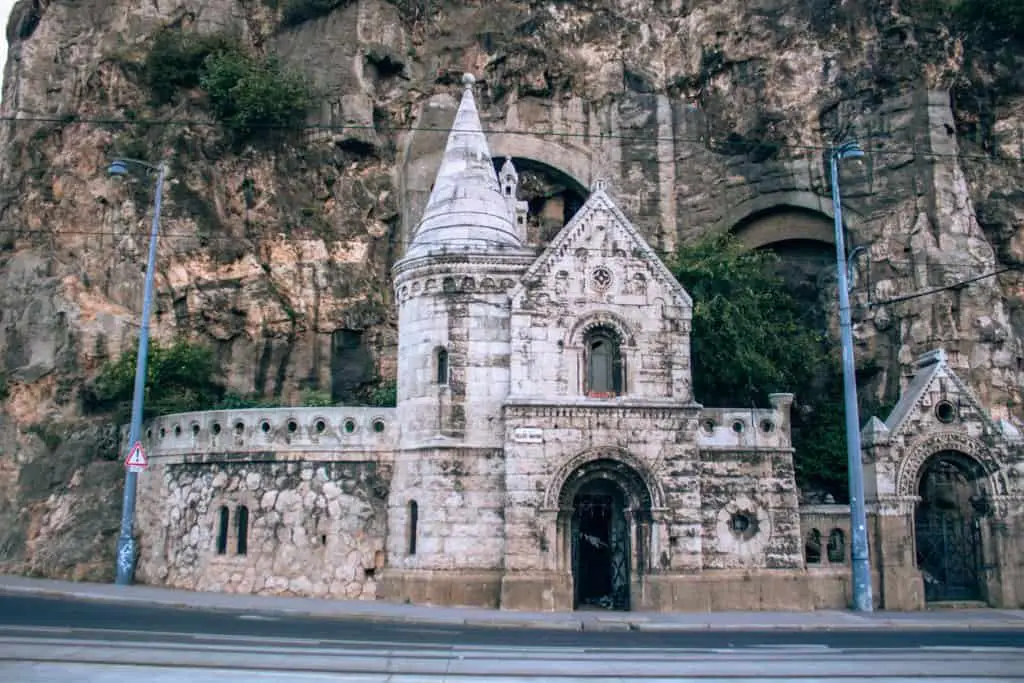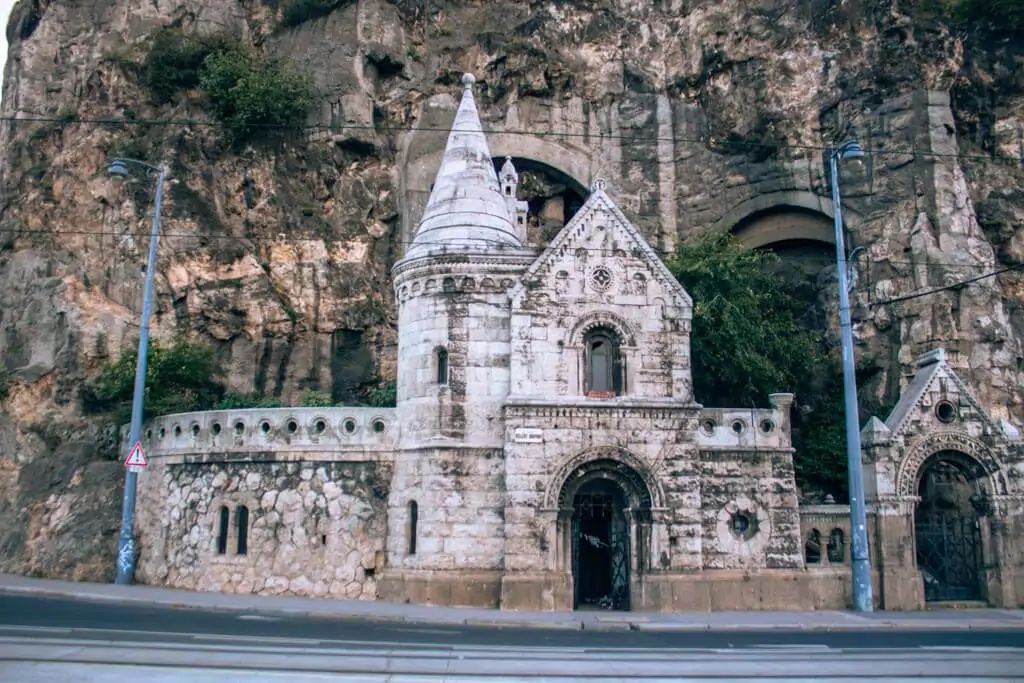 String up a hammock or lay out a blanket, grab a few beers, and watch the sunset.
Wow, 4 Days in Budapest Go Fast!
This is a pretty epic 4 day Budapest itinerary, if I do say so myself. This could easily be extended if you're there for longer by taking your time, perhaps popping into buildings for tours. I didn't even include The House of Terror or catching an opera! Budapest is a city where there is always something more to see and explore. But it's also a great place to have an aimless wander, enjoy the architecture, and see where the city leads.
Here are a Few More Tips for Visiting Budapest
…and don't forget to get the map!
Best Places to Watch the Sunset in Budapest
Fisherman's Bastion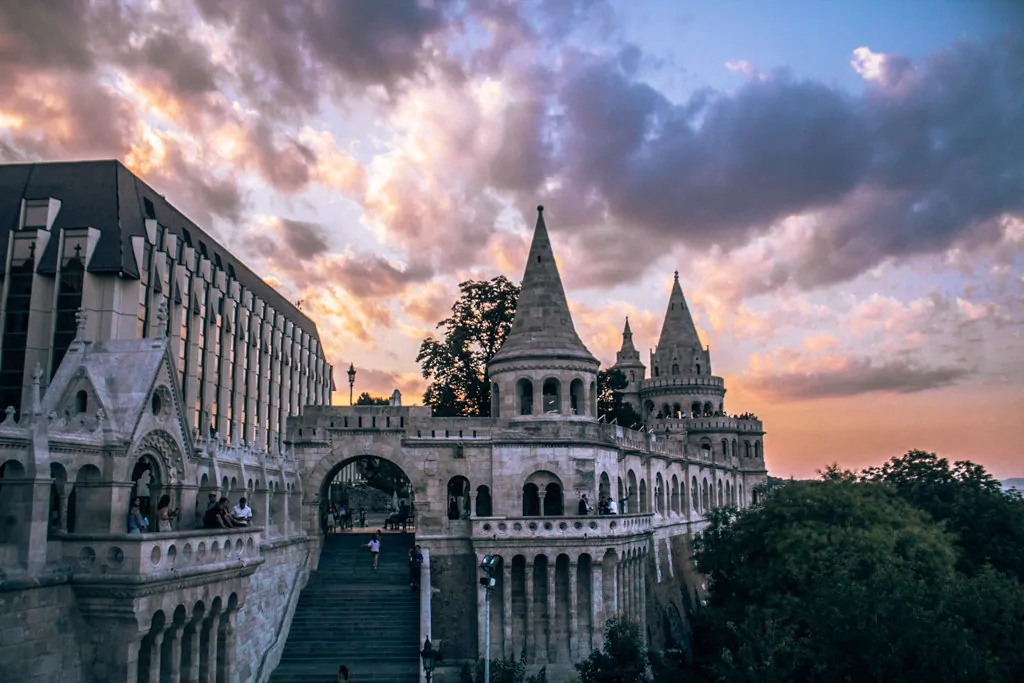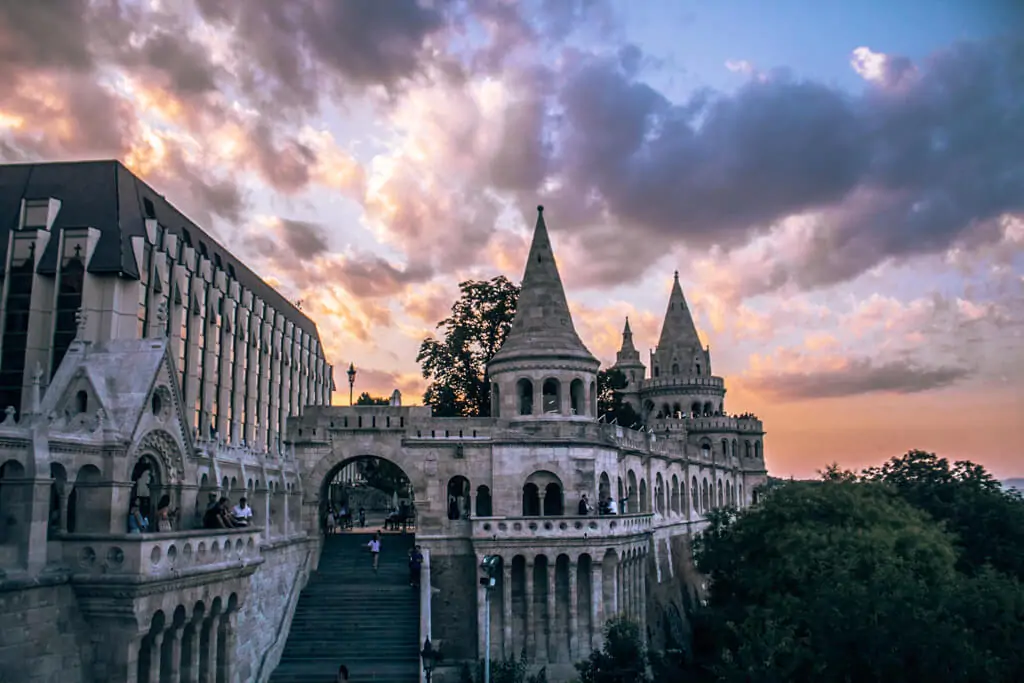 Gellert Hill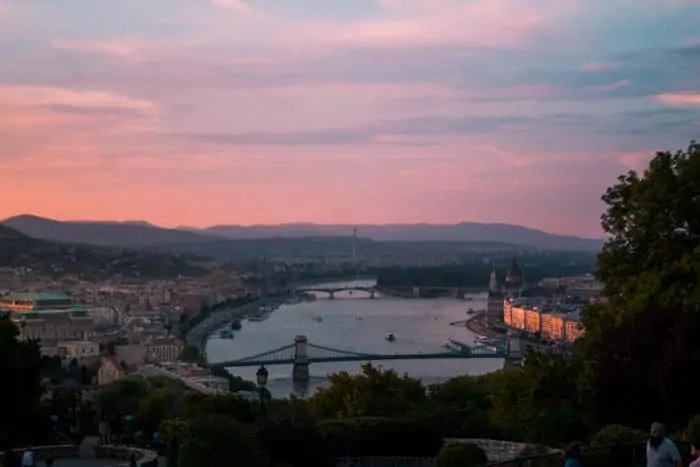 Green Bridge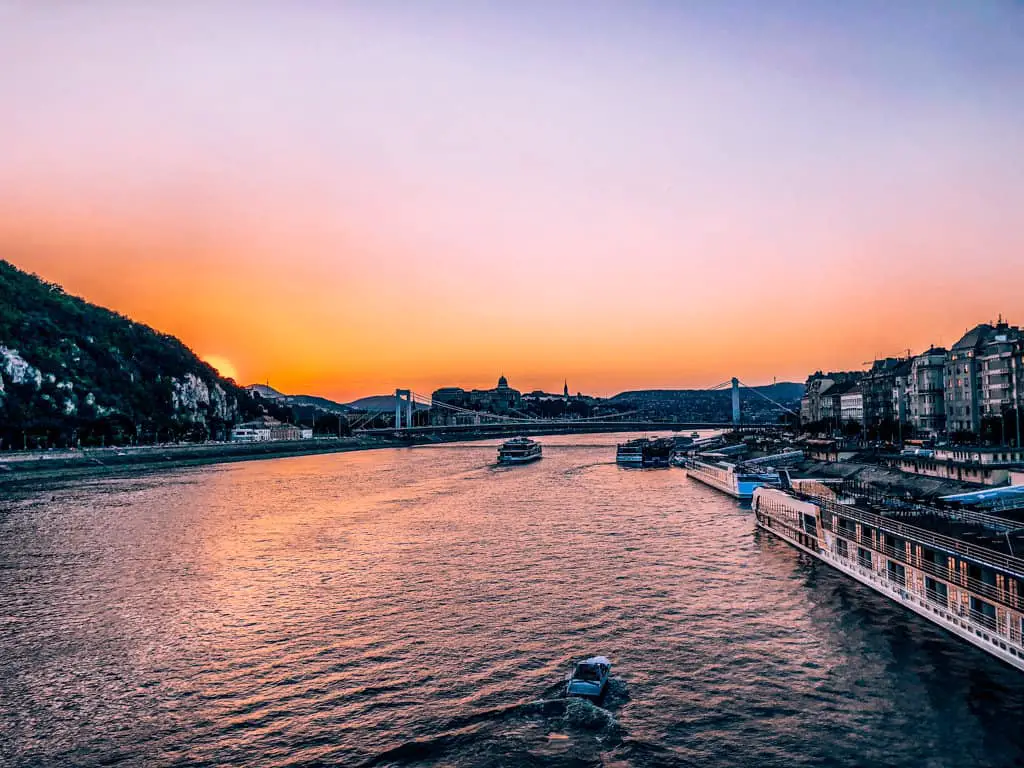 Banks of Danube on the Pest side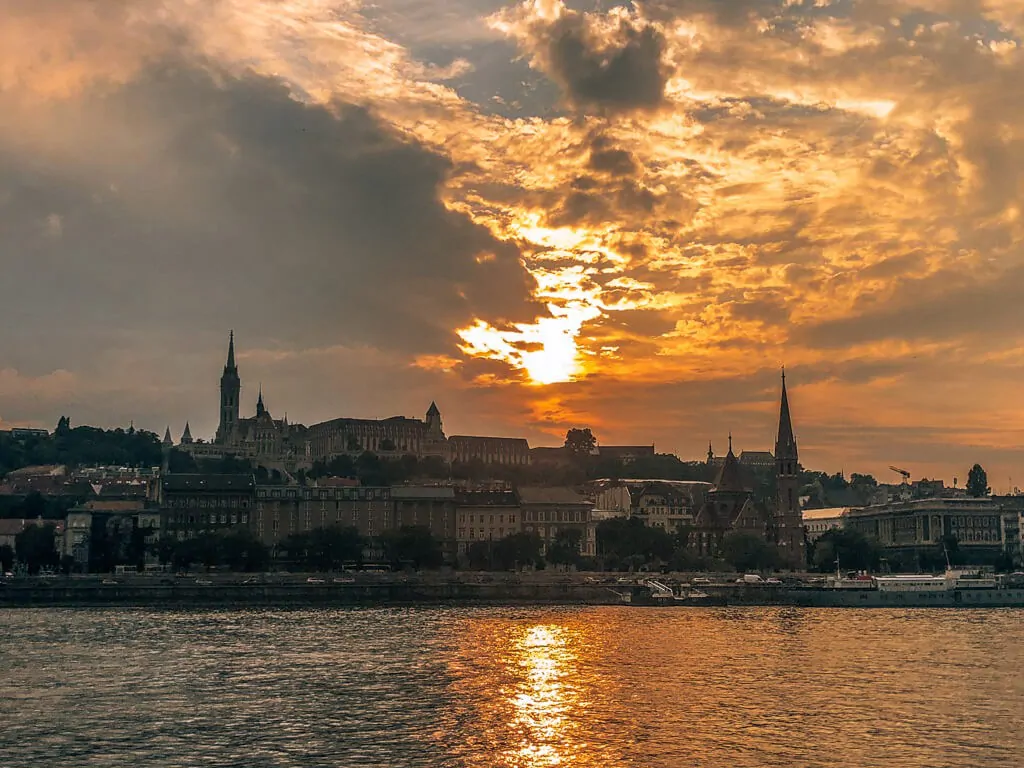 Where to Eat in Budapest
I know, there aren't a lot of food recs in here and that's because, outside of the food tour, I cooked quite a bit. Hey hey budget traveling! There are a few food truck areas which had something for everyone – vegan to meat eater! For more specifics about where to eat check out this post.
Where to Stay in Budapest
I stayed at two hostels and I Couchsurfed in Budapest. My first night, I stayed at Flow hostel located near the Great Market Hall before going to my host's place for the rest of the week. The staff was nice, it had a large kitchen and comfy beds.
When I returned after teaching English, I stayed at Avenue hostel which was huge and catered to a wide demographic of travelers. But it was super cheap, had good WiFi and free dinners! Seriously can't complain about that!
Getting Around Budapest
Public transportation is an excellent way to get around Budapest. They have a safe and reliable underground, a trolly system, and bus lines that can take you anywhere you'd like to go. Just make sure to validate at the machines on board! There is also a train service to neighboring cities and towns if you'd like to go on a day trip!
Here are a few resources for public transit in Budapest:
All buses, trams, and metro info!
If you'd like to book a tour or your day at the spa – check out what Get Your Guide has to offer for Budapest
Like this post? Pin for later!