Lassen National Park might be the most beautiful place I've visited in California. Its sisters like Yosemite National Park and Joshua Tree National Park seem to get all of the fame. However I believe Lassen Volcanic National Park deserves way more credit than it receives. There are so many things to do in Lassen National Park. It contains such a variety of landscape from ancient geothermal pools and volcanoes to emerald lakes, creeks flowing through wildflower covered meadows and hikes to stunning waterfalls, Lassen National Park will leave you speechless! I truly truly hope that you take the time to spend a few days exploring one of the most underrated National Parks in California.
In this post I will be sharing my first experience camping at Lassen National Park for a weekend. I'll share with you all the best things to do and the mistakes that I made so that you don't repeat them and can plan an even better Lassen National Park weekend.
This post contains affiliate links, which means that, at no additional cost to you, I will earn a tiny bit of income if you decide to make a purchase or booking. For more, check out my disclosure. 
Where is Lassen National Park Located
Lassen National Park is located in Northern California about a 4 1/2 hour drive from San Francisco, 3 hours from Sacramento, about 45 minutes east of a town called Reading.
There are two main entrances to Lassen. The southwest entrance is near a town called Mineral and is where you'll find the Kohm Yah-mah-nee Visitor Center. The northwest entrance is near a town called Shingletown and is where you'll find the Loomis Museum and Visitor Center.
There are alternate entrances to more remote parts of the park, however, for the purposes of this post, I recommend entering at either of the two main entrances.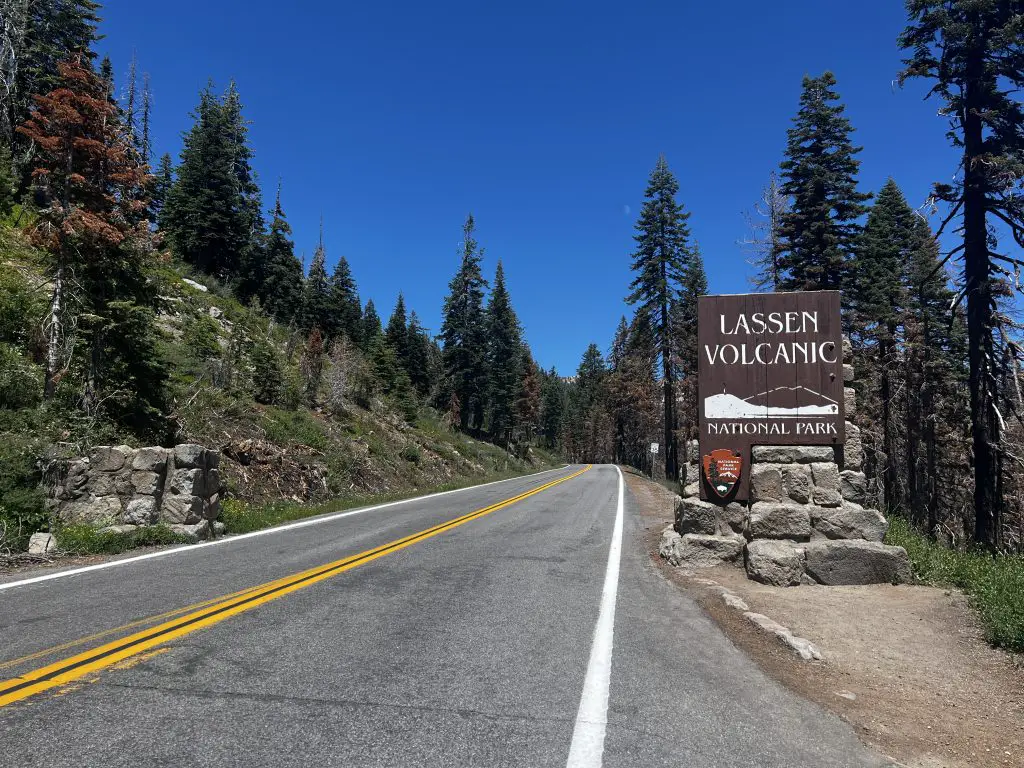 Best Time to Visit Lassen Volcanic National Park
There are things to do in Lassen Volcanic National park no matter what time of year that you visit. However, access and services vary greatly throughout the year. No matter what time of year you visit, be sure to check road conditions and weather before hitting the road.
Winter in Lassen National Park
Winter comes early and stays late at the park. If you enjoy winter activities you can participate in ranger led cross-country skiing or sledding. Highway 89 that runs through Lassen National Park closes in the winter, so you can only access the area around the Kohm Yah-mah-nee Visitor Center (including Sulphur Works) and Manzanita Lake.
If you plan to visit in winter make sure you have chains and a full tank of gas. Be prepared to drive in potentially hazardous winter conditions.
Spring in Lassen National Park
Snow is known to stick around till late June in Lassen. In fact, when I visited in mid-July there were still patches of snow!
While Kohm Yah-mah-nee Visitor Center and Manzanita Lake areas are open, access to the rest of the park depends upon the ability to clear Highway 89 of snow.
If you're planning a Spring visit be prepared as if you were visiting in winter, with tire chains and winter gear as the weather can change quickly!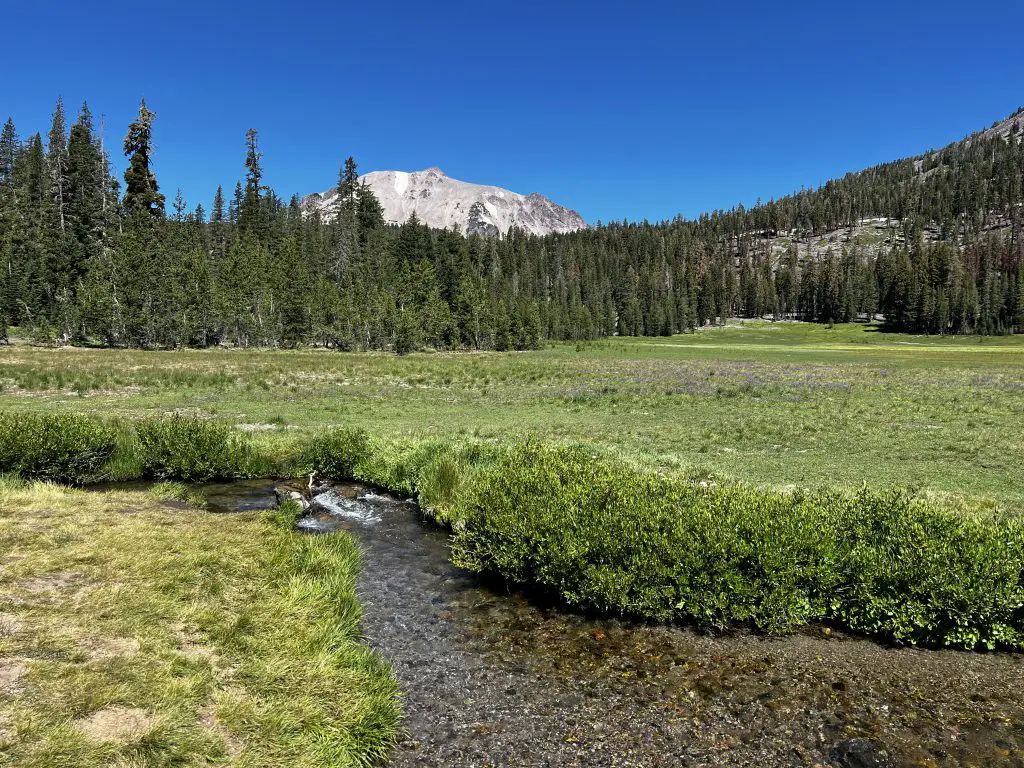 Summer in Lassen National Park
Summer is the best time to visit Lassen National Park because all of the best things to do will be accessible! While you may encounter snow on some trails, you'll more than likely be in for warm sunny days and cool evenings. 
If you can, plan to visit in the summer months!
Fall in Lassen National Park
Fall is a beautiful and peaceful time of year to visit Lassen. Colors will begin to change, summer visitors have gone home, and temperatures are cooler for some of the more intense hikes in the park. 
Closures may occur depending on when snowfall begins later in the season.
Safety Tips for Visiting Lassen National Park
Cell Phone service: There is absolutely no cell phone service in the park so be sure to download Google Maps off-line prior to your arrival. Also download any hiking trail maps off-line before you get to the park so that way you still have access to directions. There is Wi-Fi available at ​​Kohm Yah-mah-nee Visitor Center but besides that there is no Wi-Fi.
Wild life: Follow all bear safety guidelines such as storing your food in the bear lockers at campgrounds. If you do have food in your car keep it stored at least in a cooler. Remember do not feed or interact with the wildlife
Stay on trails: Many areas of the park are hydrothermal areas which means there is boiling hot water and sulphur near the surface. Always stay on the trails and take extra caution when visiting these areas of the park to avoid severe burns
Dealing with altitude: Take time to acclimatize to the altitude before attempting any strenuous hikes
Hike practically: Always remember to only hike those trails that suit your fitness level. When I visited there were a handful of hiking trails that I wanted to do but knew that I was not in shape to do them. I opted for the "easier" hikes which I struggle with due to the altitude. Don't try to be a hiking star, stick to suitable trails. The beauty of this park is there is something for everyone!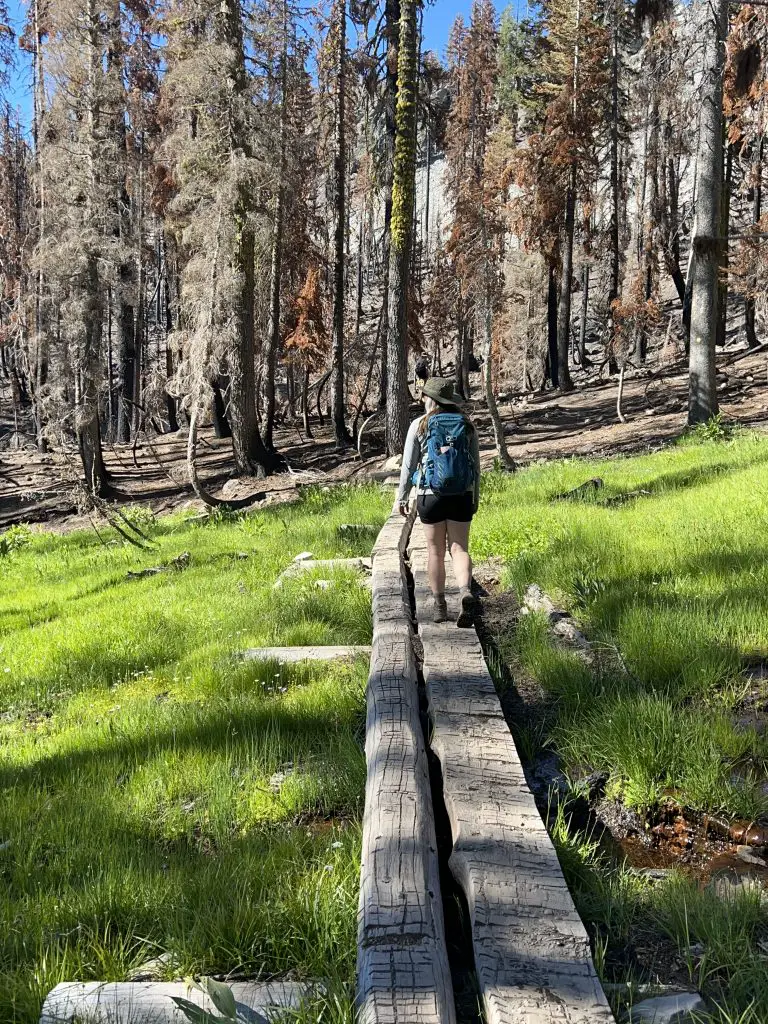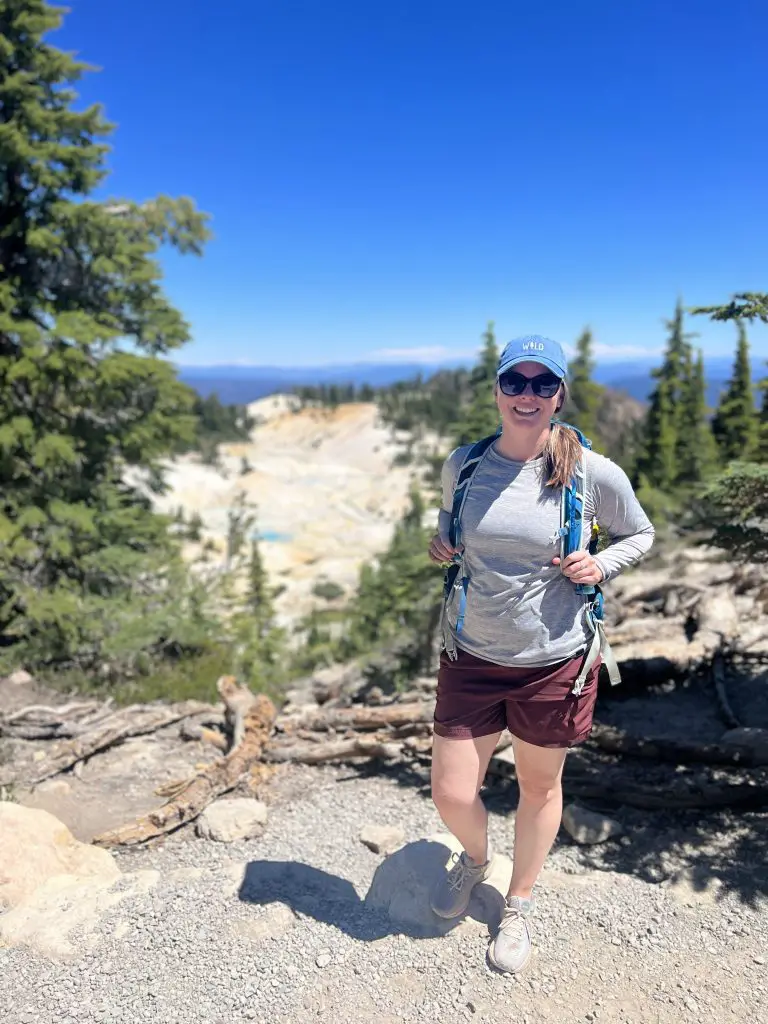 The 2021 Dixie Fire
In 2021 a fire raged throughout this area burning approximately 69% of Lassen National Park. The fire was called the Dixie Fire.
The effects of this fire can be seen on many of the trails described below and even just by driving through the park.
Due to the impacts of the fire, certain areas of the park are closed such as Butte Lake, Juniper Lake, and Warner Valley. 
If you are hiking on a trail that was affected by the Dixie fire please take caution. Many fallen trees have left huge holes where their roots once were. Stay on trail to avoid tripping into one of these potholes.
I will likely reference the Dixie fire multiple times throughout this post as I describe my experience visiting in the summer of 2022, a year after the fire.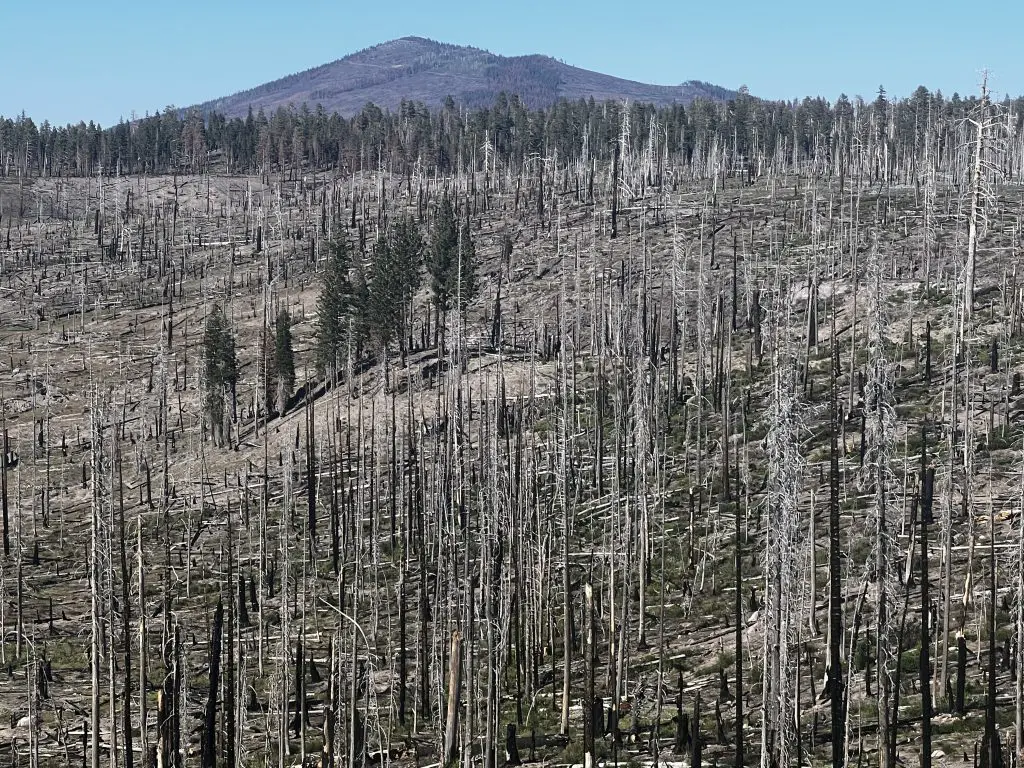 What to Pack for Lassen National Park 
Your packing list for Lassen National Park depends on how you plan to visit.
Items required for a weekend spent camping are much different than if you're staying in a hotel for Airbnb nearby and doing day trips into the park.
That being said, when you leave your accommodation to explore the park ensure that you have more than enough food and water in your vehicle. 
You'll want to refuel after hikes and stay hydrated so that you can enjoy the park without getting any headaches or worse. 
When you head off for your hikes make sure that you have everything on my day hike essentials packing list. This packing list is suitable for any hike ranging from 1-5 hours.
Also make sure to wear sturdy hiking shoes or trail runners for all of the trails whether or not they seem easy. The fires have changed the look of many of the trails. 
A wide brim hat is essential to keep the sun off of your face and keep you cool during hikes. 
Don't forget sunscreen and also don't forget to reapply the sunscreen. 
Pack a swimsuit, towel and some water shoes if you decide to cool off in one of the many lakes, which I highly recommend. 
Wading into the lakes there are plenty of rocks and pine cones, so you'll want water shoes to protect your feet I just use some Tevas and they work perfectly for this.
Tips for Driving in Lassen National Park
Take your time driving through the park and drive slower than you really want to to protect the wildlife and to be able to pull over at any scenic pull outs that may interest you without having to double back
Fill up your gas tank before you enter the park in one of the towns like Redbluff, Susanville, or Redding as the only gas station is at Manzanita lake campground
Many of the trailheads have parking lots, but if they don't or they're full by the time you arrive you can park on the side of the highway. Just be sure to pull completely off of the road!
The Best Things to Do in Lassen Volcanic National Park
Drive the Scenic Highway
The best way to see Lassen National Park when you're short on time is to drive the 30 mile Scenic Highway from the southwest entrance to the northwest entrance. 
Highway 89 will take you from ​​Kohm Yah-mah-nee Visitor Center to Manzanita lake campground, and this is the way I recommend driving it.
Along this highway there are various stops that include boiling mud pots, short hiking trails, scenic meadows, clear blue lakes and large lava rocks.
Many of the activities I highlight as the best things to do in Lassen are off of the Scenic highway. 
Feel free to pull over at any of the pull outs for things that peak your interest. 
​​Visit the Kohm Yah-mah-nee Visitor Center
Just after the southwest entrance to Lassen National park is the Kohm Yah-mah-nee Visitor Center.
It's a great place to stop in before continuing your Lassen adventures to learn about the types of volcanoes in the park.
Inside you'll find an interactive map of the park lands, an information center, gift shop, and snacks.
There are a number of park rangers available to answer your questions as well as a board current conditions and any park closures.
At the time of my visit, many areas of the park were closed due to the effects of the Dixie Fire in 2021.
They were also repaving a portion of the highway. This meant a brief traffic stop on the scenic drive between the southwest and northwest entrance.
I only waited about 10 mins for the pilot car to escort us a few miles down the road.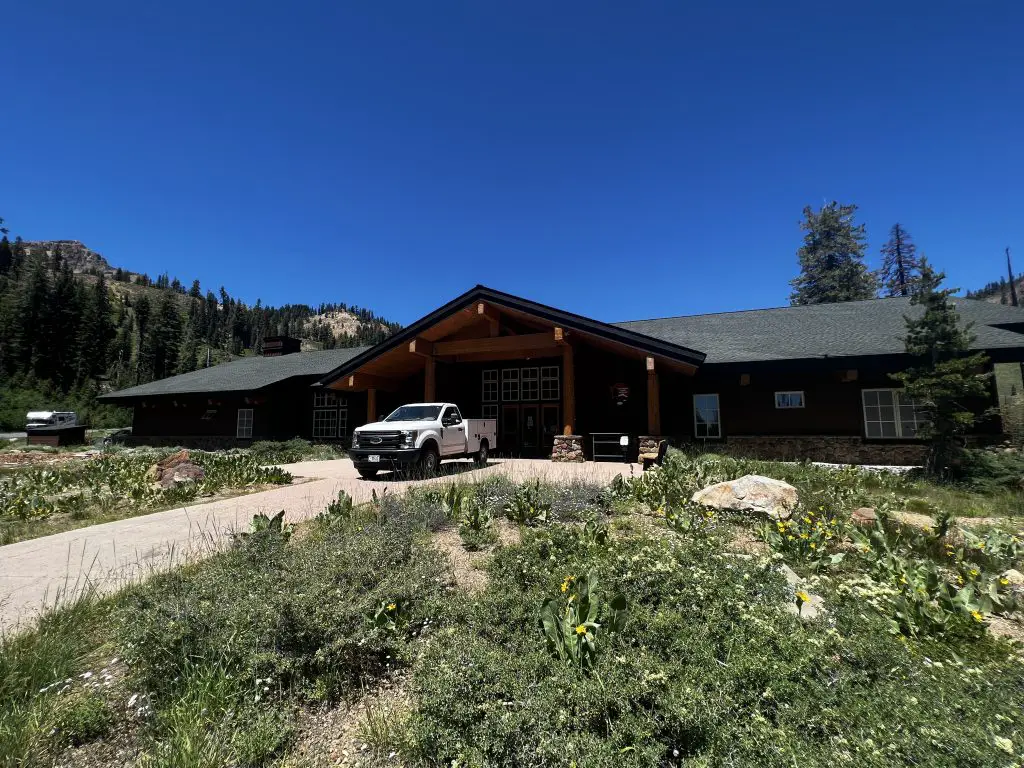 Stop by Sulphur Works
After leaving the visitor center, your scenic, and stinky, Lassen experience begins almost immediately at Sulphur Works.
There are a few boiling mud pots off the side of the highway and a sidewalk path that leads you to them. 
Each location has a board with information about how these mud pots are the result of the area's volcanic activity.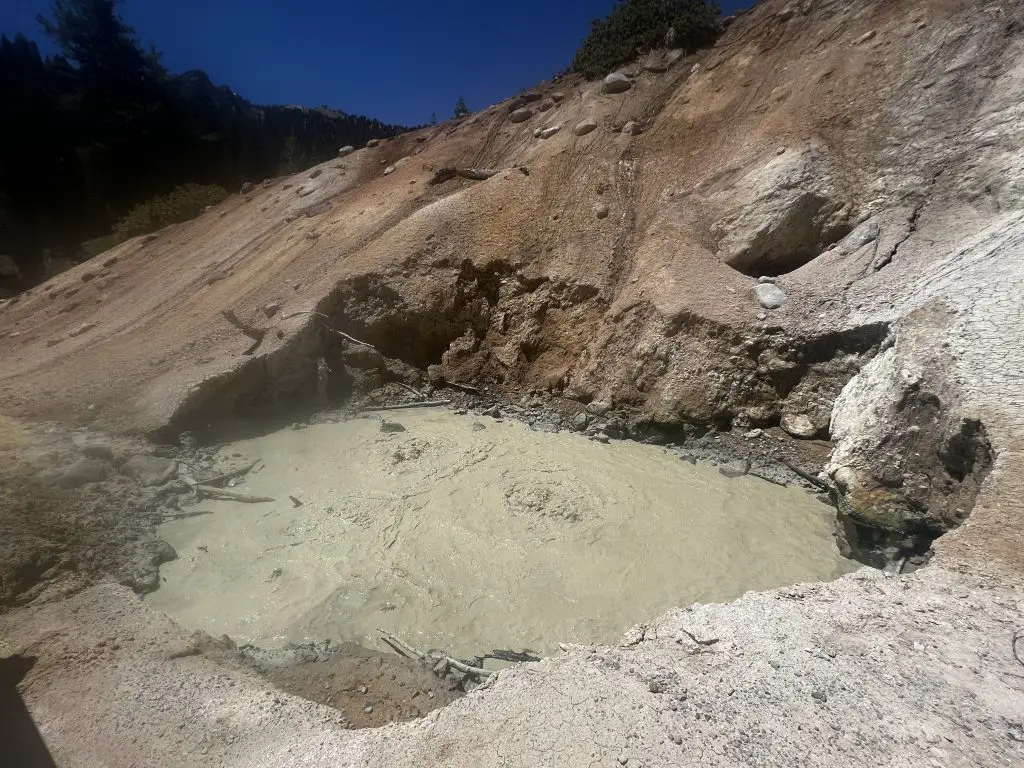 Hike One of the Lassen National Park Hikes
There are a wide variety of Lassen Volcanic National Park trails. From a few miles of meandering across meadows to lakes, to hiking to volcanic peaks, or along creeks to waterfalls. There is a trail in Lassen for everyone!
Kings Creek Falls
Kings Creek Falls might be one of my favorite hiking trails! This 2.5 mile loop trail starts through a quiet meadow with wildflowers and Kings Creek running through it.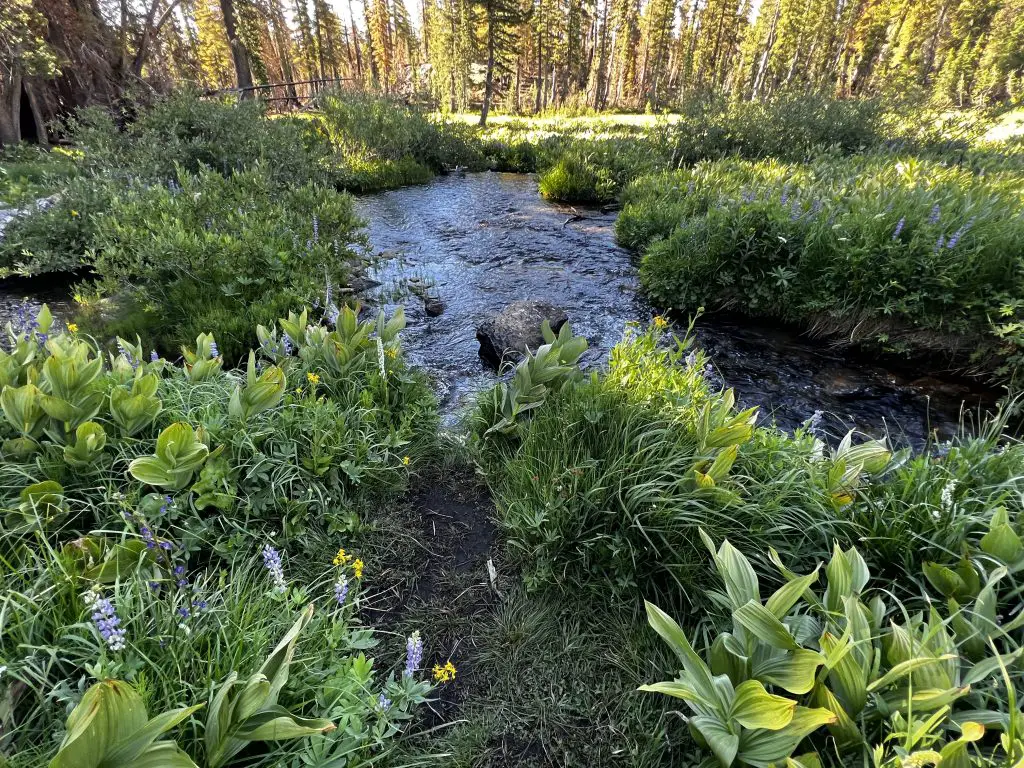 The trail then leads through what would be a pine tree forest, however it is clear that the Dixie fire swept through here. While trees are still standing there are no leaves and they are burnt to a crisp. Many are bent at 90° angles which is a testament to nature's strength and a reminder to us that even when faced with severe adversity we may bend but we do not break.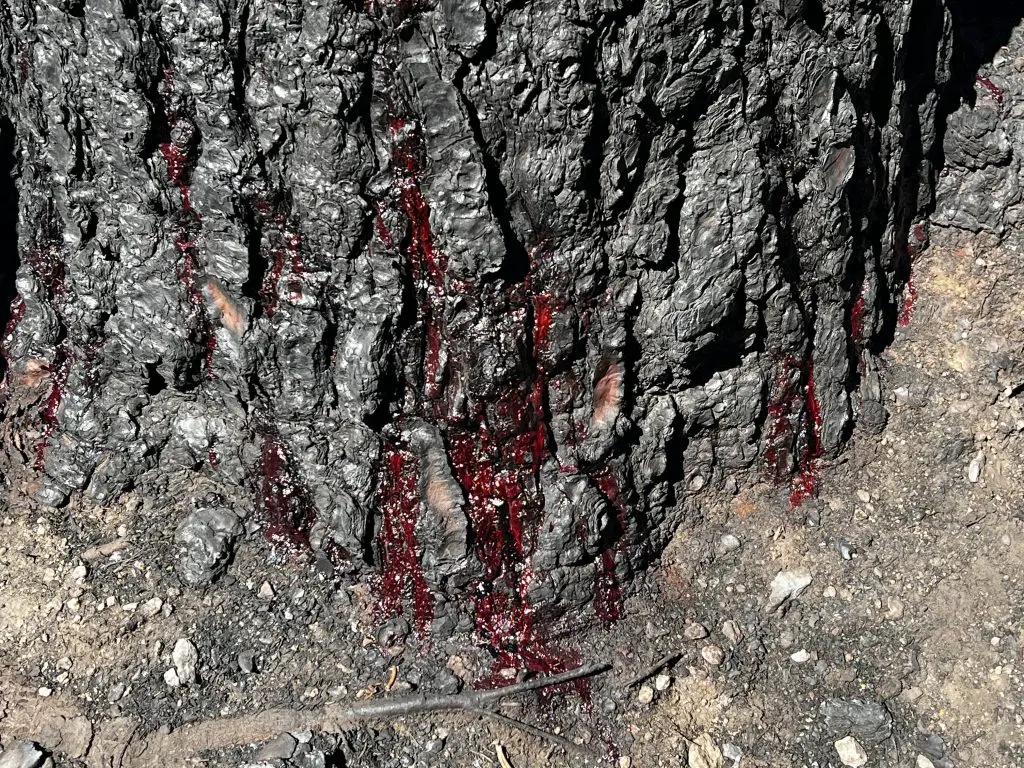 Many of the burnt trees also had this bright red sap seeping from them. It almost looked like the trees were bleeding.  While I likely won't see this forest healed in my lifetime I do find some hope as this devastated forest led to beautiful beds of purple and yellow wildflowers on the banks of the creek. 
Ok, back to the trail. It eventually brings you to a creek crossing and to the main attraction, a 50ft waterfall. The overlook is currently closed because it needs to be rebuilt however you can walk a little bit further ahead to witness this beauty.  Just proceed with caution as the drop offs are steep!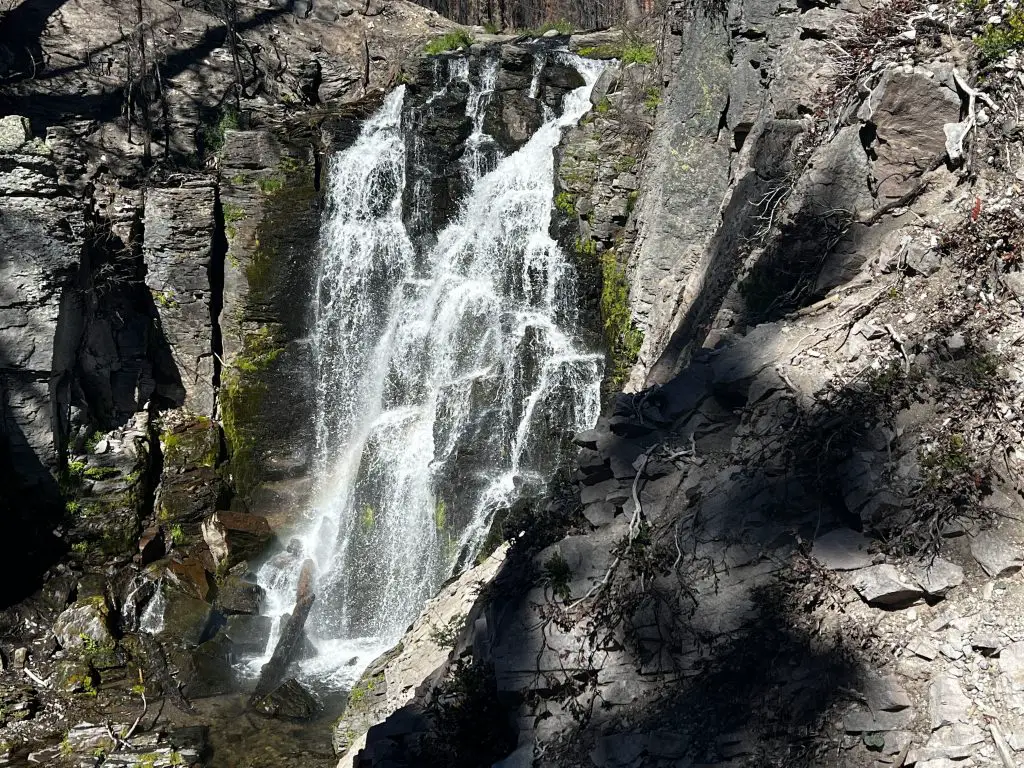 Once you are done at the falls return to the trailhead via the one-way section of the trail. This section includes incredibly steep granite stairs, but at least it's right next to a series of smaller waterfalls to take your mind off of the burn in your quads!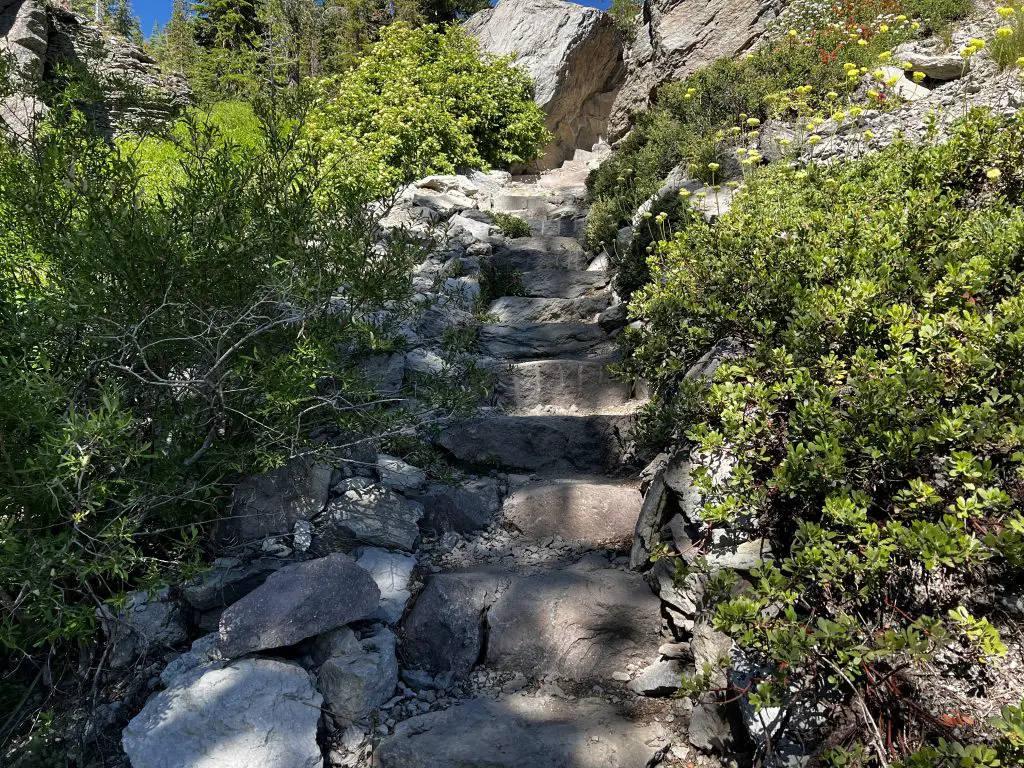 While it is rated as one of the easier hikes in the park if you're not used to climbing granite stairs at altitude, it is quite difficult. Take your time and wear sturdy hiking shoes as portions of the trail are filled with loose gravel. Wear comfortable hiking clothes, sunscreen and  bring water and snacks. 
Allow 3-4 hours for this hike, including time spent at the falls.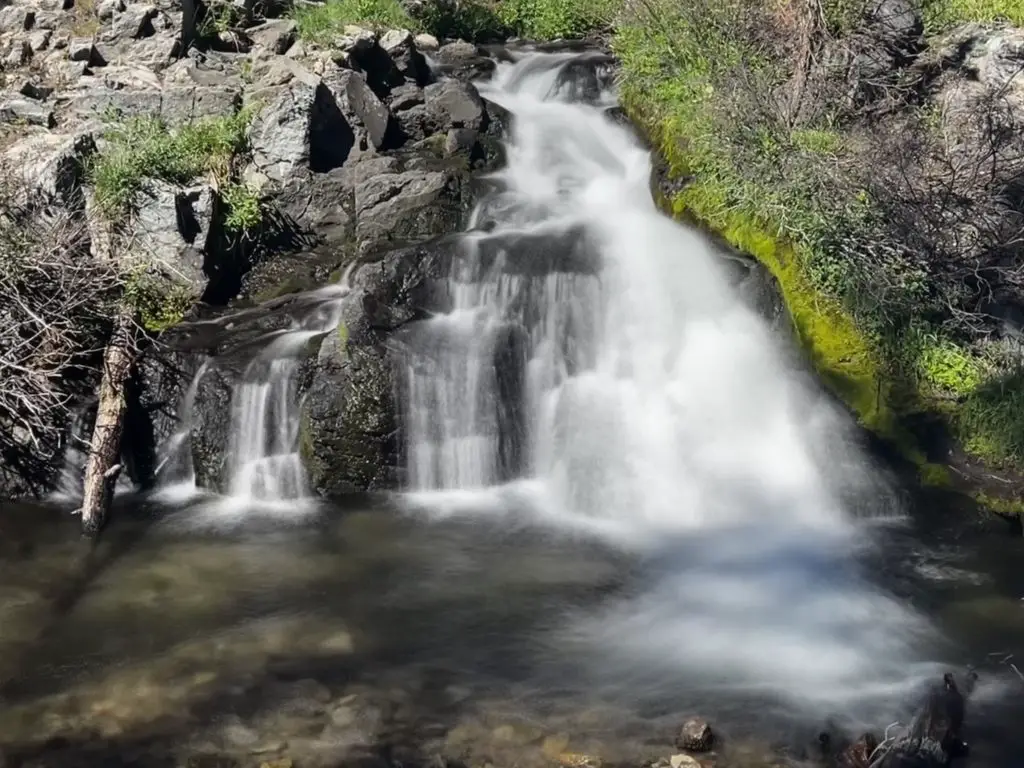 Bumpass Hell Trail
I can not believe a place like this exists anywhere in the world. Let alone California.
This is one of the best hikes in Lassen National Park. It's a 3 mile hike that begins along a dirt and gravel path, with amazing views of the valley below and brings you to the boardwalk path in the vast hydrothermal area known as Bumpass Hell.
You'll smell it before you see it. On the way, you'll see a fork in the road. One direction saying Flying Pan Trail and the other direction saying Bumpasss Trail.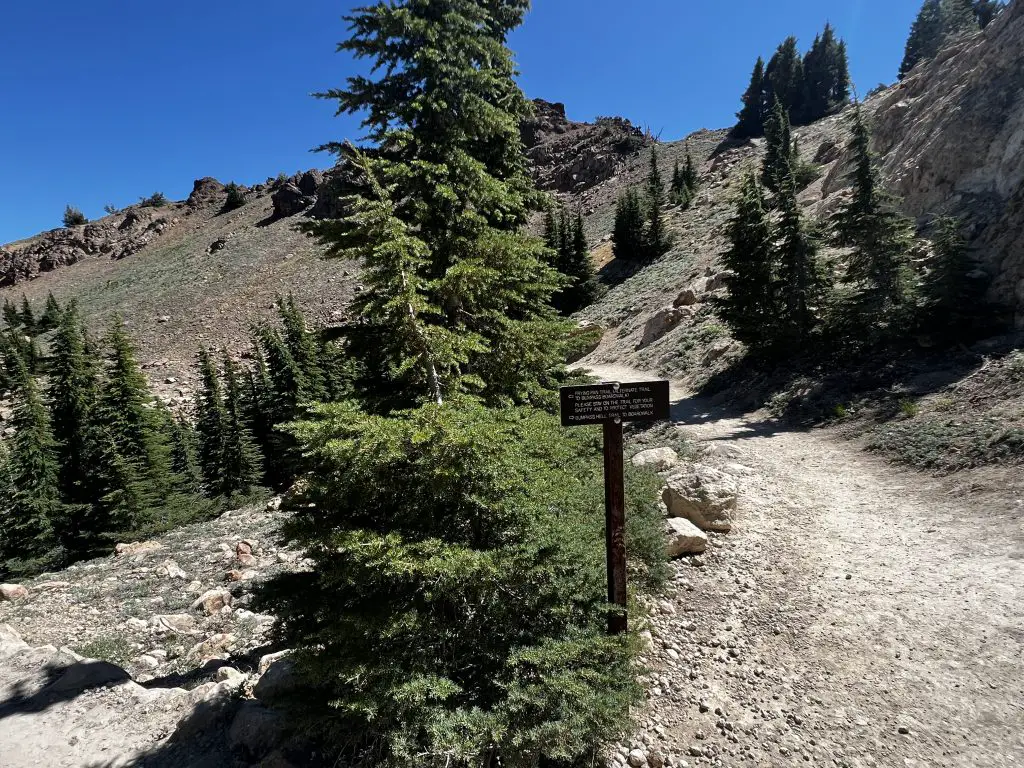 My research said nothing about this so I continued on Bumpass Trail. However, I recommend taking flying pan Trail (which I did on the return) as you'll have stunning views of the area as you descend to the boardwalk trail.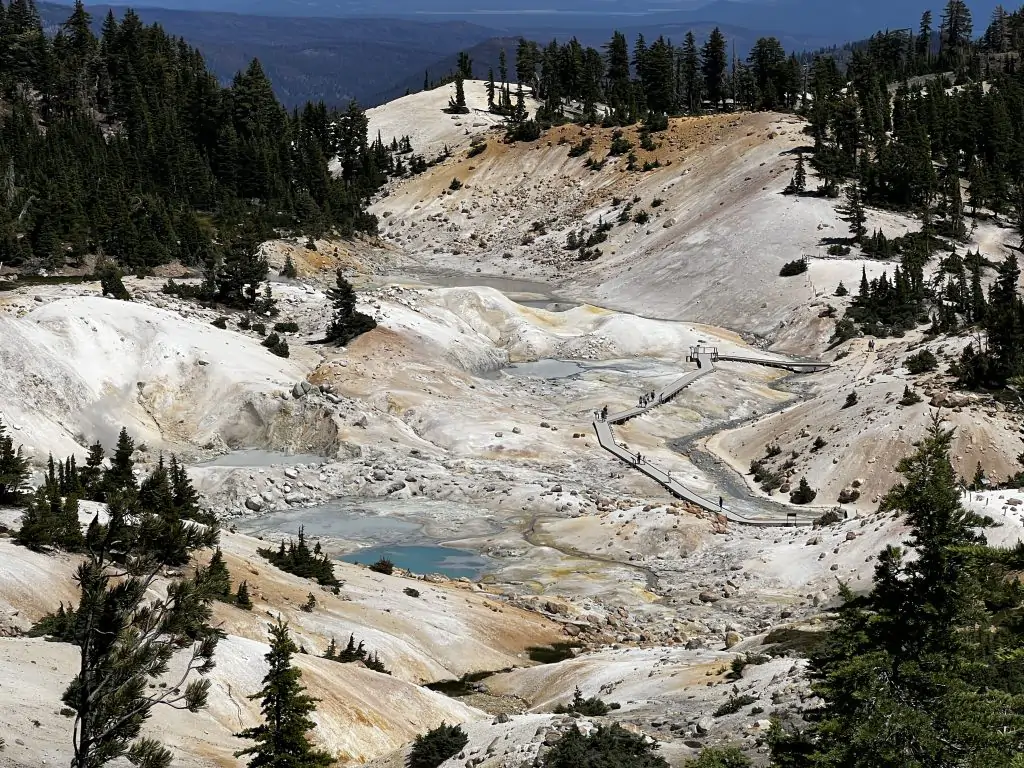 Once you reach the boardwalk path there are signs explaining the phenomenon in front of you. However, there are no railings so be careful not to step off the path otherwise you risk SEVERE burns.
This trail is rated as easy and I did see a wide range of abilities on the trail. However, don't let it fool you. There is a fairly steady incline and if you're not used to the altitude you'll feel it. 
Be sure to wear trail running or hiking shoes. I misread the information and thought the entire trail was boardwalk so I wore my running shoes which have no more tread on the bottom which caused me to slip and fall on my way down so be careful!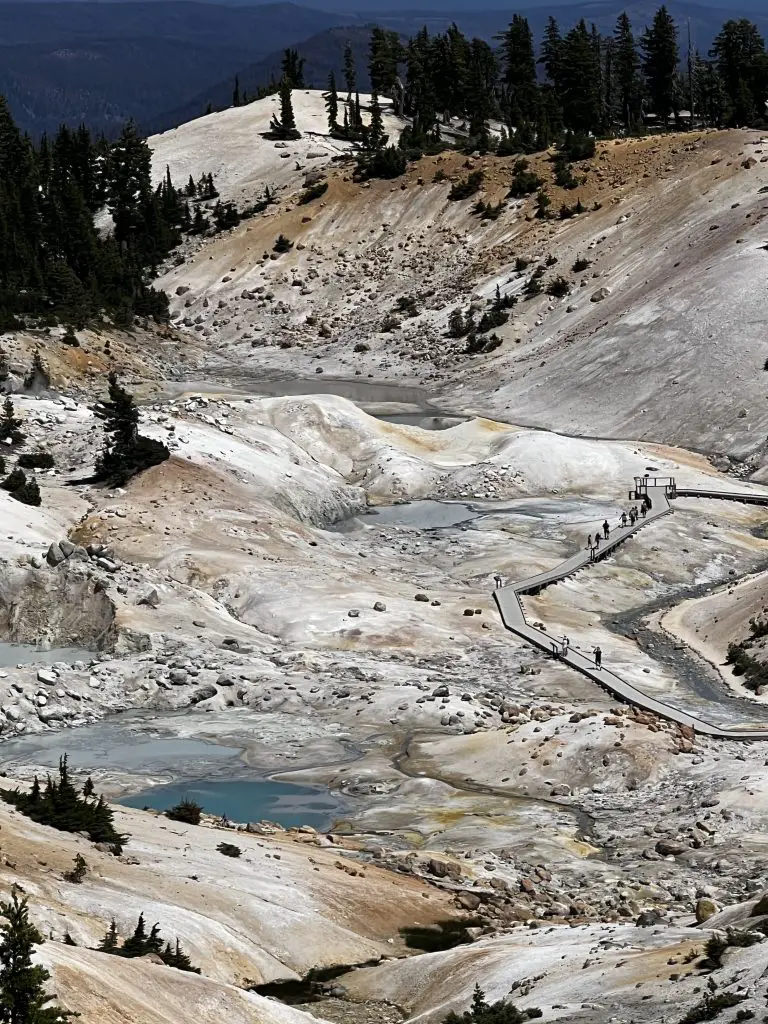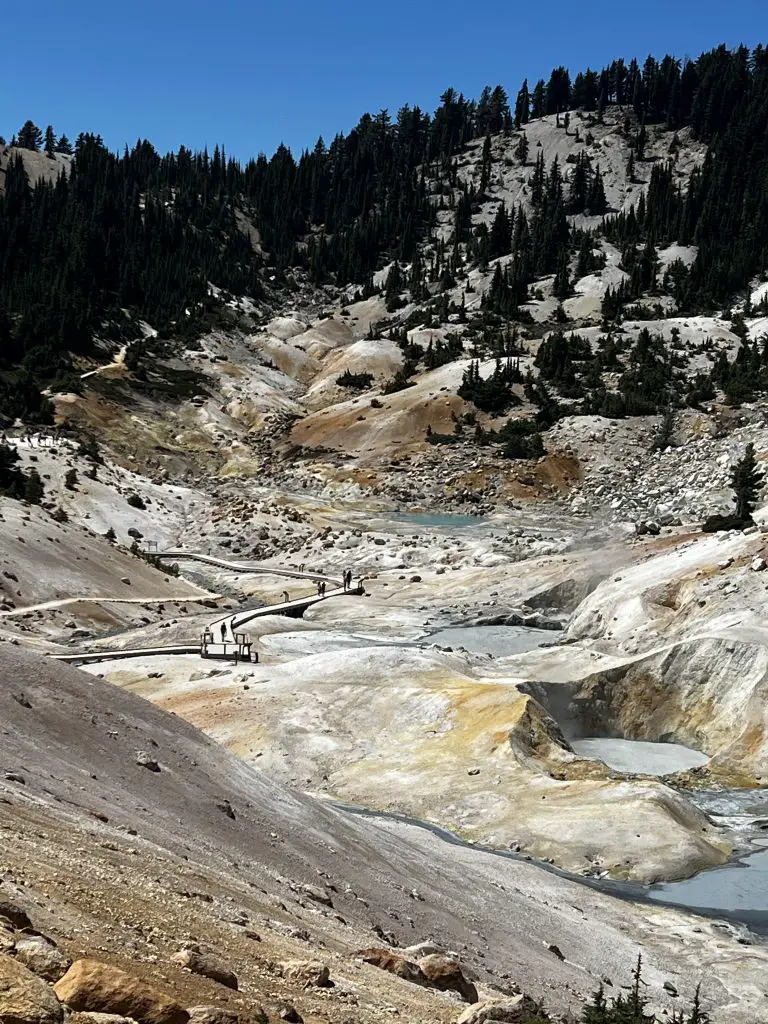 Also wear a hat, sunscreen, and sunglasses. The landscape is bright white and can be hard on the eyes.
If you're a photographer, definitely bring along your camera. I left mine in the car and I was not expecting to be so blown away by this landscape. My phone did fine, but I always feel more creative with my actual camera.
I recommend a telephoto and a wide angle lens.  
Manzanita Lake Trail
Manzanita Lake Trail is 1.5 mile loop around Manzanita Lake. You can start the trail either from the boat launch or at the Loomis Museum. 
It's a really nice easy trail with multiple places where you can hop in the water for a quick swim to cool off or lay out a picnic blanket and enjoy an afternoon relaxing on the lake.
It's also a perfect hike just before sunset as the sun will illuminate Lassen Peak. There's an epic view of Lawson Peak from the far side of the lake from the boat launch and it's definitely worth the walk.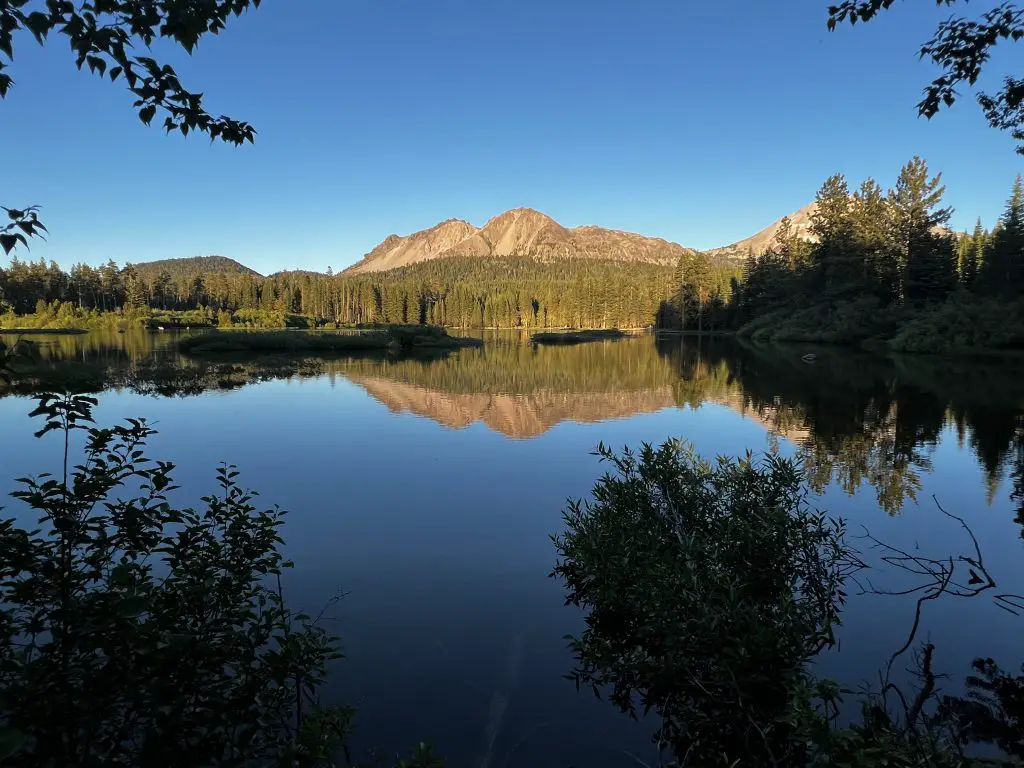 Devastated Area Interpretive trail
Walk the half mile loop that describes what happened during the 1915 eruption of Mt Lassen and how it formed the landscape surrounding you.
I'm not usually one for interpretive trails but I found this one incredibly interesting as it described the avalanche that launched huge lava rocks miles away and completely eradicated the pine forest in its path. 
Admittedly, I did far less hiking on this trip than I originally thought I would for a variety of reasons. However, I did fall in love with this park and plan to come back again when I'm in better shape! 
If you're in good hiking shape consider adding Lassen Peak Trail, Cinder Cone, or Brokeoff Mountain to your Lassen hiking bucket list.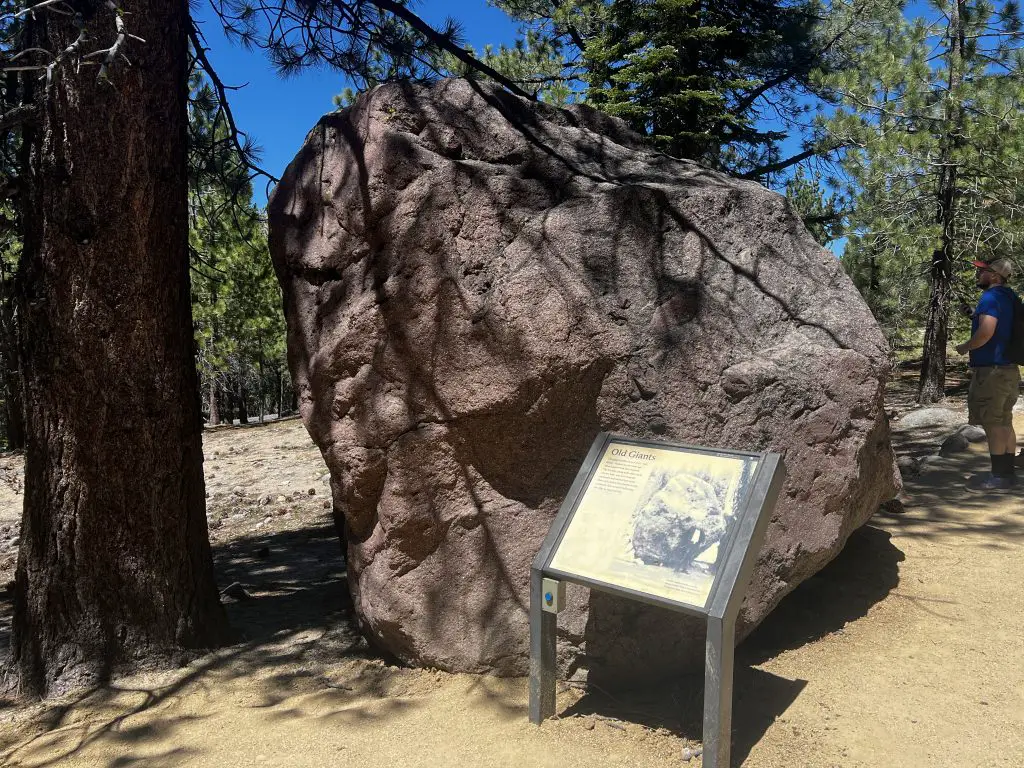 Go Swimming in One of the Lakes in Lassen National Park
One of the best things about the lakes in Lassen National Park is that you can go swimming in any of them! Anytime you need to cool off there is likely a lake nearby to hop into. Many offer picnic tables as well and if they don't you can spread a picnic blanket out. Just be sure to do this on hard areas and not on grassy areas or wildflowers. 
Manzanita Lake
Manzanita Lake is a large lake on the northwest corner of the park here you can swim, rent paddleboards or kayaks from the camper store, or go fishing from the banks of the lake.
It's one of the warmer lakes in Lassen, so it's a great option for an afternoon swim. Don't forget to hike the lake trail for views of Lassen's Peak reflecting in the water.
There is day use parking available next to Manzanita campground.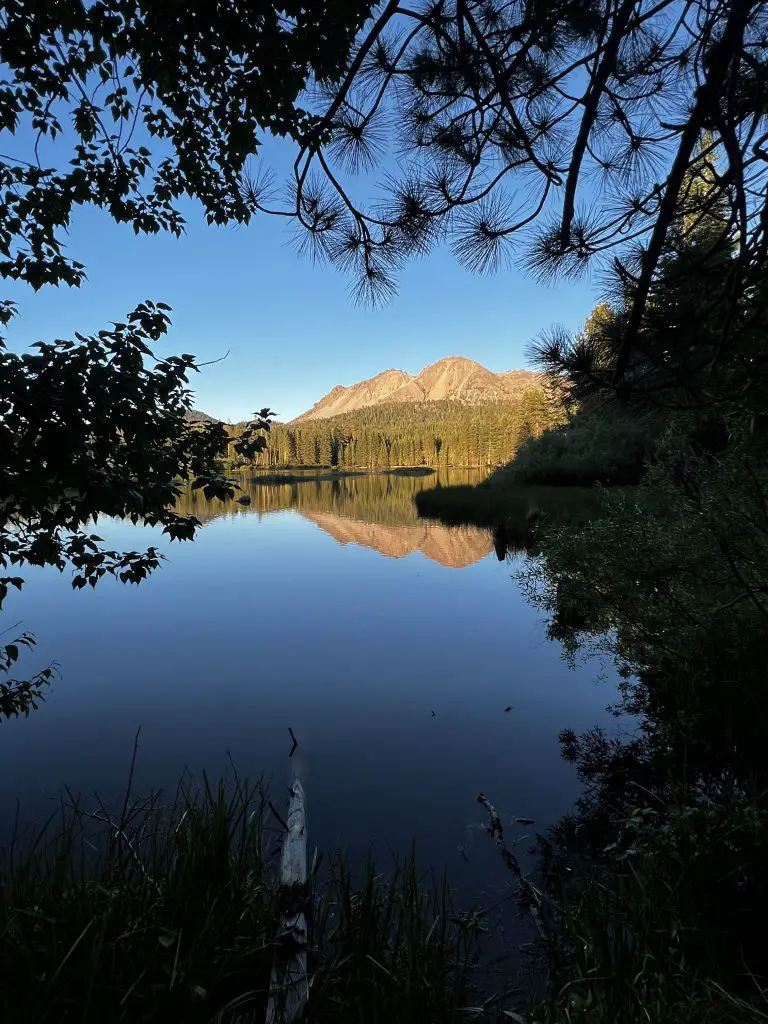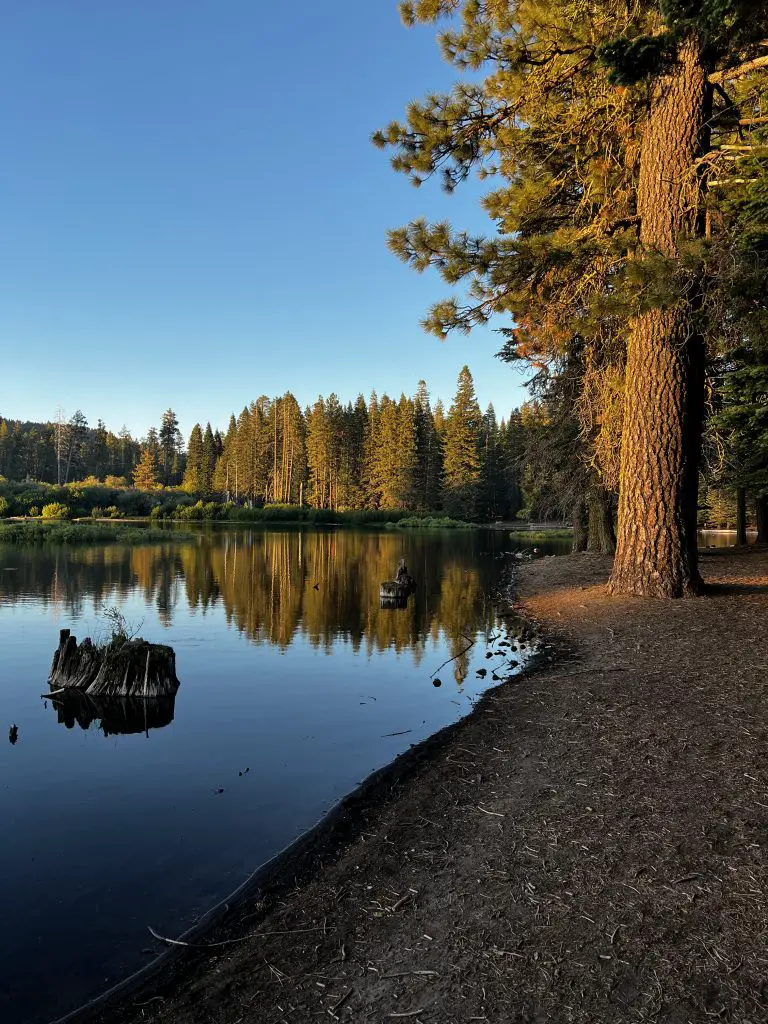 Lake Helen
Lake Helen is simply stunning. It sits at the base of Mt. Lassen and is deep blue in color. While you can swim here, it's definitely quite chilly and can hold ice well into the summer! Also, be advised, no inflatables or kayaks are allowed here.
Parking is limited here. If you can't find a spot in one of the highway's pull outs, try Bumpass Hell trailhead parking lot. It's a short walk away. You can actually see the lake on the Bumpass Hell trail.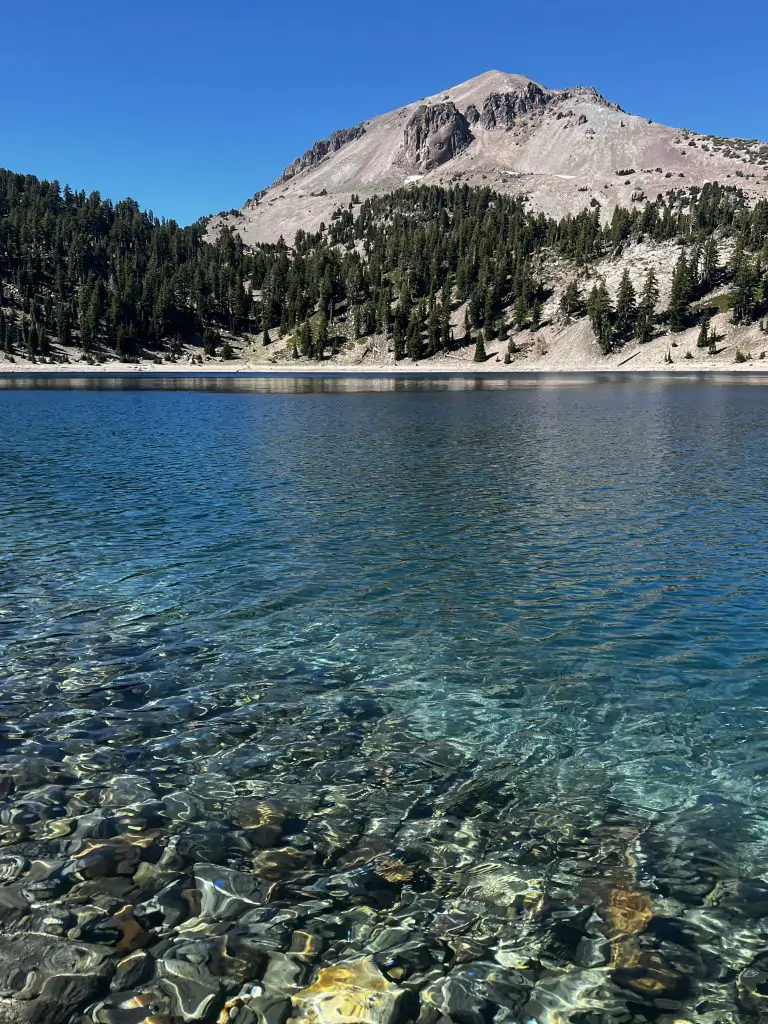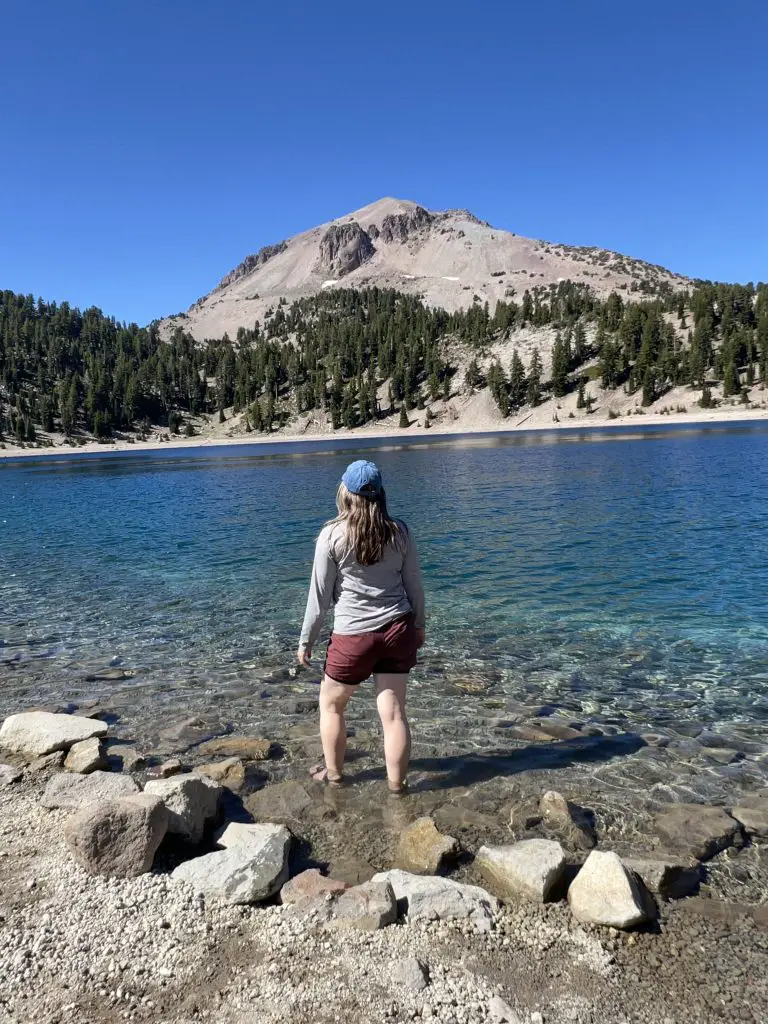 Emerald Lake
Emerald Lake is the first lake you'll see if you're entering from the southwest entrance. While small, it's quite beautiful. It is greener in color due to the vegetation that grows in the water. Although trout used to be placed here, there are currently no fish in the lake as trout was an invasive species. 
There's some space on the road to pull over to park.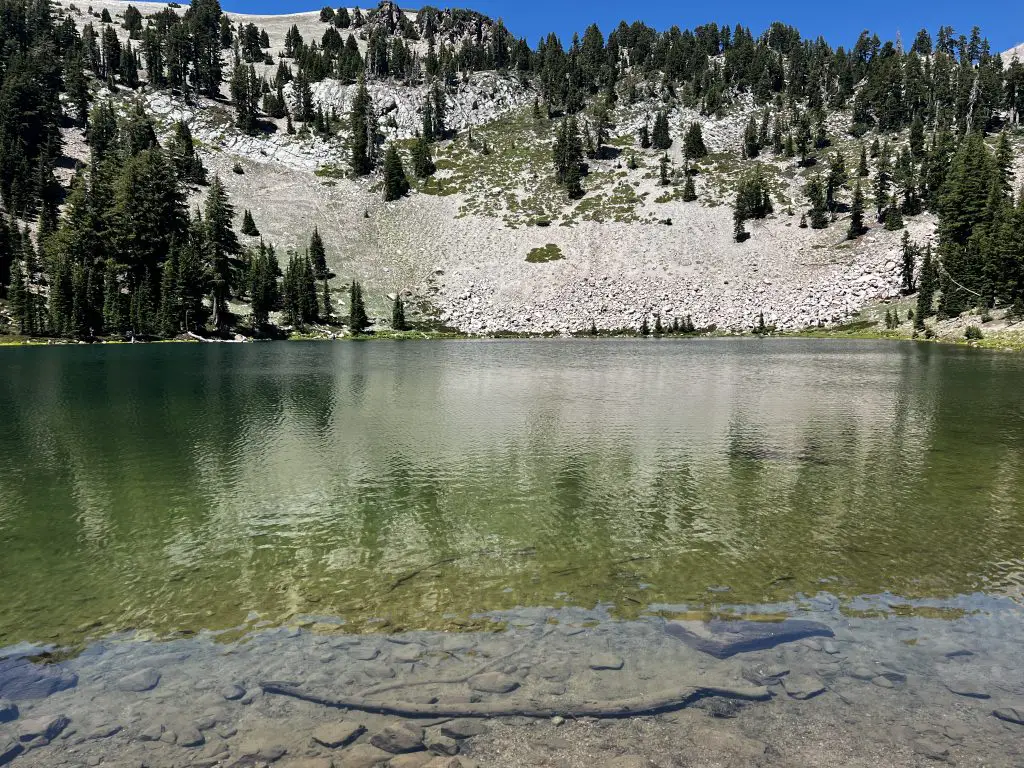 Visit the Loomis Museum
The Loomis Museum offers a great history lesson on the park. It was built by Benjamin Franklin Loomis, a photographer who lived here to showcase his photography. Including the photos of the 1915 Lassen eruption, which you can see on exhibit.
The museum also displays information about the Native Americans that called, and some still call, Lassen National Park home.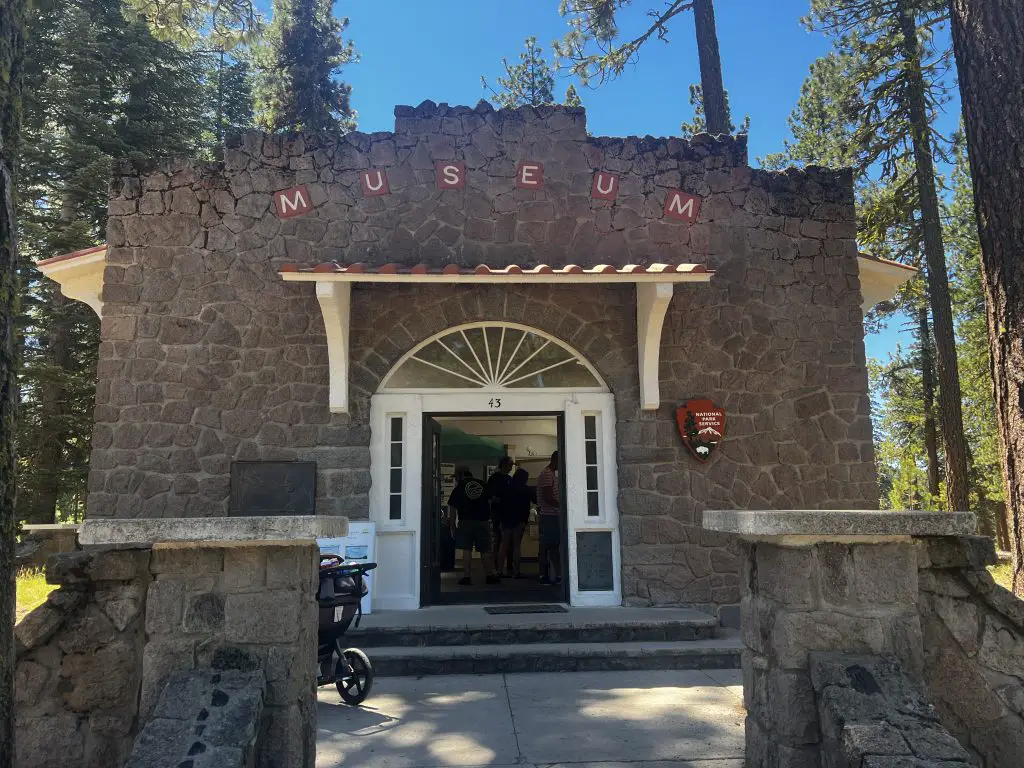 Where to Stay at Lassen National Park
The only accommodations in Lassen National park are campgrounds and Drakesbad Guest Ranch.
Drakesbad Guest Ranch is a rustic lodge located in Warner Valley with 19 traditional lodge and cabin units, a dining hall (with home cooked meals), and pool. Lodging is currently closed for the 2022 season due to the Dixie Fire of 2021, but check this website to keep up to date on when it reopens and pricing. 
Lassen National Park Camping
If you want to stay in the park and enjoy the glorious starry night skies, consider camping. There are a number of campgrounds in Lassen to choose from including:
Manzanita Lake Campground: The most popular campground set next to the beautiful Manzanita Lake. It's great for RVs, has the Manzanita Lake Camper store for supplies, flush toilets, showers, laundry, and a water bottle fountain! You can rent kayaks or paddle boards to get on the lake here as well! Besides tent or RV camping, there are camping cabins available for reservations.
Butte Lake Campground: This is a remote campground 45 minutes from Manzanita Lake with limited amenities. Vault toilets and potable water are available.
Summit Lake Campground: Comprising Summit Lake North and South campgrounds this campground is located somewhat in between Manzanita Lake and the Southwest entrance of the park. This location makes it a great option as your close to some fog be best things to do in Lassen. If possible, snag a campsite in the north campground as swimming is better from there. 
Juniper Lake Campground: (currently closed due to Dixie Fire)
Southwest Walk-In Campground: (currently closed due to Dixie Fire)
There is no dispersed camping allowed in Lassen National Park. If you want to find additional campsites, look into Lassen National Forest.
Most of the campsites require reservations that must be made through recreation.gov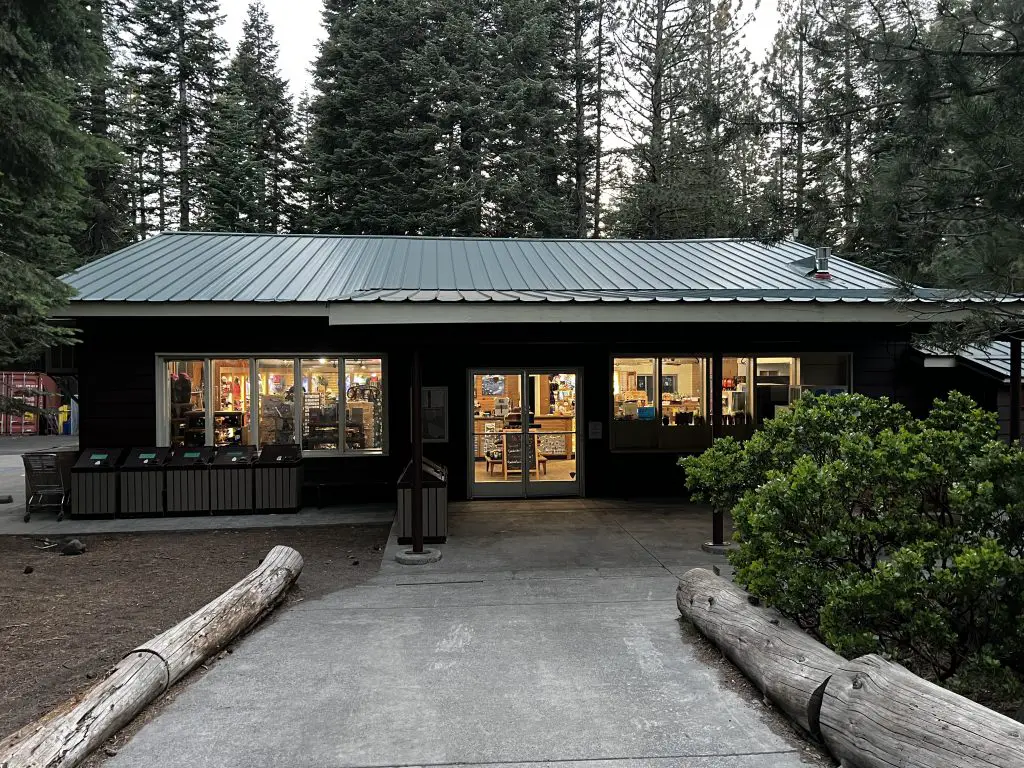 Where to Stay Near Lassen National Park
Planning to explore more of this beautiful part of Northern California and not a huge fan of camping. There are a few nearby towns with traditional accommodation like Redding, Susanville, and Red Bluff. 
Redding
I recommend staying in Redding as there are more options and easy access to other beautiful places in this area, like Mt. Shasta and Burney Falls. Redding is located about an hour's drive from the Manzanita Lake Entrance. 
The Sheraton at the Sundial Bridge has excellent reviews, is pet friendly, has an on site restaurant and bar, and a pool! 
Check availability and prices here.
The Americana Modern Motel also is highly recommended and looks like an upscale American motel. Kind of like Schitt's Creek – but using the sheets from David's bed.
Check prices and availability here.
Home2Suites by Hilton is another solid option for a brand name hotel at a fair price. It also just recently opened so it'll be fresh for your stay!
Check prices and availability here.
Like this post? Share it to Pinterest!