As a Northern California girl through and through, when I think about Southern California I picture San Diego. A chilled out beach city with palm trees, good food and beautiful beaches. Over the last few years I've had the opportunity to spend quite a bit of time in San Diego thanks to work and having a good friend who lives here. In that time, I've really fallen in love with the hippie little neighborhood of Ocean Beach. I love the quirky stores, the coffee shops, and of course the beach. In this post, I share with you my favorite things to do in Ocean Beach, San Diego that should be on your San Diego itinerary.
This post contains affiliate links, which means that, at no additional cost to you, I will earn a tiny bit of income if you decide to make a purchase or booking. For more, check out my disclosure. 
solo female Travel Resources
How Much Time Should You Spend in Ocean Beach
Once my Uber driver on my most recent trip down to Ocean Beach learned I was from San Francisco, he said Ocean Beach is a lot like the Haight-Ashbury in San Francisco. So if you love quirky shops, a hippie atmosphere, and street art, you definitely enjoy Ocean Beach. I suggest  spending anywhere from half a day to a full day exploring this charming corner of this gorgeous West Coast city. 
You could easily combine a morning in Ocean Beach with an afternoon in Pacific Beach or La Jolla. 
Where is Ocean Beach Located
Ocean Beach is located northwest of the San Diego airport, sandwiched between Mission Beach and Point Loma. 
The main street where you'll find most of the shops, breweries, and restaurants is Newport Avenue. 
However, I realized too late that there is another street, Voltaire. In the Uber on my way back to my hotel, we drove down Voltaire and I realized this street also has great boutiques and restaurants. Probably even better shops and restaurants to be honest as it seemed to have more of a local vibe to it. I will be checking this area of OB out on my next trip, for sure!
How to Get to Ocean Beach
The best way to get around San Diego, in general, is by car. There are parking lots and street parking available. It may be difficult to find on the weekends, so patience is key. I use Discover Cars to rent cars if you're looking for a solid rental car source.
If you're not renting a car, Uber/Lyft are readily available throughout the city. It's the most time efficient way to get there without your own car, but also the most expensive.
Alternatively, there are two bus routes that service Ocean Beach. Line route 923 comes from downtown San Diego and the airport to Ocean Beach. Line route 35 runs between Ocean Beach and Old Town. Both have stops at Cable St. and Newport Ave.
Things to Do in Ocean Beach San Diego
If you're ready for a neighborhood with an eccentric vibe, good food, and kind people, let's explore the best things to do in Ocean Beach.
Hit the Beach
First things first, hit the beach! At the foot of Newport Avenue leads directly to the beach where you can do as many water sports as you please. There are multiple surf shops in the neighborhood if you need to rent equipment. Or if you just want to relax on a sunny day (there are plenty of those in San Diego) then the beach is the place to be.
If you've got a furry four-legged friend with you, head to Dog Beach on the north end of Ocean Beach. Here is the original dog beach in the United States where dogs can play off leash. Even if you don't have a dog, it's fun to watch them run around and play in the Pacific Ocean!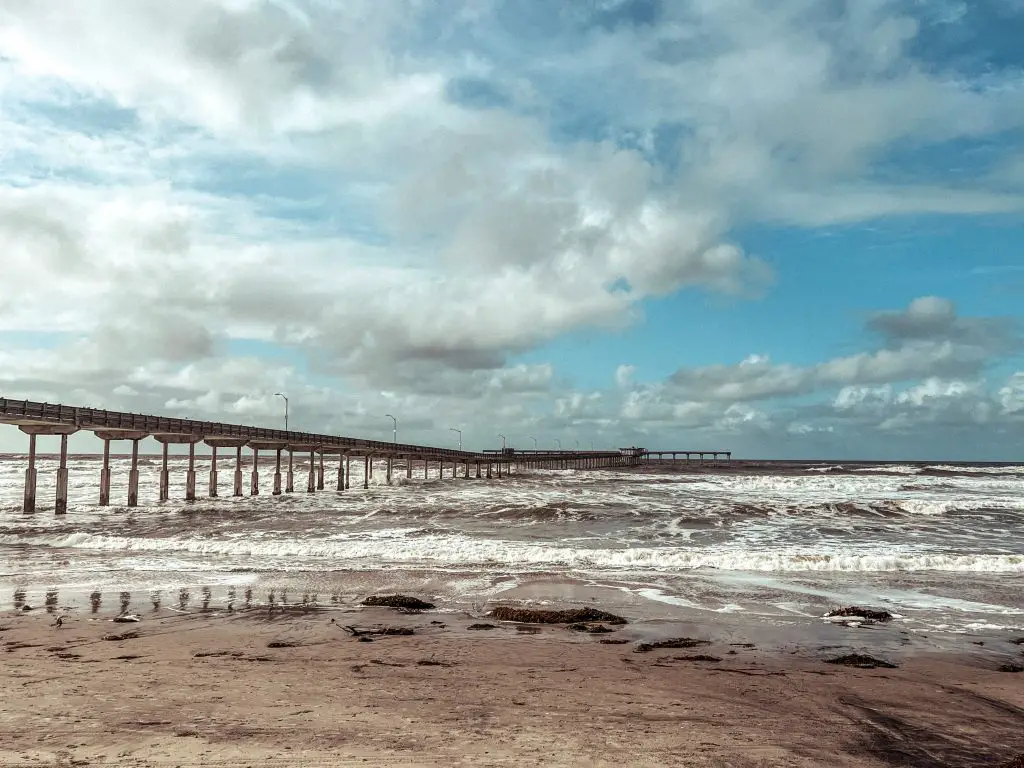 Check Out Ocean Beach Municipal Pier
You really can't miss Ocean Beach Pier, as it's supposedly the longest concrete pier in the world! OB Pier is popular amongst fishermen as no fishing license is required to fish off of the pier. If you're not a fisherman, no worries. Take a stroll to the cafe at the end of the pier, Walking on Water Cafe. They are open from 8:00am-8:00pm and serve a wide variety of food. 
The pier would be a great place to watch the sunset – whether you're just enjoying the view from the pier or eating in the cafe.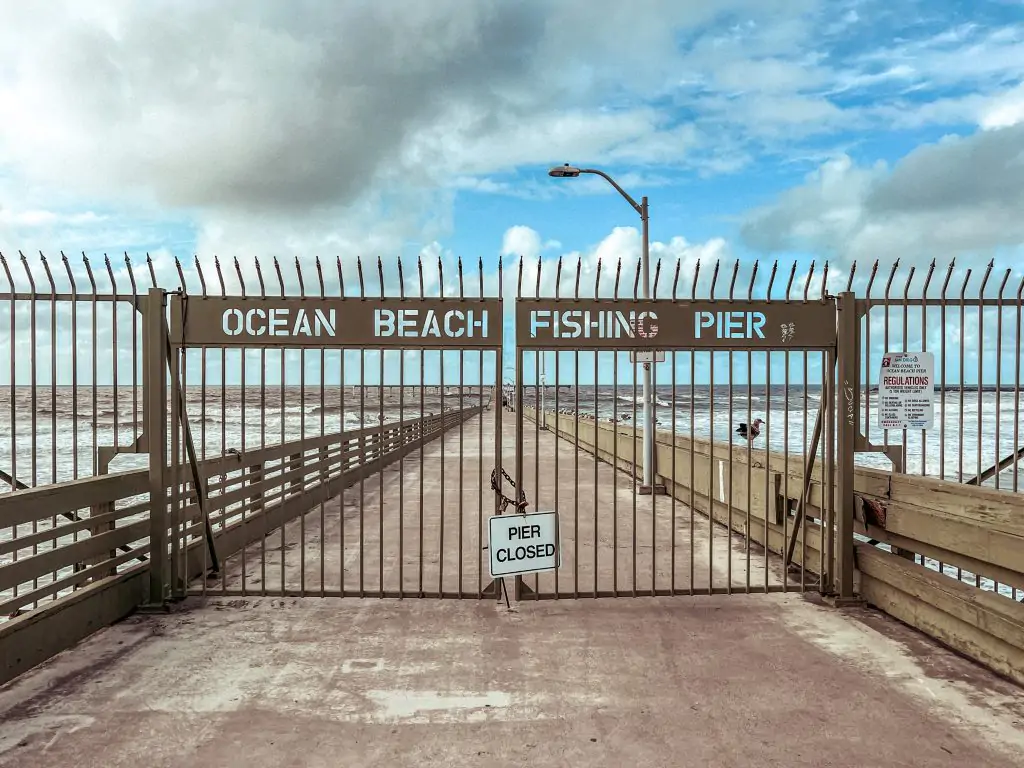 Explore the Ocean Beach Tide Pools
Just below and south of the Ocean Beach Pier are tide pools that can be explored at low tide. Each time I've visited, I've missed low tide, but it would definitely be fun to spend some time looking for hermit crabs and other marine life.
Enjoy the Street Art
A local artist started the OB Mural Project in 1999 as a way to bring beauty and  build community pride in the neighborhood. Since then, the walls of businesses have been decorated with a variety of street art and murals. You'll see underwater scenes, old cars, and of course Jimi Hendrix (a nod to the neighborhood's hippie past).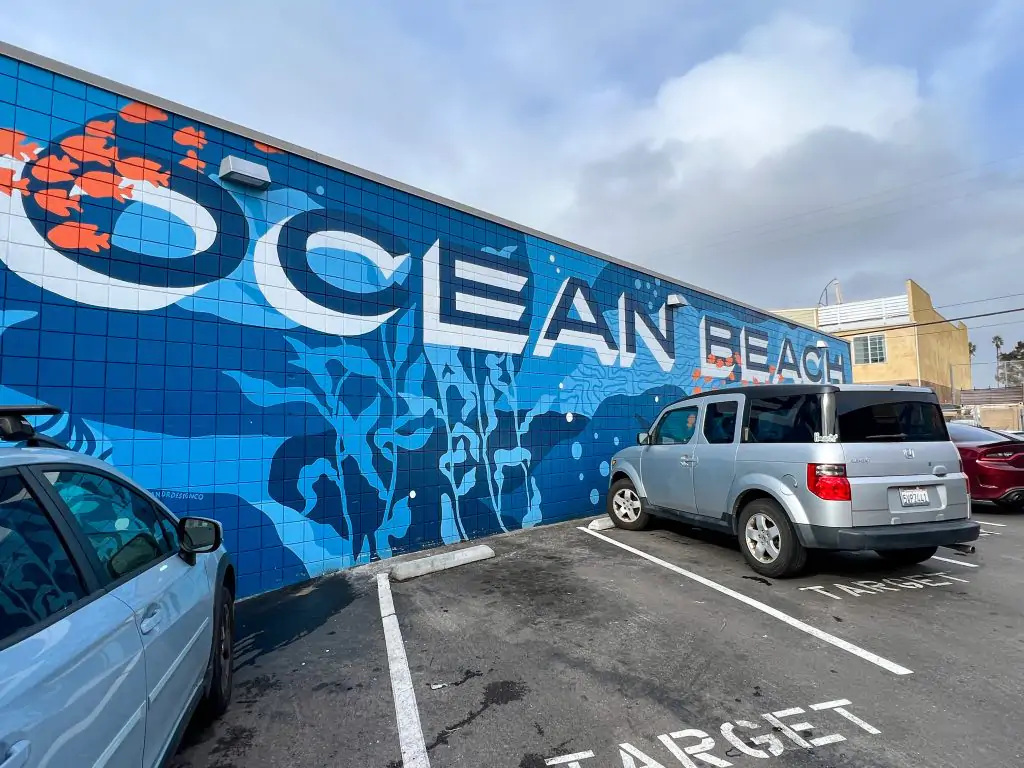 Shop in the Quirky Shops
While there may be a small Target on Newport Ave now, most of the businesses are locally owned small businesses. You'll find surf shops, thrift and antique stores, clothing boutiques, and cute plant stores. I love popping into Vignette's antique store and the grocery store. I may be weird, but I love a local grocery store and Krisp fits the bill.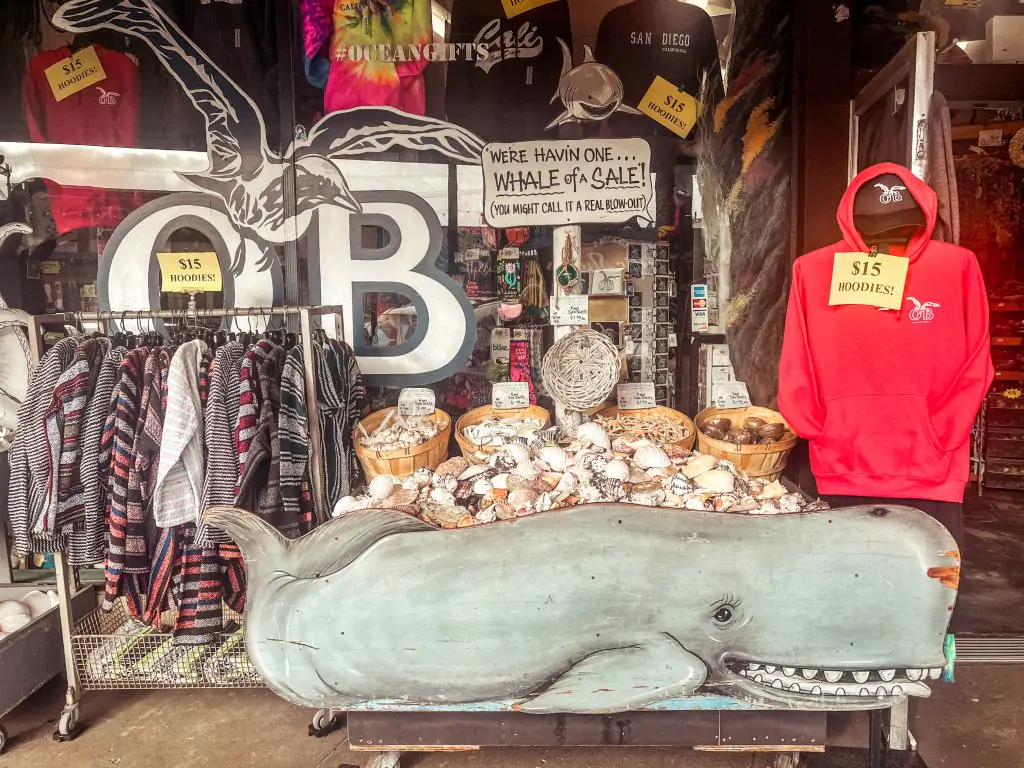 Chill in a Coffee Shop
There are a number of great coffee shops in this area of San Diego. If you're new to this blog, you should know that I don't drink coffee, but I love matcha lattes. Each city I go to, I always try to find my favorite matcha latte and share them with you, because they're too expensive to not get a good drink!
OB Beans Coffee Roaster
OB Beans Coffee Roaster is a large coffee shop with ample seating with warehouse vibes. And the matcha is 10/10. I've been to this cafe multiple times and each times, the matcha latte is thick and creamy and you can actually taste the matcha flavor. They also have really good matcha and strong wifi if you need a place to work for a bit or catch up on social media.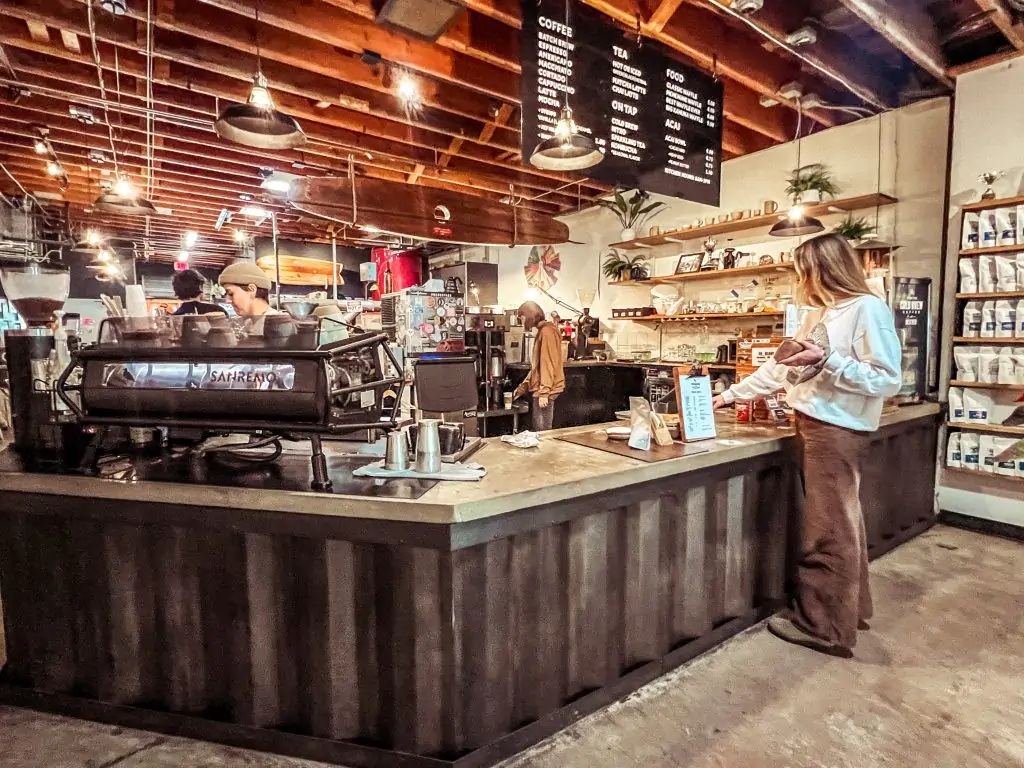 The Template
The Template is a quirky cafe that has live music, open mic nights and other events. It's located just up the street from the pier, so it's a great place to stop either before or after your stroll. I recommend getting their matcha rose latte. It's a unique, and tasty, twist, on the traditional matcha latte.
There are definitely other coffee shops to try in the area like OB Java where you can enjoy your drink in a garden.
Ocean Beach Farmers Market
If you happen to be in the OB neighborhood on a Wednesday afternoon, stop by the Farmer's Market between Cable St. and Bacon St. from 4:00-8:00 pm. They'll of course have  fresh produce and fresh fruit  as well as local artists and their crafts.
Catch the Sunset at Sunset Cliffs Natural Park
While anywhere along the coast in San Diego is a great sunset spot, Sunset Cliffs gets its name for a reason. These dramatic cliffs drop into the waves below and are a perfect place to chase the sunset. You could hang out in the park of course, but anywhere along Sunset Cliffs Boulevard will result in gorgeous views.
There are also rock formations, sea stacks, caves, and beaches along the way. I recommend parking in either Sunset Cliffs Natural Park or Sunset Cliffs Parking Lot and walking along the coastal trail. Just take caution, especially after intense rainstorms, as the area can become unstable.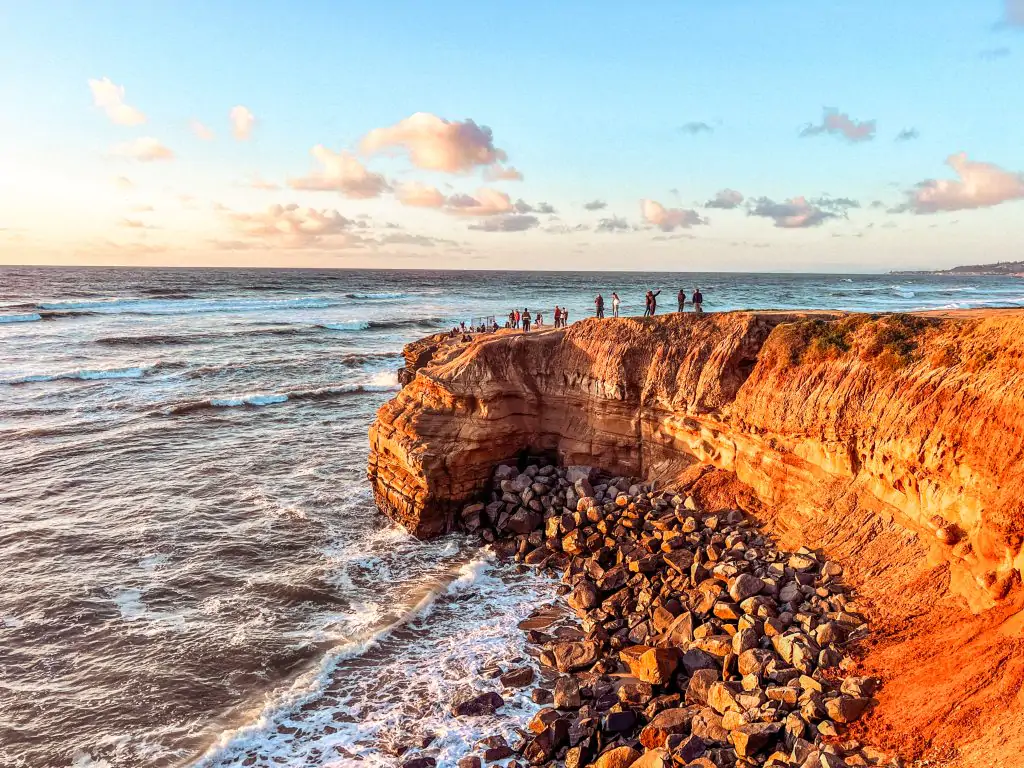 While this is a very popular sunset spot, there are so many places to view the sunset you won't feel like it's super crowded. Simply walk until you find a relaxed area and enjoy!
You can walk to sunset cliffs from the main area of Ocean Beach. It will be about a 45 minute walk, one-way. If you don't have a car, I recommend getting a ride to Sunset Cliffs Natural Park and walking back to Ocean Beach as the sun sets. This is what I did and it was the highlight of my most recent trip.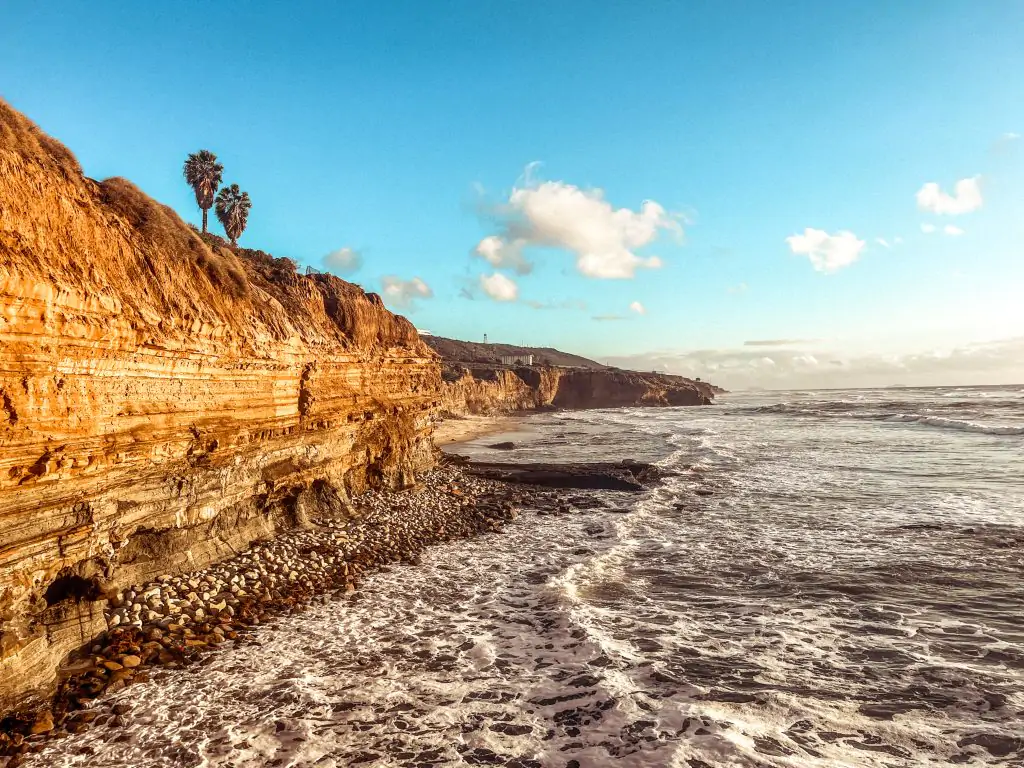 Where to Eat in Ocean Beach
While Little Italy seems to get the most attention for where to eat when in San Diego, I've honestly enjoyed my meals in Ocean Beach much more. I find their a bit less expensive and way more delicious! 
Breakfast Republic
The Breakfast Republic is a popular local breakfast chain. There are multiple locations throughout San Diego and I finally ate at the one in Ocean Beach. As I've come to expect with restaurants in San Diego, the interior is incredibly well done with motivational quotes throughout the restaurant, the exterior of a van as the entrance to the kitchen, and a solid bar.
I chose to eat at a high top overlooking Newport Ave, which allowed me to people-watch, one of my favorite things to do when eating solo. There was no wait when I went, but it was later in the afternoon and a holiday. Perhaps I missed the rush!
Anyway, I had an eggs benedict and upgraded the potatoes to include brussel sprouts and bacon. I don't care what you get for your main, but 100% get the potatoes upgraded. I'll be dreaming about those potatoes for a long time.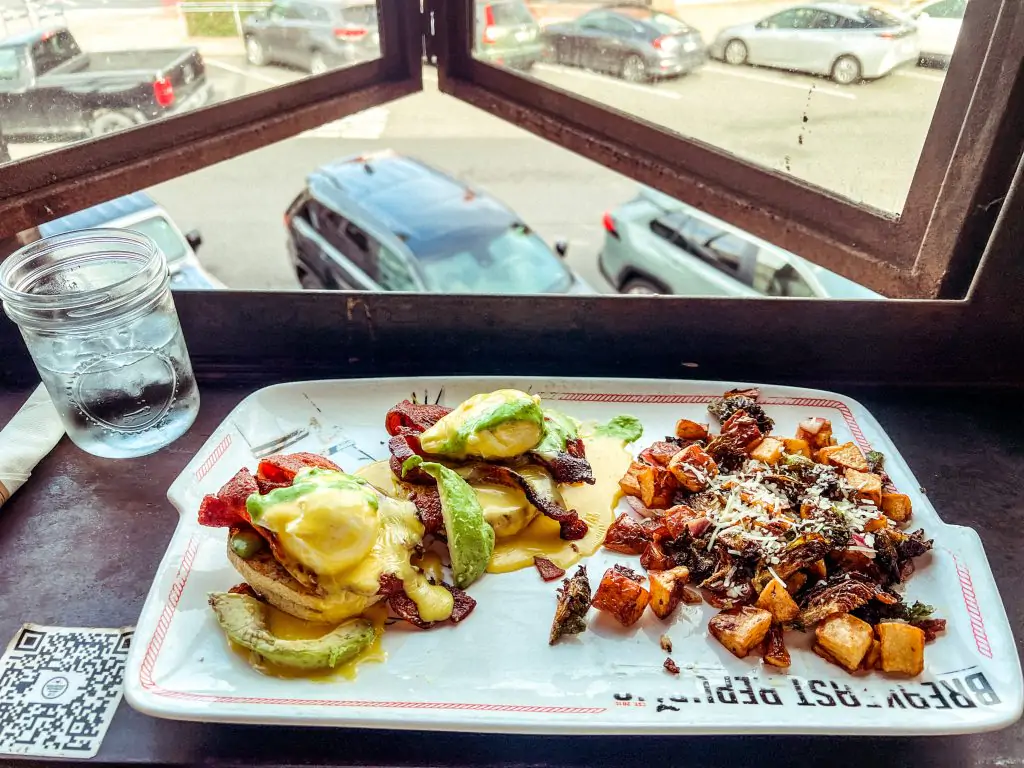 OB Noodle House
OB Noodle House is an incredibly popular spot for Asian fusion cuisine. When I was in town for a friend's wedding, I went to OB Noodle House and waited for about 30 minutes while stalking the bar for a seat to open. Eventually a seat at the bar opened up and I had the house fried rice which was so delicious. 
If you like Whiskey, you should try Screwball Whiskey while you're here. It's a peanut butter whiskey that has taken over the country, but was created at OB Noodle House. It sounds weird, I know, so if you're hesitant ask the bartender to make a cocktail with it.
It's Raw Poke Shop
I love stumbling upon places, like the It's Raw Poke Shop. This tiny spot is a Poke and Hawaiian food spot. You can choose from a variety of ahi tuna for your Poke bowl or try a traditional Hawaiian lunch plate. I got the poke bowl and it hit the spot. Plus, it's reasonably priced!
Mike's Taco Club
I pride myself on being honest and transparent in my blog posts. I went to Mike's Taco Club because all of the other blogs I read said it was a must eat. I also checked out the reviews and Yelp reviewers claimed they had the best fish tacos there.
So after sunset at the cliffs, I was hungry and had two places left on my "places to eat in OB" list; Mike's Taco Club and Hodad's. As it was a Tuesday, I felt like the most appropriate decision was tacos.
To be honest, these are the least memorable fish tacos I've ever had. I had both the battered and the fresh fish (salmon) and there was so much cabbage on the taco I couldn't even taste the fish! I noticed many people around me were eating Carne Asada Fries so maybe that's a better option? I don't know. But, it only cost $10 for the tacos and they came with avocado on them, so there were some redeeming qualities.
Where to Stay in Ocean Beach
My all time favorite hotel I've ever stayed in is the Carte Hotel by Hilton in Little Italy. The amenities of this hotel are top tier, there is a great rooftop restaurant for sunset, and the gym is out of this world. Plus the pool has cabanas and a fire pit. Honestly, I love staying here when I'm in San Diego. If it fits your budget, this is where I recommend you stay in San Diego.
Check rates + availability for Carte by Hilton here.
That being said, there are great accommodation options in Ocean Beach. While there aren't name brand hotel options in Ocean Beach, there are plenty nearby in Point Loma and Liberty Station. Both of which are just a short drive away from Ocean Beach.
Samesun Ocean Beach
If you're looking for a budget friendly option and don't mind sharing a room, the Samesun Ocean Beach Hostel is a solid choice. As a solo traveler, I love staying in hostels because it's a great way to meet new people. I stayed here for a night before a wedding and found it to be incredibly clean, safe, and fun. Plus it's located right in the heart of Ocean Beach. You can't go wrong.
Check rates + availability for Samesun Ocean Beach here.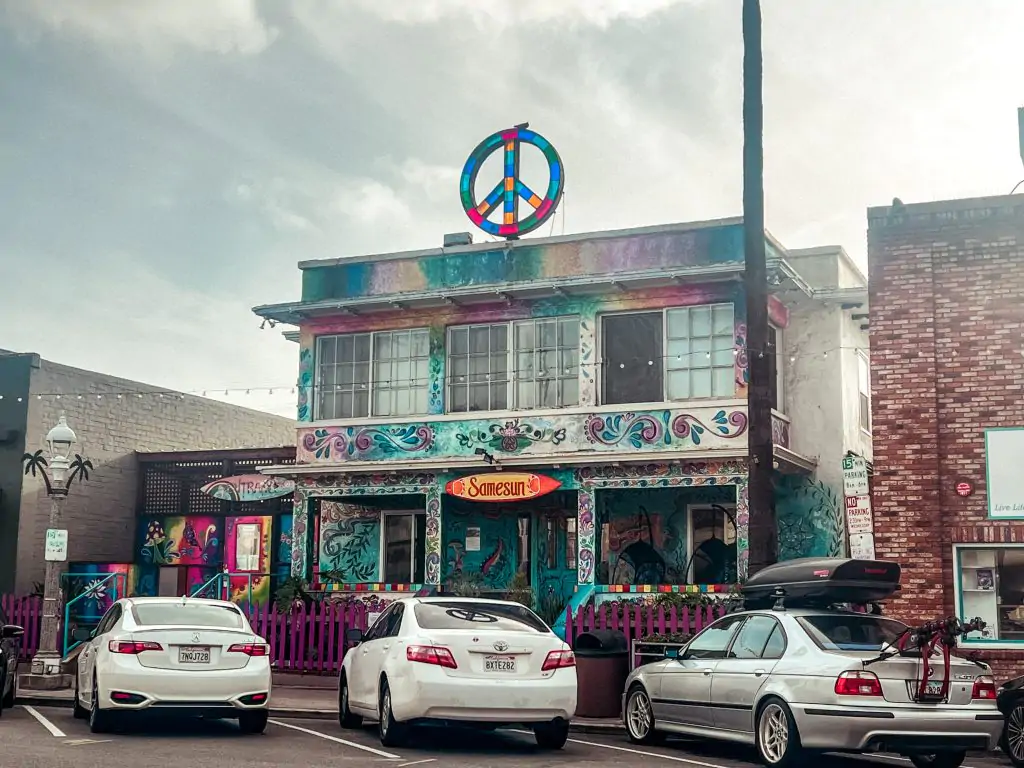 The Inn at Sunset Cliffs
Looking for an oceanfront hotel with awesome views, a private patio overlooking the Pacific Ocean, and a pool? Consider staying at The Inn at Sunset Cliffs. The rooms have an appropriately beachy vibe and it's just a short walk to the bars and restaurants in OB.
Check rates + availability for Sunset Cliffs Inn here.
Ocean Beach Hotel
Another beachfront hotel right in the center of Ocean Beach is the aptly named, Ocean Beach Hotel. While not as well reviewed as Sunset Cliffs Inn, this is still a solid accommodation option.
Check rates + availability for Ocean Beach Hotel here.
Vacation Rentals in Ocean Beach
There are also a number of vacation rentals you can find on booking.com if you want to go that route.
Sunset Cliffs Casita: Super cute guesthouse 0.8 miles to Sunset Cliffs with great reviews
Cottage by the Sand: Bright vacation home near Dog Beach
The Ally: Super cute bedroom with a turquoise + pink aesthetic, perfect for a girls trip
I hope you have a great time exploring my favorite things to do in Ocean Beach, San Diego. I always encourage you to make your trip your own. Use this San Diego itinerary as a jumping off point to exploring Ocean Beach. If you find anything I should try on my next trip, let me know!