Pubs in Galway lie at the heart of this lively city on the west side of Ireland. The best pubs in Galway offer beautiful live music, whether it's traditional or Irish pub rock, are a gathering place to meet friends, and just enjoy some good Craic (fun!). As a solo traveler, I sometimes feel awkward walking into a bar by myself. But flying solo in Galway pubs isn't awkward at all. I feel immediately welcome by the bartenders and am likely chatting away with a local midway through my first pint all the while toe-tapping to the musicians playing in the corner.
Things I Love about Pubs in Galway
Traditional music played at many of them (usually starts around 9:30-10pm)

No TV in sight and some don't even have WiFi available (aka talk to people)

You'll likely find someone drinking coffee or tea just as much as a Guinness

The cozy little nooks and crannies perfect for book reading on a rainy day

They're filled with locals and tourists alike, intermingling, chatting and enjoying the craic!

A Guinness is €4.60 everywhere
Galway has no shortage of excellent pubs and each time I visit, I try to experience a different one. In fact, a DIY Galway pub crawl is one of my favorite things to do in Galway. This list comprises my favorite pubs in Galway, in no particular order, and serves as a great jumping off point for your visit to Galway City.
This post contains affiliate links, which means that, at no additional cost to you, I will earn a tiny bit of income if you decide to make a purchase or booking.
The Best Pubs in Galway
O'Connell's
Do you want a pint as soon as you step off of the bus? Then O'Connell's is for you. O'Connell's is located in Eyre Square, just a half block up from the bus station.
I would say that O'Connell's has a bit more of an edge to it than the others. The bartenders are super friendly and welcoming, but they will definitely give you a hard time if you ask for the WiFi password. So, if you're hoping for a side of Instagram scroll with your Guinness, this isn't the place. Just talk to people!
As a solo traveling introvert, that requires a little bit of social lubricant, and O'Connell's has an excellent selection of beers, whiskeys, and gins.What I love most about O'Connell's is that it has the best outdoor space of any of the other Galway pubs I visited.
Outside of the back door, there is a huge beer garden with picnic tables, two bars, and a vintage "Gin Lane" featuring old school storefronts for Guinness, Schweppes, and FAO Schwarz – to name a few. It's perfect for a sunny Galway day. Inside, O'Connells also features the nooks and crannies that I love about old Irish pubs.
Address: 8 Eyre Square, Galway, Ireland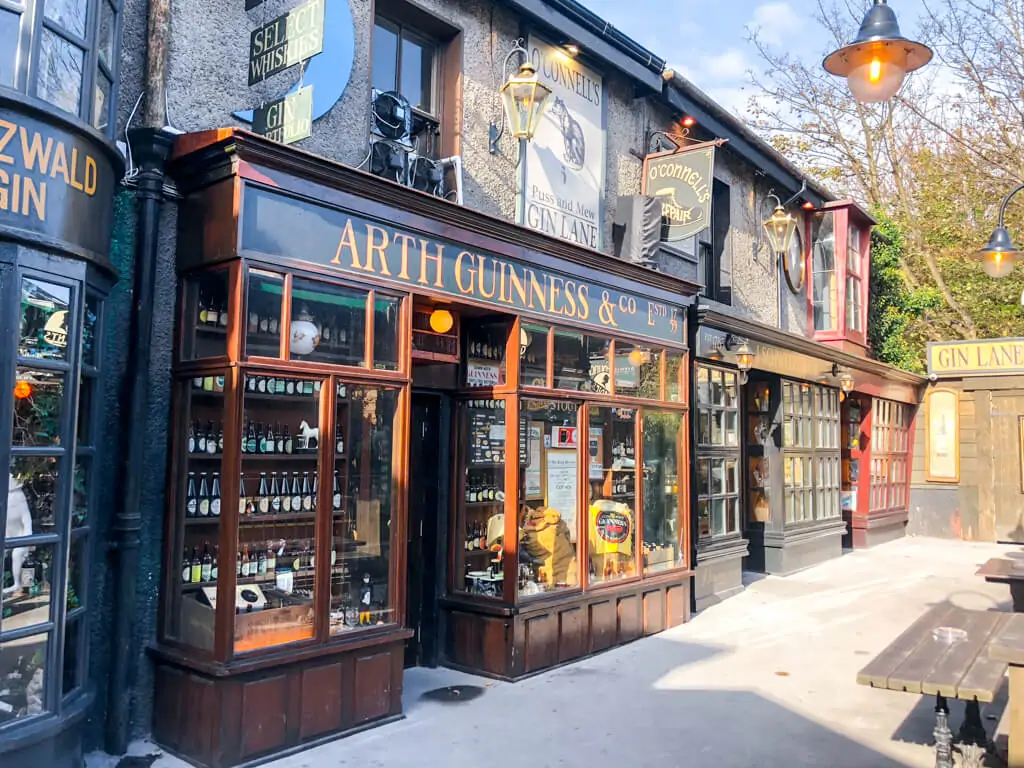 An Pucan
I'm amazed at some of these pubs and how there small pub fronts open up into large pubs with plenty of space for all.
An Pucan in particular surprised me as I've walked by its charming lime green front multiple times, but never really considered going in. Mostly because when I visit Galway I don't usually stay near Eyre Square, which is just down the street from An Pucan. However, this last trip I stayed directly across the street, so I finally walked through its doors and was immediately enveloped into the warmth and craic of a traditional Irish pub. 
The front room of An Pucan is exactly what you expect from an Irish pub, deep warm woods, a few cozy booths, and a nice large bar ready to serve. Here they serve food all day, every day. As you walk further back into the pub you'll discover a large space with a stage for their nightly live music and another bar. And for its party trick just behind the bar is a large beer garden with ample seating and, of course, another bar.
It was much too cold to enjoy beer garden on the night I went, but it would be perfect for a sunny Irish day!
I went to An Pucan on a Saturday night just as the live music was getting started (around 10:00 pm) and it was filled with large groups of friends enjoying their weekend as well as a few people on dates, which gave it a lively party atmosphere.
Address: 11 Forster Street, Galway, Ireland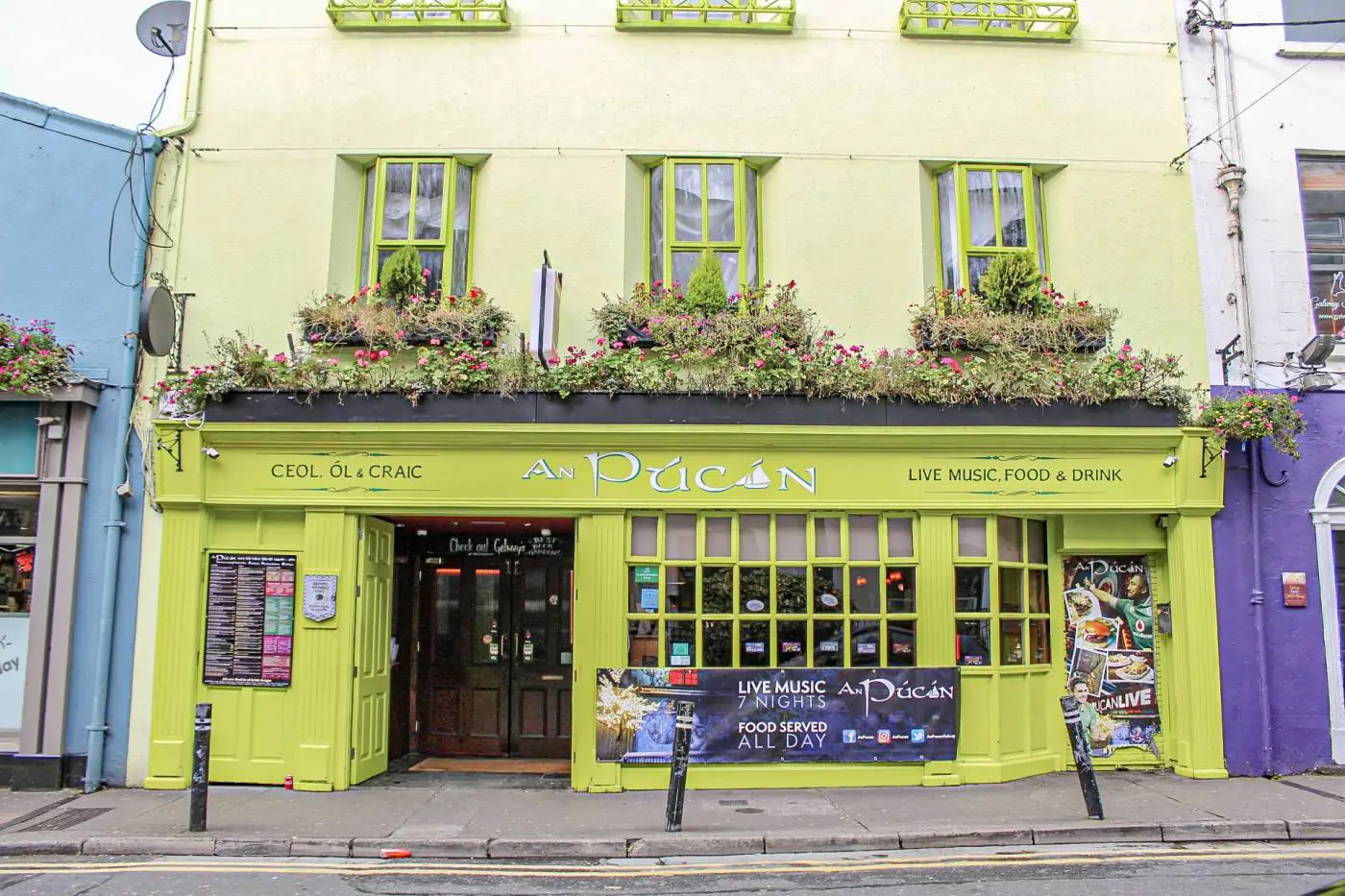 Tig Coili
On my first visit to Galway in 2015, I stayed at an adorable Airbnb with the best hosts ever (search for the Zen Den here and get a discount on your booking!).  They emphatically recommended that I visit Tig Coili for a traditional Irish music session.
This might have been when I fell in love with Galway.
It was a sunny Sunday afternoon and the pub was filled to the brim with people singing along to the musicians. When I returned to Galway in 2018, it was the first place I visited. I was immediately welcomed by the trad, a pint, and fun conversations with locals.
This is the type of pub where locals and tourists mingle together easily and you'll likely leave with a few new friends. It's located in an excellent location on Shop Street and you really can't miss its bright red front. On the weekends, there is music to be heard at 2:00 pm and 7:00 pm, but it's often going all day!
You'll know it by the piles of people spilling out of the front door. But don't worry, they'll make room for you!
Address: Mainguard St., Latin Quarter, Galway, Ireland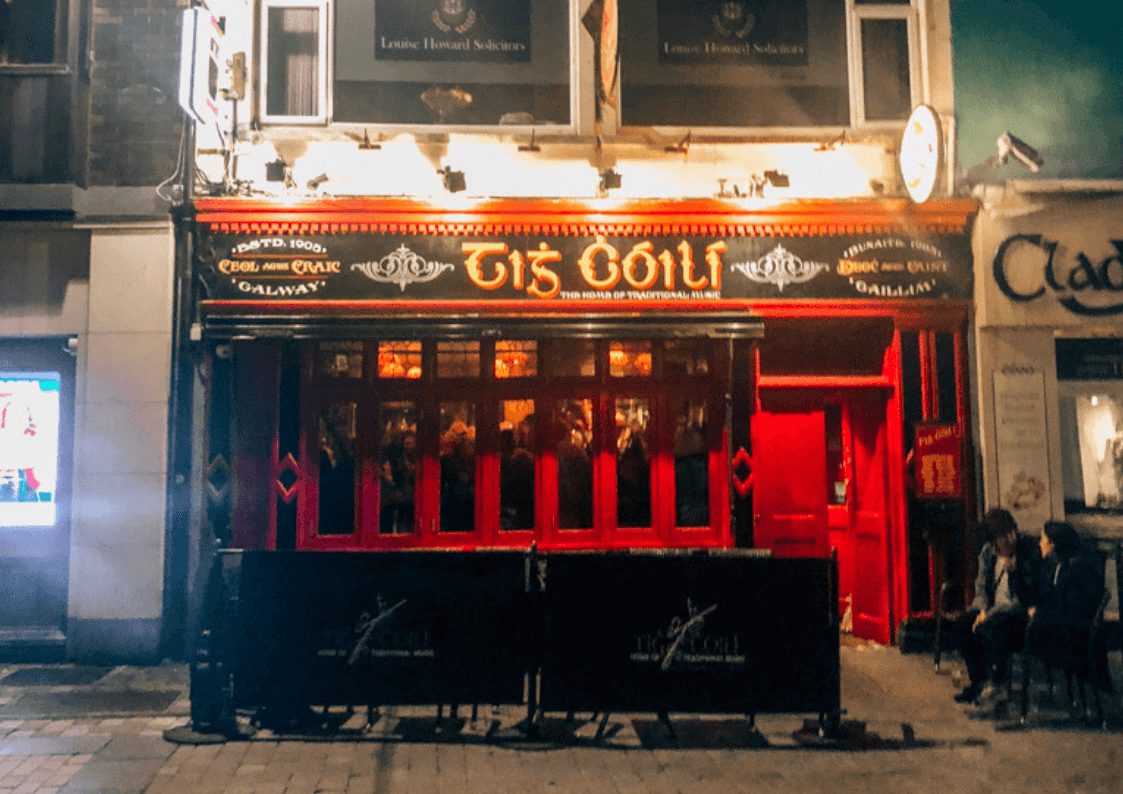 Taaffes
Just across the street from Tig Coili is Taafes. Taafes holds a special place in my heart because it's where I danced the night away on my 28th birthday. A friend I was with told the band it was my birthday. They played a song for me and gave me and my friend the dance floor!
On my second visit to Galway, I didn't go to Taafes, but on my most recent visit I did and I was reminded about why it's such a great pub in Galway. First of all, people are there to have a good time. Locals come with friends, tourists come to dance, and everyone sings along to the Irish pub rock together.
If you're looking for more of a party atmosphere and Irish pub rock instead of trad then Taafes is the place to be any night of the week for their live music. 
Address: 19 Shop Street, Galway, Ireland
Tigh Neachtain
For me, Tigh Neachtain is the coziest pub in Galway. The bright blue and yellow exterior beckons you inside where you'll find a beautiful wooden bar, those little nooks that are perfect for a book and a rainy day, and, of course, nice bartenders! If the luck of the Irish is shining down on you with some sun, then take your pint outside to one of the tables. Tigh Neachtain is in an excellent location on Shop Street for people watching and listening to the buskers play on the street.
Not only does Tigh Neachtain have an excellent selection of whiskey and beer, but they also have a wide array of teas to choose from if you're all Guinness'ed out. A bonus of this Galway pub is they serve food for a fair price! Lunch is served from 12:00 pm – 4:00 pm and dinner from 5:00 pm onwards.
 Address: 17 Cross Street, Galway, Ireland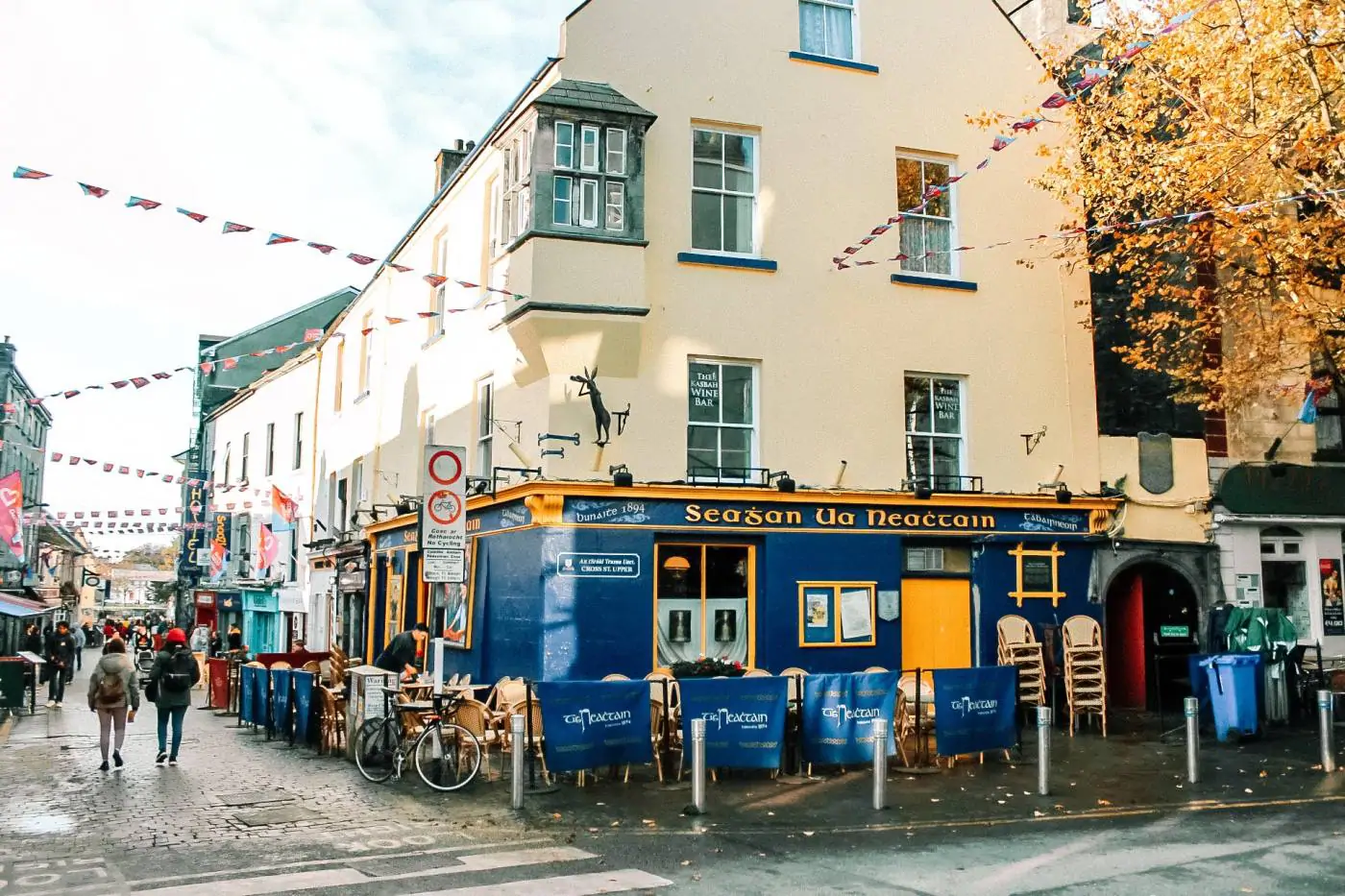 Monroe's
Occupying the majority of a corner on the west side of the river is can't miss Monroe's. This is a very large pub and a bit less cozy than the others on this list. It definitely has more of a sports bar feel because Monroe's serves food and will have a football match playing.
But if you want to listen to live music, Monroe's is the spot as every night of the week musicians play! I happened to visit on a Tuesday night and not only was there live music, but they also had Irish dancers performing!
In addition to their free music nightly, there is also a small concert venue.  Just next door, you can buy a ticket to see various bands perform. Check their website for more details on who might be performing while you're in town.
Address: 14 Dominick Street Upper, Galway, Ireland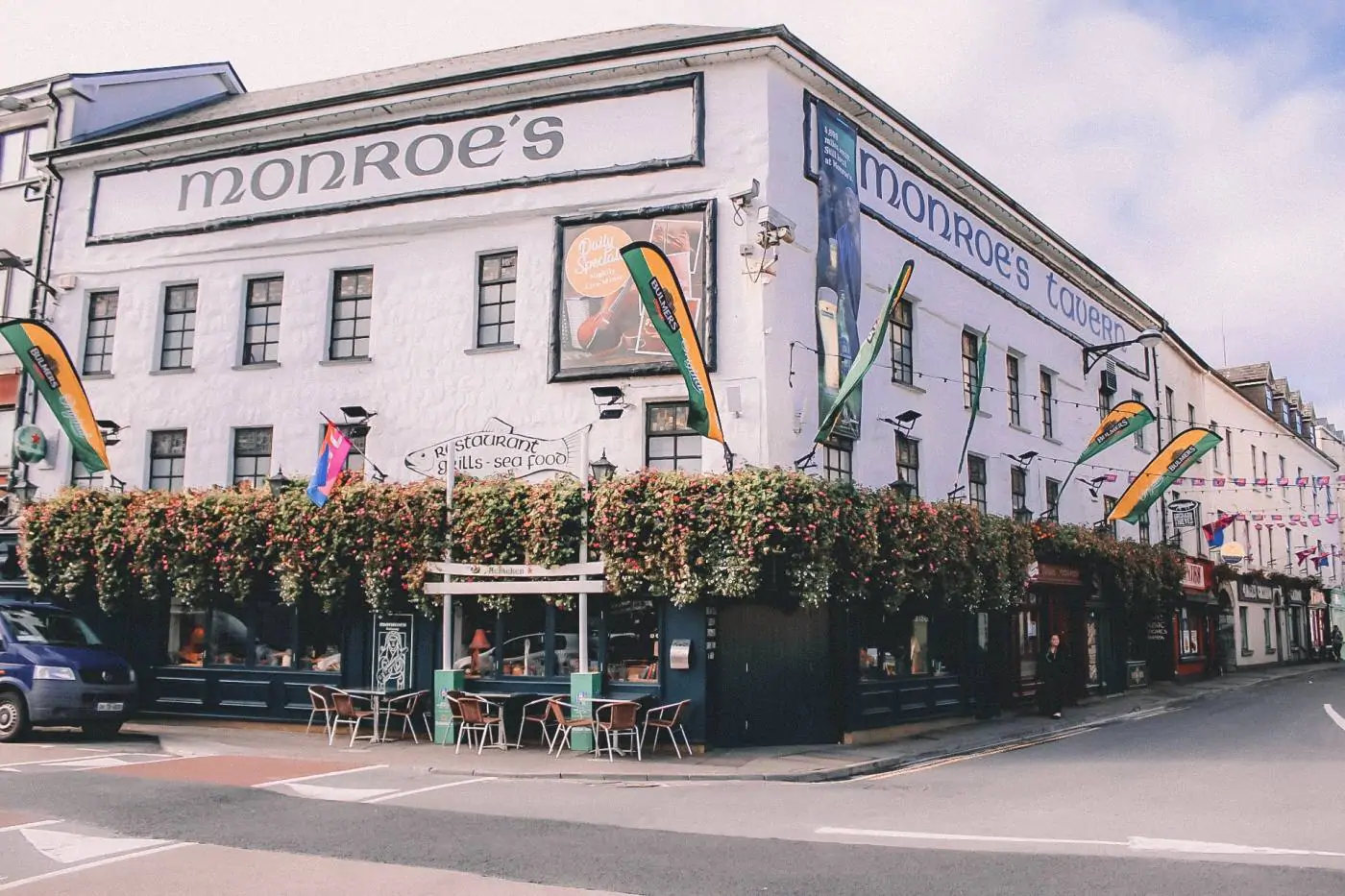 The Crane Bar
A local who I met at O'Connor's (the next one on this list) told me The Crane was his favorite pub, so I knew I had to check it out! It's just two blocks away from Monroe's and they have live trad 7 nights per week!
Music is played on the second floor and starts around 10:00 pm. Make sure to get there early to get yourself a pint and enjoy chatting with friends downstairs for a bit. The doors to the music upstairs don't open until just before the music starts and people will wait in line! 
So, if you want a seat, it's best to get there early, especially on a Friday or Saturday.
The Crane only accepts cash, but there is an ATM next to Monroe's.
Address: 2 Sea Road, Galway, Ireland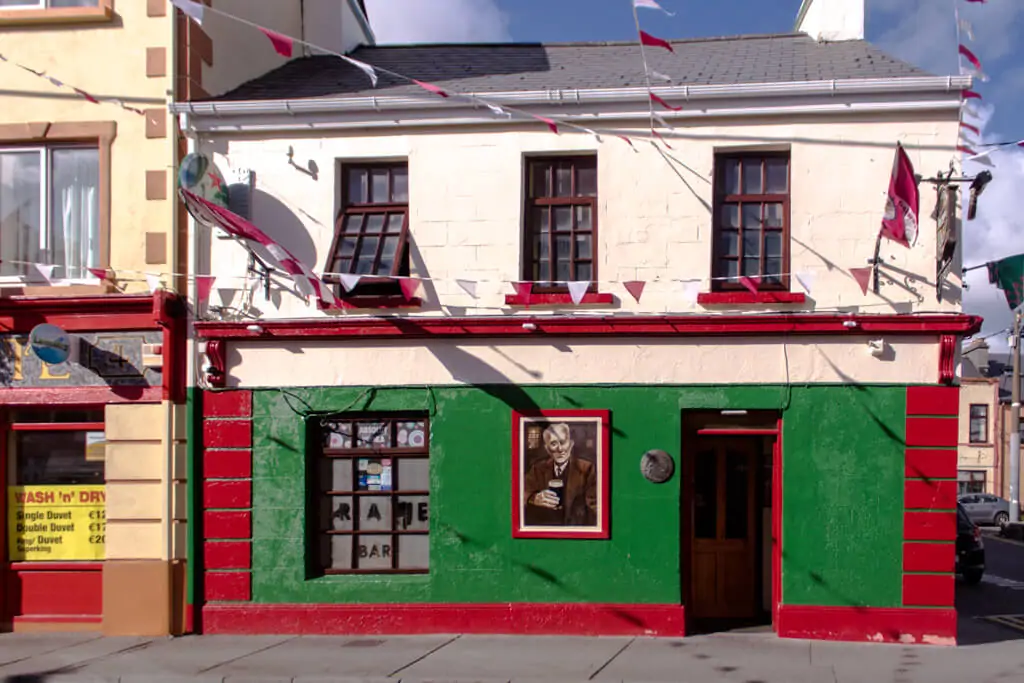 O'Connors
Located in Salt Hill, this pub has music playing every night of the week, starting at 10:00 pm. Doors to O'Connor's don't open until 7:30 pm. So perhaps after a lovely evening walk down Salthill prom pop in here on your way back to the city center.
You've likely seen O'Connors without even knowing it. How? Well, have you watched Ed Sheeran's music video for Galway Girl? It features O'Connors and the fiddle he played in the video is located behind the bar!
O'Connors is special for many reasons. It's been owned by the same family for 4 generations and you'll find a roaring fire welcoming you. From your warm spot by the fire, you can check out the interesting collection of decor hanging from the ceiling. And check out the sawdust on the ground. It truly feels like you're stepping into the living room of someone with excellent music choice.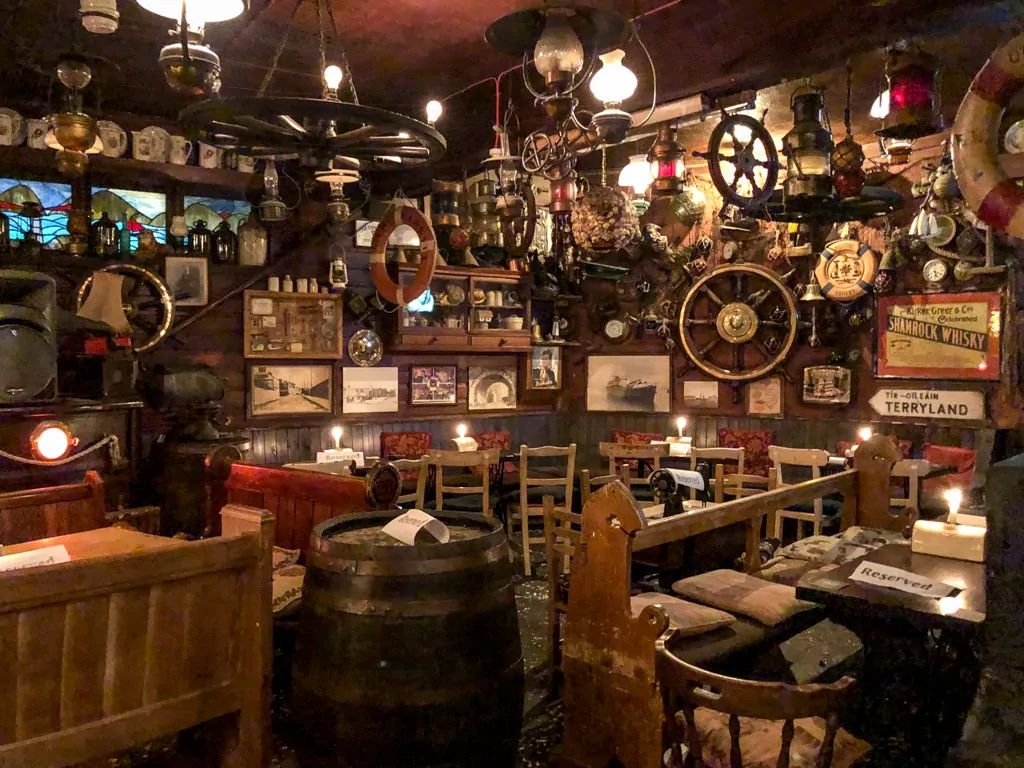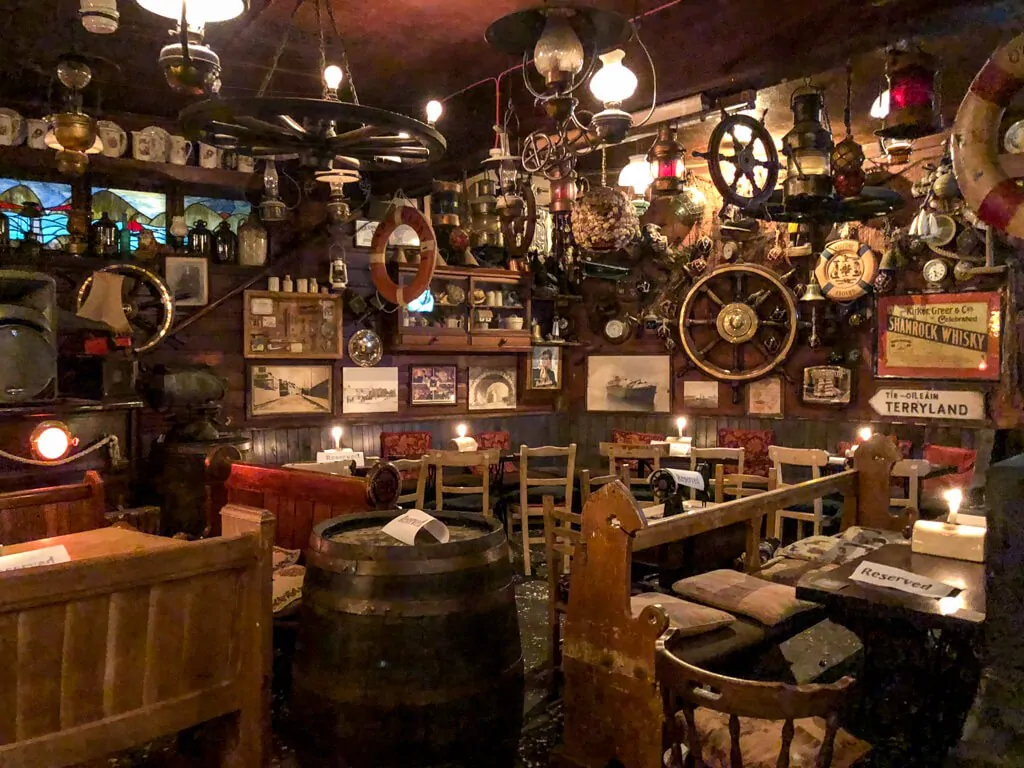 I should say, that they play more sing-along American hits (think Sweet Caroline) and not as much trad or even Irish pub songs. The night I was there they only played four Irish songs in two hours. That being said, it's still a great time and frequented mostly by locals who will love to have you there!
Address: Salthill House, Upper Salthill Road, Galway, Ireland

A DIY Galway Pub Crawl
Accidentally, I've listed these pubs in a great pub crawl order. What a happy accident that is!
You could start your Galway pub crawl at O'Connell's in Eyre Square, make your way down Shop and Quays street, stopping at Tig Coili for music and Tig Neachtain for more drink and food.
Then cross the river to Monroe's and the Crane for a bit of music. Perhaps hop on a bus, or walk about 20 minutes, and finish the night at O'Connor's.
That sounds like an epic way to experience these excellent pubs in Galway if you're short on time!
Just don't attempt this pub crawl the night before your day trip to the Aran Islands. You'll regret it on the ferry ride over… trust me.
There are so many pubs in Galway and the next time I visit, I'm sure I'll add a few more to this list. Do you have any hidden gems in Galway I should know about?
Side note – if pubs aren't your thing – Galway has an excellent cafe culture as well. You could switch out pubs for checking out the cafes in Galway.
Like this Post? Pin to your Ireland Board!