The Quilotoa trek is located just a few hours outside of Quito, Ecuador's capital city. The Quilotoa trek gets its name as it begins or ends at the stunning Quilotoa crater lake.  This is a self-guided hike, with many different route options. For example, one could complete the trek in 2-5 days depending on how many villages you'd like to visit. Or one could hike the rim of the crater lake in one day. It's incredibly popular among tourists who aren't hikers as well as day trips from Quito to Quilotoa are abundant.
If you're looking for some quick tips on what you should expect from the Quilotoa trek, then look no further. This post provides a good overview of what to expect from the three-day trek and if it sounds like something you're up for, then check out the more detailed post about completing the Quilotoa Loop!
This post contains affiliate links, which means that, at no additional cost to you, I will earn a tiny bit of income if you decide to make a purchase or booking.
11 Things to Know About the Quilotoa Trek
1. Multiple Route Options
As mentioned above, there are multiple route and length options. Many people start at the Quilotoa crater lake and hike down although why start with the best part? To end at the highlight of the hike, the other route option starts in Sigchos. You can then relax in the town of Quilotoa, gearing up to hike the rim the next day, or head off to your next destination. If you're short on time, you could always book a day trip and take a kayak out on to the lake.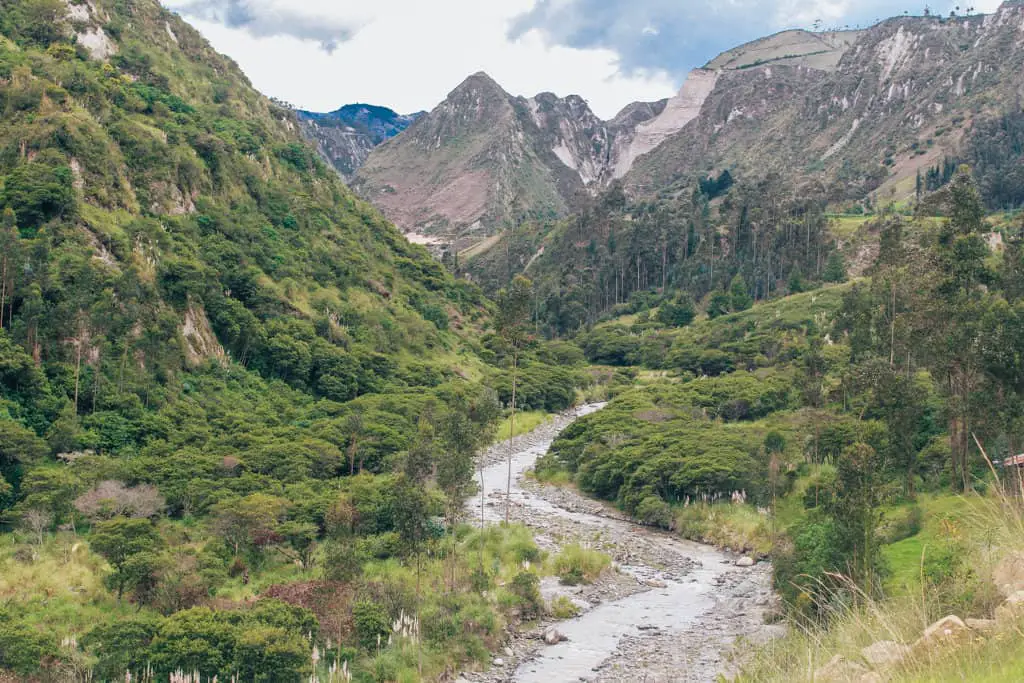 2. Lodging
Along the route, there are plenty of hostels that are well equipped for hikers. They typically offer half board, which means you get your bed, a full dinner, and breakfast. WiFi is basically nonexistent in this area, so you can either book in advance or simply walk up and ask for a room.
In Isinlivi the two options are Llullu Lama, where I stayed, and Hostel Taita Cristobal, where I got my packed lunch. Chugchilan offers more accommodation options, I stayed at Hostel Cloud Forest. We also walked by two other decent looking options: Black Sheep Inn and Hostel el Vaquero. In Quilotoa there are even more choices for accommodation. I didn't stay, but when I passed through they were constructing numerous hostels to add to the list of potential places to rest your head.
Book your accommodation for the Quilotoa Loop with Booking.com! Book here for Latacunga, here for Isinlivi, here for Chugchilan, and here for Quilotoa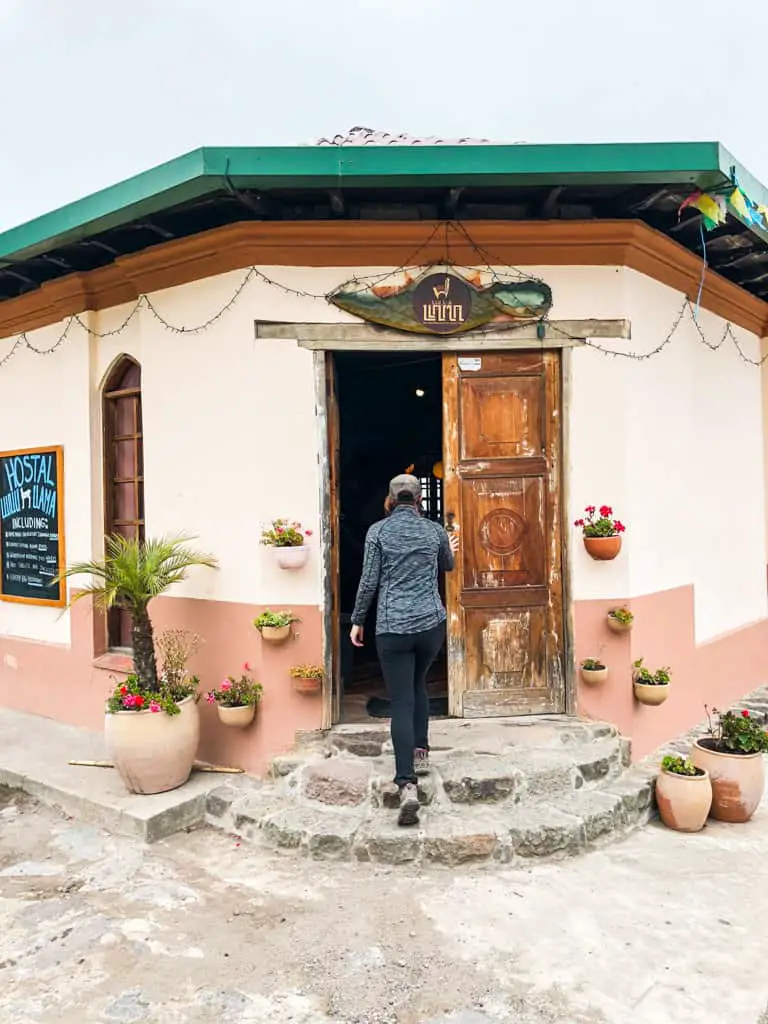 3. Food & Water
The hostels typically include dinner and breakfast in the price of your room. Most also provide a packed lunch for around $3.50. The packed lunch includes a sandwich, some cookies, a piece of fruit, a water bottle and juice! Let the hostel know the night before that you want one for the morning so they can prepare it.
Water is not potable in Ecuador, however, each hostel will allow you to fill up your water bottles before departing for the day. It was typically 50 cents to fill up my 2L water reservoir and it would last me the entire day. Another option is to bring your own purification system, like a Streipen, to clean the water before you drink it!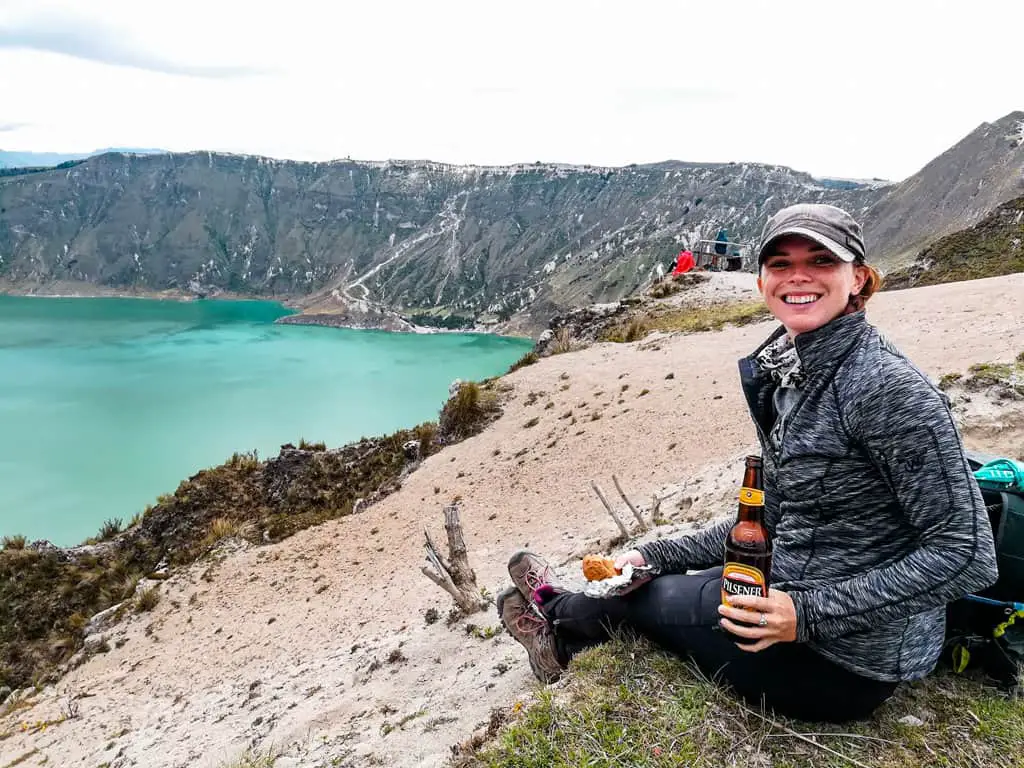 4. Altitude
Quilotoa crater lake sits in the cauldron of an extinct volcano at a mere 3800m above sea level. If you end the trek at the lake, you'll make a gain of about 1000 meters in 3 days. If you go the opposite direction, you will lose altitude (which may be why people decide to go that way). Either route you choose, ensure that you spend a few days acclimating to the altitude either in Quito or Latacunga before attempting this trek.
I had a few altitude symptoms upon my arrival in Quito such as a constant headache and difficulty breathing. Other symptoms include nausea, vomiting, dizziness, and in severe cases, people need to be hospitalized due to lack of oxygen. Drinking alcohol will only make this worse. To prevent it get plenty of rest, stay well hydrated, and take your time hiking.
Also, be sure to protect yourself with travel insurance, just in case you encounter problems with the altitude.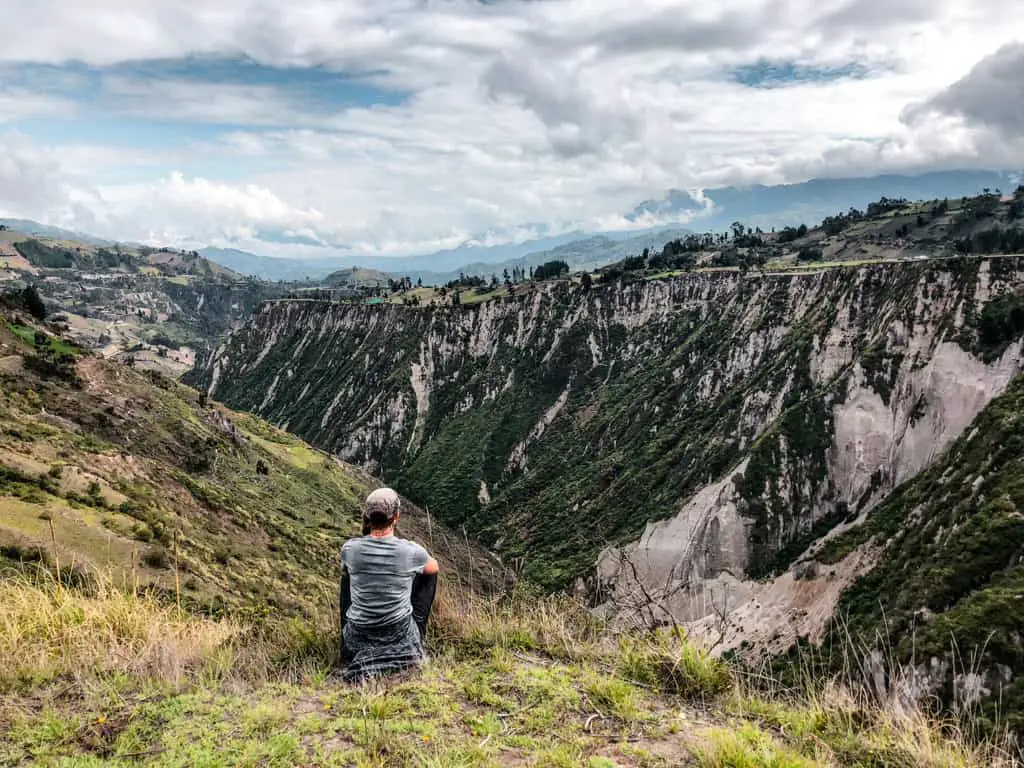 5. Weather
At this altitude it is cold! Layers are necessary. While you're hiking you'll get hot. But in the evenings, it's downright cold. So pack extra layers to sleep in and use all of the covers provided by the hostel.
Rain is also a possibility on this trek so make sure to bring a waterproof jacket, a rain cover for your backpack, and wear waterproof hiking boots.
Fog could obscure your view of the lake. So leave a little bit of wiggle room in your itinerary just in case! It would suck to walk all that way only to cross over the crest and see nothing but fog. Stay the night in Quilotoa and hike the rim the next day. It's absolutely beautiful and would be too bad if you hiked all that way and couldn't see it!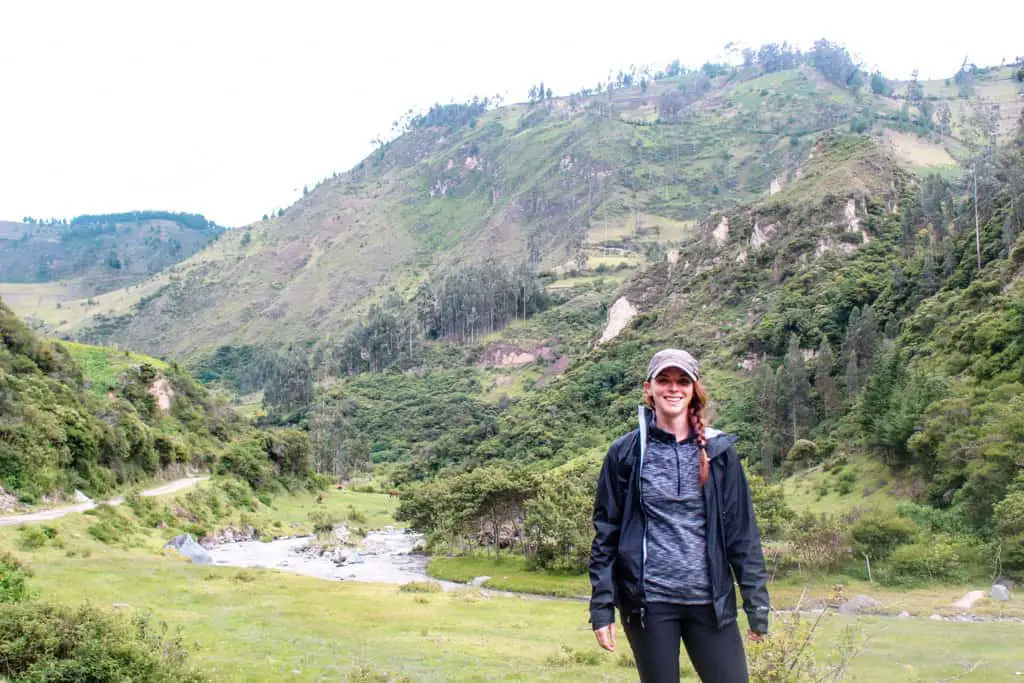 6. Cash
Cash is king in this area. Make sure you visit an ATM in Quito or Latacunga before embarking on this trek. Keep some smaller bills on you as well. There are a few locals who sell their crafts along the way and it is helpful to have smaller bills to allow you to barter a bit better. I brought $160 with me which was enough for two nights in the hostels, my packed lunches, a few extra snacks, and paying too much for a handmade craft.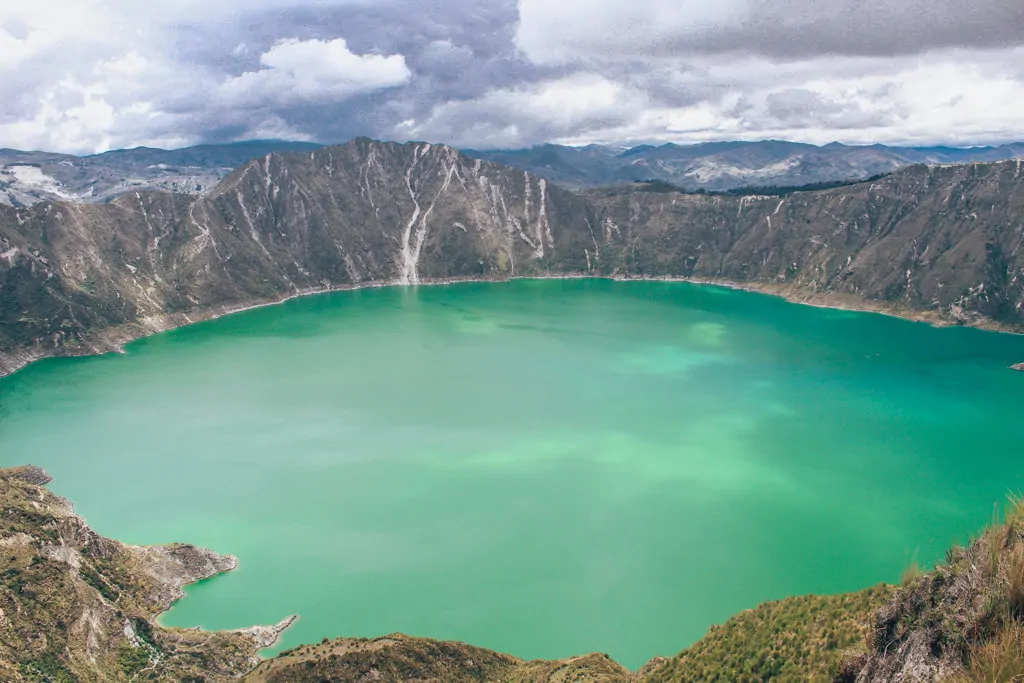 7. Locals on the Loop
Besides the stunning Quilotoa Crater Lake, the other gem of the Quilotoa trek is catching a glimpse into the lives of the people who live in these remote villages. Ecuadorians are typically reserved and quiet people. Most of the time, they won't bother you and often don't want to be bothered as they go about their daily lives.
They will pass you on the trek and if you ask " how much further" add on about 30 minutes. They are used to this altitude and walk these roads constantly. They're in great shape for this!
There will also be many local children around. At one point on the trek, we came to a spot with about 3 homes where the parents were tending to the farm and there were about 8 children running about. All of them were under the age of 8, I'd guess, with the youngest still in diapers. These children were taking care of each other and were interested in who these foreigners were walking through their backyard. I did have candy, which I gave to them, and we did ask if we could take their pictures (which I will not post here) as we didn't ask their parents.
In hindsight, I should've brought something else from home besides candy to give them as I'm sure many hikers will give them candy.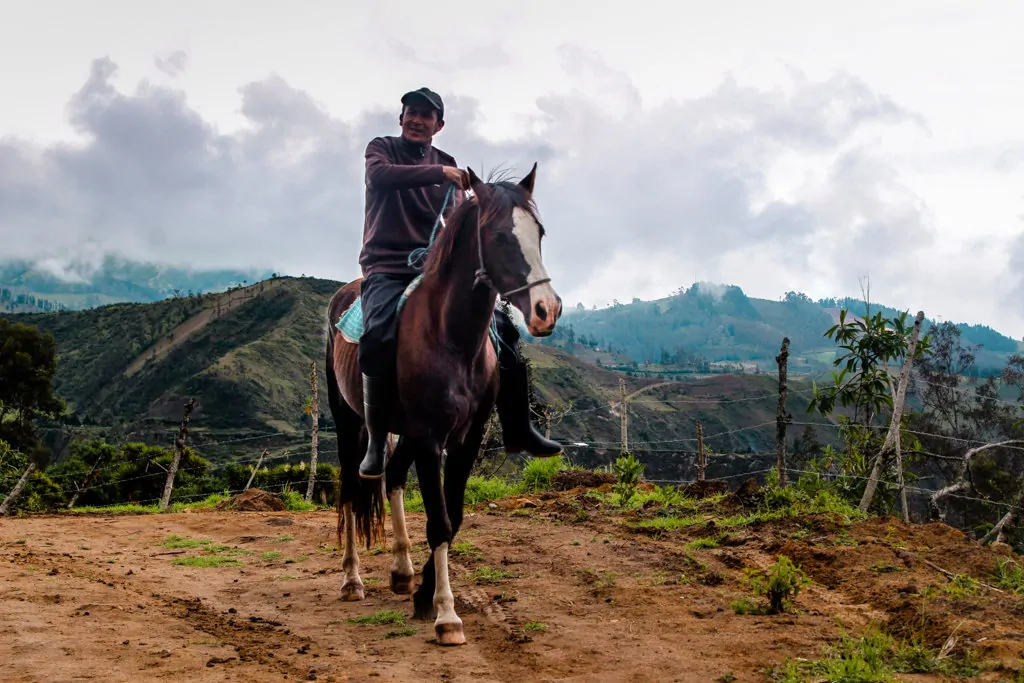 8. Animals on the Loop
This is free range at its finest. You'll pass by freely roaming cattle, sheep tied along the side of the road, and pigs just laying about. You'll also see plenty of horses, donkeys, and maybe a llama. Be warned, if you try to snap a picture of a llama and its owner is close by they may request money from you.
Another word of warning is the dogs. Dogs in this area are used as protection, to guard the land and farm animals. Therefore they can be territorial. We only passed one dog who took issue with us, barking and growling, as we passed by at a safe distance. The other dogs we met, just wanted to share a bit of my packed lunch. But it's wise if you see a dog to keep a safe distance.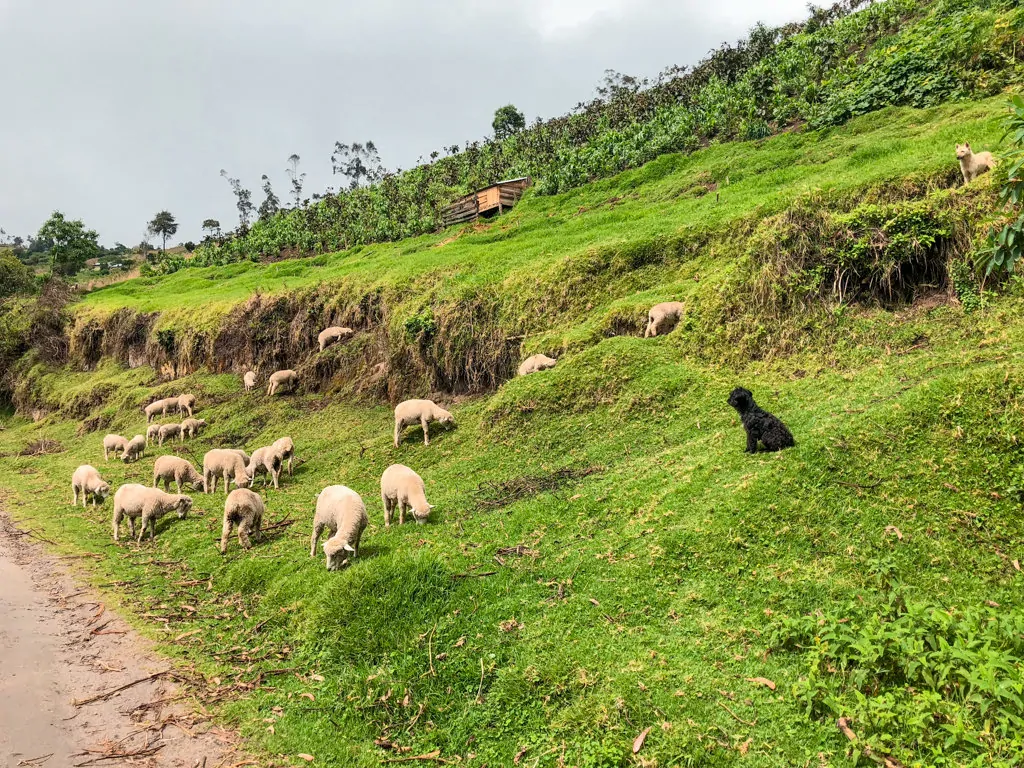 9. The Land
At times you will be walking through peoples land. And on paths meant for livestock. Some of the paths, specifically around the lake's rim, are only used by horses, so follow the well-beaten path. Be respectful as you pass through. Take any trash with you. And if you have to open a gate, close it behind you.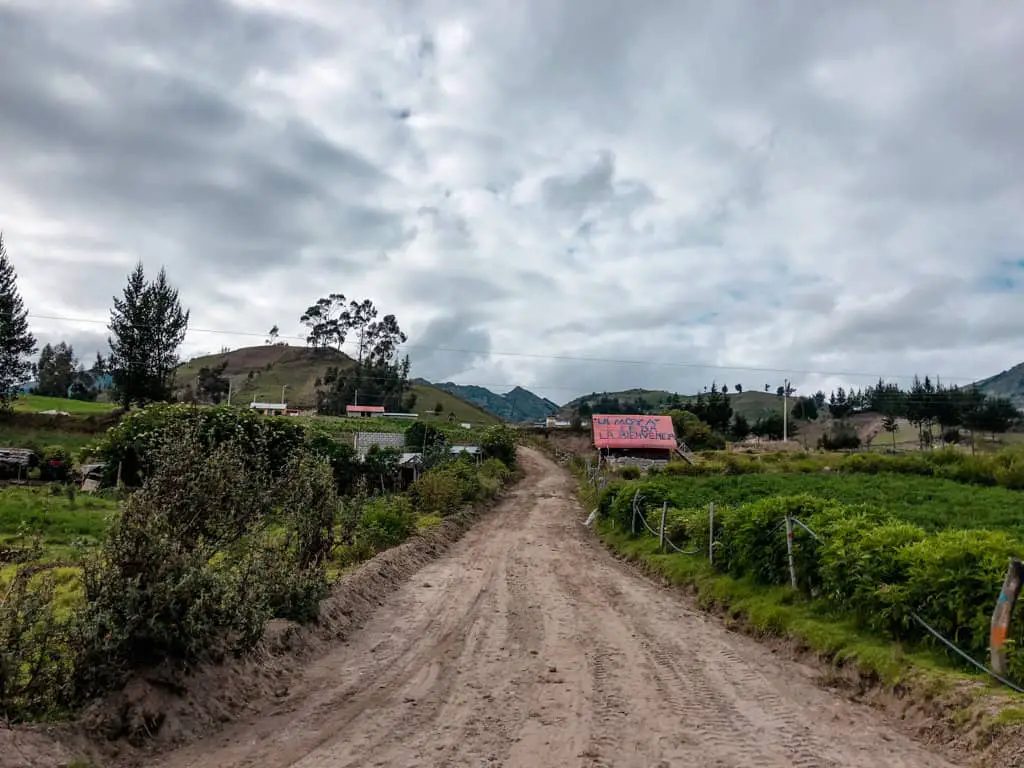 10. Solo Travel Safety
I planned to do this trek solo, but my roommate and friend from the hostel where I taught yoga in Quito had been wanting to do this trek for quite some time. So we hiked it together. Well, she hiked really fast, and I just tried to keep up! That being said, I never felt unsafe. Yes, we passed by a man on a horse with a machete, but he was working and smiled as we walked by. I don't see any reason why there would be a problem doing this as a solo female. You're not hiking at night, and while yes, you would be alone for quite some time, we didn't run into anyone who gave us problems. In fact, I met a few solo ladies hiking it. One hiking it for the second time. The first time she did it she camped the entire way, which sounded pretty epic!
Also, each night of the trek, you'll see the same people in the hostels. So make some new friends and join a group for the next day. Even if you don't hike with them the entire way, it's nice knowing that there is someone expecting you at the next hostel or waiting to share a beer with you taking in the lake views.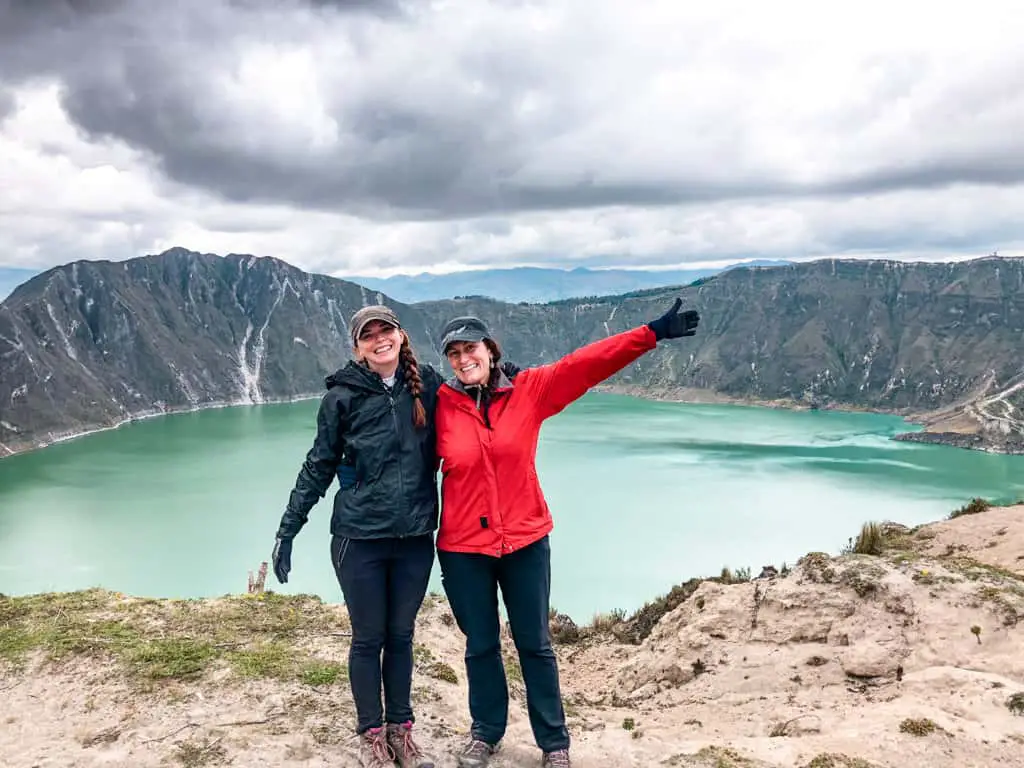 11. Getting Lost
Hostel Tiana in Latacunga will provide a map with pictures and written instructions. While the map looks questionable, it is spot on. There are also red and yellow posts throughout the hike at important junctures.
We met some friends at the hostel in Isinlivi who got lost on the way to Chugchilan because they used maps.me instead of the printed map.
Trust the printed map.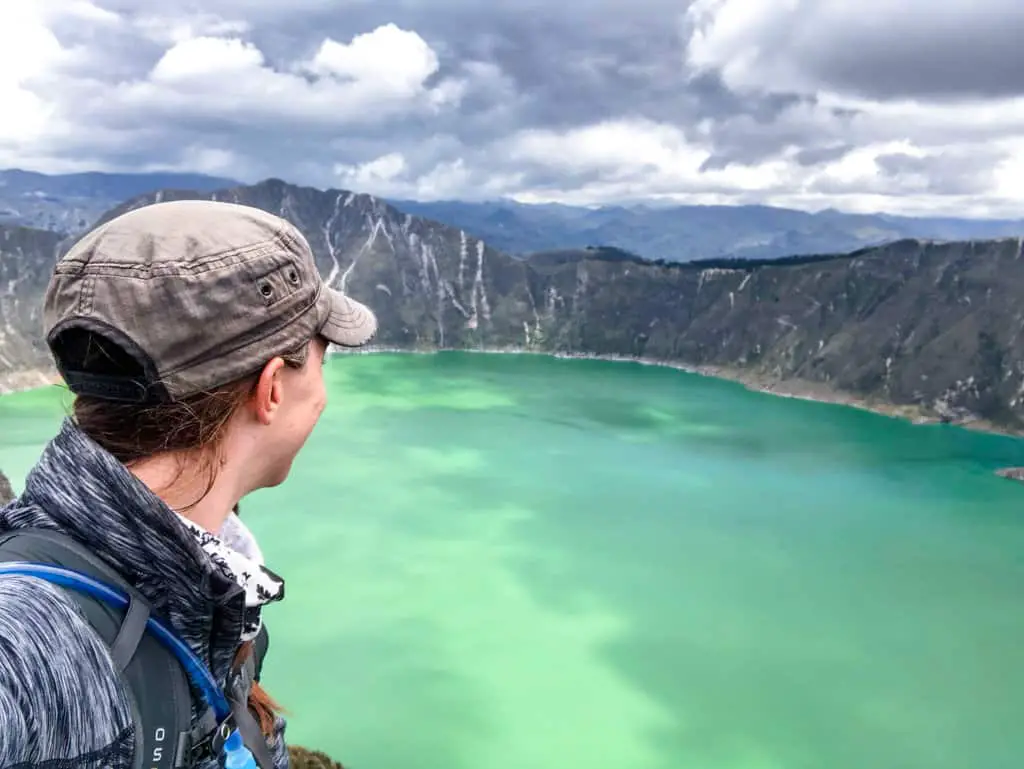 The Quilotoa Trek was a highlight of my time in Ecuador, a close second to my visit to the Galapagos. Whether or not you do a trek to the lake, make sure you do at least do a day trip. Once you see the turquoise blue waters surrounded by jagged volcanic mountains, you'll be happy you did.
Like this post? Pin for later!