Healdsburg is a charming town located in Sonoma County known for its excellent restaurants and even better wine tasting. Healdsburg makes an excellent day trip or weekend getaway from San Francisco to wander its town plaza lined with shops, restaurants, tasting rooms, and art galleries. Beyond the town plaza, you'll find stunning wineries with amazing views and great hiking trails to explore. Whether or not you are a wine lover there are many fun things to do in Healdsburg, In this post, I'll share with you my favorite things to do in Healdsburg that would make a great addition to your San Francisco or greater Northern California travel itinerary.
This post contains affiliate links, which means that, at no additional cost to you, I will earn a tiny bit of income if you decide to make a purchase or booking. For more, check out my disclosure. 
solo female Travel Resources
Where is Healdsburg Located?
Healdsburg is about a one-hour drive across the Golden Gate Bridge north on the 101 from San Francisco and a 20-minute drive north of Santa Rosa. This cute town sits at the intersection of three premier wine-growing regions in Northern California: Alexander Valley, Dry Creek Valley, and Russian River Valley.
The Best Time of Year to Visit Healdsburg
Healdsburg is a great destination year-round. My first time visiting Healdsburg was in the winter and while the weather was quite cold, the crowds were minimal and I had an entire vineyard to myself while wine tasting.
Summer will bring the hottest temperatures of the year and the most crowds as people leave the city to go on weekend wine-tasting excursions with friends or head to the Russian River to cool off.
I'd suggest planning your visit to Healdsburg in September or October. The weather will still be quite warm, but you'll miss both the summer and Holiday crowds.
Fun Things to Do in Healdsburg
Go Wine Tasting
One of the most popular things to do in Healdsburg is going wine tasting. While Napa Valley may be known for its Cabernet Sauvignon, the wines of choice in Healdsburg are Pinot Noir and Zinfandel. 
You don't have to go too far from Healdsburg Plaza to taste some of the best wine in Sonoma wine country. Lining the square you'll find several wine shops and tasting rooms like GrapeSeed Wines, Lioco Wines Idlewild Wines, and Marine Layer wines.
If you want to experience wine tasting at a vineyard, Healdsburg has you covered. Here are a few wineries to add to your wine-tasting bucket list. Make sure you check the wine tasting price to make sure it fits your budget as the price ranges from $30 – $160+ depending on the winery and type of reservation you book. Yes, I recommend booking a reservation no matter what time of year to ensure you have a table!
I'm going to share with you the two wineries where I did my wine tasting as well as others that come highly recommended.
Seghesio Family Vineyard
Seghesio Family Vineyard has been growing grapes and producing wine in Sonoma County since 1895, making it a great place to start your wine-tasting experience in Healdsburg. They're predominantly known for their Zinfandels and Italian varietals. They have a cozy tasting room a few blocks from the plaza as well as an outdoor area perfect for a picnic or some bocce on a nice day.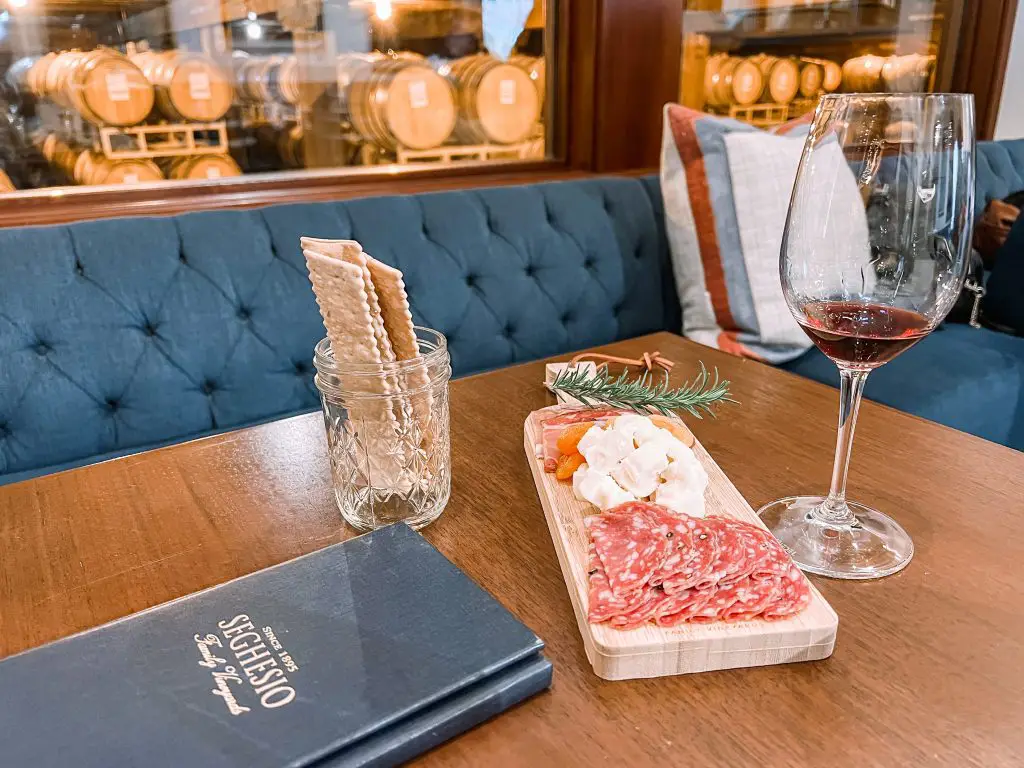 Armida Winery
Armida Winery is located a few minutes drive from the plaza, up on a hill with panoramic views of the vineyards below. They have a gorgeous outdoor patio that is perfect for your wine tasting as well as a bocce pit and other yard games that would be fun for a group. While the wine tasting I did included more than just Zinfandel, they are known for their PoiZin wine.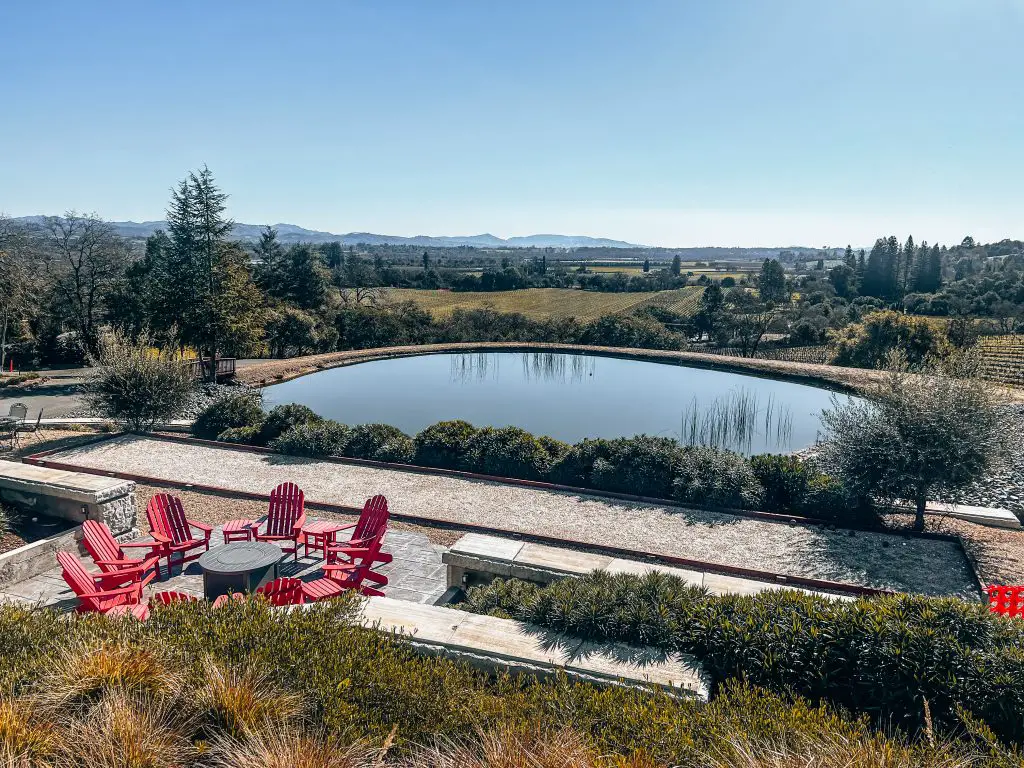 Other Healdsburg Wineries to Visit
Honestly, it seems like you really can't go wrong when choosing a winery. Others that I considered were Flowers and Aperture Cellars. There are also long-standing vineyards like Francis Ford Coppola Winery, Ferrari Carano, and Jordan to add to your list. Check each of their websites for tasting prices and to book reservations.  
Wander Healdsburg Plaza
Downtown Healdsburg reminds me of a small town in a Christmas movie. The historic plaza (established in 1850 during the Gold Rush), complete with a gazebo and fountain, is the center of the downtown area. The streets surrounding (Healdsburg Avenue, Center Street, Plaza Street, and Matheson Street) are filled with wine-tasting rooms, art galleries, boutiques, Michelin-rated restaurants, and cozy cafes. Honestly, it's the perfect setting for a Hallmark Channel Christmas movie.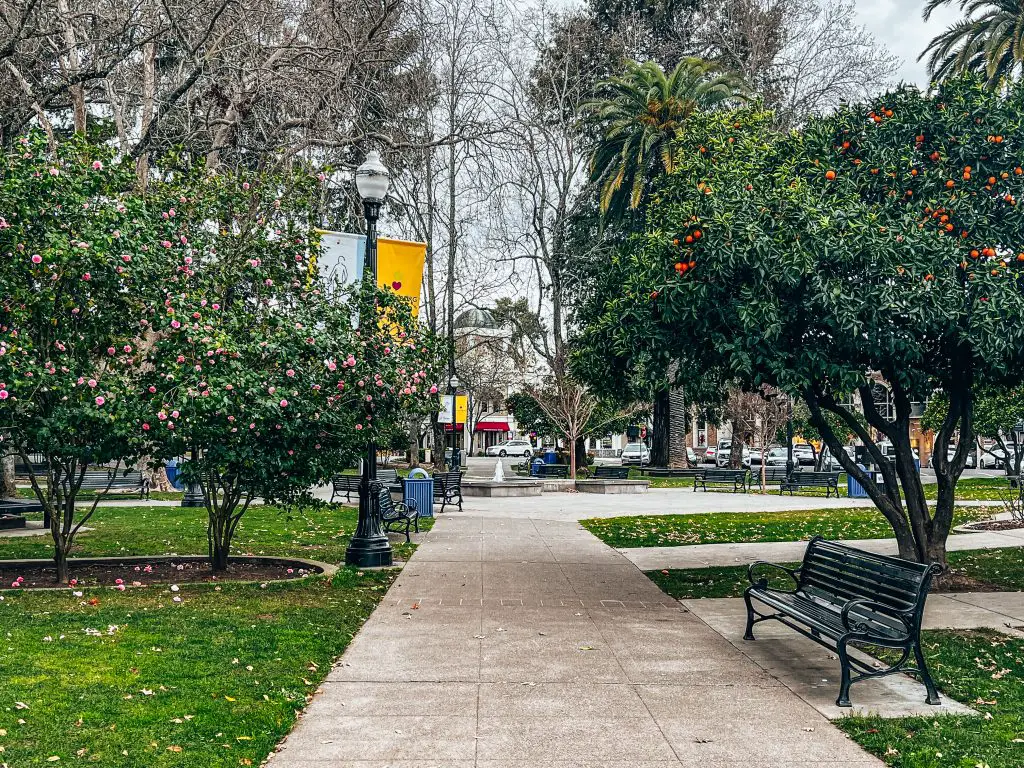 Sip a Cocktail
If you're interested in something other than wine, Duke's is a great cocktail bar located on the plaza. It's incredibly cozy inside with a few couches to relax on and a great cocktail menu. If you're hungry though, they don't have food. But you can bring food in. 
I met a local in the wine and restaurant industry (shocking) while there who also recommended Lo & Behold. It had been on my list of places to eat as well, I just didn't have time to make it there! They have both cocktails and a food menu set in a cozy space.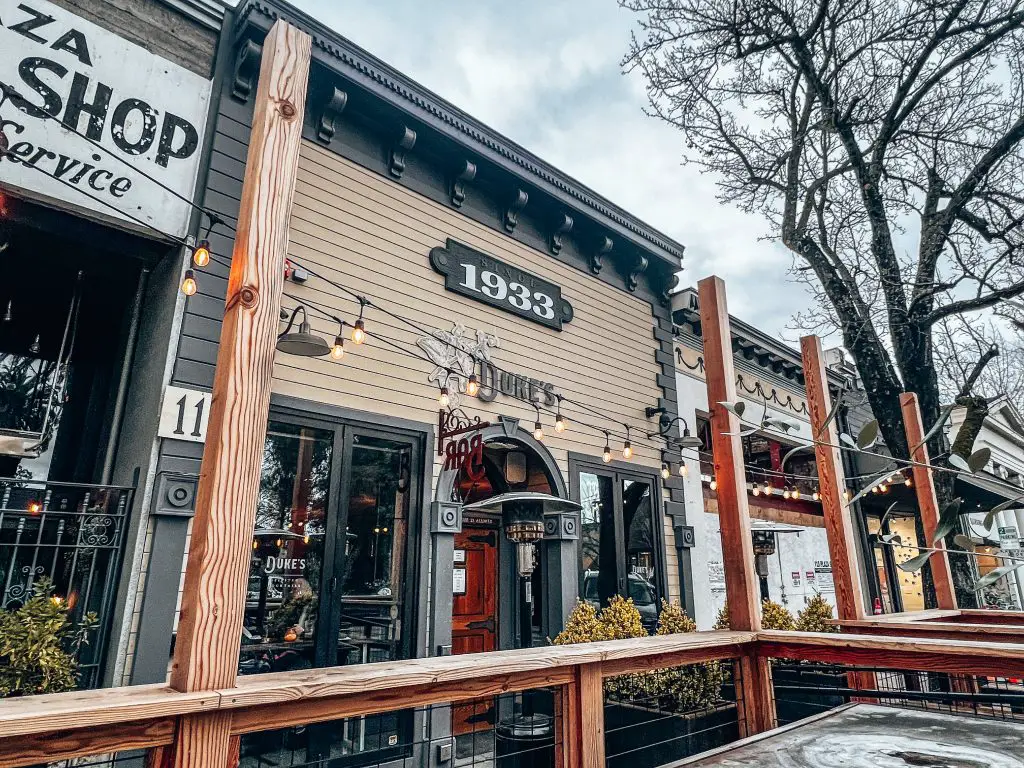 Go Shopping 
As I mentioned above, Healdsburg plaza has a plethora of boutique stores and bookstores you could easily get lost in for a few hours. Gathered Wildflowers is a really cute store with trendy women's clothing, jewelry, and gifts. Next to Oakville Grocery, there is a pretty, and affordable, jewelry shop, Falling for Dainty, where you can get permanent bracelets and necklaces. Alternatively, there are two bookstores to check out for a new book to bring wine tasting (if you happen to be solo like I was)!
Visit the Healdsburg Famers' Market
On Saturday mornings from April – December and Tuesday mornings from May – September stop by the Healdsburg Farmers' Market in the downtown plaza to get locally grown fruits, vegetables, olive oil, bread, and more. There are also special events, like cooking classes and live music depending on the season. It's worth walking through if you happen to be in town when it's on.
Take a Hike at Healdsburg Ridge Open Space Preserve
In the morning, take a short hike in Healdsburg Ridge Open Space Preserve. Located in the corner of a neighborhood, you'll find this great open space to stretch your legs and see great views of the valley. There are many overlooks in this small park, but the best one is the Russian River Overlook. Follow the All Oaks Trail to the Russian River Overlook and you'll be rewarded with a gorgeous view of the vineyards alongside the Russian River. There is a bench there with prime views!
Once you're done, follow the Ridge Trail back down to the trailhead for a roughly 2-mile hike.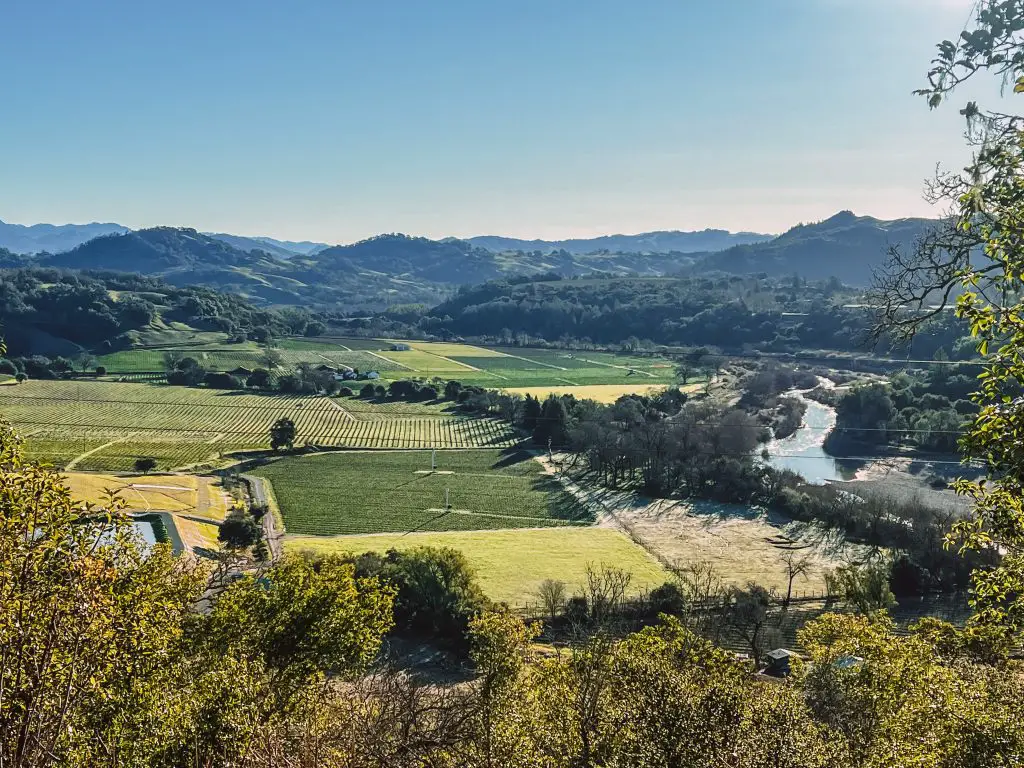 Spend a Day on the Russian River
There is no better place on a hot summer day in Sonoma County than the Russian River. While many people head to Johnson's Beach in Guerneville, there are places to access the Russian River in Healdsburg, like Healdsburg Veterans Memorial Beach.
There are plenty of fun activities to do on the Russian River. You can bring an intertube and go for a chill float, or join a kayak tour for a little bit more adventure to your weekend in Healdsburg.
Where to Eat in Healdsburg
Some of the best restaurants in Sonoma County are in Healdsburg. You'll find Michelin-rated restaurants with prix fixe menus, casual American eateries, and of course farm-to-table cuisine. Let's break out the places to eat based on breakfast and lunch/dinner!
Where to Eat Breakfast in Healdsburg
Costeaux French Bakery
Costeaux French Bakery is a great place to start your day in Healdsburg. This French bakery and cafe have a delicious brunch menu. Or simply stop in to try their award-winning French Macarons.
Quail and Condor
If you're looking for a morning pastry, Quail & Condor has you covered. 
Where to Eat Lunch/Dinner in Healdsburg
Oakville Grocery
Stop into the super cute Oakville Grocery for all of your picnic supplies. You can purchase a deli sandwich and other unique goods made by local vendors. They also have a small coffee bar and a large wine selection (of course!).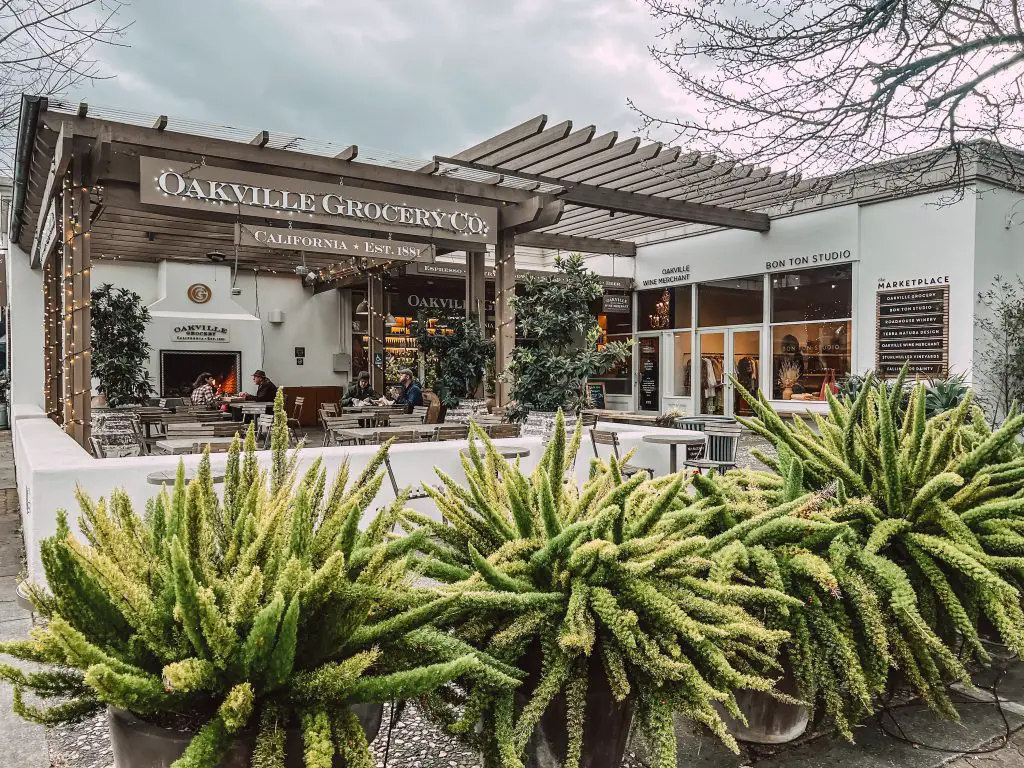 Bravas Bar de Tapas
Nothing beats tapas in my opinion and Bravas offers an extensive tapas selection. A date took me here and we had a great time ordering as we went and getting suggestions from the server. I recommend sitting on the back patio if at all possible for a nice atmosphere on a sunny day. I don't have any photos of the food because I don't like to do that on dates.
El Farolito
I was having a craving for Mexican food and the bright turquoise exterior called me into El Farolito. They have a nice selection of Oaxacan-inspired food. I went with the chicken enchiladas and they were perfect. The other thing that I loved about this restaurant was the price point. I had dinner for under $20 which is very rare, especially in Healdsburg.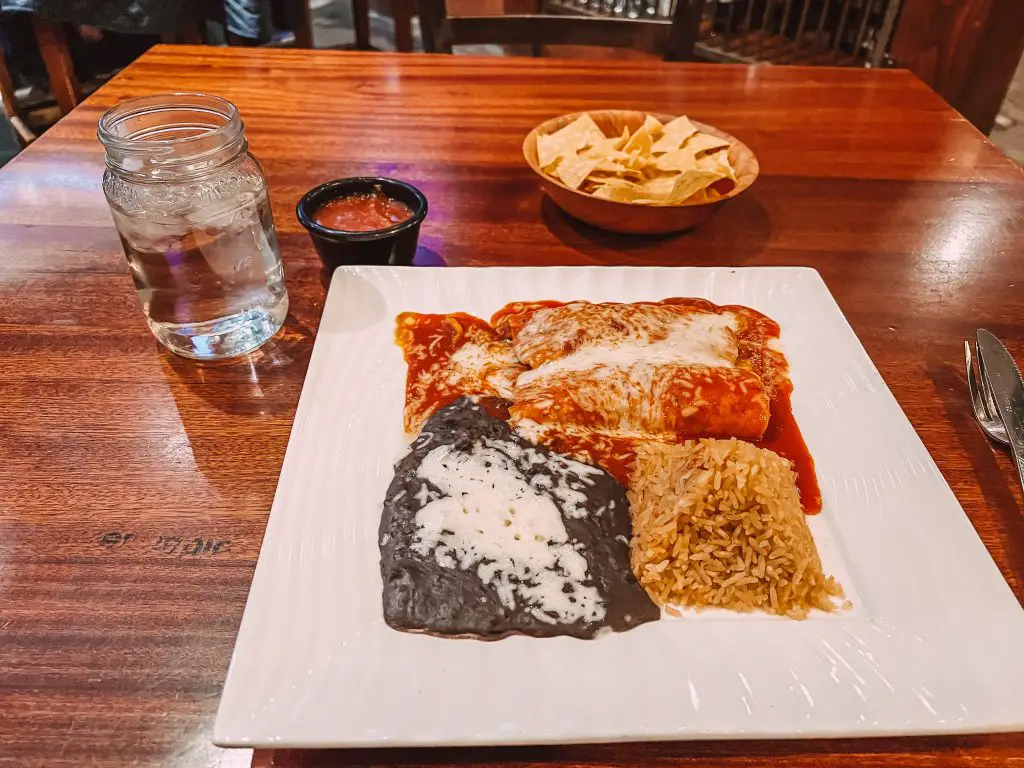 Prix Fixe Menu
There are plenty of more upscale restaurants than I mentioned here. At the time of my trip, they were above my budget but would be great for a special occasion. Consider Barndiva or Single Thread.
The Matheson also does a great prix fixe menu, but there is a rooftop with excellent views and sharable food to try as well. 
If you're a vegan, pop into Little Saint for a full menu of plant-based offerings in a gorgeous space.
Honestly, you can't go wrong with any restaurant you choose in Healdsburg. Simply pick the type of cuisine you want and there is a delicious restaurant waiting for you.
Where to Get Coffee/Tea in Healdsburg
There are two great coffee shops to check out on the plaza, Black Oak Coffee Roasters, and Flying Goat Coffee. If you know me, I don't drink coffee, but I love a matcha latte and both of these coffee shops make excellent ones. 
Where to Stay in Healdsburg
Wildhaven Sonoma
Let me just be honest with you, the reason I went to Healdsburg was that I wanted to glamp at Wildhaven Sonoma. I'd seen their canvas tents all over social media and they looked amazing. I'd never glamped before and this was the perfect place to start.
Now, I went in the winter and overnight the temperatures were in the 20os. But I was incredibly cozy thanks to the mattress heaters and the space heater in the tent. In addition to cozy tents, there are showers complete with shampoo, conditioner, and body wash. They also provide you with towels! There is direct access to the Russian River and plenty of space for games like corn hole, bocce, or a simple picnic with some wine.
I 10/10 recommend staying at Wildhaven Sonoma.
Check here for current rates and availability.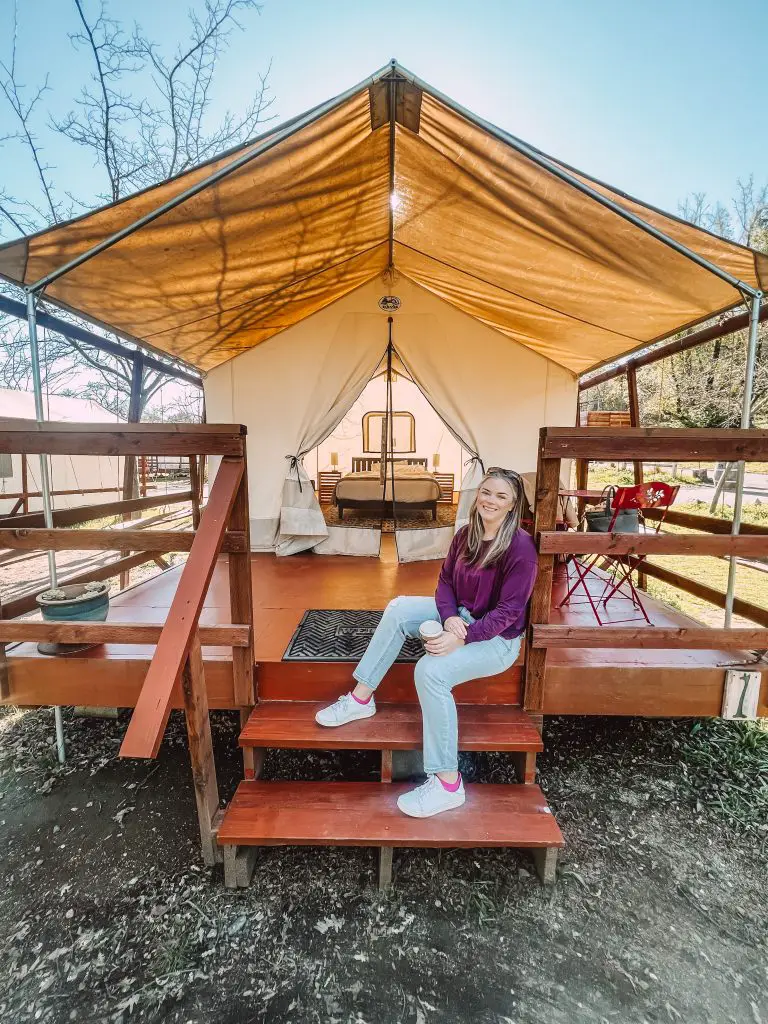 Healdsburg Hotels
If you're looking for more traditional accommodations there are some gorgeous boutique hotels in Healdsburg. Here's where I recommend booking.
There are so many other things to do in Healdsburg that I didn't get a chance to do as they were closed during my visits like the Healdsburg Museum and the Russian River Rose Company. However, it might be one of my favorite day trips I've done from San Francisco. It's right up there with Point Reyes. I know I'll be back to try more outstanding vineyards and delicious restaurants.