Run the World
Staying in shape while traveling can prove difficult even to the most disciplined of fitness lovers. Before I began my travels, I was extremely dedicated to my workout regiment and healthy eating plans. I thought it would be no problem to stay on track while traveling. However, I found it was incredibly difficult to stick to a routine when I didn't have a routine. Yet, I found a few ways to incorporate general activity into my travels. This means walking to locations instead of grabbing a cab, or hiring a bike to see the sights for the day, or partaking in free yoga classes at hostel. I even went on a few morning runs!
Running is a great way to maintain your fitness while traveling. It only requires tennis shoes and some leggings, which you've likely packed anyway. Running also allows you to explore cities and nature in a way that you might not see otherwise. I teamed up with a few awesome bloggers who have discovered excellent gems around the world for running (or biking or walking)!
So lace up your shoes and put on your favorite playlist and start exploring these running paths!
Austin, Texas
Right in the heart of downtown Austin, you can find the Ann and Roy Butler Hike and Bike Trail, a 10-mile trail surrounding Lady Bird Lake.  Before June 2014, there used to be a 1.3-mile gap along the south side, but a boardwalk was completed which now allows you to travel the entire length of the trail. It is a beautiful place to walk, run, jog, or bike. It also offers some great vantage points of the Austin skyline.
You can stop anywhere along the trail to have a picnic, rent a kayak, or stop off for a snack at The Picnic, which is a collection of food trucks just a few steps from the trail, on Barton Springs Road.
It also passes underneath the Congress Avenue Bridge, which is the home to thousands of bats, which can be seen flying through the air at sundown during the summer.
Bookended by two large parks, the trail is a great place for outdoor fitness enthusiasts and offers an escape into nature without having to leave the city!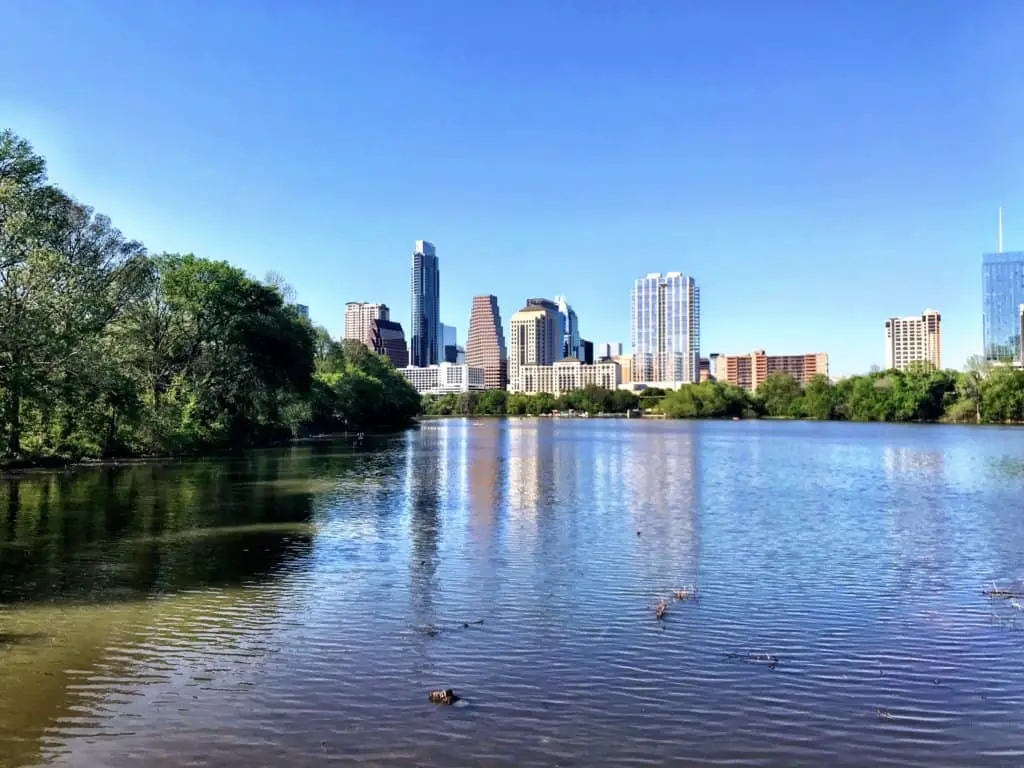 Quito, Ecuador
Just a few stairwell climbs outside of the historical center in Quito, Ecuador is Parque Itchimbia. Parque Itchimbia is a beautiful green space that has running trails, soccer fields, basketball courts, and a small restaurant. The climbs up the stairwell are often times enough of a workout that you can enjoy a leisurely walk around this park. But, if you've still got energy join the others jogging along the trails. There is an inner trail, which is shorter and an outer trail which is a bit longer and eventually connects with the shorter trail. Since Itchimbia is situated on a hill, it also provides amazing views of the city and its surroundings!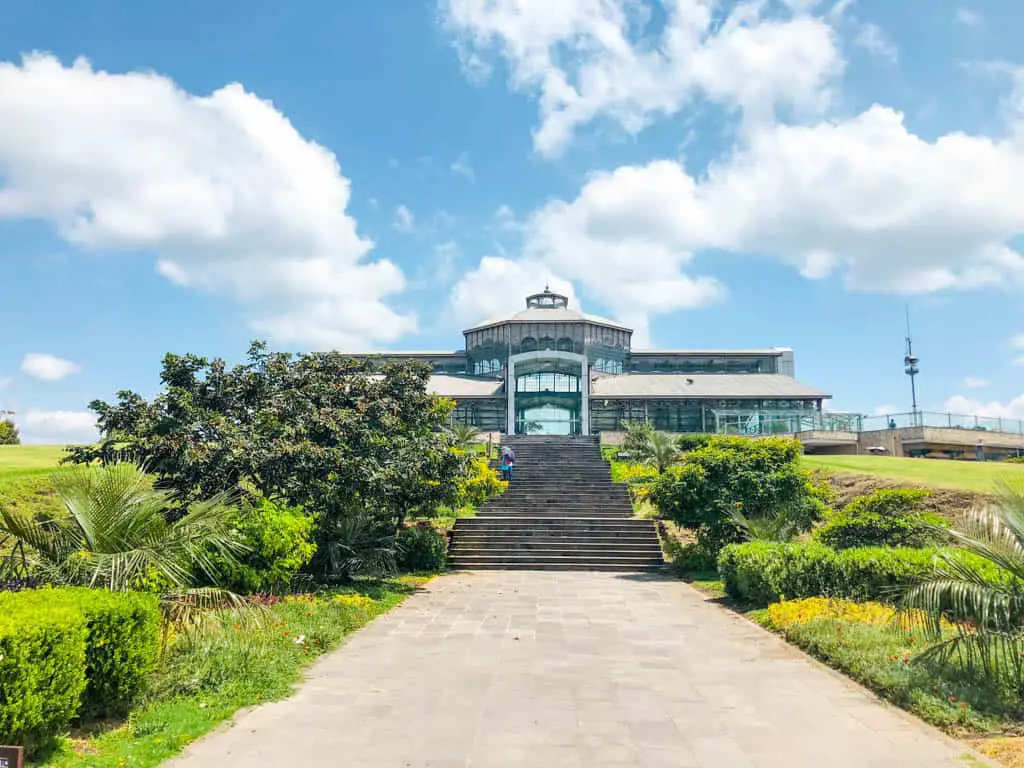 Contributed by: Yours truly 🙂
Yellowstone National Park
Yellowstone was one of my favorite locations because it provided me the chance to see this amazing National Park from a completely different perspective than the average tourist.  Instead of winding through long lines of cars and people, I got to see Yellowstone from the vantage point of its wide open back-country, and I got to explore it's unpaved and un-treaded areas with my own two feet.  For anyone looking for a physical challenge that also allows them to explore a beautiful gem of a park, I would recommend Yellowstone.  There is nothing better than having peaceful fields, majestic mountains, babbling streams, and warm sunshine as your running partners!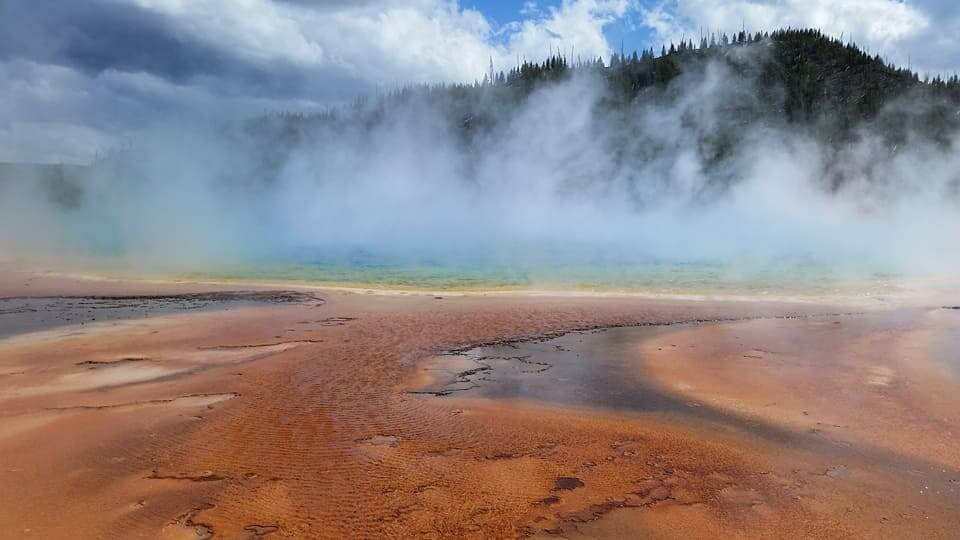 Contributed by: Kristen of the Yonderlust Ramblings
Chiang Mai, Thailand
One of the best places to get your sweat on, is located in Chiang Mai, Thailand and it is called the Princess Gardens. This small park is in the southwest corner of the Nimman area, which is the up and coming area of Chiang Mai. The park gives you options to run, walk, or get a circuit strength training workout in.
There are several places to complete box jumps, sit ups and mountain climbers.  Many of the stations are in the shade which is very important, as Chiang Mai can get very warm. The stationary equipment has seen better days, but that is never an excuse of why you cannot workout.
The park also has two running paths, one that winds around the exercise equipment, and one through a garden.  If you own a TRX suspension system, you can hang it on the existing poles in the park, so you can use equipment in the park and not just bodyweight movements, which is a plus.
You will not be alone in the park when you workout, many locals use the gardens to relax, have a picnic and run or walk. It's the perfect place to get a free workout in!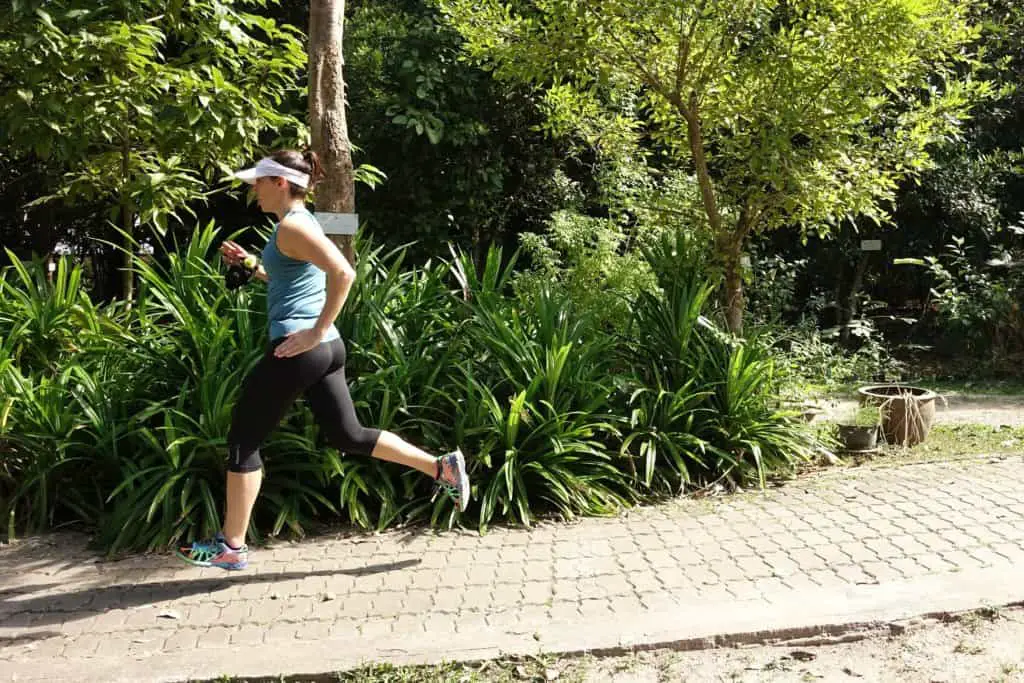 Contributed by: Gina of Jet Set & Forget
Blog: Jet Set & Forget
Instagram: @jetsetandforget
Denver, Colorado
Red rocks amphitheater is a world renowned, outdoor music venue located just outside Denver, Colorado. Being formed naturally from red rock, the setting is idyllic for both acoustics and views. But the amphitheater is so much more than just a concert venue. With almost 400 steps from top to bottom, Colorado locals flock to this locale starting at sunrise to get their daily work out in. You'll find individuals and groups alike running and lunging up and down the stairs, finding balance in yoga poses, increasing strength with incline and decline push ups, and calming the mind through meditation practices. If steep inclines are not your cup of tea, multiple hiking trails are available in and around the amphitheater offering stunning views of the landscape and downtown Denver.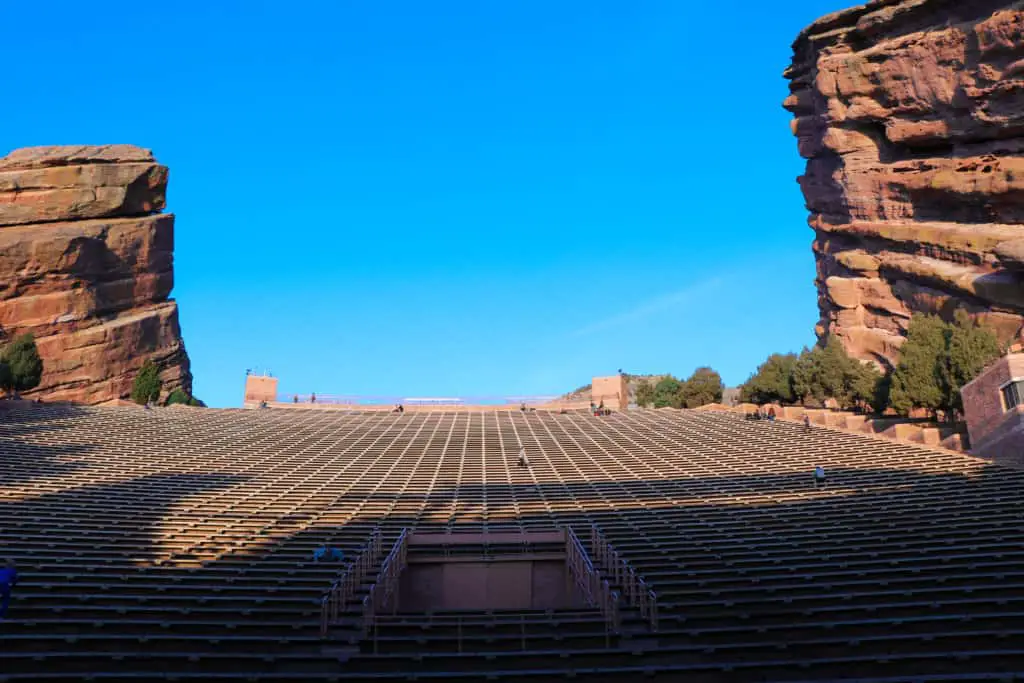 Contributed by: Jenn of The SoFull Traveler
Blog: The SoFull Traveler
Instagram: @thesofulltraveler
Lima, Peru
A sunset run along a cliff, with the Pacific Ocean to one side and the Lima skyline to the other sounds pretty amazing, right? If so, then head to the Malecon and join the locals getting their evening run in. As you're running, you'll likely find others practicing yoga in the grass, rollerblading, biking, or doing calisthenics on the pull up bars installed at different locations along the Malecon. Whatever your fitness pleasure, you can find a way to accomplish it along the beautiful Malecon. Finish your workout with a stretch in the grass and watch the sun dip behind the Pacific Ocean.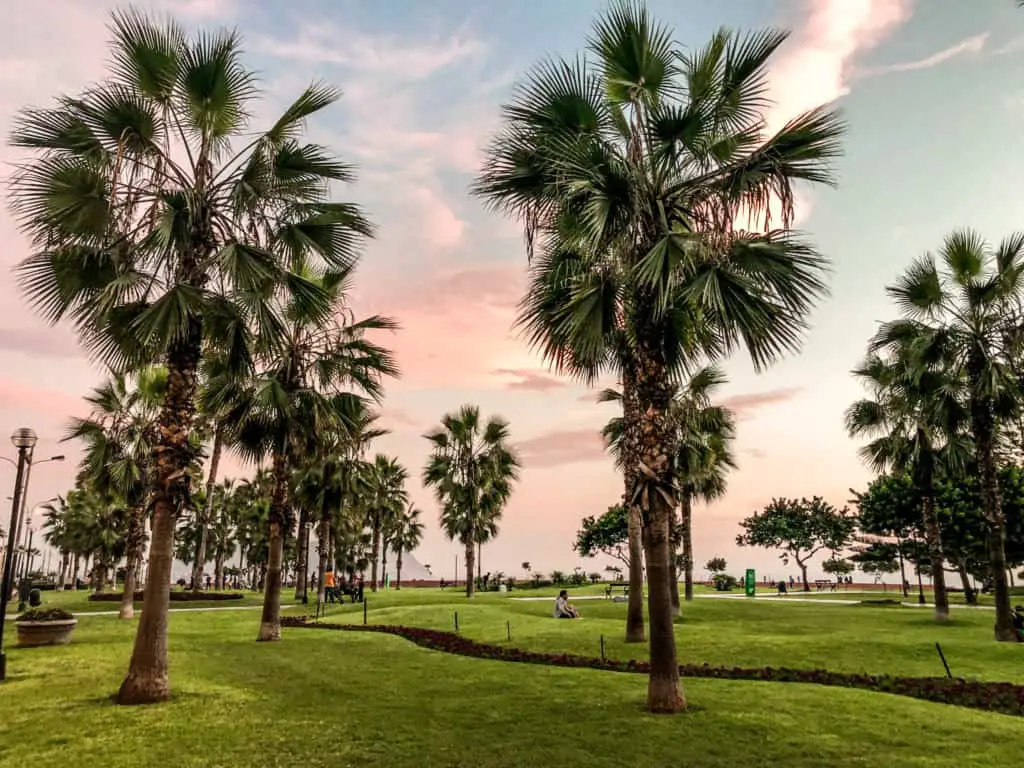 Contributed by: Yours Truly 🙂
Beaufort, South Carolina
I lived in Beaufort, South Carolina for a couple years, and I would have to vote Hunting Island State Park as one of the best places to run. It feels more wild and unique than most beaches. Palm trees and forest on one side and ocean on the other; Jurassic Park seems to always come to mind.
With a 4 mile long beach and a 6 mile dirt loop trail through the trees, it's easy to add up miles without noticing you're running. The views are too pretty. The sand is hard enough to run easily by the water. And when you're done with your exercise, you get to take a dip in the ocean!
Hunting Island is 20 minutes from downtown Beaufort. If you're up for a really early run, this beach offers spectacular sunrises.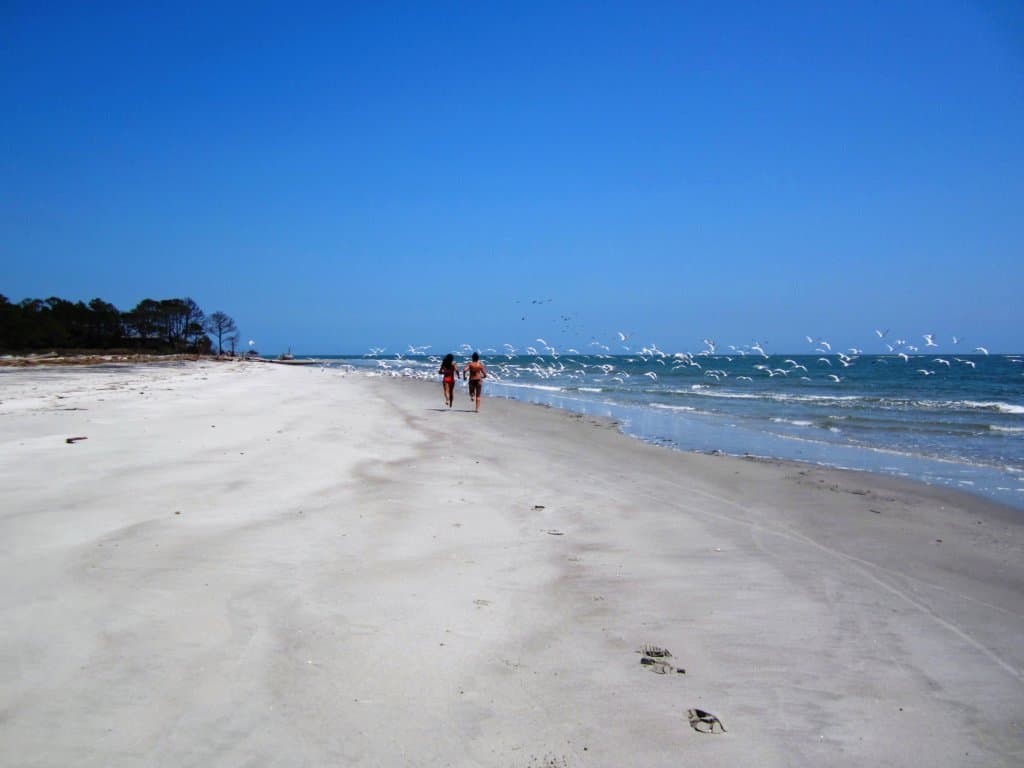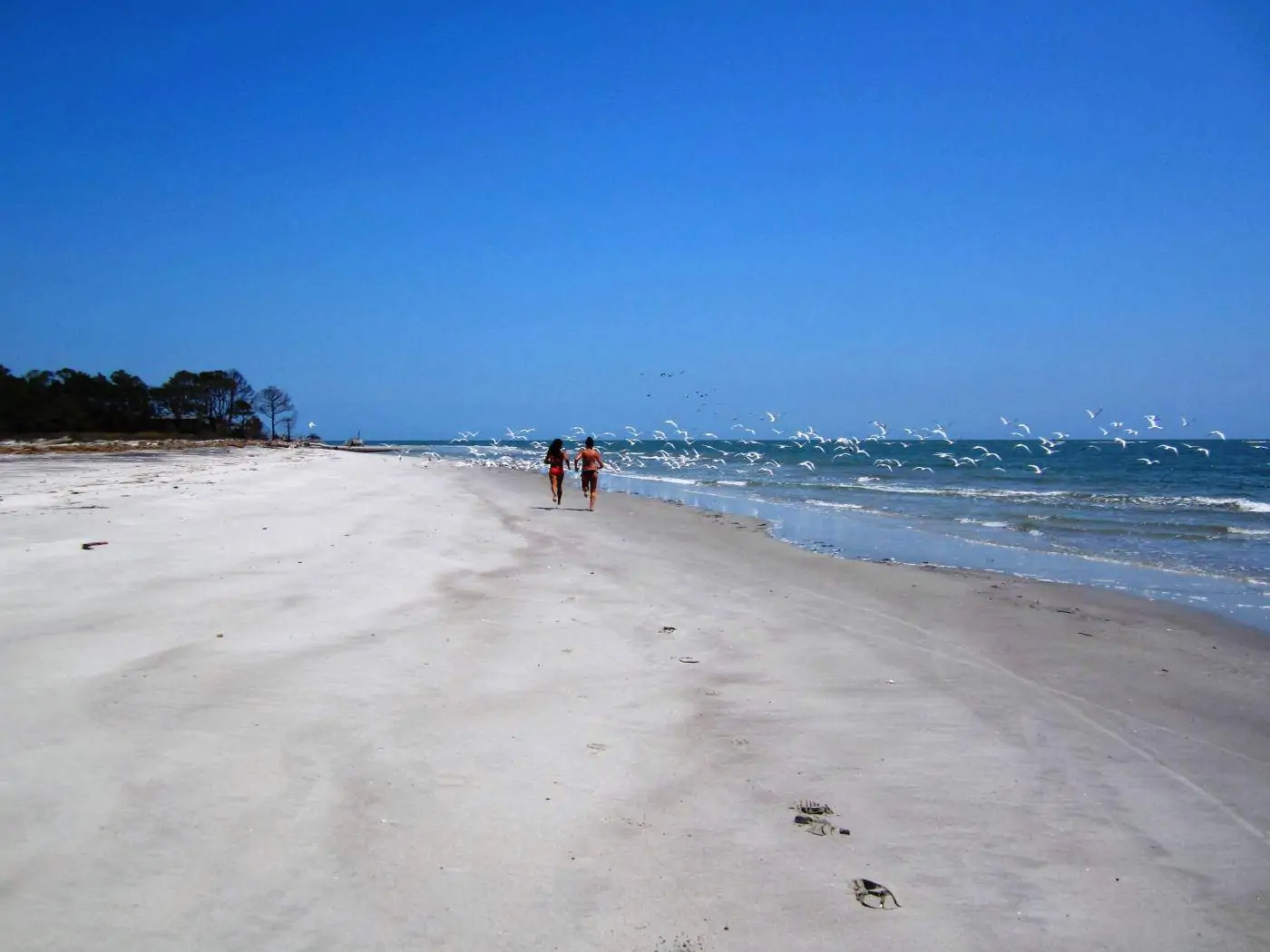 Yes, it's easy to find excuses NOT to workout on the road. Lack of routine, being on vacation mode, and not having access to a gym are all legitimate reasons to put it off. Hopefully, these places inspire you to get out an explore your current area in a different way. And if you're visiting any of these places soon, be sure to give these runs a try!
Where is your favorite place to workout while traveling?
We are always looking for places to get our sweat on while traveling. Have you found any good spots? Feel free to share them with us so we can check them out whenever we are close by!