Recently, I started working for Alaska Airlines, which is a fairly stressful job, but it has excellent travel benefits. Besides the obvious flight benefits, I get the inside scoop from travelers on things to do in their hometowns. When I was planning my week-long trip to Boston for a travel blogging conference I surveyed all passengers traveling to Boston for their top experiences. The best advice I received was to just walk. So that's what I did, I walked all over Boston for a week and I've condensed the highlights into this one day in Boston itinerary.
This one day Boston itinerary goes beyond the Freedom Trail and beyond Quincy Market.
Instead, I'll share with you some gems that locals told me to visit, a few of the main landmarks, and of course where to find the best matcha latte and sunset spot. 
The route this takes will come full circle, starting and ending in Beacon Hill. But of course, depending on where you're staying in Boston, you may need to adjust the route. I always suggest taking what you find in blog posts and making them your own so feel free to do that here as well. 
And if you do, let me know what you added or subtracted for the next time I'm in Boston! 
So lace up your walking shoes, make sure you're wearing comfortable clothes, bring water and your camera. Prepare yourself for an epic 24 hours in Boston.
Tatte Bakery and Cafe in Beacon Hill
You'll start your day in Boston in the Beacon Hill neighborhood. But before all of the walking, you'll need some food! Enter one of the best coffee shops in Boston,Tatte Bakery and Cafe.
Tatte (pronounced like Latte, but with a T) is a local chain of Instagram worthy cafes. But it's more than just the beautifully minimal decor that drives a line out the door every morning. 
It's the pastries, the breakfasts, and the matcha lattes! Yes, my coffee-loving friends also confirmed that their coffee is excellent.
What should you order at Tatte?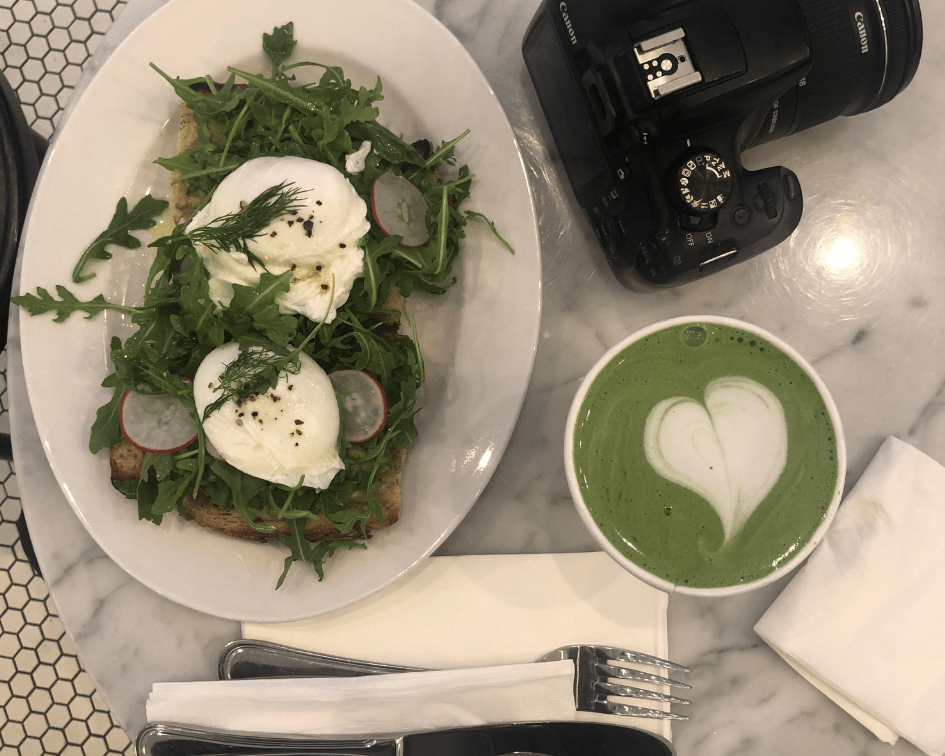 I personally loved the prosciutto with scrambled eggs and avocado tartine because I'm basic like that. The Shakshuka was raved about by locals, but when the summer heat was too much for me to even consider tackling that steaming skillet all by myself.
While the matcha latte might be one of the best I've ever had, definitely try the matcha lemonade which is perfect for a hot summer day in Boston! And of course, any of the pastries are worthy of a taste.  
Beacon Hill
Now that you've had your fill at Tatte, it's time to explore Beacon Hill. Beacon Hill is a historic neighborhood in Boston filled with drop-dead gorgeous brick row houses with pretty doors lining narrow cobblestone streets – the likes of which I never knew existed in the United States until Boston. 
Acorn Street
Also located in Beacon Hill is the most photographed street in the United States, Acorn Street. It's a beautiful street to be sure, but honestly, the entire neighborhood is just as beautiful. So snap your photo at Acorn street, but also just wander a bit through the hills and shops on Charles Street.
Cheers
After you've wandered through the streets of Beacon Hill head towards Boston Public Gardens with a stop at the place where everyone knows your name. 
You can't miss it. There will be a crowd of people waiting to get their photo taken with the iconic Cheers sign. There is a bar and restaurant inside if you'd like to pop in for a drink. I recommend skipping going inside since you've got a limited amount of time, but if Cheers is your favorite show then go in for a drink!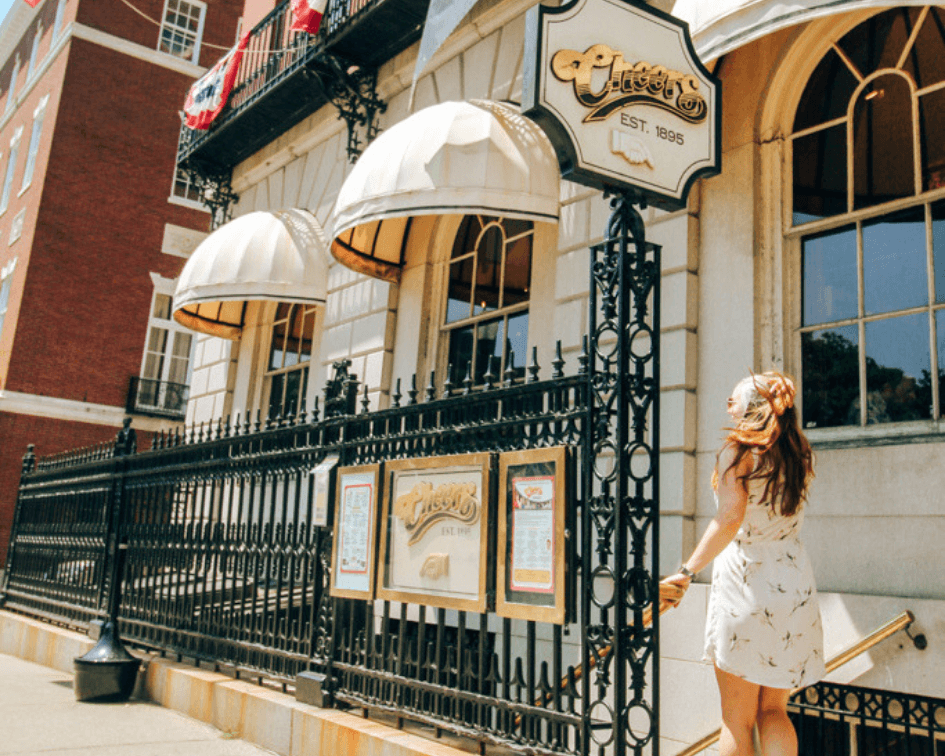 Boston Public Gardens
Across the street from Cheers is Boston Public Gardens, the first public garden in the US. I personally found the gardens more beautiful and relaxing than it's neighbor, Boston Common.
In Boston Public Gardens you will pass by the ducklings statue made for a popular children's book, Make Way for the Ducklings. Follow the path to the pond for a glimpse at the swan boats. You can ride the swan boats for a fee, but it's a small enough pond, that you can save your money for another matcha. 
Cross over the beautiful blue bridge and make your way to Newbury Street.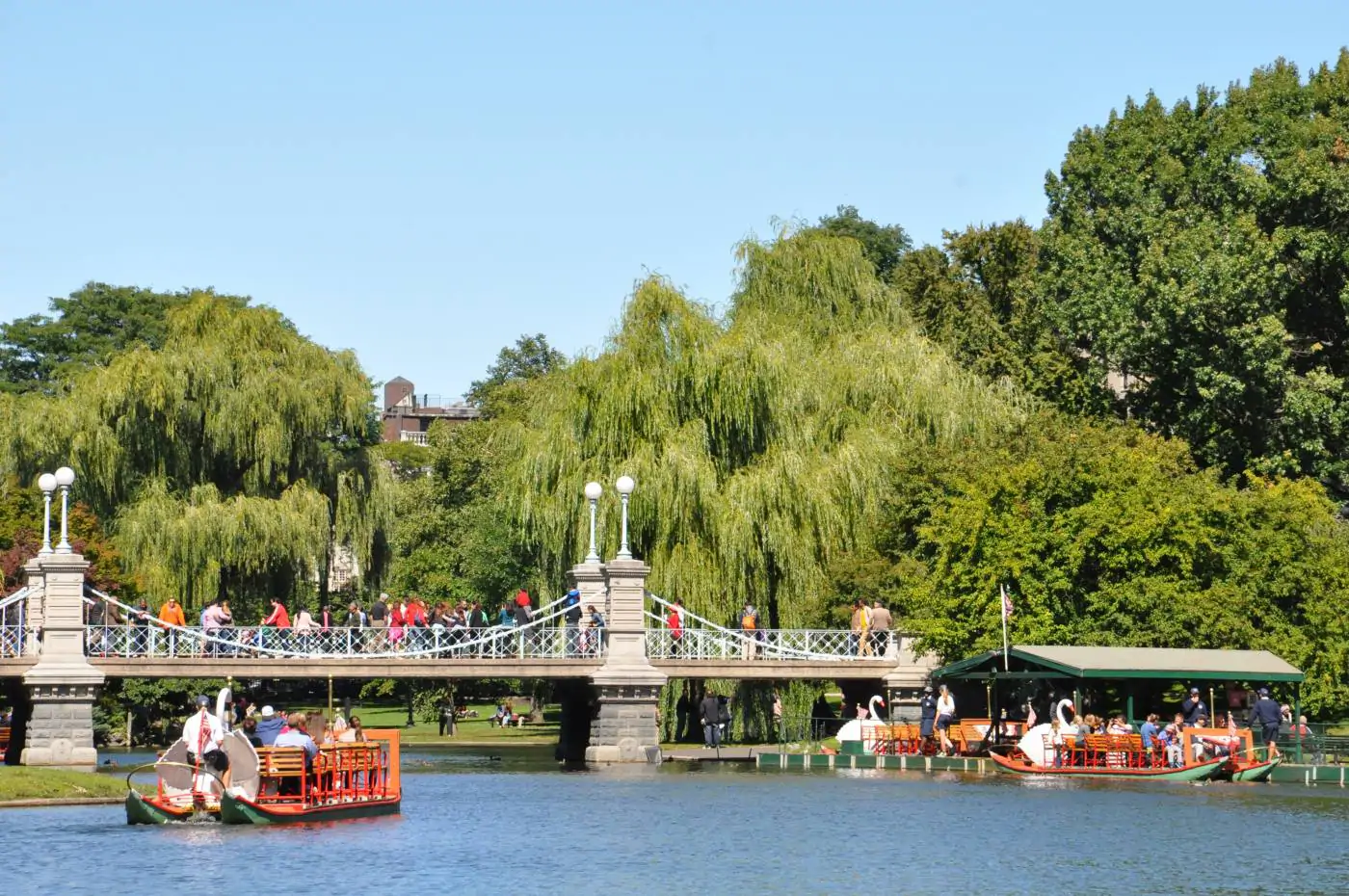 Stroll Down Newbury Street
If you're a shopper, then Newbury Street is for you. It's 8 blocks long, each block filled with shops from boutique to H&M. There are also salons, cafes, and restaurants along this street. It was here I got my hair done for the travel conference that quickly proved a waste in the Boston humidity and where I bought my first pair of All Birds which quickly gave me a blister.
You won't stay on Newbury street for all 8 blocks, just long enough to get a taste for what it's all about and then cross over to Copley Square for a peek inside of the Boston Public Library.
Boston Public Library
Ok, the Boston Public Library is a stunner. From the entrance with a marble staircase guarded by two lions to the upstairs reading room with its quintessential green lamps lighting the tables amongst rows of books, to the outdoor courtyard where you can catch some fresh air while enjoying a new book you just picked up. 
Also in the Boston Public Library is the Map Room Tea Lounge where you can stop in for a cocktail and small plates. They also offer a traditional afternoon tea Wednesdays through Sundays. I didn't partake purely due to cost, but as a tea lover, attending a proper afternoon tea is still very high on my bucket list.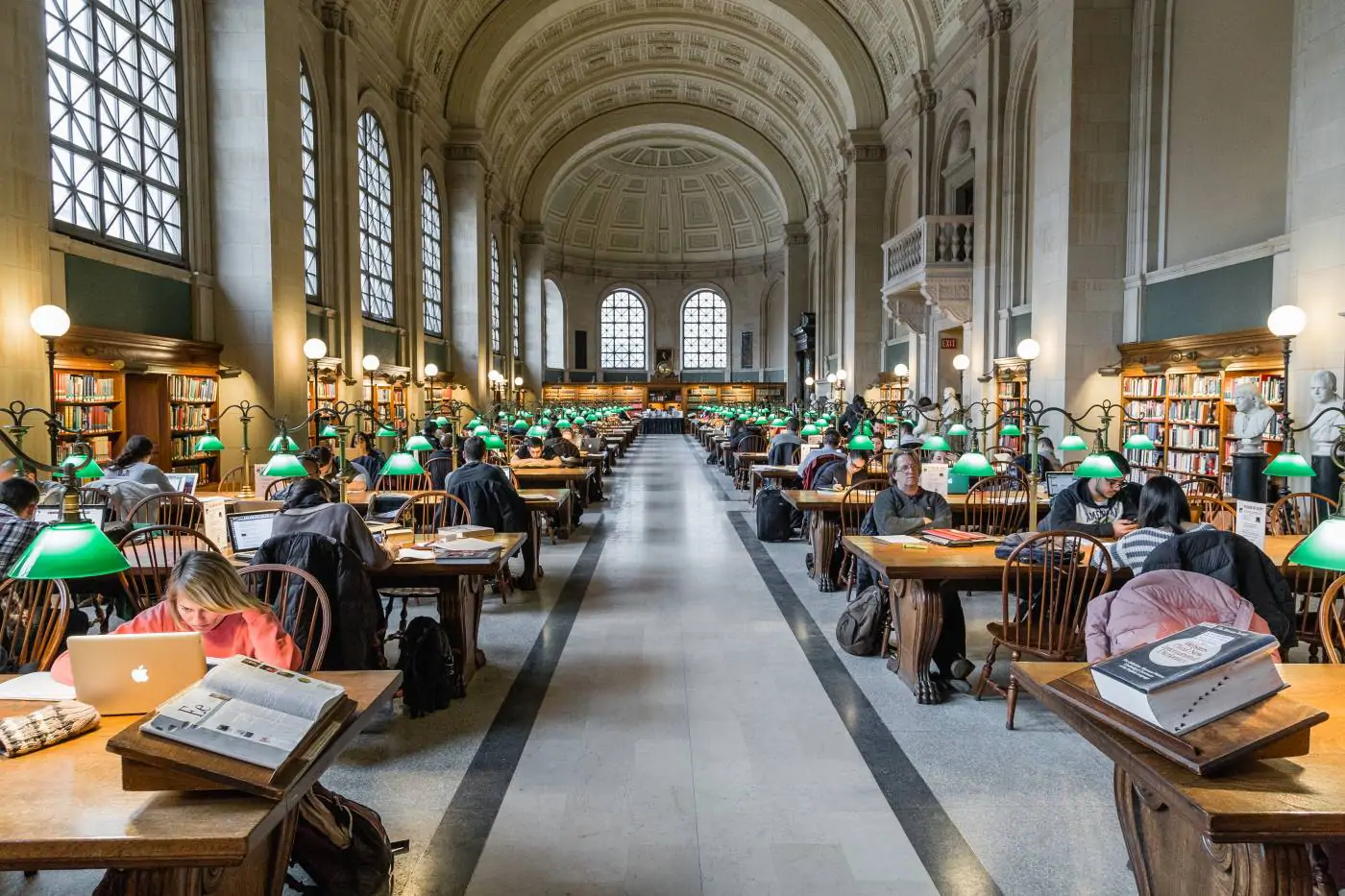 Boston Common
After getting all of the photos and perusing the library, we are going to turn back towards Boston Common, walking along Boylston St. Along this street you'll pass a few good cafes if you're feeling like you need a snack. There is another Tatte as well as a Life Alive Organic Cafe which has excellent smoothies and other healthy concoctions. 
You can walk through Boston Public Gardens again and cross Charles street into Boston Common. Boston Common is a huge park where you can find softball fields, the Frog Pond, the Massachusetts State House and the start of the Freedom Trail. 
Brattle Book Shop
But before we join the Freedom Trail (ish), let's stop off at Brattle Book Shop, just one block off of the Boston Common on West Street.
The unique thing about Brattle Book Shop, besides being one of the largest used book stores in the US, is its outdoor bookshelves. In the space next to the book shop, you can find rows upon rows of used books. Each shelf denoting a price for the book you discover. Now, they aren't organized outside as they are inside, but still worthy of perusing. You may find a hidden gem.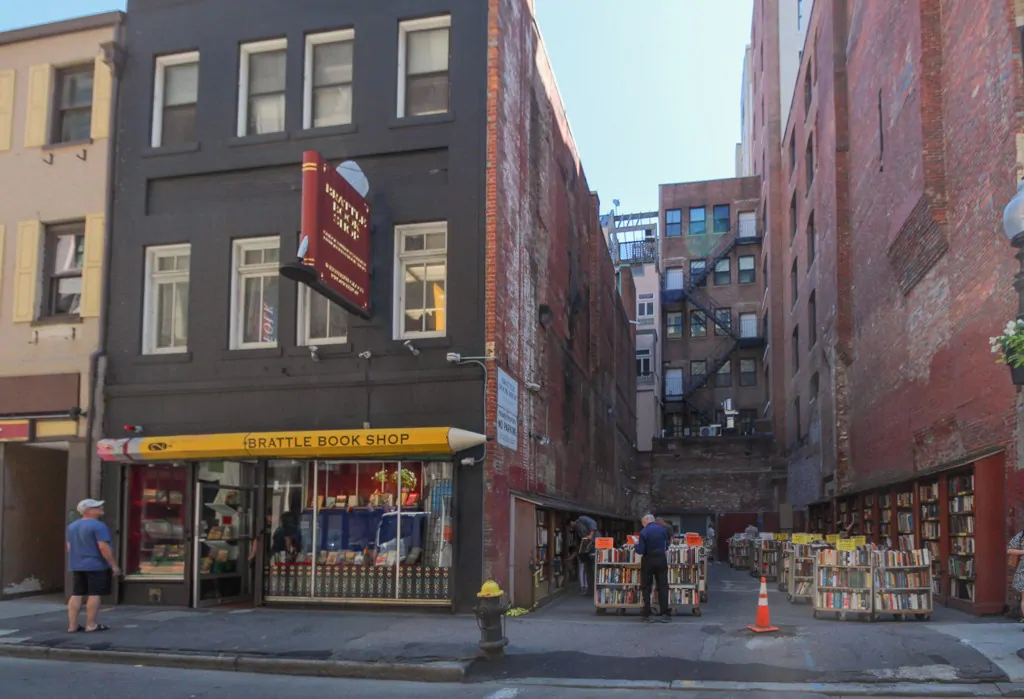 Freedom Trail (ish)
Alright back to the Freedom Trail – kind of. So in every "must thing to do in Boston" type post (like the one I'm grateful you're reading right now) the Freedom Trail is front and center. 
So on my first morning, I woke up, ate a bit of cereal at the hostel, laced up my walking shoes and headed out to walk the freedom trail. After stopping by Brattle Book Shop on my way to the starting place in Boston Common, I realized that cereal wasn't going to cut it. So, instead of entering the Common, I kept walking alongside it in search of a cafe for a real breakfast.
Along the way I passed Park Street Church, Granary Cemetery, The Irish Famine Memorial, The Old South Meeting House and eventually arrived at Tatte (my first experience at Tatte and now the third one I've mentioned in this post. Please go!!) It wasn't until I was sipping my Matcha Latte and looking at my Google Maps that I realized I was actually walking along the Freedom Trail the entire time. Face – palm. 
You will know if you're on the right path by looking down and following the bricks in the otherwise cement sidewalks. So after eating, I joined up with the actual Freedom Trail and paid a bit more attention.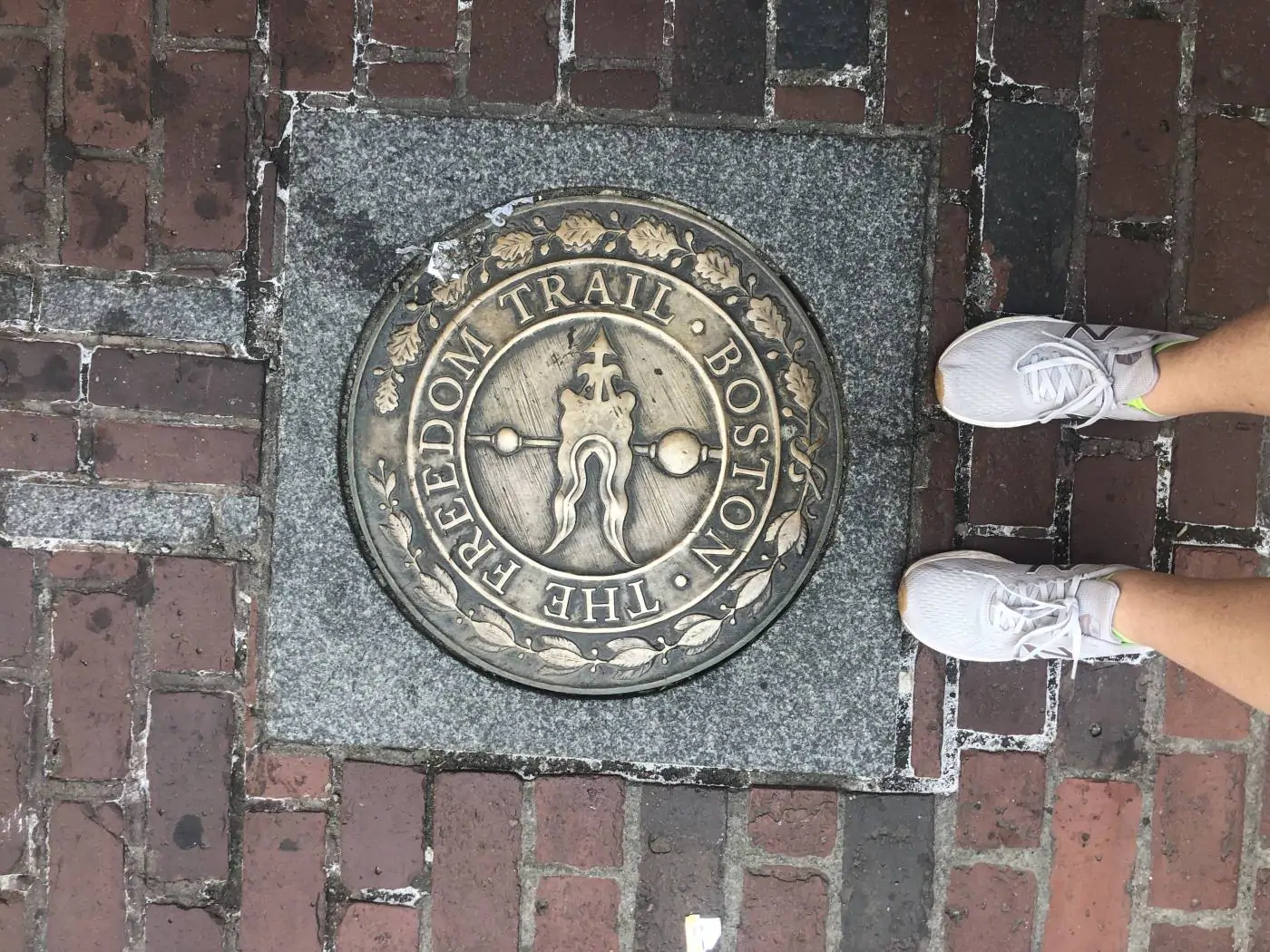 Follow the freedom trail to the Old State House, where the Boston Massacre occurred.
Cross the street from the Old State House and turn around for a photo. The State House is so small in comparison to the modern-day buildings that now surround it! But, I think that Boston does a really good job of marrying the old with the new and this is a good example.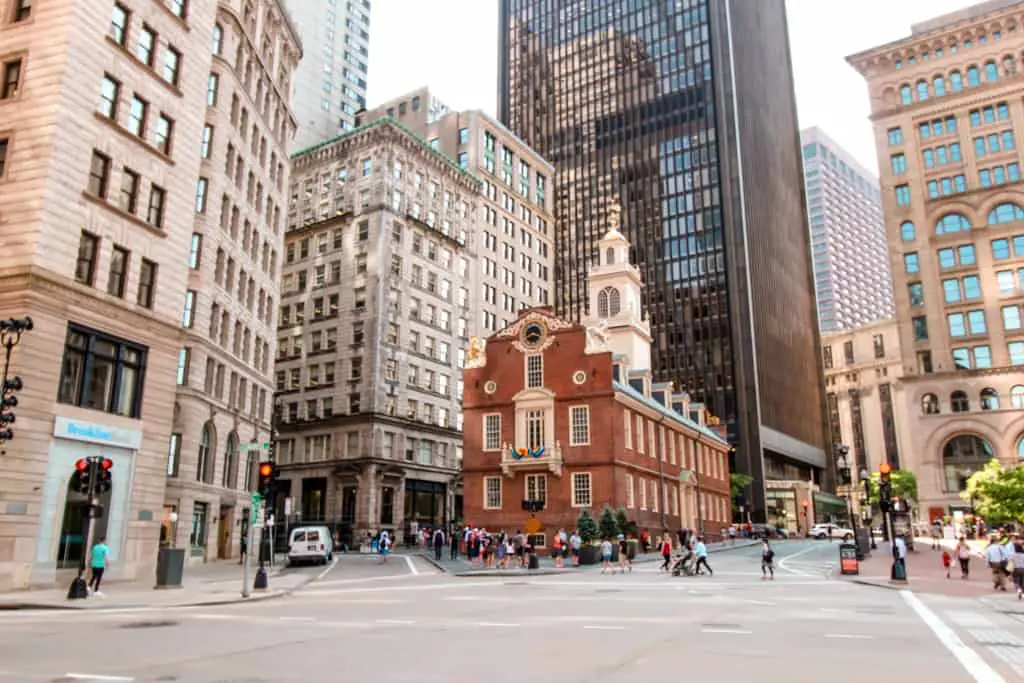 From here the Freedom Trail takes you to Faneuil Hall, the outside of which was covered during my visit due to renovations. Across the street is Quincy Market which many blog posts will tell you to eat at, I will tell you not to. The food all looked terrible and there is much better food ahead of you. 
The Freedom Trail will eventually bring you to the North End and Paul Revere's House, which is where I stopped. I considered following it up to Bunker Hill, but I loved the North End so much I wanted to explore and relax in this neighborhood a bit. You do you. 
I will say, I did pay the $5 entry fee to Paul Revere's House and found the depiction of life during this part of American History well done. And without paying, you can't really see much of the house from the street. But, it's not necessary if you're not interested.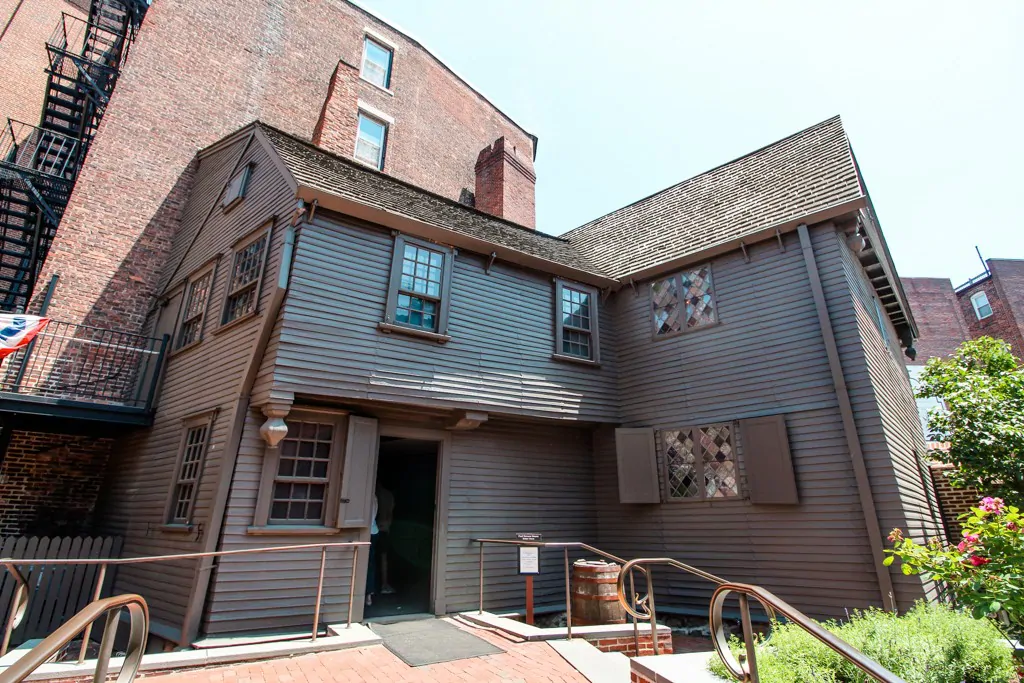 Explore the North End
The North End is Boston's Little Italy, which I didn't know prior to actually stepping foot in the North End. I just loved all of the tiny restaurants and old men sitting on the street talking to each other in the typical Boston accent. It was only when I passed two cannoli shops, noticed the majority of the restaurants were in fact Italian, and actually heard Italian on the streets, that I realized this was Boston's Little Italy. Again, face-palm.
This Little Italy stands in stark contrast to my experience in New York's Little Italy. Here, no one was standing outside of their tiny restaurant or cafe beckoning me in with their menu. The North End felt very much like the Little Italy I imagine in my mind. With the men animatedly chatting on stoops, narrow streets, and no one bothering me!
So enjoy wandering the North End a bit, soaking up the unique vibe of Little Italy. And before you get too hungry, put your name on the list at Neptune's Oyster.
Neptune's Oyster
This tiny restaurant was recommended to me by three different locals. They told this is the place to go for a Lobster Roll, to make room in my budget for it, and expect a wait. I listened.
I went around 2:00 pm on a weekday and still had to wait an hour and a half. But you don't need to stay there, put your name on the list, give them your phone number and they'll call you when you have a table!
I suggest using this waiting time to either continue exploring the North End or to simply relax in the Rose Kennedy Greenway park just across the street. 
Once your name is called for Neptune's Oyster, I strongly recommend getting the hot lobster roll with butter and fries. I paired mine with a Rose again, I'm basic. They do have other items on the menu including an awesome looking raw bar. But I came for the lobsta (said in my best Bostonian accent), and I suggest you do the same.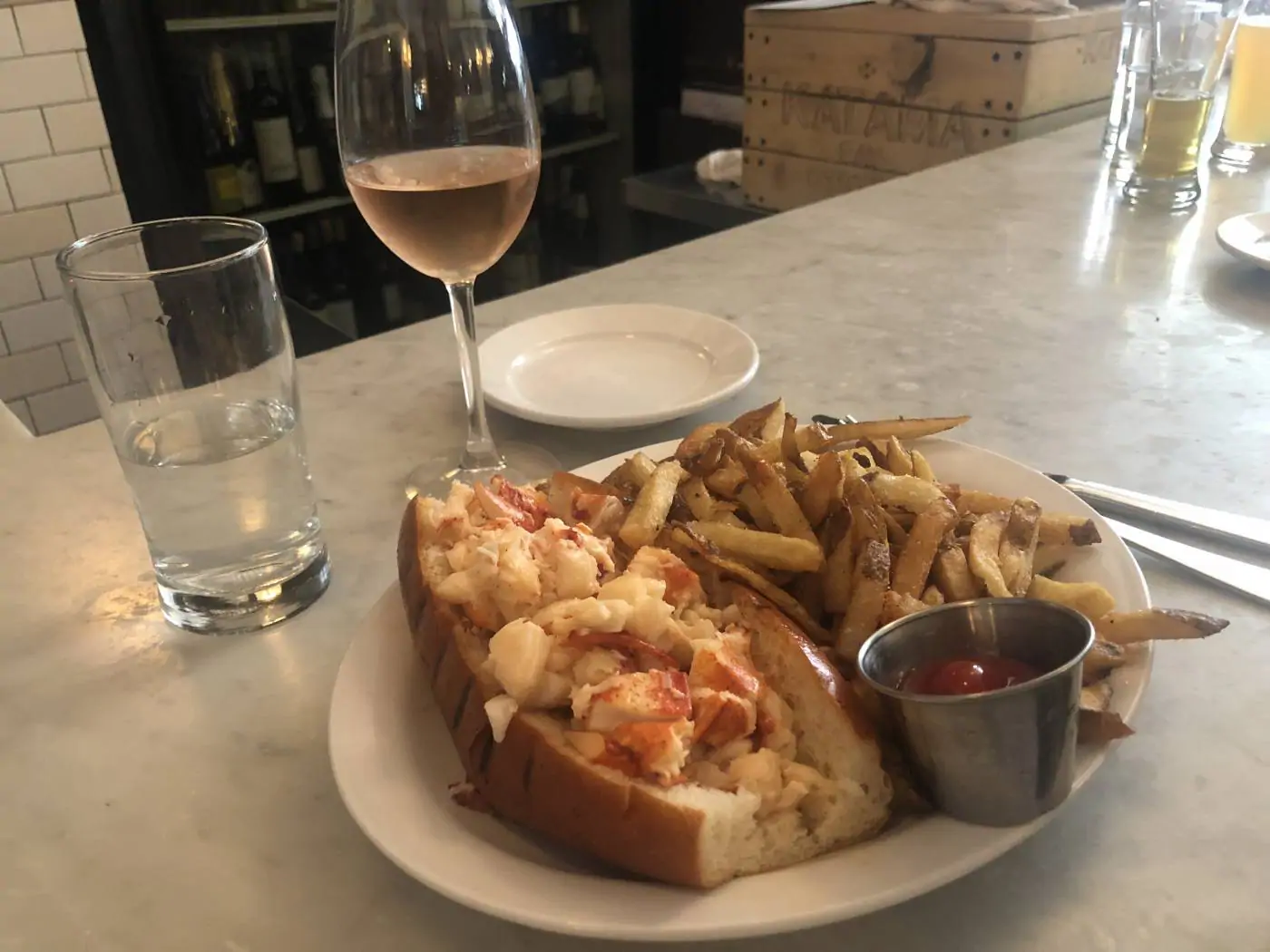 Mike's or Modern Pastry for a Cannoli
If you still have room after your lobster, do a taste test for which bakery has the best cannoli, Modern or Mike's. I attempted Modern first because that's where my waitress at Neptune's told me to go, but there was a long line, so instead of waiting I just went to Mike's and within 2 minutes I had a mint chip cannoli in hand!
Mike's has a wide variety of cannoli flavors and other delicious looking treats to try as well!
So you'll have to tell me, which do you prefer, Mike's or Modern's?
Charles River Esplanade for Sunset
Now, it's time to walk off all of that delicious food. And you'll be circling back to Beacon Hill. At this point in the day, it's probably getting late so you could make it to the Esplanade just in time for sunset. On the map, find The Hatch Memorial Shell and walk in that direction.
If you're tired, take an Uber! 
The Charles River Esplanade is a 3-mile path where you will find parks, beer gardens, and docks. Just perfect for watching the sun go down on your one day in Boston.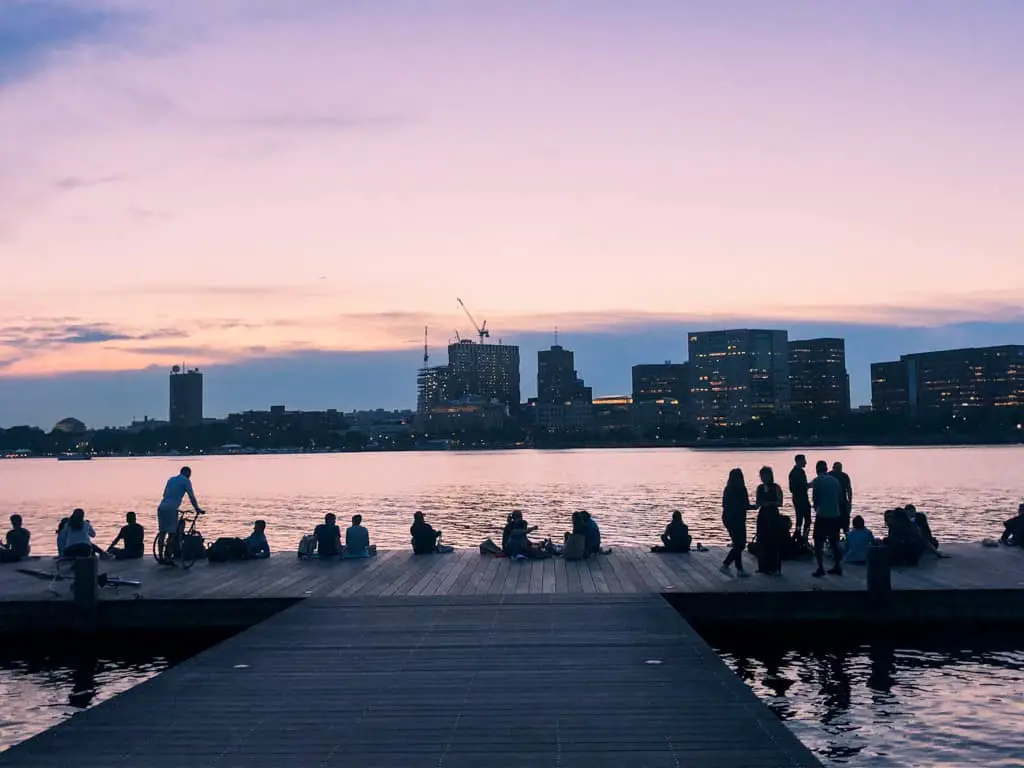 Dinner at Gourmet Dumpling
If you're still hungry, give the Gourmet Dumpling, located in Chinatown, a try. The shortest way to get here from the Esplanade is through Boston Common  – which I don't recommend after dark. I felt completely safe in Boston alone, but the Boston Common has some questionable characters hanging out in it during the day, so at night it's best to follow the popular solo travel safety rule and avoid it. Instead, walk along Charles Street. 
Again, there will likely be a bit of a wait for this gem of a restaurant. I was eating solo, as usual, and was able to get a seat within 5 minutes by agreeing to share a table with two other people.
These two locals told me to order the soup dumplings and scallion pancakes, I added on the house fried rice. This was a lot of food for one person, but I was able to save it for leftovers for the remainder of the week. Since you only have one day in Boston and you've already eaten quite a bit today, I'll recommend just getting the soup dumplings and thoroughly enjoying those!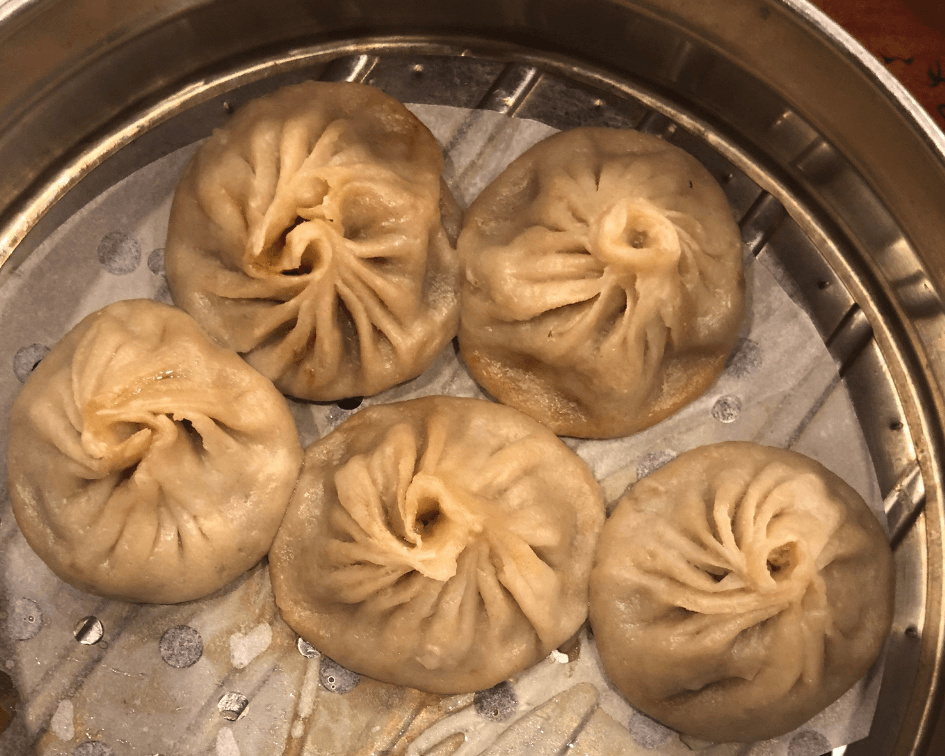 If You Have More than One Day in Boston
Red Sox Game
If you have more than one day in Boston, I highly suggest taking in a sporting event. Boson is known for the Bruins, the Patriots, and, in the summer, the Boston sport of choice is Red Sox baseball. I went with two other solo female traveler's I met in the hostel where we were all staying, one was from Australia and this was her first American baseball game. It was so fun to experience that with her in the oldest ballpark in the US.
There's just something different about the feel of an old school stadium compared to the new ones being built today. I hope they keep it as long as they can!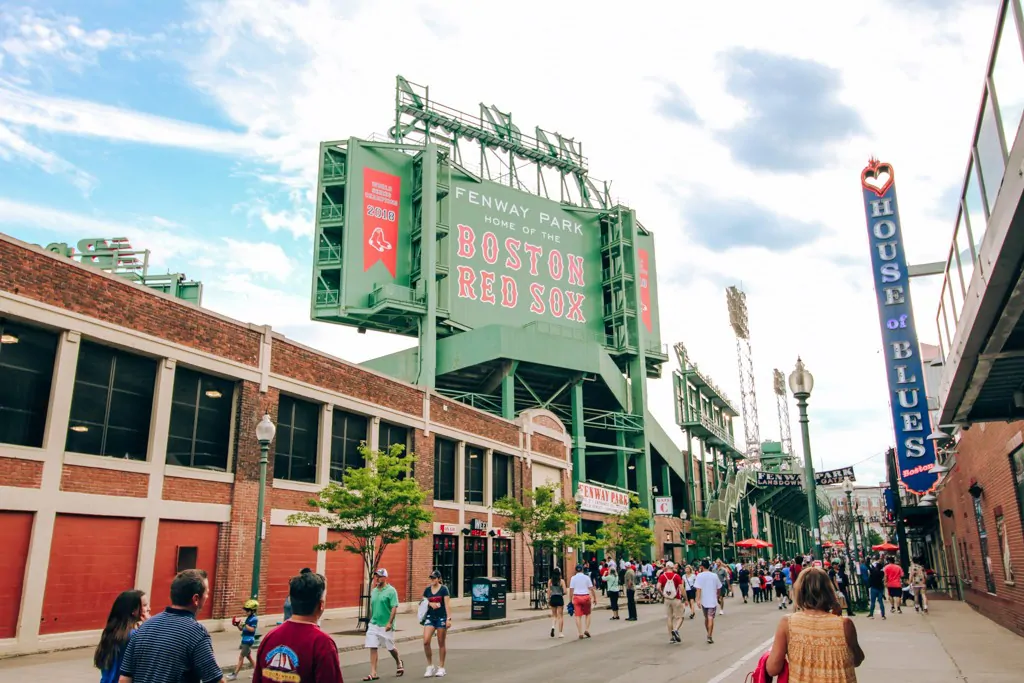 Whale-Watching
Whale watching is a unique experience in Boston and it's a fun way to spend a few hours unless you're prone to seasickness, then stay on solid ground. But if you're up for an adventure, then head down to the waterfront for a whale-watching excursion offered by the aquarium.
Full disclosure, the afternoon I went, I spent four hours on the boat, got mildly nauseous, and saw no whales. UGH.
They don't guarantee that you'll see a whale because they don't feed them or produce sonar sounds with the boat in order to attract them. All they do is drive you out into the middle of the ocean where they typically feed and hope one of them makes an appearance.
If you don't see a whale, you're given a ticket to return at a later date for free, that never expires. So if you're up for something a little bit different, are ok with potentially not seeing a whale, and need to get out of the city, then this is a great option!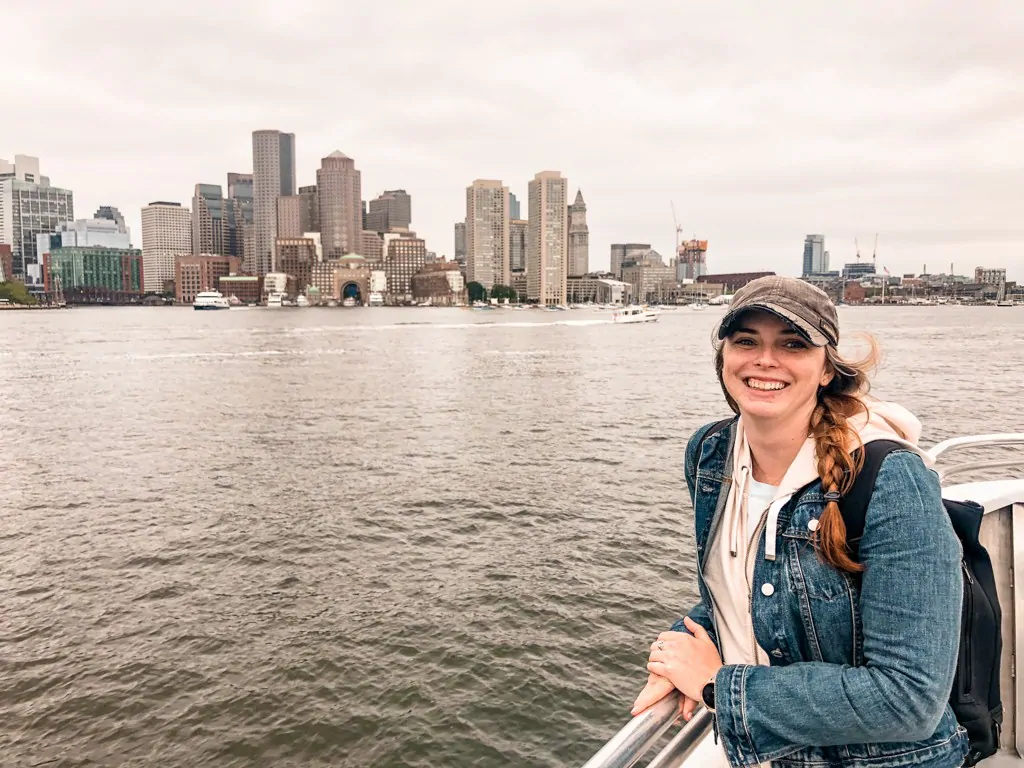 The End!
Damn. Your feet must be tired 'cause you've been runnin' through the streets of Boston all day!
You've seen a little bit of everything that Boston has to offer, which is a lot. I mean we didn't even touch on museums! You've had the opportunity to get a little bit of history, eat delicious food, read some books, and even relax in a park! With some matcha and sunsets thrown in to truly round out your Boston experience.
Don't forget to tell me what you added or subtracted from your 24 hours in Boston!
Like this post? Pin for later!